Fried apple pies like Granny used to make—sweet apple filling inside tender, lightly fried pastry dough! Simple Southern cooking at its best!
This fried apple pie recipe is not like the fried pies you buy at the truck stop or get in a restaurant. These are old-fashioned fried apple pies, with a dough that's crisp around the edges and slightly softer in the middle.
The filling comes from dried apples, which is the way lots of Southern grandmothers made their apple pies, like my friend Ray's grandmother.
My dear friend Rita was out of town recently, which meant her husband, Ray, was home alone.
There are a few things that I know about Mr. Ray.
One—he loves good, Southern country cooking. Two—he married a woman who not only is from New York but also is the healthiest person I know, which means that, Three—they don't eat a lot of Southern country cooking at their house.
Although, let it be said that my friend Rita from New York is a fabulous cook and has adapted well to Southern cooking, she just doesn't do it very often. But she eats rutabagas. And turnip greens.
And she makes the best sausage risotto that I've ever had!
But, I digress. The other important thing I know about my friend Ray is that he LOVES fried apple pies—specifically, the kind of fried apple pies that his Granny used to make—and my Granny's fried apple pies come pretty close!
Old-fashioned Fried Apple Pies
Granny would make these pies for no special reason other than to have something sweet in the house. I can see the plate on the end of the kitchen table, covered with a towel, where we could nab one whenever we happened by.
They never lasted more than a day or so, and although best when hot from the skillet, they are also delicious at room temperature.
A couple of years ago when I decided to make Granny's fried apple pies and I called her to find out how, she said, "Just mix up your dough and stew your apples with a little sugar, then roll out each ball of dough and put a spoonful of apples inside and then fry it."
Uh, ok. Could you be a little more specific please?
I thought maybe lessons were in order, so when Granny came to visit we had Fried Apple Pies Day. Those turned out perfectly because she did most of the work.
After she left, I tried them on my own and realized I hadn't written anything down and my memory completely failed ain't what it used to be. I had to have another Fried Apple Pies Day with Granny in which I did the work and remembered to write things down.
This is the thing about old recipes, a heritage which could easily slip away. Most dishes that our grandmothers or mothers or great-grandmothers prepared didn't have written instructions or ingredient lists. Instead, they existed as integral parts of daily life.
You got up, made biscuits for breakfast, maybe fried chicken for dinner (now known as lunch), and maybe pot roast for supper.
Then you did it again the next day with a different variety of foods. You either cooked seasonally from your own garden, or used vegetables that you had canned or frozen when they were in season.
Although I would be the first to admit that a lot of Southern cooking would not be considered healthy and not something anyone should eat everyday, I think it's important to make sure that your family recipes are preserved. Even the butter-laden, flour-covered, fried foods.
You might change things and add less butter or sugar, more fresh vegetables or panko instead of flour, but you should have the originals to build from.
Spend a day or two in the kitchen with your mother or grandmother or father as the case may be, and write things down, take pictures and learn the techniques so that your memories can live through you for another generation.
---
Items Needed for Fried Apple Pies:
---
How to Make Fried Pies
For this recipe, you'll need the following ingredients:
Dried apples
Sugar
Self-rising flour
Shortening
Butter
Fried Apple Pies: A Tutorial
Step 1.
For this fried apple pie recipe, start with 3 or 4 bags of dried apples and put them in a pot with enough water to just cover the apples. If you can't find dried apples in your grocery store—and don't buy the commercial ones in the aisle with all the dried fruit because they take forever to cook down and they are expensive—try these that I found online.
The best place to get dried apples is at an apple farm if there's one close to you. And don't be shy about purchasing because the bags will keep for a while.
Step 2.
Add about 2 cups sugar. Turn heat on high and bring to a boil, then turn it down to a simmer and cook down until the apples are tender and juicy.
This will require quite a bit of tasting since that's the only way to know when they're perfect.
You'll need to take your spoon and sort of chop at the apples to help break them up a bit. And you'll probably need to add additional water.
Stir frequently so the apples don't stick to the bottom of the pot where they will scorch and then you'll have fried apple pies that taste very bad.
Scorched apples = bad fried apple pies.
After about 45 minutes to an hour, your apples should be the consistency of a chunky applesauce.
Taste them again and make sure they're sweet enough and smushy enough.
Smushy being a highly technical cooking term.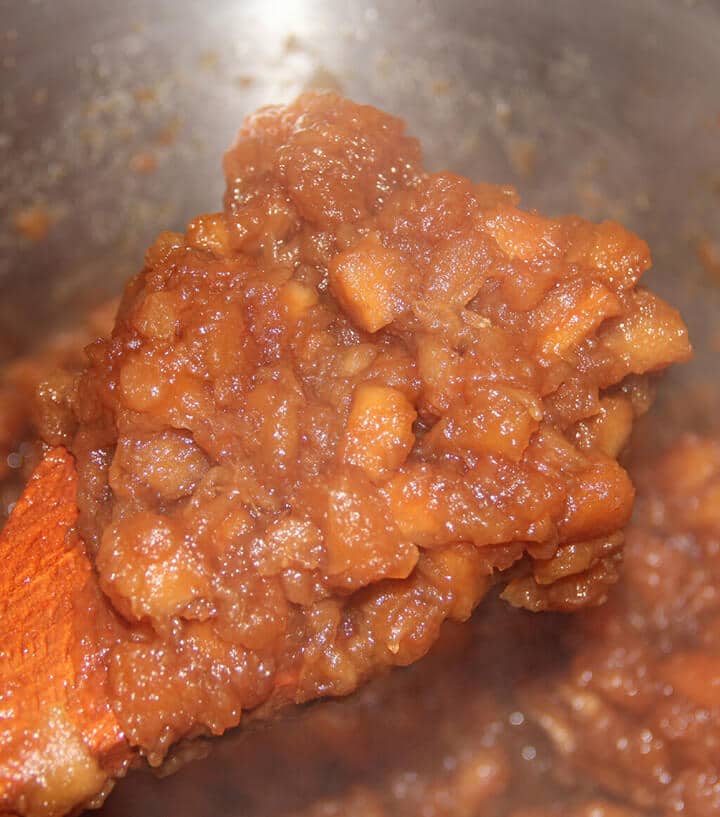 Step 3.
Remove the apples from the heat and let them cool while you're getting the fried pie dough ready. You might even want to parcel some of the apples into another dish to help them cool faster.
Fried Pie Dough
Step 4.
For the dough, start with about 4 heaping cups of self-rising flour and add shortening and butter. I recommend White Lily flour because it's lower in protein and gives you a more tender crust.
Mix the shortening and butter into the flour with a fork or pastry cutter, or just do what I do and dig your fingers in there.
Mix well until the flour crumbles and has chunks a little smaller than peas.
You want to make sure all the shortening and butter is incorporated into the flour.
Step 5.
Stir ice water into the dough with a fork, scraping underneath the dough to mix in all the dry flour.
Step 6.
Mix until dough is sticky and there would be no way to pick it up.
Step 7.
Dip both hands in flour then sprinkle a little flour on top of the fried pie dough, lift it up, and sprinkle a little more flour along the sides. You want to get the dough where you can easily lift and turn and begin to knead the dough.
Once you can pick up the dough, turn it out onto whatever pre-floured surface you will use to roll it out.
Sprinkle on additional flour so the dough doesn't stick to your hands and knead it well until you have a smooth, non-sticky dough for your fried apple pies.
How to Make Fried Apple Pies
Step 8.
Alright, you have the dough and the apple filling so let's talk about how to make fried apple pies—time to put it all together!
Next you will pinch off small pieces of fried pie dough and roll into balls. The balls should be slightly smaller than a ping pong ball.
Step 9.
Take each ball of dough and roll out until it's pretty thin, then put a heaping spoonful or two of apples on one side, leaving an edge for sealing.
It usually takes one or two pies to be able to judge exactly how much apples to spoon on. If you put too much, the apples will break through the dough in places and ooze out once you start frying.
You want just enough to make a nice pocket when you fold over the dough.
For me, it's usually about a regular kitchen spoon (not a teaspoon) and a half.
Step 10.
Dip your finger in water and rub the edge around the apples, then carefully fold the dough over and press down. The water acts as a sealant and will keep the dough from separating.
Then take a fork and crimp the edges together even more.
Step 11.
Lay each pie on a large cookie sheet and continue until they are all ready. You want to have this part fully completed before you start frying because they will only take a minute or two per side to fry.
Step 12.
Once you have all the fried pie dough rolled out and all the pies made, add about 3/4 cup of shortening and a couple of tablespoons butter (depending on the size of pan) to a large skillet and turn to medium-high to melt.
Keep the shortening nearby because you will be adding more.
The melted shortening should come up to not quite an inch in the pan, so that it doesn't cover the pies but comes about halfway up the sides of the pies.
Keep the grease at medium-high, and when it sizzles if you drop in water, it's ready to go. Carefully lay two or three pies in the skillet, only two if your skillet is small as you don't want to overcrowd them.
After about a minute, peek underneath one of the fried apple pies and if it's golden brown then go ahead and turn them. The dough is thin and the apples are already cooked, so it literally takes about three minutes to fully cook the pies.
You have to watch them the entire time so they don't burn because it can happen quickly.
After a few batches, you'll probably need to add more shortening and butter to the skillet, so let it melt before you add more pies.
You may need to clean out the skillet and start over if the oil starts burning.
Lay the fried apple pies on a large platter lined with paper towels. If not serving immediately, cover the platter with tin foil until you're ready to serve.
Or just sit the platter out on the counter and the fried apple pies will mysteriously disappear.
These homemade fried apple pies are best eaten within two days, which is usually not a problem.
Enjoy!
Lucy
---
Time Travel to Posts You Might Have Missed:
---
If you love these Fried Apple Pies, you might like these apple recipes:
Double Crust Apple Pie – the old classic, you can never go wrong with this one!
Easy Apple Strudel – for when you don't have time but want something delicious!
French Apple Turnovers – my baked equivalent of fried apple pies. These are really easy and you can make just two!
Easy Apple Tarts – delicious quick and easy apple treats.
---
Fried Apple Pies printable – If you like this recipe, please leave a star rating on the recipe below by clicking on the 5 or 4 star! Thank you so much!
Print
Granny's Fried Apple Pies
Delicious, old-fashioned fried apple pies, made the way Granny used to make them using dried apples and homemade dough.
Prep Time
1
hour
30
minutes
Ingredients
4

6-oz.

bags dried apples

2

cups

granulated sugar

4

heaping cups

self-rising flour

3/4

cup

Crisco shortening

1/4

cup

unsalted butter

1 1/2 - 2

cups

ice water

Additional flour for mixing dough

2

cups

Crisco shortening

4

tablespoons

butter
Instructions
For apples:
Put apples in a large pot or Dutch oven and add enough water to almost cover. Stir in two cups sugar.

Turn heat to medium-high and bring to a boil.

Turn heat down just a little so apples continue to simmer, breaking up apples with spoon as they cook. Cook until apples are tender and juicy, stirring frequently. You may need to add more water as they cook. Do not allow the apples to get dry. Remove apples from heat and allow to cool.

For dough:
Start with 4 heaping cups of self-rising flour and cut in 3/4 cup Crisco shortening and 1/4 cup butter with a fork or your fingers. Mix well until shortening/butter is incorporated into the flour.

Add 1 1/2 cups of ice water to flour, and add additional ice water as needed to get all the dry flour mixed in. Mix with a fork until dough is sticky.

Dip hands in flour and sprinkle additional flour onto dough so that you can knead it. Use additional flour as needed to be able to knead the dough until smooth and non-sticky.

Pinch off pieces of dough to make balls slightly smaller than ping pong balls.

Roll each ball out until thin.

Add a heaping spoonful or two of apples to one side of rolled dough. After the first couple, you will learn exactly how much apples to place on the dough. If you put too much, the dough will not cover without tearing.

Dip your finger in water and rub around the edges of the dough where the apples are.

Carefully fold the dough over and press the edges together lightly to seal. Using a fork, crimp the edges to fully seal.

Once all the pies are ready, add about 1/2 cup Crisco shortening and 2 tablespoons butter to a large skillet and heat on medium-high.

Once the grease is hot enough to sizzle from a drop of water, carefully lay two or three pies in the skillet.

Cook about a minute to a minute and half on each side until they are golden brown.

Lay pies on a large platter lined with paper towels and serve immediately.
Recipe Notes
Pies will keep for a few days but are best eaten within two days.
Nutrition Facts
Granny's Fried Apple Pies
Amount Per Serving (144 g)
Calories 273
Calories from Fat 189
% Daily Value*
Total Fat 21g 32%
Cholesterol 8mg 3%
Sodium 24mg 1%
Potassium 51mg 1%
Total Carbohydrates 20g 7%
* Percent Daily Values are based on a 2000 calorie diet.