Pesto Chicken with Roasted Vegetables is a low-carb, nutritious, one pan dinner that everyone loves. You can use homemade or store-bought pesto and almost any mixture of vegetables.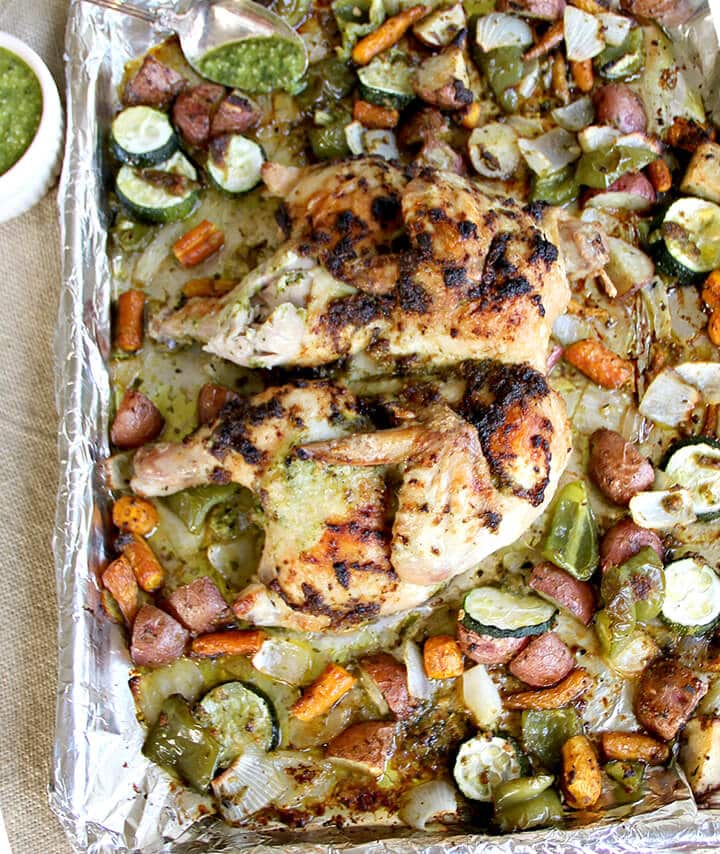 If you're busy and don't have much time to cook, this Pesto Chicken recipe is perfect for you—you can use store-bought basil pesto to save time, or you can change it up with my Jalapeno Cilantro Pesto.
Everything goes on one pan, and it's a complete meal ready in about an hour and twenty minutes.
Did you know you can make Basil Pesto and keep it in the freezer? Add to soups or stews or with this wonderful chicken.
Pesto chicken sheet pan
What kind of chicken?
I used a whole chicken and sort of spatchcocked it, as in I simply cut the backbone in half and spread out the chicken flat but didn't remove the backbone.
But you could use chicken pieces or even boneless skinless breasts, just adjust the cooking time accordingly.
Which vegetables?
Almost any assortment of vegetables will work in this recipe. I used different things that we had picked up at the local farmers market: potatoes, carrots, zucchini, bell peppers, and onions.
How to make pesto chicken
Cover baking sheet with foil.
Cut up vegetables and spread vegetables and chicken on pan.
Drizzle with olive oil, salt, and pepper.
Roast 20 minutes, then spread pesto on chicken and drizzle over vegetables.
Roast 20 minutes or until chicken is done.
The chicken is so good cooked this way because more of the surface can get crispy in the oven and it cooks a little faster so there is less danger of ending up with dry chicken.
Pesto Chicken and Vegetables
Pesto Chicken and Vegetables is made with fresh vegetables, whole or cut-up chicken, and basil pesto.
Ingredients
1

whole chicken or multiple chicken pieces

3

cups

assorted vegetables: new potatoes, carrots, onion, pepper, zucchini

1/2-3/4

cup

pesto

Olive oil for drizzling

Salt and pepper
Instructions
Preheat oven to 400.

Cut vegetables into 1 1/2-inch pieces. If you are using zucchini and peppers you will need to separate them from potatoes and carrots since you'll have slightly different cooking times.

Cut through chicken backbone or remove backbone and spread chicken out flat (this should break the breast bone.)

Alternatively, you can use chicken breasts or whole cut-up chicken.

Cover baking sheet with foil and lightly spray. Place longer-cooking vegetables (potatoes, carrots, turnips, etc.) on baking sheet and mix with 2 tablespoons pesto.

Drizzle vegetables with olive oil and sprinkle with salt and pepper. If using store-bought pesto, go easy on the salt as the pesto is usually salty. Spread the vegetables out to the sides of the baking sheet and place chicken skin side down in the middle of the sheet.

Drizzle olive oil on chicken and sprinkle with salt and pepper. Place pan in oven and bake for twenty minutes. Remove pan, flip chicken over, and spread 1/2 cup pesto over chicken.

Add zucchini, onion, asparagus, or other quick-cooking vegetables to pan. Drizzle a little pesto over vegetables. Place pan back in oven and cook an additional 20-30 minutes or until chicken is done.
Notes
If using just chicken breasts, you will not need to cook as long. Cook the vegetables first for about 20 minutes before adding the chicken.
Nutrition
Serving:
4
servings
,
Calories:
582
kcal
,
Carbohydrates:
22
g
,
Protein:
33
g
,
Saturated Fat:
9
g
,
Cholesterol:
122
mg
,
Sodium:
408
mg
,
Fiber:
2
g
,
Sugar:
1
g
Update Notes: This post was originally published June 10, 2015, and on May 19, 2020, was updated with one or more of the following: step-by-step photos, video, updated recipe, new tips.
More chicken recipes: