Chocolate Chip Banana Bread is made with cream cheese to keep it tender and moist. With lots of chocolate chips, this one is a special treat! This Chocolate Chip Banana Bread freezes well so it's a great make ahead dish for vacation or to keep in the fridge for when you need to deliver a sweet home-baked basket of goodies. 
After-school activities are in full swing right about now and college football is on the horizon! Are y'all super excited? We can't wait to go watch our favorite Georgia Southern Eagles and Georgia Bulldogs get a start on whoopin' some you-know-what this season! At least we're hoping that's the way things turn out…
My regular Banana Bread recipe to me is the perfect breakfast food. It's portable, freezes well, and is nourishing and comforting when people need nourishing and comforting.
And don't we all need nourishing and comforting right now?
But this Chocolate Chip Banana Bread—well, this feels decadent and more than just comforting. This feels like your Grandma just walked in the front door and gave you a big old hug.
That's how I always wanted the boys to feel when they came home from school. There would usually be brownies or cookies or something else that felt special, something that encouraged sitting down for a moment with a snack and glass of milk and talking about their day.
Lots of days they didn't want to talk at all, but usually they did. The key is to try and listen without advising (I'm still a work in progress on that one) and to refrain from passing judgment. Tough, I know. But that's what lets them know it's safe to open up to you.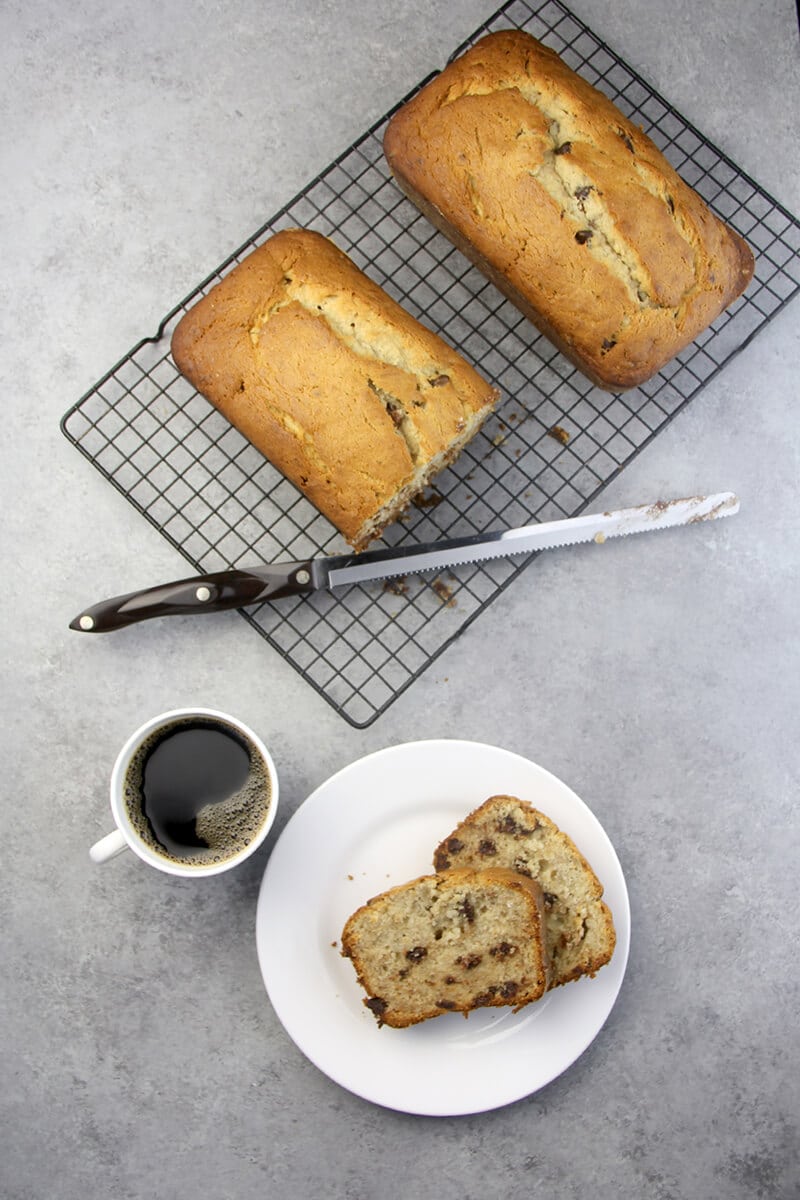 So let's talk about this Chocolate Chip Banana Bread!
This recipe is quite different from my regular Banana Bread. This one has cream cheese, which I love in baked goods because it adds a little tang and a lot of moistness. I cannot stand dry cakes or breads.
And the chocolate chips…one-way ticket to Nirvana…
You can use bittersweet chocolate chips since this recipe does have a good bit of sugar, or you can use semi-sweet chocolate chips. They are both delicious additions to this tender, crumbly, sweet bread.
Chocolate Chip Banana Bread is one of my favorite things to gift someone with, either someone who's just had a baby or maybe when dropping off a sympathy meal. I love that you can make this bread a day or so before you need it, or even a week and store it in the freezer.
And you can even make smaller loaves in those mini loaf pans—wrap in some pretty cellophane and you have lovely Christmas gifts!
Chocolate Chip Banana Bread
Chocolate Chip Banana Bread is made with cream cheese to keep it super tender and moist. With lots of chocolate chips, this one is a special treat!
Ingredients
2

sticks

unsalted butter, softened

1

8-ounce pkg

cream cheese, softened

1

cup

granulated sugar

1

cup

brown sugar

2

large

eggs

3

cups

all-purpose flour

1/2

teaspoon

baking powder

1/2

teaspoon

baking soda

1/2

teaspoon

salt

1 1/2

cups

mashed bananas (about 4 medium)

1

teaspoon

vanilla extract

1

cup

chocolate chips (bittersweet or semi-sweet)
Instructions
Preheat oven to 350. Grease and flour two loaf pans.

Beat butter and cream cheese on medium speed until light and creamy. Gradually add sugars, and beat until well blended and creamy. Add eggs one at a time and beat until just blended.

Combine flour, baking powder, baking soda, and salt, and slowly add to butter mixture, beating on low speed until just blended. Stir in bananas and vanilla. Stir in chocolate chips.

Pour batter into loaf pans and bake for one hour, or until pick inserted in the center comes out clean. You may need to cover with foil the last 15-20 minutes to prevent over-browning.

Cool pans on a rack for 10 minutes, then remove bread from pans. Cool at least 30 minutes before slicing.
Note: This post was written prior to the devastating natural disaster that we've witnessed this past week, so I wanted to add an addition here. We are so heartbroken for the people of Texas who have lost not only possessions but some have lost family members, beloved pets, and their homes. Watching people swimming away from everything they have is so incredibly sad. If like me, you're too far away to be of practical, on-the-ground assistance, here are a few ways to help (I copied these links from this article in The New York Times:
https://ghcf.org/hurricane-relief/
The Texas Diaper Bank in San Antonio is asking for diapers and wipes, which can be dropped off in person or mailed to 5415 Bandera Road, Suite 504, San Antonio, Tex., 78238.
To help animals, visit the Houston Humane Society.
The United Way of Greater Houston flood relief fund will be used to help with immediate needs as well as long-term services like minor home repair. Visit their website to donate or text UWFLOOD to 41444.
The American Red Cross is accepting donations on its website. You can also text HARVEY to 90999 to donate $10.
AmeriCares takes medicine and supplies to survivors.
Catholic Charities provides food, clothing, shelter and support services to those from all religious backgrounds.
Donations to the Salvation Army can be made online, by calling 1-800-SAL-ARMY (1-800-725-2769) or texting STORM to 51555.
Save the Children is delivering baby supplies, including cribs and strollers, and setting up child-friendly spaces in shelters.
AABB, which coordinates a task force to manage blood collection efforts during disasters, put out a call on Sunday for blood donations in the aftermath of Harvey. Most in demand: those with type O-positive blood.
Those interested in donating blood may contact the following organizations:
• AABB: 301-907-6977• America's Blood Centers • American Red Cross: 1-800-RED CROSS (1-800-733-2767)• Armed Services Blood Program: 703-681-5979
GoFundMe has created a page with all of its Harvey-related campaigns, including one started by the country singer Chris Young, who donated $100,000, and another created by the president and chief executive of the Rockport-Fulton Chamber of Commerce.
YouCaring has a fund-raising page set up by J. J. Watt of the Houston Texans with a goal of $10 million. By 9:30 p.m. Wednesday it had raised more than $7 million.
GlobalGiving's Hurricane Harvey Relief Fund supports local organizations by helping to "meet survivors' immediate needs for food, fuel, clean water, hygiene products and shelter." It will also assist with longer-term recovery efforts.