I was going to title this post, "How to Score Points as a Grandma," but decided I'd better stick with the sugar cookies so folks would know what this is all about. But really, being a new grandmother is what led me to realize that I've got to step up my game in the fun baking department.
Can't you just see this little guy helping Lulu bake cookies full of sprinkles…with sprinkles all over the counter and all over the floor and lots and lots of giggles? I can't wait!
I don't usually bake sugar cookies because I have a dear friend who makes the best sugar cookies in the world and she brings them to me every Christmas, perfectly decorated and lovely. And the best part is, she always alerts me ahead of time so I can meet her at the door and hide them. It's what I've done for years.
Occasionally I would set out one or two so the boys could try them and they would say, "Is this all Miss Jennifer brought?" Well, yes, son, I believe it is. Bwahahaha. Hey, if you're the mom of two teenage boys then you've earned the right to hide the cookies. Trust me on this.
Of course, now that they're gone and I miss them I would love to sit and share a plate of cookies with them and hear about their day. So it's all in perspective I suppose. While you're in the thick of it you long for moments of alone time. And then suddenly you have an abundance of non-mom time and realize it's not all it was cracked up to be.
But now I am digressing into maudlin, empty-nest mom stuff so let's make cookies!
Soft Sugar Cookies
Of course, the original Funfetti everything came from Pillsbury in the form of the Funfetti cake mix. And people have been making different things from that cake mix for years as well as adding sprinkles to scratch recipes and declaring them Funfetti this or that, which is exactly what I've done. These Funfetti Sugar Cookies are amazing and they are unbelievably easy. I've been tweaking the recipe and made these cookies about 10 times in the last week. My husband keeps groaning every time he comes in from the gym and I pull another pan of cookies out of the oven. Sorry, honey!
I wanted sugar cookies that didn't require a lot of advance work or long chilling or fussy ingredients. No cornstarch. I did try cornstarch and I honestly didn't see any difference.
This recipe does not have to chill. I popped this pan in the oven as soon as the dough was on the pan. And depending on how you like your cookies, you can either leave the dough as balls or you can smush it down flatter.
If you leave the sugar cookie dough as balls it's not going to spread much so you'll have a smaller, fatter cookie. It will be wonderfully soft in the middle. If you smush them a little flatter then they will still be soft but a little larger in diameter and more cookieish. I like them both ways!
"Both: I will have them both!" declared this true-blue American

In Cambridge, Massachusetts, on an April Sunday…
If you know what that quote is from then you get a gold star! In case you don't, here's a link so you can enjoy great American poetry.
The sugar cookies below did not chill and you can see the difference in shape and thickness.
The sugar cookies in the next photo rested in the freezer for five minutes before baking. Still very little discernible difference, so I just don't think it's necessary.
This small pan was the last I prepared so the cookie dough had been out the longest. They did spread slightly more than the first pan but still not much. So it's possible that five minutes in the refrigerator before baking would be good for the last pan, but again, not necessary.
There you have it: the great funfetti sugar cookie experiment. They're easy to make, they taste divine, and they're full of pretty sprinkles! It's like a big smile in a cookie.
Try these other sugar cookie recipes:
How to Make Soft Funfetti Sugar Cookies
An easy to follow recipe for soft funfetti sugar cookies that doesn't require chilling or any fussy ingredients.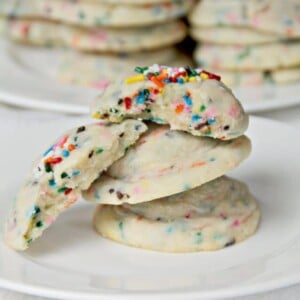 Ingredients
3

cups

all-purpose flour

1 ½

teaspoons

baking powder

¼

teaspoon

salt

1

cup

unsalted butter, softened

1

cup

granulated sugar

2

tablespoons

brown sugar

1

large egg

1

large egg yolk

1

teaspoon

almond extract

1

teaspoon

vanilla extract

¾

cup

sprinkles, plus a little extra for tops
Instructions
Preheat oven to 350. Prepare three baking sheets with silicone liners or parchment paper.

In large bowl, whisk together the flour, baking powder, and salt. Set aside.

Cream butter in stand mixer. Add sugars and beat until well mixed. Add egg and egg yolk and mix just until blended. Add almond and vanilla extract. Add flour mixture. Mix in flour until about halfway blended. Add sprinkles and mix until blended.

Scoop out 2 tablespoons dough, roll into balls, and place on prepared cookie sheets. Place more sprinkles on tops of cookies.

Bake 8-10 minutes. I usually bake right at 9 minutes but your oven may run hotter or less hot. Don't let the cookies brown on the edges though or they will be over-cooked. Pull them when they still look shiny.

Remove from oven and allow cookies to rest on cookie sheets for five minutes. Transfer cookies to cooling racks and allow to cool completely.
Nutrition
Serving:
24
cookies
,
Calories:
188
kcal
,
Carbohydrates:
26
g
,
Protein:
2
g
,
Saturated Fat:
5
g
,
Cholesterol:
35
mg
,
Sodium:
29
mg
,
Sugar:
13
g