Chocolate Chip Cookie Pie is made with semi-sweet and milk chocolate chips, extra brown sugar and butter—and more chocolate sprinkled on top!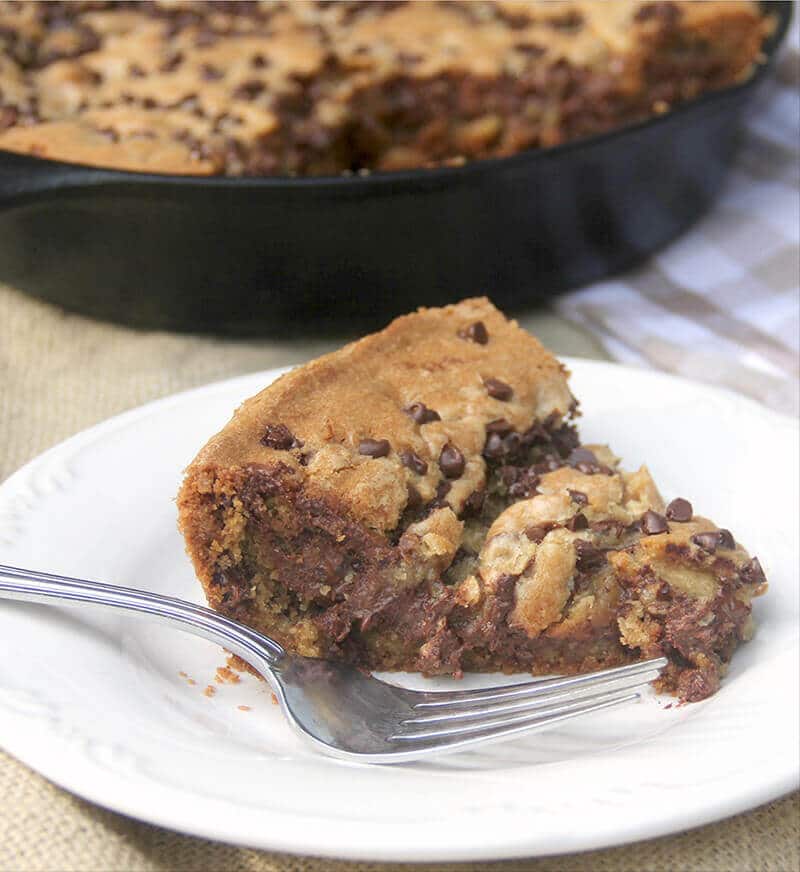 Oh my goodness. I can't even begin to tell you how much we love this chocolate chip cookie pie, and I wouldn't dare tell you how many we have eaten over the last month or so.
I have actually been experimenting with this recipe for a couple of years, but in the last four or five weeks I decided it was time to finalize the recipe.
And that means that we ate a lot of chocolate chip cookie pie!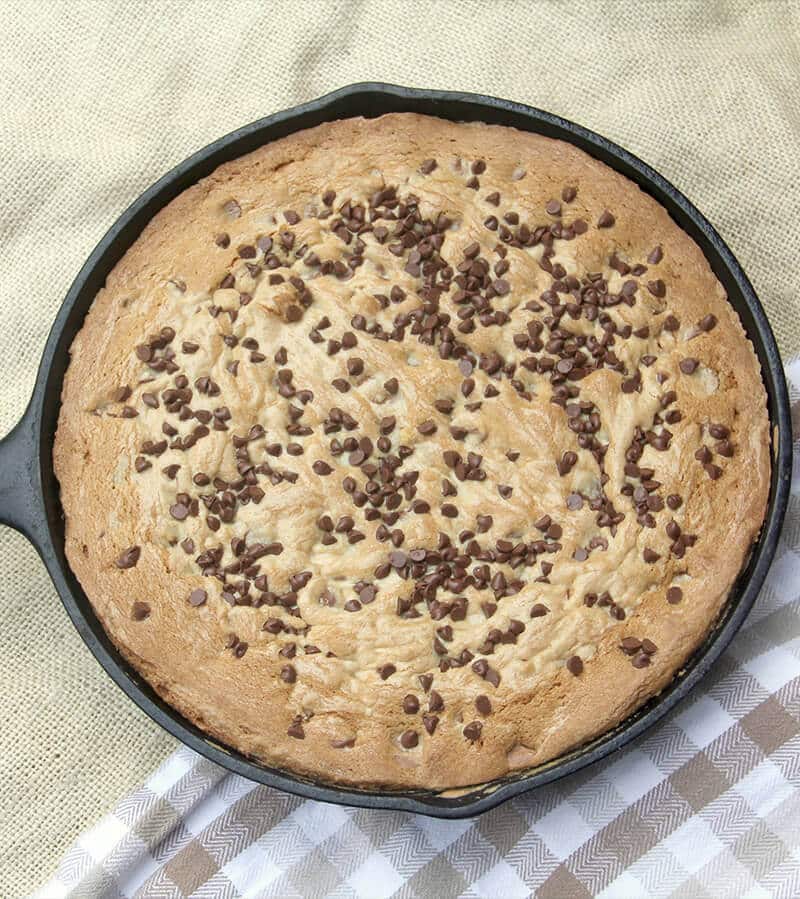 I think I have it ready for you now though, so we are retiring this recipe in our house—at least until some of the kids are home! I've tested baking time, flour amounts, sugar amounts and type of sugar, melted butter vs. solid, and number of eggs.
And I have to say, you are going to love this pie. It's so easy to make!
Let's Make Chocolate Chip Cookie Pie:
Just cream the butter and sugar, add egg and vanilla, add flour, mix in chocolate chips. Bake. Eat. Love.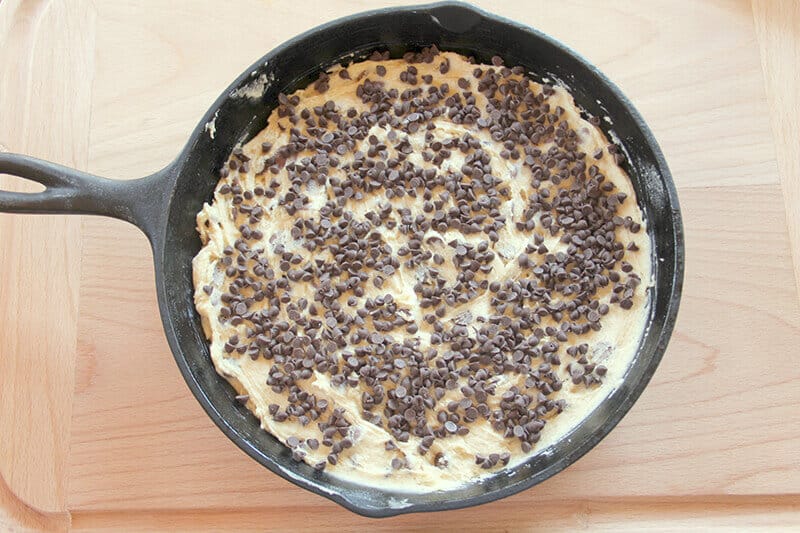 You can use a 10-inch oven-proof skillet or a 10-inch deep dish pie plate. I tried it in both and I like my cast iron skillet best. The dough has a little more room to spread out as opposed to the sloping sides of the pie plate.
The sides of the pie are going to get done first and will be a little more cakey. With the pie plate, it seemed to me that the sides cooked even more and I wasn't crazy about the texture.
But guess what? It was still chocolate chip cookie pie. And we ate it.
You may tweak the flour amount depending on how gooey you like your pie. We like it very gooey, so I experimented and settled on 2 cups of flour for us.
I baked one version with 2 ½ cups and it was awesome, just slightly less gooey. The perfect amount may very well be 2 ¼ cups, but by the point of the flour testing we were really needing to not have this pie in the house anymore.
Next time I make it I will try 2 ¼ cups of flour and let you know. For now, this is just right.
Ingredients
2

cups

all-purpose flour

1

teaspoon

baking soda

½

teaspoon

salt

1

cup

unsalted butter, room temperature and very soft

1

cup

packed light brown sugar

¼

cup

granulated sugar

2

large eggs, room temperature

2

teaspoons

pure vanilla extract

1

cup

semi-sweet chocolate chips

1

cup

milk chocolate chips

¼

cup

mini semi-sweet chocolate chips
Instructions
Preheat oven to 350.

Sift together flour, soda, and salt into a medium bowl.

Lightly butter a 10-inch oven-proof skillet or 10-inch deep dish pie plate.

In bowl of stand mixer, cream butter until fluffy, 5-7 minutes. (Hand mixer and a large bowl works just fine also.)

Add sugars and mix for about 5 minutes.

Add eggs and vanilla and mix for about 3 minutes.

Add flour mixture and mix just until combined.

Stir in 1 cup semi-sweet and 1 cup milk chocolate chips.

Spread batter in prepared skillet. Smooth with spatula.

Sprinkle ¼ cup mini semi-sweet chips over batter.

Bake 25-32 minutes, until center is almost set. You want a little jiggle and a little goo on a toothpick inserted into center. In my oven, 30 is the magic number.

Remove from oven and place on wire rack for at least half an hour.
Click here to save this recipe to your Pinterest board!
Nutrition
Serving:
8
servings
Calories:
750
kcal
Carbohydrates:
88
g
Protein:
7
g
Saturated Fat:
24
g
Cholesterol:
107
mg
Sodium:
527
mg
Fiber:
3
g
Sugar:
58
g