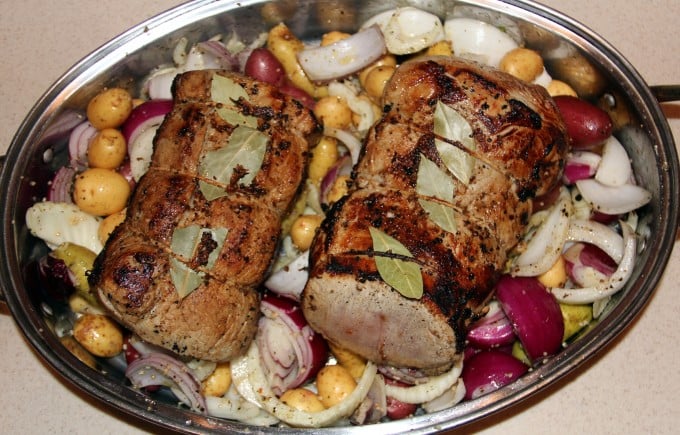 The last few months have been filled with happy busyness…wedding planning is fun but time-consuming. And since David and I have been on what we called, "Wedding Boot Camp," I have not even cooked much. We've eaten a lot of salads and roasted vegetables and not a lot of home-cooked sit down meals. So it was time.
We called two couples with whom we regularly break bread and asked them to come over for a weeknight dinner. No party, no crowd, just a small group of friends who have come together over the years to share food, laughs, tears, hugs, and all the ups and downs that life has to offer.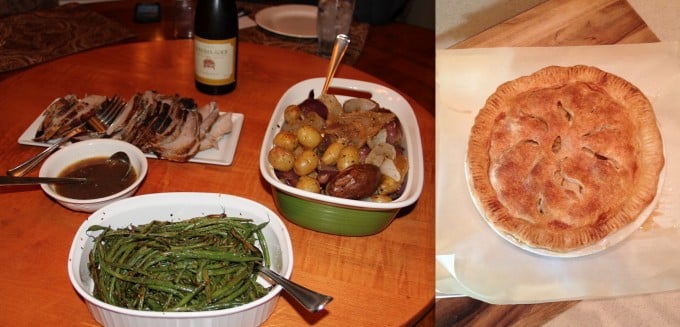 We ate a simple meal of pork roast with potatoes and roasted green beans. We gobbled up homemade apple pie for dessert. We drank a nice bottle of wine. We savored the luxury of being together, anticipating the upcoming wedding of one daughter and reminiscing over the recent wedding of another. It was a fine time and a reminder that regardless of how busy we are, we need to make time to do life together in a simple way…no dressing up, no fancy centerpiece, no pulling out the good china, no expectations…just share a meal and take an opportunity to reconnect.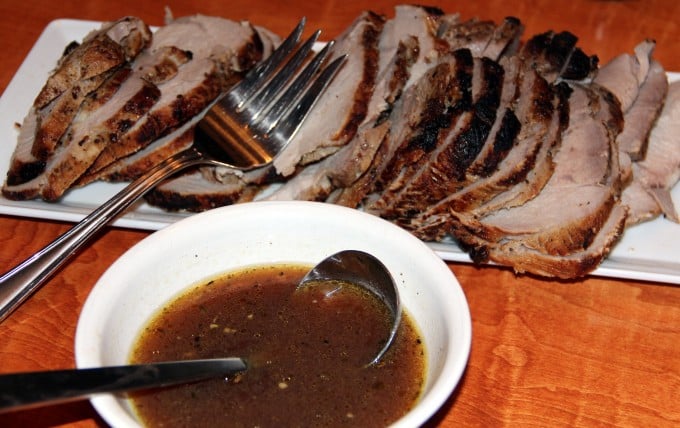 This pork roast can be started a day or two ahead or just a few hours. It needs to stay in the brine for 6-8 hours.
Start with mixing brown sugar, salt, bay leaves, coriander seeds, peppercorns, and water in a large 2-gallon bag. Place the pork in the bag and chill at least 6 hours. The pork needs to sit at room temperature for about an hour before you cook it, so be sure and factor that into your timing process.
I used fingerling potatoes, red onions, and fennel as accompaniments for the pork, but you could also throw in some carrots or other root vegetables. In a large roasting pan, toss the vegetables with a little dried thyme, garlic, salt, pepper, and olive oil.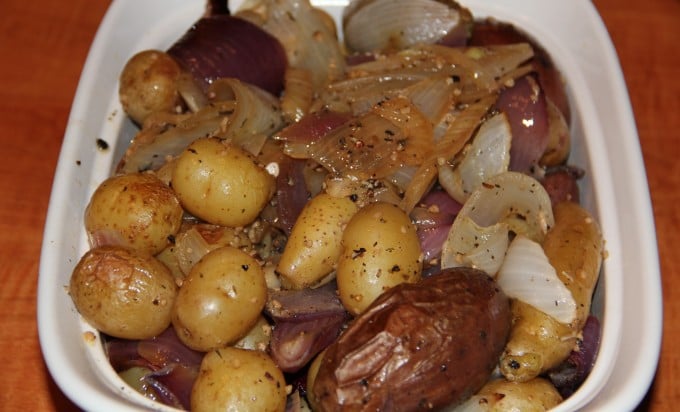 Crush a small handful of coriander seeds and rub all over the pork. Sprinkle pork with salt and pepper. Heat olive oil in a large skillet over medium-high heat and sear the pork on all sides until you get a nice browning.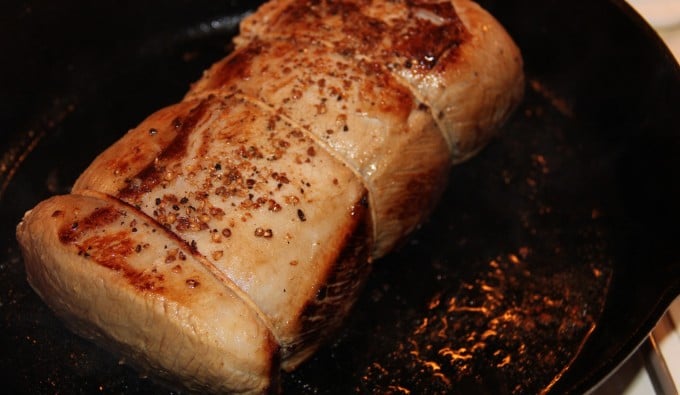 Place pork on top of vegetables in roasting pan and tuck bay leaves under kitchen twine.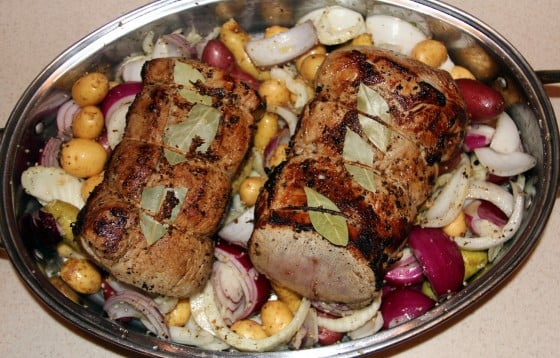 Roast pork and vegetables until meat thermometer indicates pork is done. Acceptable temperature for pork is 140°, and it will rise a bit after it comes out of the oven. I still like to cook mine a bit longer, however, and usually go up to about 150°, especially for a thick roast like this one. I don't mind pork slightly pink, but don't want it oozing red juices. That is just personal preference.
Remove from oven and allow pork to rest for at least half an hour before slicing.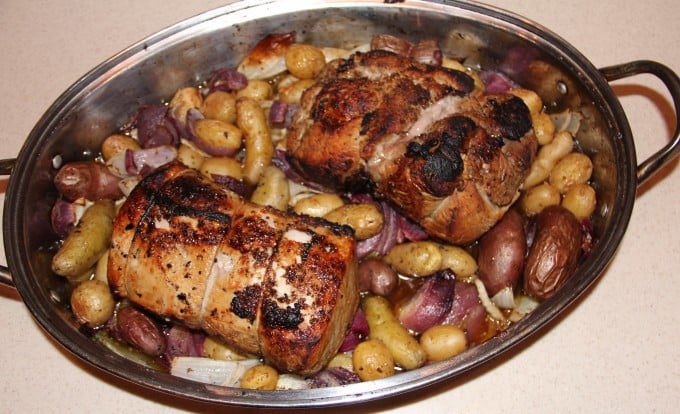 Adapted from Bon Appetit's Cider-Brined Pork Roast with Potatoes and Onions.
Cider-Brined Pork Roast
A one-pot meal of pork roast, potatoes, onions, and fennel.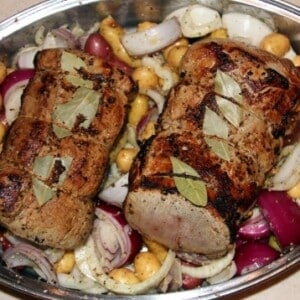 Ingredients
Brine
1

cup

light brown sugar, firmly packed

1

cup

kosher salt

2

bay leaves

2

tablespoons

minced garlic

1

tablespoon

coriander seeds

1

teaspoon

peppercorns

2

cups

water

1

half-gallon apple cider
Pork and Vegetables
1 5-6

lb.

pork loin, (pork should be tied with kitchen twine)

3

lbs.

fingerling potatoes

4

medium red onions, quartered

1

fennel bulb, sliced

2

teaspoons

dried thyme

2

tablespoons

minced garlic

2

tablespoons

coriander seeds, crushed

6

tablespoons

olive oil

2

teaspoons

kosher salt, divided

2

teaspoons

freshly ground black pepper, divided
Instructions
Brine
Bring brown sugar, salt, bay leaves, coriander seeds, peppercorns, and 2 cups water to boil in a medium saucepan.

Reduce heat and simmer, stirring frequently, until sugar and salt dissolve, 8-10 minutes. Remove from heat and transfer to a large bowl. Add apple cider and 2 cups of ice. Cool completely.

Place brine and pork in a 2-gallon resealable plastic bag and refrigerate until needed, at least 6 hours. Remove pork from brine, pat dry, and allow to rest at room temperature an hour before cooking.
Pork and Vegetables
Place rack in lower third of oven and preheat oven to 425°. In a large roasting pan, toss vegetables with thyme, garlic, salt, pepper, and about 4 tablespoons of olive oil.

Sprinkle 1 teaspoon salt and 1 teaspoon pepper all over pork. Rub crushed coriander seeds all over pork. Heat 1 tablespoon olive oil in a large skillet over medium-heat and sear pork on all sides until browned.

Place pork on top of vegetables in roasting pan, and tuck 6 bay leaves underneath the kitchen twine. Roast for about an hour or until thermometer reads 145°-160° (depending on how done you like it. The more you cook it, the more potential for the meat to dry. I call it at 150-155.) Allow pork to rest on cutting board for at least 15 minutes before slicing.
Nutrition
Serving:
8
servings
,
Calories:
463
kcal
,
Carbohydrates:
92
g
,
Protein:
4
g
,
Saturated Fat:
1
g
,
Sodium:
14778
mg
,
Fiber:
6
g
,
Sugar:
52
g