Oven baked bacon is perfectly crispy every time! Forget the mess and standing over the skillet–cooking bacon in the oven is the way to go!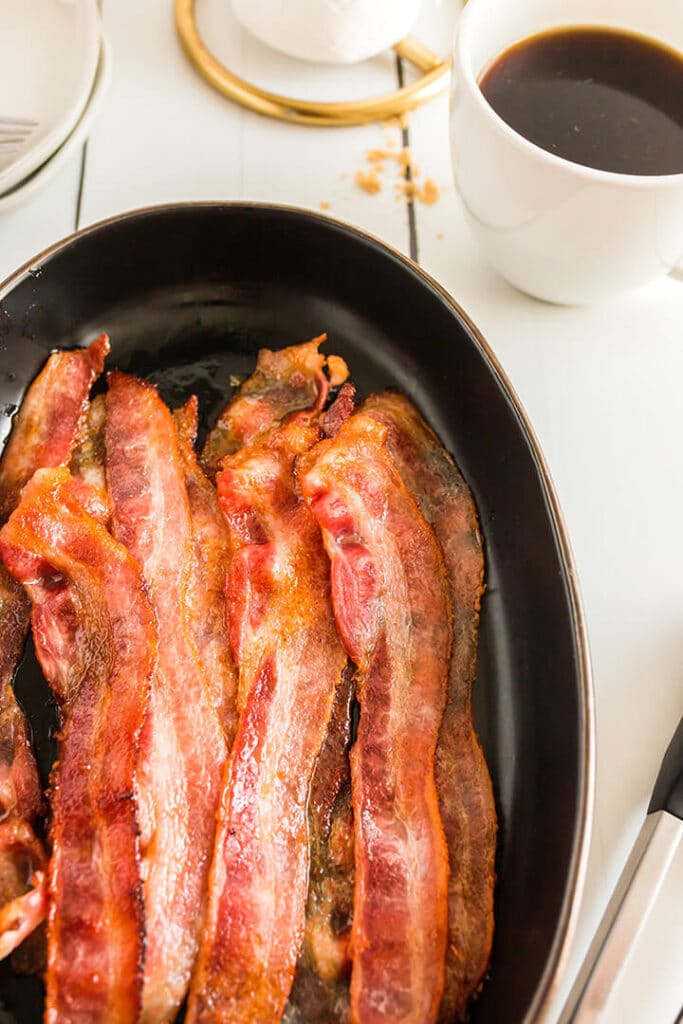 Is there anything better than the smell of bacon frying? Well, yes, actually there is—oven baked bacon with no mess and no splattering hot grease!
Especially if you have a crowd for breakfast, cooking bacon in the oven will allow you to multi-task without having to stand over the stove and tend to bacon frying. And you'll still have some bacon grease leftover to save!
This is my favorite Oven Baked Bacon recipe because the brown sugar and light sprinkling of cayenne pepper add just enough flavor to really make that bacon pop! You'll love it!
How to cook bacon in the oven
Follow these easy steps, and your bacon will be ready before you know it. Scroll all the way down for the printable Oven Baked Bacon recipe.
Line a baking sheet with foil and spray lightly with cooking spray. The bacon doesn't stick and all you do is pour off the excess grease and toss the used foil. Voila! Cleanup is super simple.
Sprinkle a little brown sugar and cayenne pepper on the bacon.
Bake the bacon for about 10 minutes, then rotate the pan. No need to flip the bacon unless using thick-cut bacon.
Continue cooking 5-8 minutes until bacon is crispy.
Remove from oven and transfer bacon slices to a paper towel lined plate. Serve!
Bacon Grease
Southern cooks have been saving bacon grease for decades. It's a good flavor enhancer for cornbread, green beans, and just about anything you plan to cook in a skillet.
Here's how to save bacon grease:
After you remove the bacon slices, let the grease cool for a little bit but not long enough to set.
Then tilt the pan and pour the grease into whatever you're using for a bacon grease container (I just use a regular jar). Cover your container and place it in the fridge. I also add the next batch of bacon grease right to the same jar.
Note: You can strain the bacon grease if you want, but it's not necessary. I never do. This container is similar to what my Granny used and it's perfect if you want to strain the grease.
Helpful tools
Heavy baking sheets – these baking sheets from Nordic Ware are essential in my kitchen. I have about 8 of these and use them for everything from sheet cake to roasting vegetables.
Oven thermometer – using an oven thermometer ensures that your oven is cooking at the temperature you need. That's so important for baking and even for roasting meats, like this oven baked bacon.
Bacon grease container – full disclosure, I keep my bacon grease in a jar in the fridge. But I love this cute enamelware farmhouse container!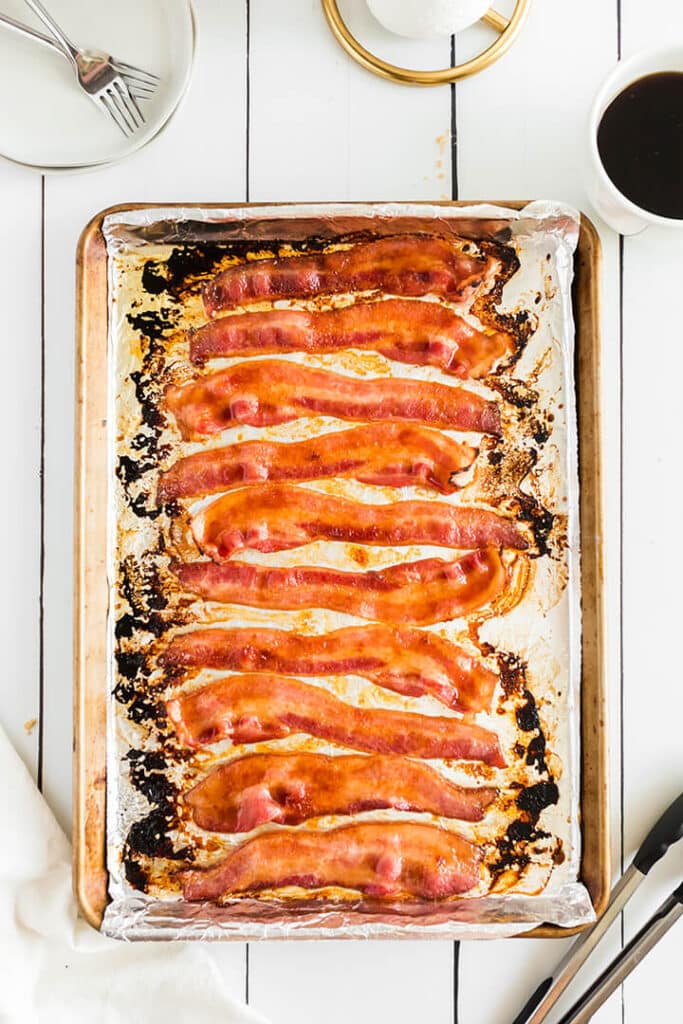 What to serve with oven baked bacon
Oven Baked Bacon
Oven cooked bacon is crisp and perfectly browned if done correctly! Forget the mess and standing over the skillet–oven cooking is the way to go!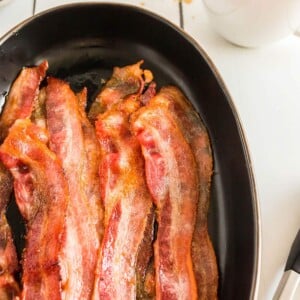 Ingredients
12

slices

bacon, thin- or thick-cut

1-2

tbsp

light brown sugar

1/8-1/4

tsp

cayenne pepper
Instructions
Place oven rack in middle position and preheat oven to 400.

Line a baking sheet with foil and lightly spray the foil with cooking spray.

Lay bacon slices on foil with separation between each piece.

Sprinkle brown sugar and cayenne pepper over bacon.

Roast bacon until fat starts to render, about 10 minutes.

Rotate the pan from front to back and continue cooking until the bacon is crispy and brown, 5-8 minutes or 8-10 minutes for thick-cut bacon.

Remove bacon from pan when crispy and place on paper-towel lined plate. Serve immediately.
Nutrition
Serving:
6
servings
,
Calories:
191
kcal
,
Carbohydrates:
2
g
,
Protein:
5
g
,
Saturated Fat:
5
g
,
Cholesterol:
29
mg
,
Sodium:
291
mg
,
Sugar:
1
g
Update Notes: This Oven Baked Bacon recipe was originally published October 24, 2016, and on January 6, 2022, was updated with one or more of the following: step-by-step photos, video, updated recipe, new tips.
Interested in curing your own bacon? Follow these instructions for How to Make Bacon.