This tender Braised Pork Shoulder is slow-roasted and marinated in dark beer and aromatic herbs, then combined with caramelized onions and a kick of chipotle. It's a comfort dish that never disappoints and will have your folks clamoring for more!
Let's talk about the magic of slow cooking with our Braised Pork Shoulder. If there's a recipe that brings the rich, hearty flavors of Southern cooking to your table, it's this one. Slow-roasted pork shoulder marinated in dark beer and a handful of herbs and spices makes for a meal that's not just filling but downright delicious.
But this is just the opening act. The real flavor explosion happens when the marinated pork meets caramelized onions and feisty chipotle peppers, turning a humble roast into fall-apart pork in a spectacular feast of flavors.
Why make braised pork shoulder
One of the best things about this pork shoulder recipe is the use of simple ingredients like an inexpensive pork butt (shoulder), onions, chipotle peppers, and seasonings that you probably have in your pantry. You can make this recipe for a crowd or use it for meal planning and save it in usable portions in the freezer.
We enjoy this pork shoulder recipe as the ultimate cozy fall dinner, but it's also the perfect recipe for summer taco parties. You decide! You can make pork sandwiches, tacos, or nachos, or serve it over our Roasted Poblano Cheese Grits or Easy Polenta. This is also a great recipe to deliver to new parents, bereaved friends, or a potluck dinner.
Tools needed
If you like recipes that don't require a lot of special tools, this one fits that bill. All you need is your favorite large pot, like this cast iron Dutch oven, or my favorite, a Le Creuset Dutch oven.
You'll need a large storage bag for the marinade, but once you start cooking, all you need is the pot. We serve the Braised Pork Shoulder straight from the pot, so no need to dirty another serving dish.
Ingredients
See the recipe card for full ingredients and instructions.
Boston butt pork roast – also known as bone-in pork shoulder (boneless is fine too!). You can pick this up at the grocery store and ask them to cut it in cubes.
Dark beer – we recommend an amber ale or lager. The beer brings so much depth to the marinade. You could also use Pinot Noir.
Lime juice – acid helps break down the meat fibers
Fresh oregano – the fresh herbs punch the flavor
Garlic – lots of fresh garlic
Bay leaves
Olive oil – good quality like this one
Onion – use regular white onions
Chipotle peppers – this is in a can
Chicken broth – homemade or store-bought is fine
Ground cumin
Salt and black pepper
Fresh cilantro – fresh herbs are best
How to make braised pork shoulder
Submerge the pork cubes in a marinade of dark beer, lime juice, oregano, garlic, and bay leaves.
Bring the meat to room temperature, then remove it from the marinade with a slotted spoon.
Brown the pork in a large Dutch oven with a splash of olive oil over medium-high heat. When pork is well-browned, remove and set aside.
Follow by caramelizing onions in the same pot, then add garlic and chipotle peppers for a sizzling, flavor-rich base.
Scrape up those browned bits, then add the pork back to the pot on top of the onions. Stir in the beer and chicken broth.
Simmer the pork in the braising liquid for 2-3 hours until fork-tender.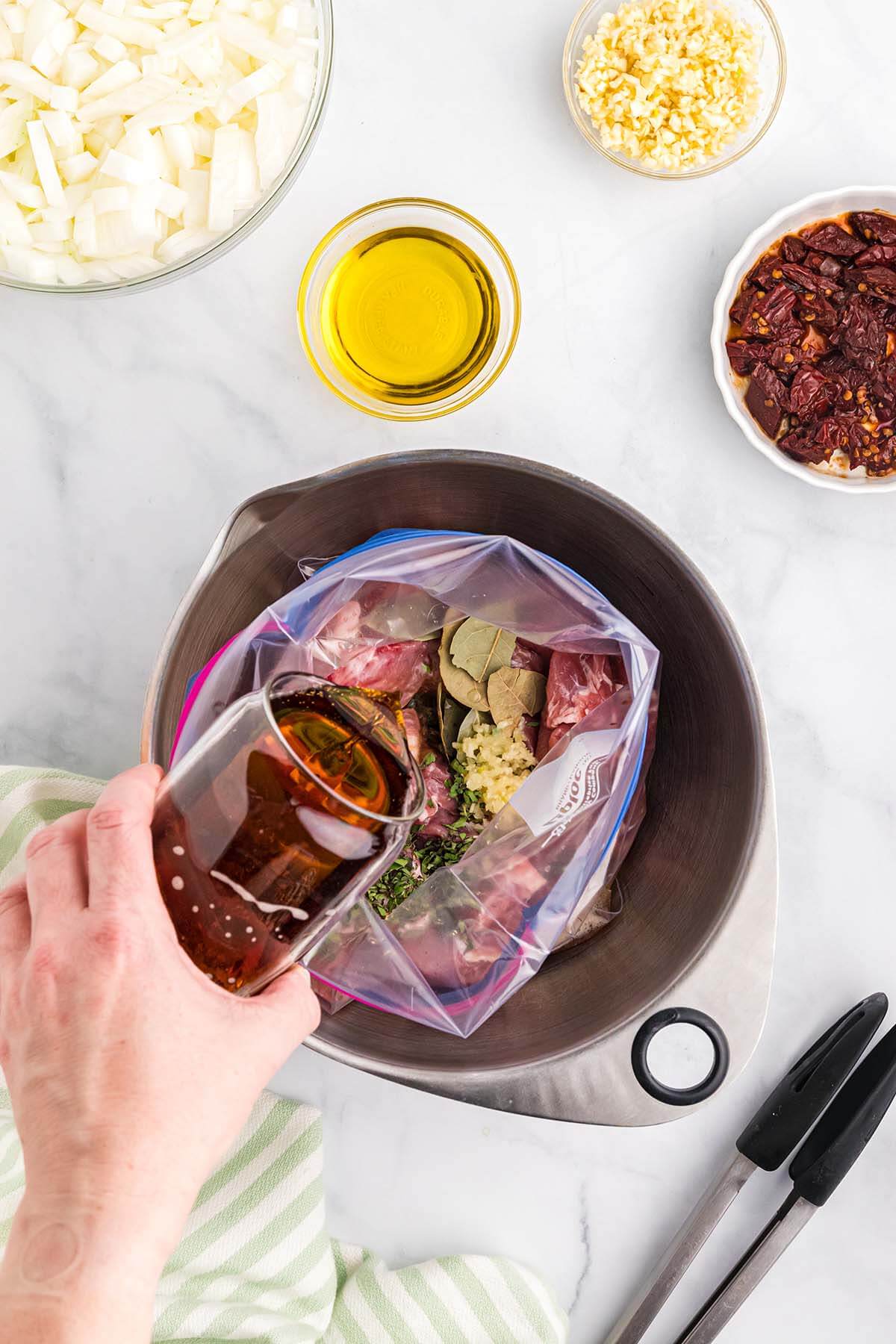 Tips
For best results, be sure you get the correct cut of meat. There are so many different cuts of pork, and this pork recipe will not work well with pork tenderloin or pork chops.
The cook time may vary depending on whether you have large pieces of meat and how tender you want it. We like fork-tender meat to the point that you could easily shred it if you wanted.
Ensure the pork is well-marinated for the most flavor. Don't try to rush it.
The Dutch oven is your best friend for consistent, slow roasting.
Be sure you don't have too much liquid. Your braising liquid should just come up the side of the pork and not fully cover it.
You can also use a slow cooker if you prefer.
Take your time with the browning and caramelizing – the flavor payoff is worth it.
Can you freeze the Braised Pork Shoulder?
Indeed, it freezes beautifully. Store in airtight containers and freeze for up to 6 months.
Can you make it ahead?
You bet! In fact, the flavors develop even more if you make it a day ahead.
How to store?
Stash it in an airtight container in the fridge for 4-5 days.
Remember, the secret to a mouthwatering dish like this Braised Pork Shoulder lies in patience, letting the flavors meld together over time. So take a moment to slow down, enjoy the process, and savor the flavors of this delicious, tender pork.
You're in for a meal that's as comforting and satisfying as it is delicious. Enjoy!
Braised Pork Shoulder
This tender Braised Pork Shoulder is slow-roasted and marinated in dark beer and aromatic herbs, then combined with caramelized onions and a kick of chipotle.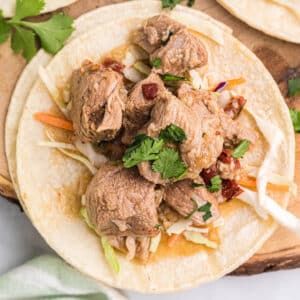 Ingredients
5.5

lbs.

Boston butt pork roast, trimmed and cut into 1 inch cubes
Marinade
1

bottle dark beer

¼

cup

lime juice

2

tablespoons

chopped fresh oregano

2

tablespoons

chopped garlic

4

bay leaves
Pork
3

tablespoons

olive oil

¼

cup

chopped garlic

6

cups

chopped onion

5

chipotle peppers, finely chopped

1

bottle dark beer

¼

cup

chicken broth

3

teaspoons

ground cumin

2

teaspoons

salt

¼

cup

chopped fresh cilantro

1

tablespoon

fresh lime juice
Instructions
Place meat, 1 bottle dark beer, 1/4 cup lime juice, 2 tablespoons oregano, 2 tablespoons garlic and 4 bay leaves in large zipper bag. Marinate for at least 3 hours or overnight.

After marinating, remove the meat from the bag with a slotted spoon and set aside.

Heat olive oil on medium-high in a large Dutch oven and brown the pork on all sides. When the meat is well-browned, remove from the pot and set aside.

Add chopped onions to the pot and turn heat down to medium. Brown the onions for about 10 minutes, adding chopped garlic after about 5 minutes.

To the onions, add the chipotle peppers. Add cumin, salt, and several turns of freshly ground black pepper.

Return pork to the pot and stir in beer and chicken broth. Add the bay leaves from the marinade to the pot.

Turn meat down to a simmer and cook for about 2 hours or until meat is fork-tender. This could take 3 hours. Stir in chopped fresh cilantro and freshly squeezed lime juice and simmer for another 10 minutes, then remove from heat. Discard the bay leaves. Serve immediately.
Notes
Serve with tortillas and salsa or over rice or roasted poblano cheese grits.
Nutrition
Serving:
8
servings
,
Calories:
540
kcal
,
Carbohydrates:
18
g
,
Protein:
72
g
,
Saturated Fat:
4
g
,
Cholesterol:
196
mg
,
Sodium:
776
mg
,
Fiber:
3
g
,
Sugar:
7
g
UPDATE NOTES: This post was originally published November 30, 2011, and on July 13, 2023, was updated with one or more of the following: step-by-step photos, video, updated recipe, new tips.