This easy polenta recipe is creamy and cheesy and bakes in the oven—no stirring required!
Here's what I don't understand about polenta: How is it that Southerners never discovered this dish? We do everything imaginable with cornmeal—bake it as cornbread, fry it as hushpuppies, use it as breading or thickener—how did we never cook it like grits and make polenta? That's what polenta basically is, just grits using cornmeal. And it is so delicious and inexpensive.
If you can't tell from my effusive praise, we have fallen in love with polenta. It is so easy to make. You don't have to stand over the stove, stirring forever…you can bake it in the oven and it comes out creamy with no lumps. This easy polenta recipes includes Parmesan cheese and cream and is rich and a wonderful complement to roasted meats. We love it with my Braised Beef Short Ribs or Slow-Roasted Pork with Caramelized Onion and Chipotle Pepper.
Easy Polenta Recipe:
Start with a coarse ground corn meal like this one:
Pour a cup into a lightly greased oven-proof skillet.
Then add water and cream or half-and-half or just milk. Or you can use just water.
I like to use a mix of water and cream or half-and-half. Throw in a pat of butter and stir it all together with a fork. Then place in the oven. The mixture will separate while baking, so after about 40 minutes remove the pan and stir gently to blend together. Then put it back in the oven for another 10-15 minutes. Remove from oven and stir gently again then allow the baked polenta to sit for a few minutes.
After the baked polenta rests for about five minutes, I throw in a cup or so of Parmesan cheese. This is optional but I like the additional flavor and creaminess from the cheese.
Stir in the cheese and you're good to go. Serve this cheesy polenta with any roasted or grilled meat or even roasted vegetables for a meatless meal. Polenta is hearty and the texture is a cross between mashed potatoes and grits. I serve it with anything with which I would serve mashed potatoes. Try it—you will love it!
Easy Polenta Recipe
This easy polenta recipe is creamy and cheesy and bakes in the oven—no stirring required!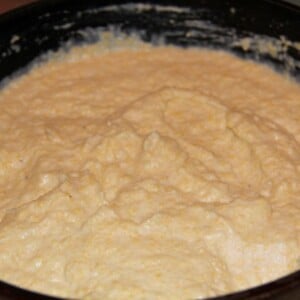 Ingredients
1

cup

coarse cornmeal

4

cups

water

2

cups

heavy cream, or you can use all water, half-and-half, or milk

1

tablespoon

unsalted butter

1

teaspoon

kosher salt

Salt to taste

1

cup

grated Parmesan cheese
Instructions
Preheat oven to 350. Grease a 3 quart non-stick oven-proof skillet, preferable cast iron.

Pour cornmeal in skillet. Stir in water and cream. Add salt and butter and stir with fork until mixed.

Bake uncovered for 40 minutes. Remove from oven and stir. Mixture will appear separated. Return to oven for 10-15 minutes then remove and stir gently until mixed together.

Allow polenta to rest for 5 minutes. Stir in cheese. Serve immediately.
Notes
You can make polenta the day before you want to serve and save in the refrigerator. Then reheat in the oven or on the stove. This does require some additional stirring and liquid.
Nutrition
Serving:
4
servings
,
Calories:
696
kcal
,
Carbohydrates:
33
g
,
Protein:
16
g
,
Saturated Fat:
33
g
,
Cholesterol:
192
mg
,
Sodium:
1023
mg
,
Fiber:
3
g
I used my deep cast iron skillet for this recipe. You can get one on Amazon: