This Baked French Toast Casserole is the best! The topping is a crunchy streusel with our without nuts and the casserole is fluffy and moist every time!
If you're having overnight company, there are several options to help you get a nice breakfast on the table with little effort in the morning. You can make a sausage and egg breakfast casserole the night before and serve with fruit. You can mix up some buttermilk biscuits the night before and bake them in the morning.
You can also try this baked French toast with streusel recipe for a great breakfast option. It's covered with brown sugar and cinnamon streusel, made with challah bread, and has a syrupy layer of brown sugar on the bottom — all things that will make the aromas coming from your kitchen so tantalizing that your guests will be drawn in and salivating before the dish comes out of the oven.
The bread is important. If you can't find challah bread then use regular French bread, but make an effort to find the challah—it makes a difference in the taste of the final product.
This recipe is adapted from Virginia Willis' French Toast Casserole recipe. Virginia Willis is my cooking idol. Southern born and raised, she went off to France to study fancy cooking, and now her recipes show an elevated knowledge of the melding of flavors and ingredients.
She takes old Southern favorites and infuses them with new tastes and methods to create palate pleasing surprises. And, of course, her cookbooks still contain lots of Southern classics just the way they've always been made.
How to Make
Baked French Toast with Streusel
To make the overnight French toast, start with brown sugar sprinkled in a 9×13 baking dish.
Add sliced challah bread over the butter and brown sugar. This photo is actually French bread, and although it shows the crust still on the bread, I've decided that I like it better with no crust.
Mix half and half with eggs, vanilla, cinnamon, ginger and Grand Marnier and then pour over the bread slices, making sure each one gets covered in liquid.
That's it for this step. Now just cover the dish and refrigerate over night or at least several hours. The bread will soak up all the liquid.
When you remove the casserole from the refrigerator, sprinkle the streusel on top and let sit for half an hour before baking. Most streusel recipes contain chopped pecans, but my family prefers baked goods without nuts, so this version can be made with or without nuts.
The casserole will take 45-50 minutes to bake to achieve a slightly crunchy top. When you first take it out of the oven, the casserole will be puffy and high over the dish, but let it sit for a few minutes before serving and it will sink down.
The brown sugar on the bottom creates a syrup so some people will not want to add anything, but I like a little bit of warm maple syrup drizzled on top.
Overnight French Toast
Brown sugar gives this french toast casserole a crunchy streusel topping with a bit of syrup underneath.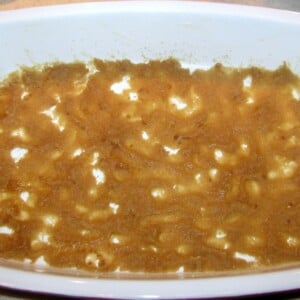 Ingredients
Casserole
¼

cup

firmly packed brown sugar

1

loaf challah or French bread, crusts removed and sliced about 1 1/2 inches thick

8

large eggs

3

cups

half and half

1

tablespoon

vanilla extract

½

teaspoon

cinnamon

½

teaspoon

freshly grated nutmeg

¼

teaspoon

ground ginger

1

teaspoon

Grand Marnier

¼

teaspoon

Kosher salt
Streusel Topping
1 ⅓

cup

light brown sugar

½

cup

all-purpose flour, (if not using nuts, add additional 1/2 cup flour)

2

cups

chopped pecans

¼

teaspoon

cinnamon

¼

teaspoon

freshly grated nutmeg

pinch

of salt

8

tablespoons

unsalted butter
Instructions
Spread 3/4 cup brown sugar evenly over the bottom of a 9×13 baking dish. Lay bread slices over the brown sugar.

Whisk together eggs, half and half, vanilla, cinnamon, ginger, nutmeg, Grand Marnier, and salt until well blended. Pour egg mixture over the bread slices, covering each piece of bread with liquid.

Cover and refrigerate overnight or for several hours.

Remove from refrigerator at least half an hour before baking.

Preheat oven to 350.
Streusel Topping
In a large mixing bowl, stir together flour, brown sugar, cinnamon, nutmeg, and salt until well mixed. Using your fingers, work the butter in until the mixture resembles large crumbs. If using nuts, stir in the pecans and mix well.

Do not over mix or your topping will turn mushy. Sprinkle all of the topping evenly over the casserole prior to baking.

Bake casserole until set and top is nicely browned, about 45 minutes. Remove and let cool slightly before serving.
Nutrition
Serving:
10
servings
,
Calories:
503
kcal
,
Carbohydrates:
52
g
,
Protein:
6
g
,
Saturated Fat:
14
g
,
Cholesterol:
201
mg
,
Sodium:
217
mg
,
Fiber:
1
g
,
Sugar:
38
g