Southern Fried Chicken made the simple, old-fashioned way it used to be made. Just sprinkle the chicken with salt and pepper, dredge in flour, and fry! So easy!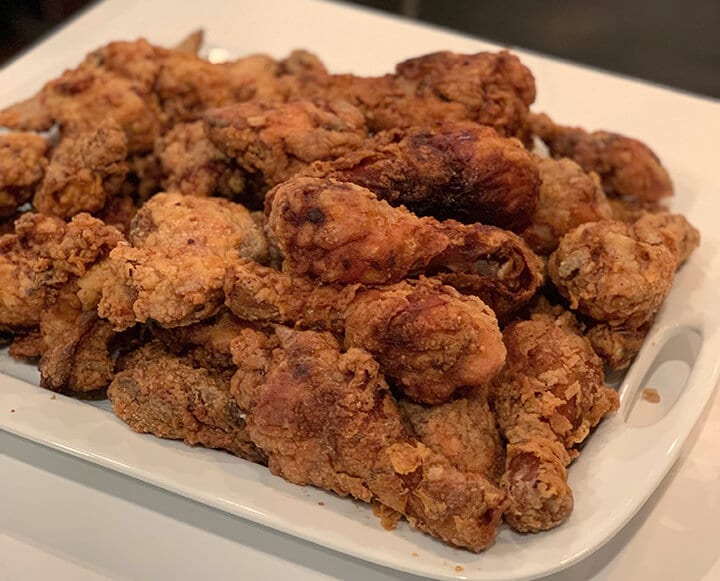 It should be common knowledge that my Granny made the best fried chicken ever. Certainly it was legendary in our family! And this recipe is exactly the way that she made it. Add some homemade biscuits and you'll have a meal that will make everyone happy.
Lots of chefs will say to soak the chicken in buttermilk, and while I have done that on occasion, more often than not, I just flour and fry the chicken, which is the way it's been done in my family forever.
Tools needed
You don't need anything special to make good Southern fried chicken, just a regular cast iron skillet. I do like to use a deeper skillet like this one, but it's not necessary.
You do want to make sure you have a lid that will cover your skillet.
How to fry chicken
For this chicken, you can use already cut up pieces or you can cut your own. I like to cut my own because the ones that are already cut in the store are way too big.
Cook's Tip: Young or organic chickens are usually smaller and a better size for frying. They are the size real chickens used to be before the chicken industry got a hold of them and mutated them into chicken monsters.
Step 1. Prepare chicken
Salt and pepper all the chicken. Next, season your flour with a little salt and pepper and then dredge the chicken pieces. Place them on a rack on a baking sheet.
Step 2. Prepare skillet
Add oil to the skillet to reach about 1/3 up the side. The oil should cover the chicken about halfway up but not completely.
Use a thermometer and heat the oil to 375°. (Now you know my Granny never used a thermometer and I usually don't either, but if you're just starting out it will be helpful for you to know when to put the chicken in the skillet.)
Cook's Tip: If you're cooking a good bit of fried chicken, you can heat your oven to 200° and place the cooked chicken on a rack on a baking sheet in the oven to keep warm.
Step 3. Fry chicken
Just before dropping the chicken into the skillet, dredge it through the flour one more time and lightly shake off the excess. Then place a few chicken pieces in the hot grease and let them cook.
You need to stay close by and keep an eye on your chicken. After a few minutes, turn it and cook for another couple of minutes. At this point, I usually cover it, leaving the edge open, and let it cook a bit longer, then turn again and cover again.
You want to get a nice, deep golden brown and check with the thermometer to make sure your chicken is fully cooked at 165°.
Each time you remove chicken pieces from the skillet, be sure you give the oil a minute to heat back up before putting new pieces in.
Best oil to fry chicken with
Of course the best fried chicken is made with lard, but most of us don't have a tub of lard sitting around. So in lieu of that, use vegetable oil or peanut oil.
How to reheat fried chicken
Most of the time, we eat leftover fried chicken at room temperature or even cold straight from the fridge.
If you want it hot though, you can heat it in the microwave or in a warm oven.
Serving suggestions
When we have Southern fried chicken, it's usually a to-do, so we'll have all the fixins:
Granny's Fried Chicken
Tender golden fried chicken, crispy on the outside and juicy on the inside. A favorite of kids and grownups!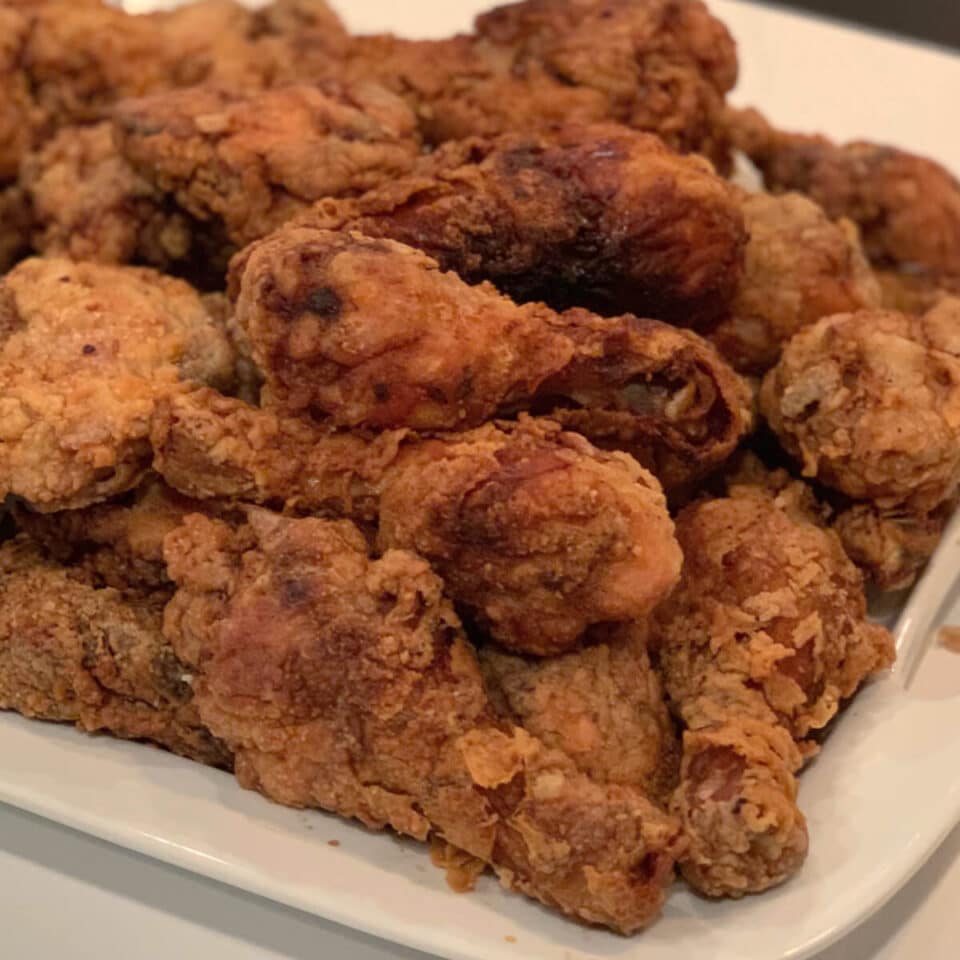 Ingredients
1

small chicken, cut into pieces

3

cups

all-purpose flour

2

teaspoons

salt

2

teaspoons

pepper

2

cups

Crisco or peanut oil, may need more
Instructions
Line a large platter with paper towels or brown paper bags.

Season both sides of chicken with 1 teaspoon each of salt and pepper. Add remaining salt and pepper to the flour in a large bowl and dredge the chicken pieces through the flour, then set chicken aside.

Heat the shortening or oil in a large, deep skillet on medium-high until it sizzles when a drop of water is added. This would be about 375.

Just before adding chicken, dredge each piece through the flour again, shaking slightly to remove excess, then place each piece one at a time in the hot oil. Do not overcrowd the skillet.

Cook, turning about every three minutes until chicken is brown on all sides. This will probably take about ten minutes.

Then cover the skillet, leaving one side open slightly to vent, and turn heat down to medium. Cook another 8-10 minutes, turning occasionally, until chicken is deep, golden brown.

Dark meat may take a little longer and should be at least 165° when done.

Place chicken pieces on the lined platter and cover with aluminum foil until ready to eat.
Nutrition
Serving:
6
servings
,
Calories:
573
kcal
,
Carbohydrates:
15
g
,
Protein:
41
g
,
Saturated Fat:
10
g
,
Cholesterol:
161
mg
,
Sodium:
160
mg
This post is part of my favorite Southern Foods at Home collection.
Update Notes: This post was originally published April 1, 2011, and on June 23, 2020, was updated with one or more of the following: step-by-step photos, video, updated recipe, new tips.