**I have been compensated by Collective Bias, Inc. and its advertiser for this post. All opinions are mine alone—I will never promote a product that I don't use and believe in! Disclosure Policy #RealTasteForRealLife #CollectiveBias
Hawaiian Salad with Freschetta Canadian Bacon & Pineapple pizza comes together in less than 30 minutes for Hawaiian Night—quick, easy, fun, and delicious!
5:00 p.m. Quittin' time! Ha! As if there is such a thing when you're a busy mom. You leave one job to rush home and start the other one—and foremost on your mind is WHAT TO DO FOR DINNER! It's a full-throttle thought process from one moment to the next…
5:30 p.m. What's for dinner? Run to Walmart…pick up something…pizza! Can't go wrong with pizza!
5:40 p.m. Which one? There are so many! Needs to be made with high quality ingredients, especially 100% real cheese! Needs good crust that rises naturally—no chemical leaveners! But it's got to taste great too. Ahhh, here we go. Freschetta. That's the one.
5:45 p.m. What else? We need to add some veggies, maybe salad. But fun salad. Oh, I know—the Freschetta Canadian Bacon and Pineapple pizza with a Tropical Salad and Strawberry Banana Split Cups—we'll have Hawaiian Night! The kids will love it! I'll throw in a Cheese Pizza too, just in case someone's feeling picky.
6:15 p.m. Pizza in the oven. Make salad: put lettuce in bowl, add mandarin oranges, slice up a couple of kiwis, chop green onions, throw in toasted macadamia nuts, crumble banana chips, toss with fresh lemon vinaigrette.
Boom! Ten minutes—done!
6:40 p.m. Pizza out of oven, salad ready, table set, water poured.
6:45 p.m. Kids, let's eat!
6:50 p.m. That sauce! Oh my goodness! Made with sun-ripened tomatoes, it tastes like summertime. This is good. My family deserves real taste from real ingredients. #MomWinning #RealTasteforRealLife
Hawaiian Salad
This Hawaiian Salad goes well with so many things, including grilled pork tenderloin, chicken breasts, and fish, but especially as a quick salad for pizza night. My family loves Freschetta pizzas, and our favorite is the Canadian Bacon and Pineapple, but I always keep a cheese pizza on hand as well since everyone loves cheese pizza.
The tropical salad is so quick and easy you can almost have it finished by the time the oven has pre-heated! And you can mix and match ingredients—you could add some toasted coconut, or pineapple and mango instead of kiwi and oranges.
I like to use my lemon vinaigrette since I usually have some on hand, but it would also be great with a poppyseed vinaigrette or balsamic or raspberry.
You should always feel good about what you're serving your family, and Freschetta pizza is made with real, wholesome ingredients, like 100% real Provolone and Mozzarella cheese, sauce made from 3 sun-ripened tomatoes, and naturally rising crust with no chemical leaveners.
It's so tasty and works great for young moms and dads who are rushing home to get dinner on the table—much better than running through the fast food drive-thru. You can pick some up at your local Walmart today!
What's your favorite side to serve with pizza? Please share in the comments!
Hawaiian Salad
Hawaiian Salad with mandarin oranges, kiwi, macadamia nuts, banana chips, and fresh lemon vinaigrette–quick, easy, and super good!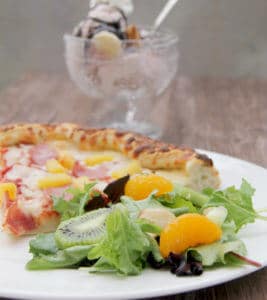 Ingredients
Salad
5

cups

baby spring greens

1

can mandarin oranges, drained

2

kiwi fruits, peeled and sliced

2

scallions, chopped

¼

cup

toasted macadamia nuts, coarsely chopped

⅓

cup

banana chips, coarsely crumbled

Feta cheese
Lemon Vinaigrette
Juice from 1 large lemon

2

teaspoons

sugar

1

teaspoon

Dijon mustard

Kosher salt and freshly ground black pepper

⅓

cup

good quality extra virgin olive oil
Instructions
Salad
In large bowl, toss lettuce, half the can of mandarin oranges, kiwi slices, chopped scallions, macadamia nuts and banana chips. Add vinaigrette to taste. Top with Feta cheese.
Vinaigrette
In container (I use a small Mason jar), combine lemon juice, sugar, and Dijon mustard. Add a little salt and freshly ground black pepper. Place lid on container and shake until well mixed. Add olive oil and shake again. Leftover vinaigrette will keep up to a week in the refrigerator.
Nutrition
Serving:
4
servings
,
Calories:
339
kcal
,
Carbohydrates:
25
g
,
Protein:
2
g
,
Saturated Fat:
5
g
,
Sodium:
27
mg
,
Fiber:
4
g
,
Sugar:
17
g