French Salad Dressing made the authentic French way with fresh lemon juice is so simple and easy you'll never want bottled salad dressing again!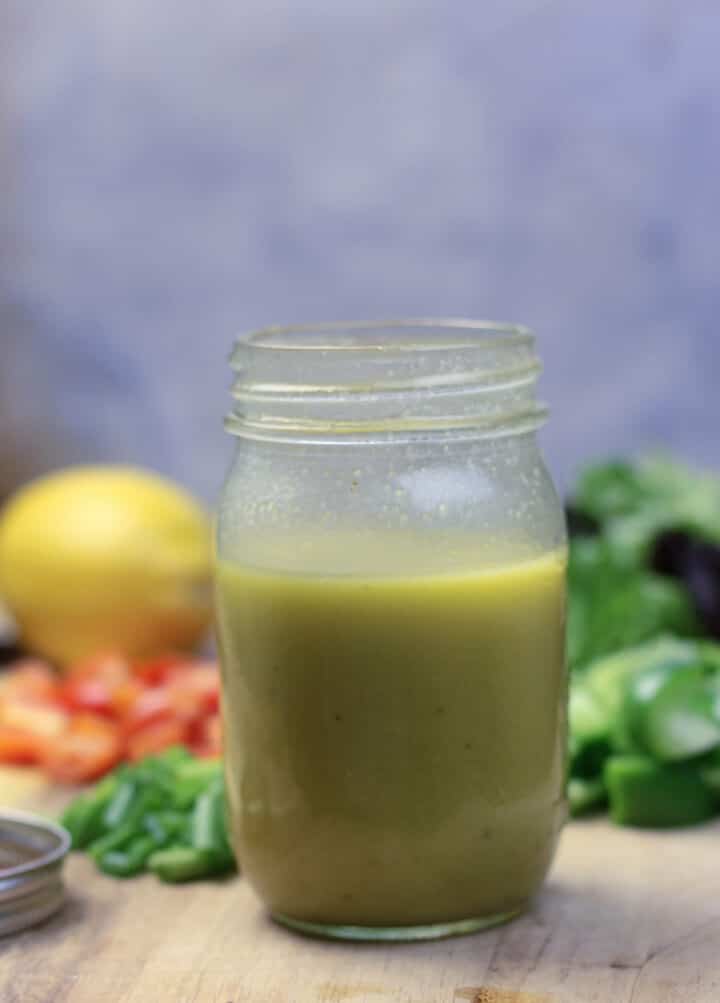 Do you like creamy, fat-laden salad dressings? I used to love Thousand Island, but now I don't eat salad with any creamy dressing—except occasionally a Caesar salad, but even then if I make Caesar salad at home, I'm topping it with this French Salad Dressing.
One other exception might be a salad with my Honey Mustard Sauce, but that's not as calorie heavy as most creamy dressings!
I used to just throw together balsamic vinegar and olive oil, but I came across this new favorite a few years ago when I was perusing Southern Fried French, one of my favorite blogs.
You may also like…
Balsamic Vinaigrette – classic Balsamic vinaigrette for your salad or vegetables
Lemon Dijon Vinaigrette
Back to the French Salad Dressing: it's made with fresh lemons, Dijon mustard, and olive oil, so it's basically a lemon Dijon vinaigrette. The dressing is light and perfect over field greens or any type of salad.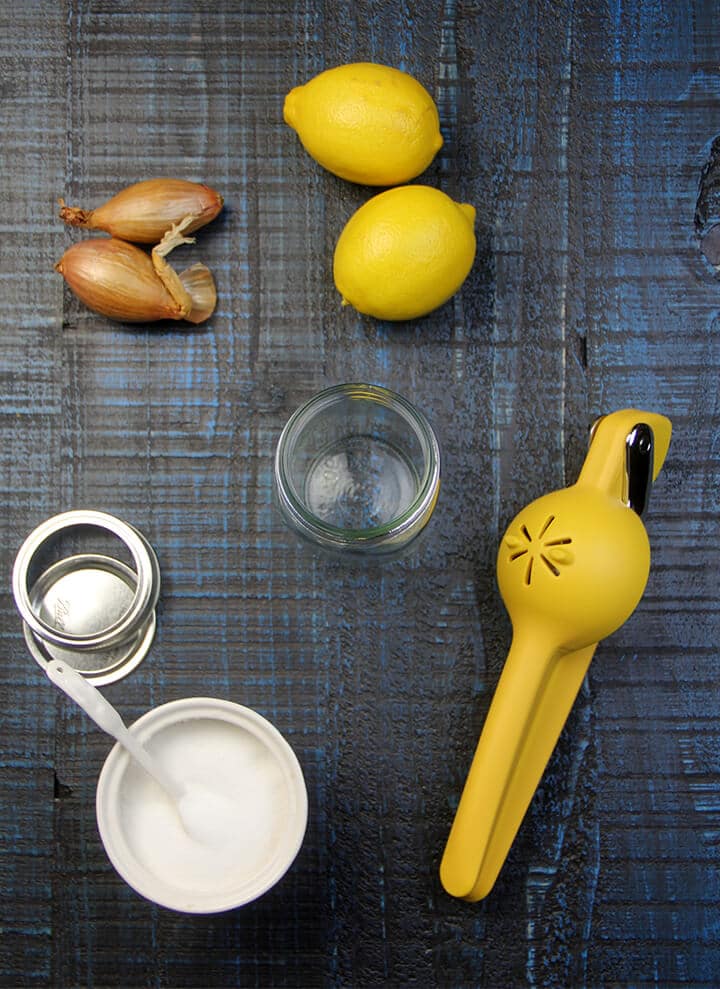 Lynn also says to add a minced shallot but I'm usually in too much of a hurry to do that—though the dressing does taste snappier with some shallot or minced garlic added.
It's interesting to note, this simple lemon vinaigrette recipe does not turn out in any way like the orange stuff you find on the grocery store shelves. No one seems to know how that concoction came to be known as French Salad Dressing!
Helpful Tools for French Salad Dressing
How to Make Lemon Vinaigrette
Step 1. Squeeze two or three lemons and add enough juice to fill about one-third of a jar. Your French Salad Dressing is best with lots of good, fresh lemon juice.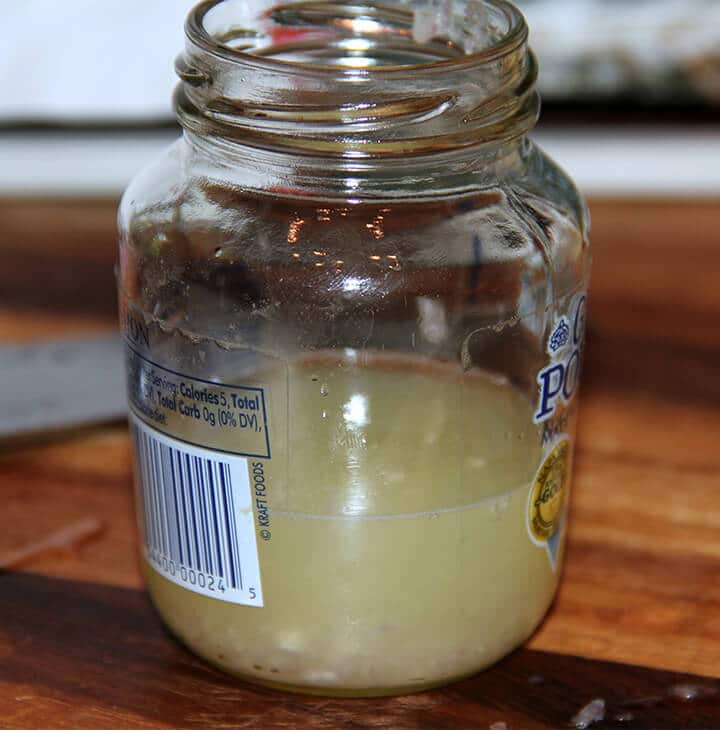 Step 2. Add a large dollop of Dijon mustard.
Step 3. Add minced shallot, a spoonful or two of sugar, and salt, and pepper.
Step 4. Shake vigorously to mix.
Step 5. Fill jar with good quality Extra Virgin Olive Oil.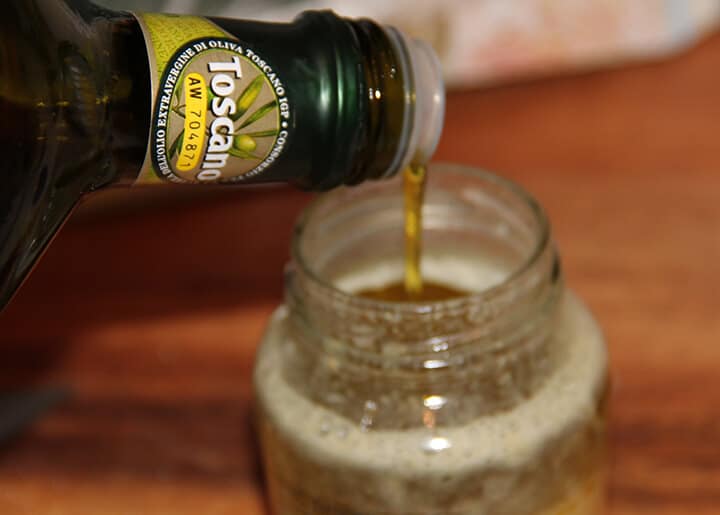 Check out the original recipe for French Dressing #1: The Secret Revealed and take a look at that Chateau—it is beautiful! Visit Southern Fried French blog. (for some reason the link doesn't work so just go a quick search and you'll find it!
Tips for your French Salad Dressing:
If you don't have fresh lemons, you can also use a white wine vinegar or white Balsamic vinegar to make your French Salad Dressing.
You can use garlic powder in place of the shallot and the dressing will last a little longer.
To use your lemon Dijon vinaigrette straight from the refrigerator, pop it in the microwave for 5-8 seconds and it will be ready to go.
Serving Suggestions for French Salad Dressing:
This simple lemon vinaigrette is delightful on more than just a green salad! You can use it as a marinade for chicken, or drizzle over steamed or Parmesan Roasted Asparagus.
It's also a perfect sauce for grilled or baked fish.
Cook's Tip: The French Salad Dressing will keep for several days in the refrigerator, though mine never lasts that long.
French Salad Dressing
A tangy lemon Dijon vinaigrette that's simple to make and dresses almost any salad perfectly.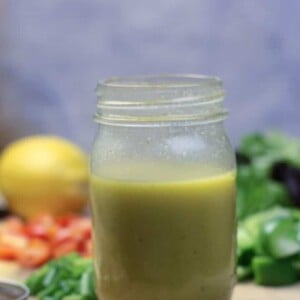 Ingredients
⅓

cup

Freshly squeezed lemon juice

1

tablespoon

Dijon mustard

2-3

teaspoons

Sugar

⅔

cup

Extra-virgin olive oil

1

teaspoon

Minced shallot or garlic (optional)

¼

teaspoon

Garlic powder (if not using fresh shallot or garlic)

Salt and pepper to taste
Instructions
Fill container with lemon.

Add Dijon mustard, sugar, shallot or garlic powder, salt, and pepper.

Cover tightly and shake vigorously.

Remove cover and add olive oil.

Cover and shake again.

Taste and add more sugar, salt, or pepper if needed.
Notes
These measurements are meant to be a guide, and as you make this lemon vinaigrette more often, you'll get used to the amounts you need for your container. A good rule of thumb is to fill the container 1/3 with lemon juice and then almost full with olive oil.
Vinaigrette will keep for several days in the refrigerator. Allow to come to room temperature before using or pop container in the microwave for a few seconds.
Nutrition
Serving:
10
servings
,
Calories:
137
kcal
,
Carbohydrates:
2
g
,
Saturated Fat:
1
g
,
Sodium:
17
mg
,
Sugar:
1
g
Update Notes: This post was originally published August 26, 2011, and on August 27, 2019, was updated with one or more of the following: step-by-step photos, video, updated recipe, new tips.
More Sauce/Dressing Recipes You'll Love: