This Kentucky Travel Guide initially covers travel from Lexington to Louisville only. As we meander back through Kentucky in the future, I'll add to this post with additional points of interest and places to stay.
In the cold Kentucky rain
Showed your photograph
To some old gray-bearded men
Sitting on a bench outside a gen'ral store
They said "yes, she's been here"
But their memory wasn't clear
Was it yesterday?
No, wait, the day before?

–Elvis Presley
If you've ever traveled through Kentucky then you know it's some of the most beautiful country you could ever visit. David and I recently drove from Ohio to Lexington and then to Louisville—what a gorgeous drive past grand horse farms dotted with magnificent homes and barns on rolling hills with long-legged horses ambling around everywhere.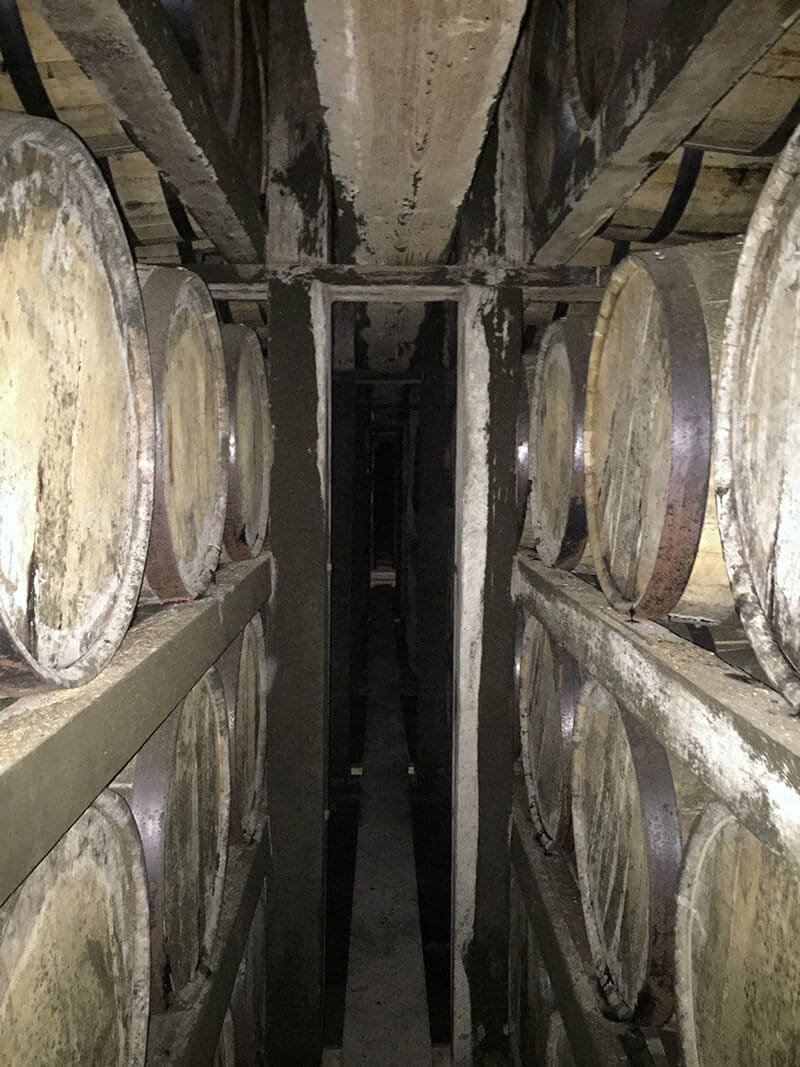 We were certainly taken with the scenery, but then even more so with everything else! We enjoyed some amazing food and of course, BOURBON, and we were fortunate enough to stay in two of the loveliest hotels that Kentucky offers.
Here's the first installment of my Kentucky Travel Guide—there will be more because I plan to go back as soon as I can!
Another favorite place to try: Grand Fiesta Americana Coral Beach Cancun
The Campbell House Lexington, Curio Collection by Hilton
For this Kentucky Travel Guide, I wanted to include some of the boutique, lovely hotels that abound in Kentucky. You can always stay at a nice chain hotel, but you don't always have the option to stay at a more interesting place so take advantage of that option when you can.
In Lexington, we pulled onto the grounds of The Campbell House and couldn't believe our eyes! It was beautiful!
The Campbell House looks like an old Southern mansion, and inside the decor is warm and inviting, with equestrian and Kentucky-related mementos everywhere, from spiritwear for the University of Kentucky to nostalgic Kentucky Derby items.
It's elegant but not pretentious and you feel at home but at the same time pampered.
And isn't that the best way to feel in a hotel?
Our room was delightful too. There was a nice large sitting area with a sofa and a couple of arm chairs as well as a large television. You could relax there while enjoying a cup of tea—or a glass of bourbon—and get lost in a book, or maybe just stretch out on the soft, sinkable pillow-top mattress in the bedroom and take a nap. Or you could just work on your computer.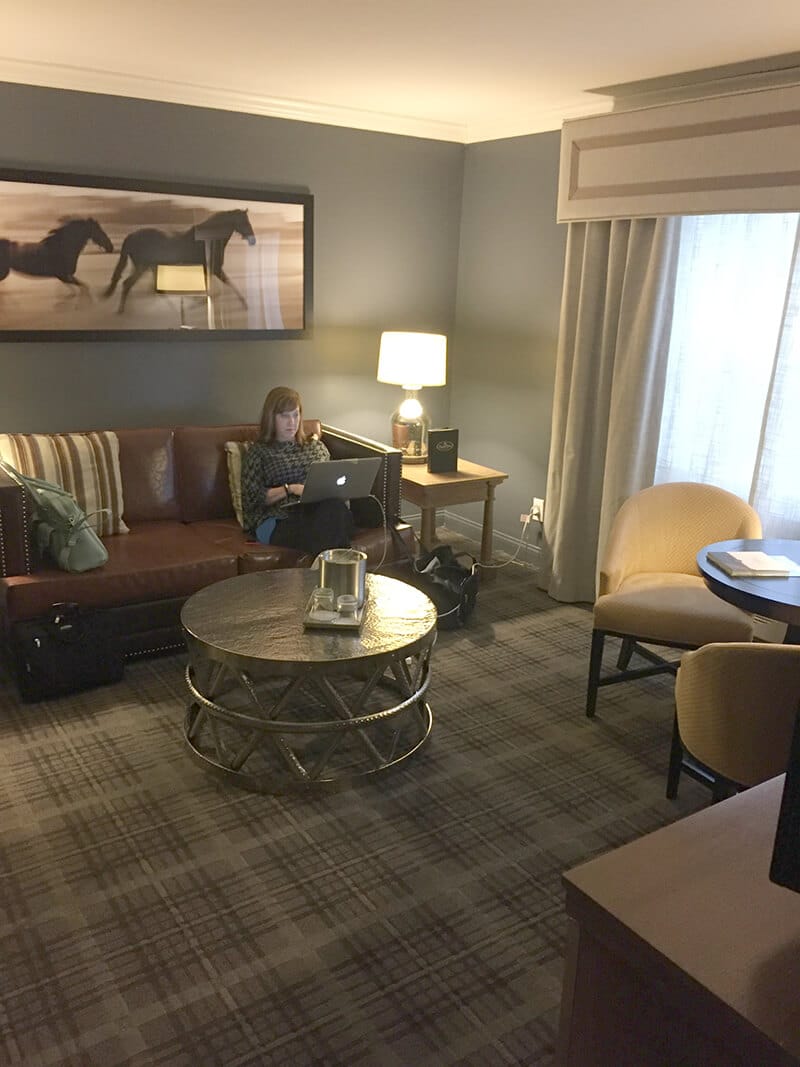 Part of Hilton's Curio Collection, The Campbell House Lexington is a fantastic representation of what happens when history melds with just enough modern amenities to ensure comfort while still retaining its iconic elegance.
The service here is superb—plenty of smiles and pleasantry from a staff who appreciates you being there.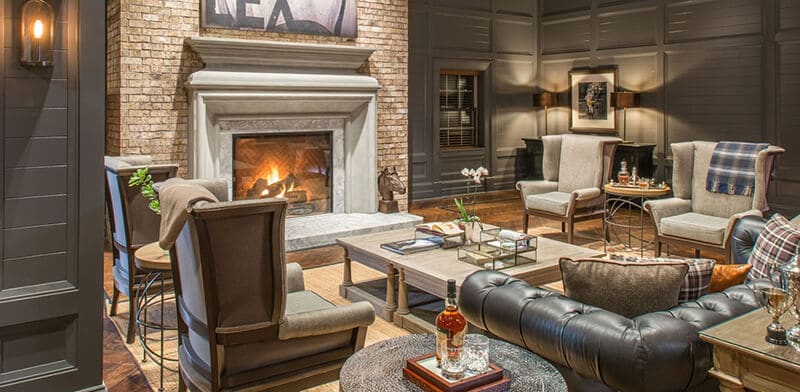 The hotel offers entertainment with Bogart's Lounge, where you can discover some Kentucky bourbon you may not have tried while enjoying live music. Then be sure and stop in at Kilbern's the next morning for the fabulous breakfast buffet.
Dining in Lexington
Since we were only in Lexington one night, we had to be selective in our dinner choice—and boy, did we make the right choice! We ate at Middle Fork Kitchen Bar, and I have to tell you, this is one of my new favorite restaurants. I would drive back to Lexington just to eat here!
The bar…oh my goodness! The unique and diverse craft cocktails left us swooning—literally—and the wine list is pretty amazing as well.
Then the food…at the recommendation of our server, we tried the PB & J, which is not a sandwich, but is a fired-grilled baguette slice served with ginger peanut sauce, lime-orange jam, chilis, cilantro, and red onion pickles. It was divine. Then we shared the Pork Belly, which was also fantastic, and the dessert board.
Get the dessert board. Trust me.
Kentucky Bourbon Trail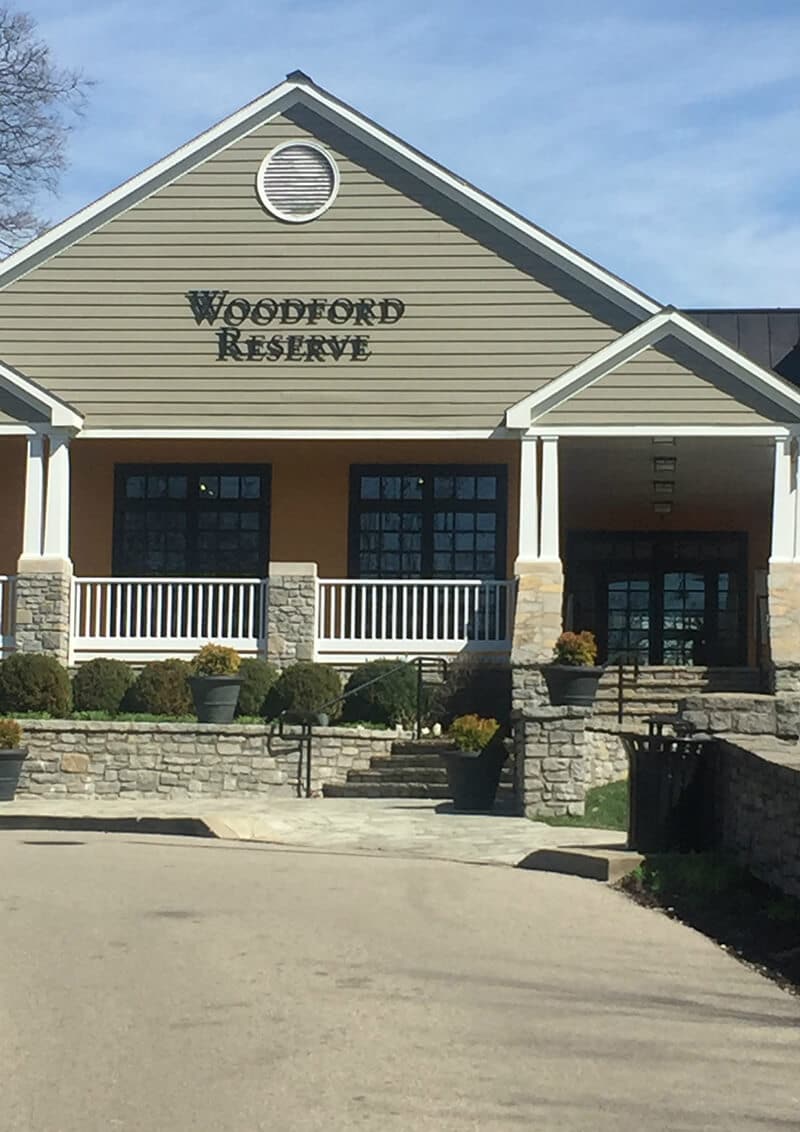 A Kentucky Travel Guide must show the famed Kentucky Bourbon Trail, so of course we had to put that on our list of things to do.
We left Lexington the next day and traveled to Louisville, along the way stopping at the Woodford Reserve Distillery for a tour. It was so interesting and the campus of Woodford Reserve is lovely. It's sort of out in the country and surrounded by beautiful green pastures.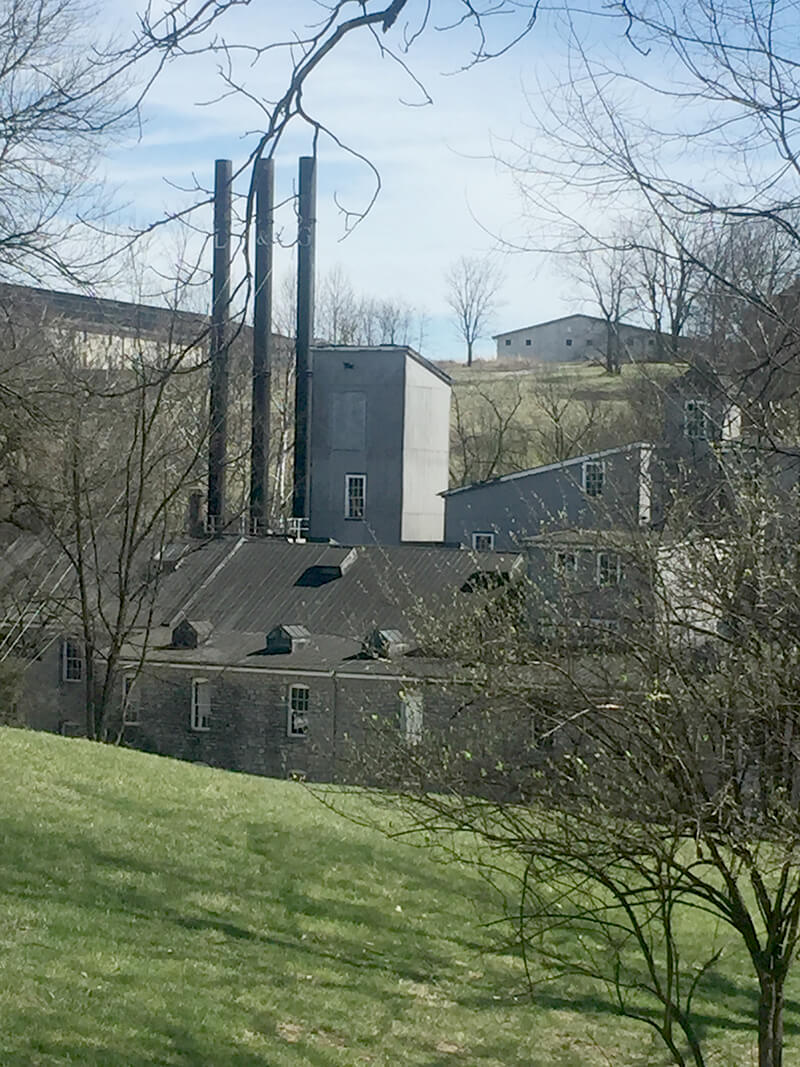 We enjoyed learning about the difference that Kentucky water makes in bourbon as well as the storied history behind the distilleries and the Prohibition era.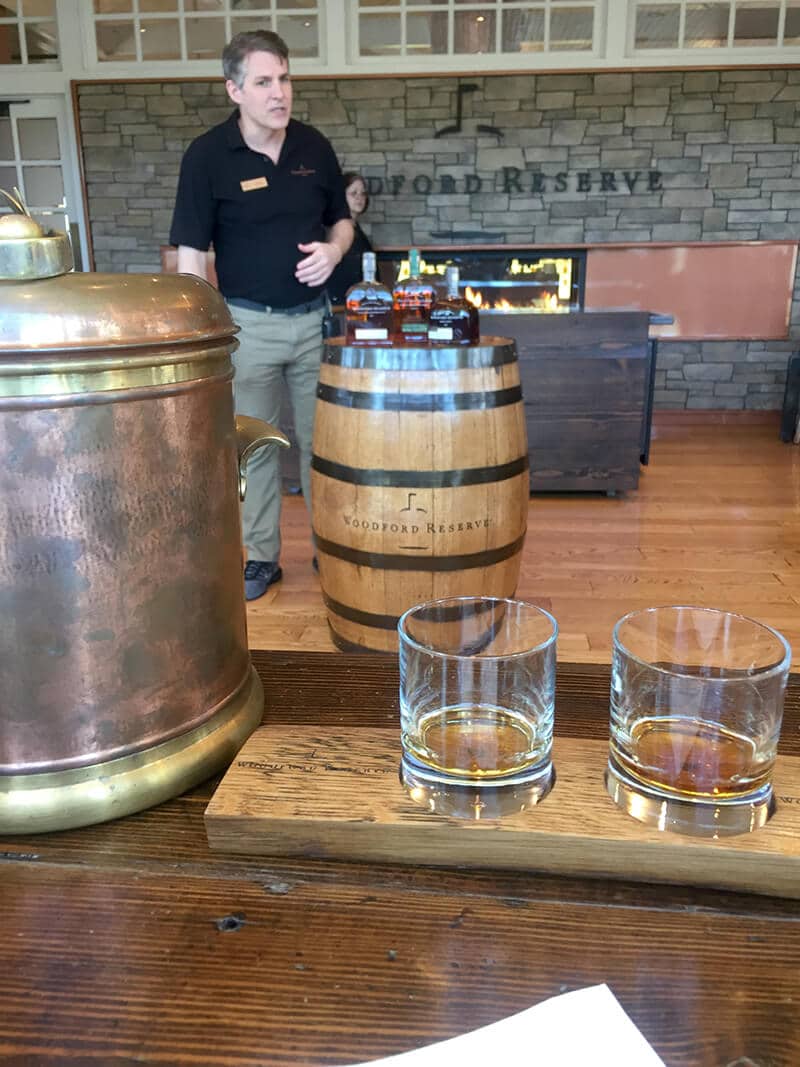 David's favorite part was when we got to the tasting room. He especially loved that I only sipped mine and then passed the rest to him so he got double tastings!
Our next stop was the Buffalo Trace Distillery. The tour and the distillery were completely different, although of course the process is similar. Our tour guide at Buffalo Trace was an older gentleman and was hilarious.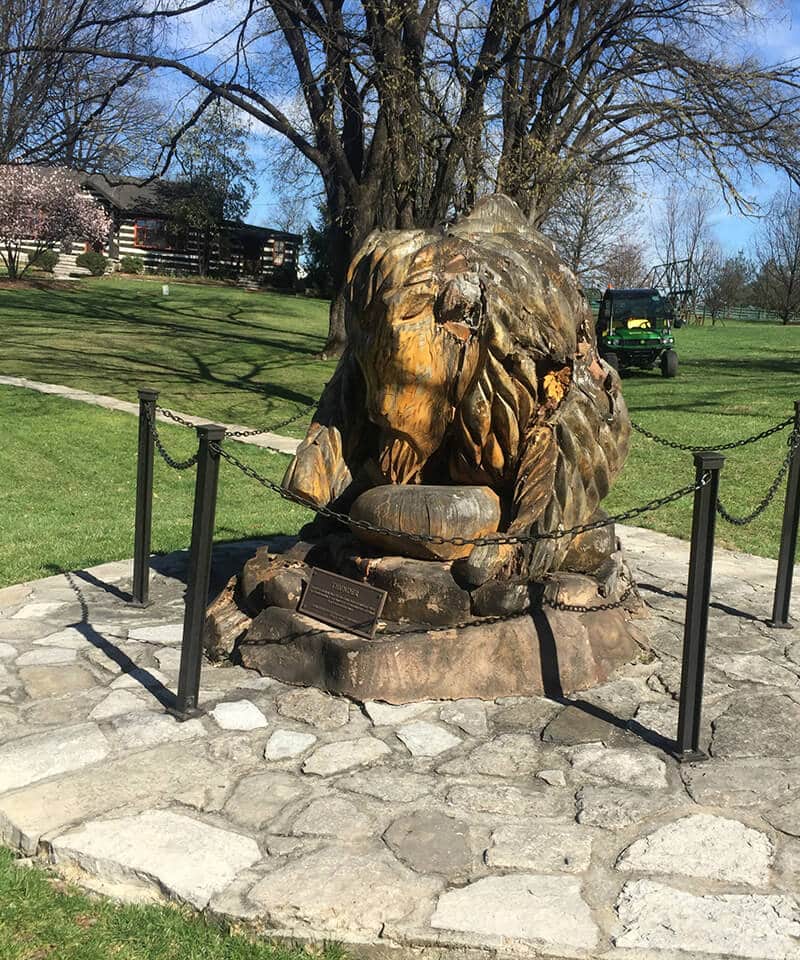 At both distilleries, the guides were knowledgeable not only about the bourbon-making process at their own locations, but also about alcohol/wine processes in general as well as much of the history of Prohibition and even spirits from the Old Country long before America was founded.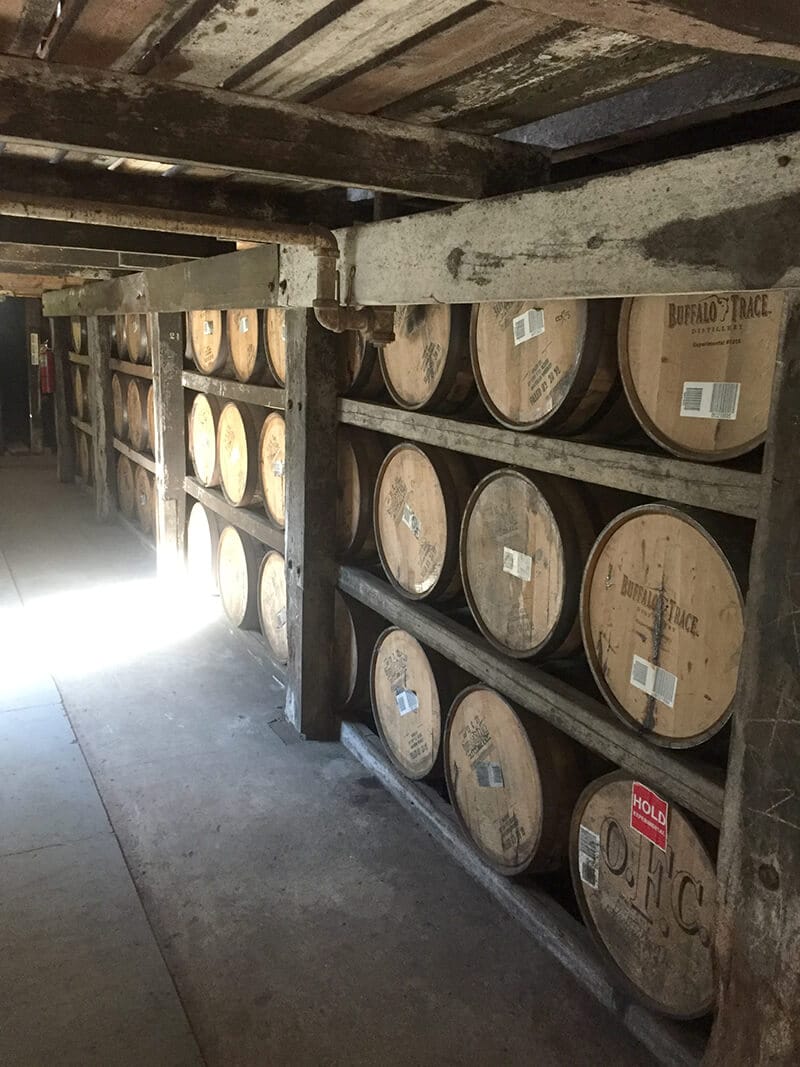 I recommend both of these as the tours were similar but different enough so that both distilleries were really interesting to us. We learned so much. I did sample the bourbon but my husband and my sons are the bourbon drinkers in our family, so we brought some home to share.
Note: Woodford Reserve charges for their tour but Buffalo Trace does not.
In Louisville, we stayed at the renowned Brown Hotel, which is one of the most beautiful hotels I've ever seen. There is so much history here!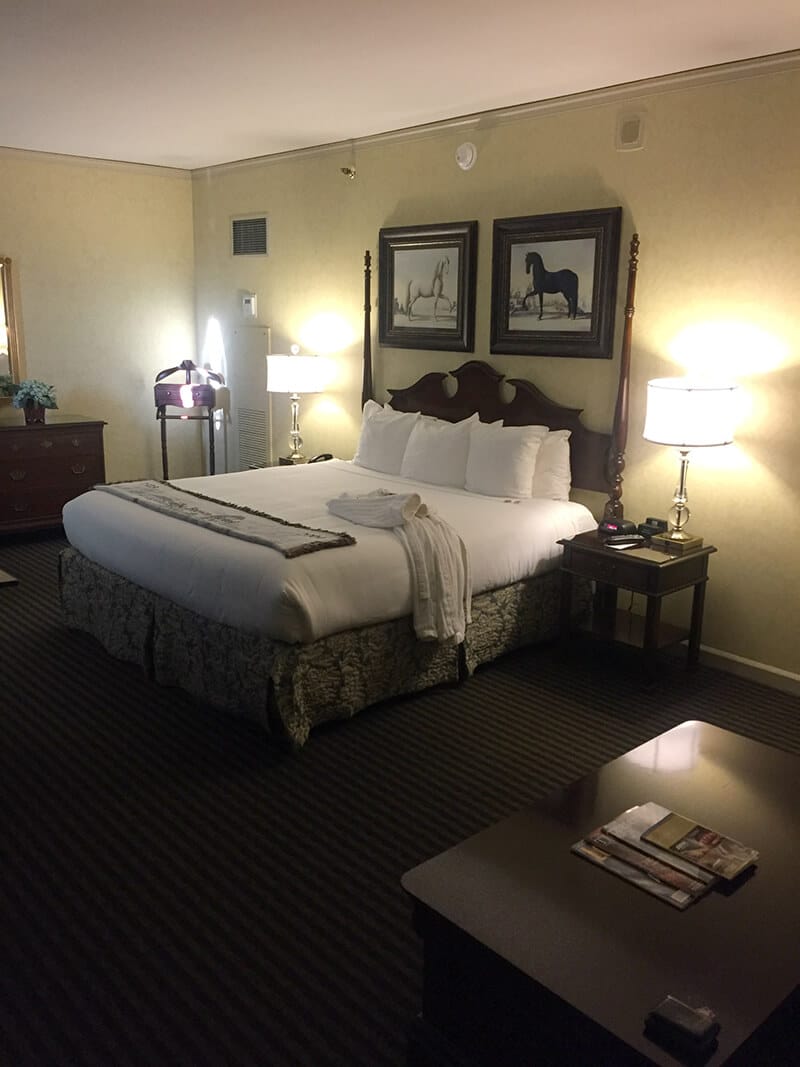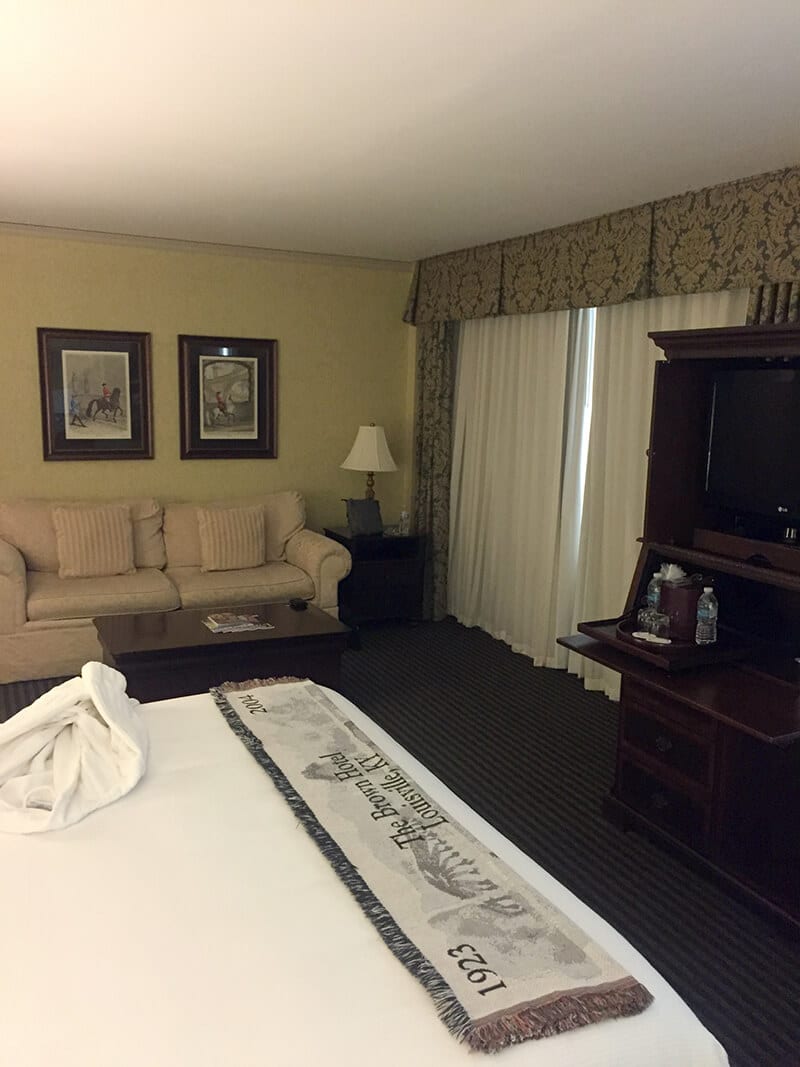 The hotel was built in 1923 and remained a working hotel until the 1970s, when it closed for a little over a decade. The hotel was acquired by a group of investors and renovated in the mid-80s.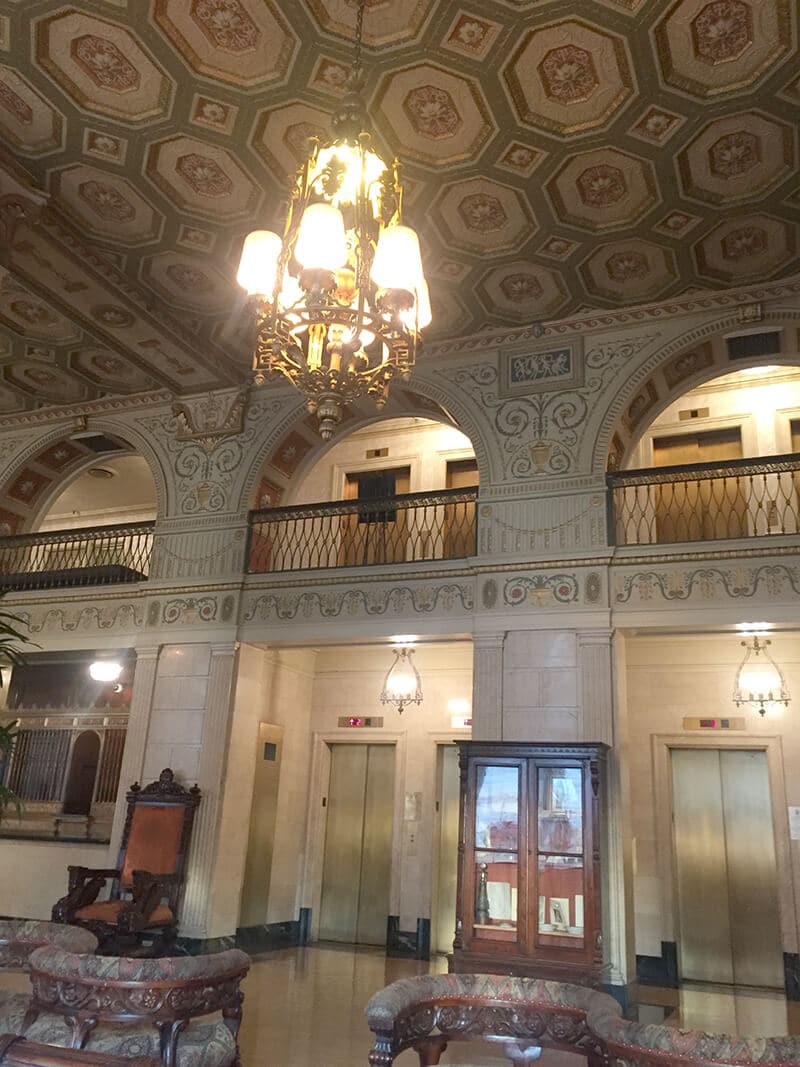 Today, the Brown serves as a favorite meeting place for locals and tourists and offers exemplary service.
Visiting Kentucky Should be on Every Bourbon Lover's Bucket List!
A Kentucky Travel Guide couldn't be complete without mentioning the place where they hold a little ole' horse race, now would it? Unfortunately, by the time we made it to Churchill Downs we had been traveling for days and we were exhausted and ready to head home. We opted not to do a tour and just look from the outside. It was huge, way more so than I had imagined!
And we didn't make it to any of the other distilleries, so we'll have to go back again one of these days and complete the Kentucky Bourbon Trail—I know all the guys in our family will love it!
If you have adult children who like bourbon, I highly recommend Kentucky as a vacation destination.
Kentucky Travel Guide
Things to Do:
Kentucky Bourbon Trail – There are 9 main distilleries on the Kentucky Bourbon Trail, and then an additional 11 craft distilleries that take you even further into the unrivaled craftsmanship of the Kentucky Bourbon industry.
Churchill Downs – By the time we got to Churchill Downs, we were pretty exhausted from traveling so we didn't do the tour. We did go by so that we could see it though. What a magnificent, beautiful historical site!
Places to Stay:
The Campbell House Lexington, Lexington, KY
The Brown Hotel, Louisville, KY
Places to Eat:
Middle Fork Kitchen Bar, Lexington, KY
Disclaimer: In assisting to compile this Kentucky Travel Guide, The Campbell House Lexington provided us one night's lodging in a lovely suite and The Brown Hotel offered a discounted room. All opinions are my own.