Aiken, South Carolina, is a hidden gem among Southern towns, featuring equestrian events, walking trails, a charming downtown, and The Willcox Hotel.
Don't you love coming across hidden gems? Aiken, South Carolina is one of those! We visited there recently while traveling from our daughter's home in Augusta, about half an hour away.
Another charming place to check out: Grand Fiesta Americana Coral Beach Cancun.
Aiken has a charming downtown. Chartered in 1835 during the railroad expansion, the town became a visiting site for wealthy Northerners wishing for a summer gathering place. Around 1870, the area also ben to attract wealthy Northerners and eventually became known as an equestrian mecca.
The Aiken Steeplechase Association, founded in 1930, hosts the Imperial Cup in March and the Holiday Cup in October, events which draw more than 30,000 spectators to the small, Southern city. There's also a museum, the Aiken Thoroughbred Racing Hall of Fame and Museum.
We enjoyed walking around the downtown area–although we weren't there long enough to cover everything! There are lots of boutiques, antique shops, cafes—you could easily spend 2-3 days in Aiken just taking it all in. And that's just the shopping!
A visitor's brochure for the city lists 10 art galleries/framers, 4 antique shops, 8 museums or entertainment venues, 25 cafes/restaurants, and nearly 50 retail and specialty shops! You can't do it all in one day!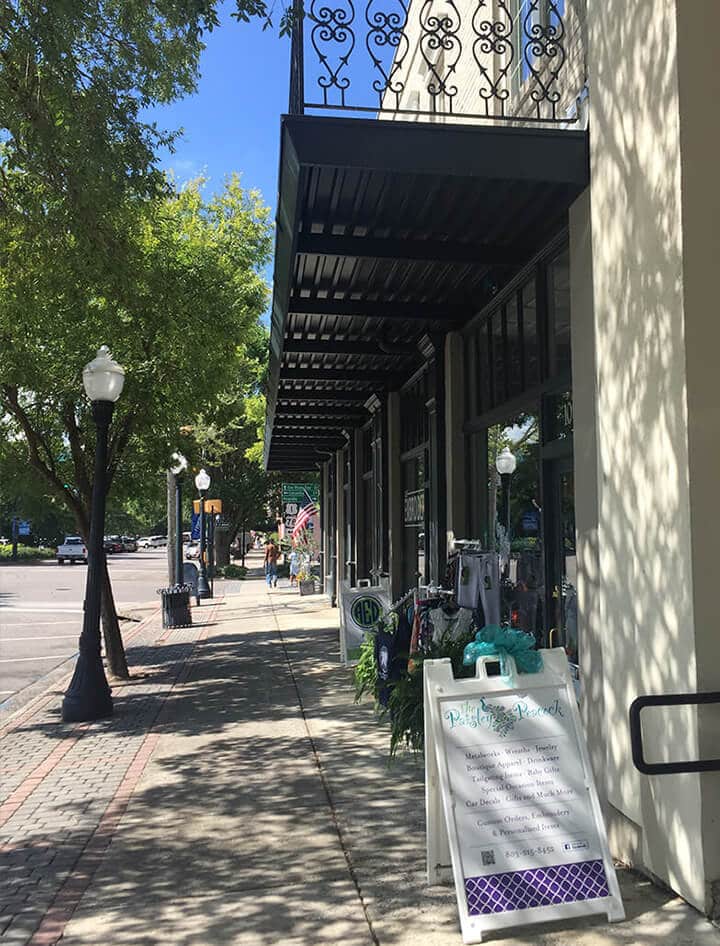 There are also parks and walking trails all around Aiken, like the beautiful Hopelands Gardens.
On Saturdays, you can take a 2-hour guided Trolley Tour throughout historic Aiken which includes a guided walk through Hopelands Gardens and the Thoroughbred Racing Hall of Fame & Museum.
I would also encourage you to visit the Center for African American History, Art and Culture, an in-depth look at African American history and culture in Aiken County. The Center is "housed in the historic Immanuel Institute Building, located on the corner of York and Richland streets. The Center preserves the legacy begun in 1881 by Rev. W. R. Coles, a Presbyterian missionary. From humble beginnings in a small six-room house Rev. Coles established The Immanuel Institute to educate African Americans. In 1889 he constructed this building to house the growing school." – CAAHAC
If you'd like to learn more about the South Carolina railroad experience, there'a a free museum for that as well: the Aiken Visitors Center and Train Museum, which "has nine dioramas that depict the towns along the original South Carolina Canal and Railroad Company right of way. This railroad became the first designed steam powered commercial railroad in the United States and the longest railroad in the world. The dioramas accurately show Charleston, Summerville, St. George, Branchville, Denmark, Blackville, Aiken's freight station, Aiken's passenger depot and Hamburg, near North Augusta, as they were in the year 1916." — Visit Aiken, SC.com.
What's that you say? What about astrologists? Of course there's something for you in Aiken too! Try the DuPont Planetarium, home of the RPSEC Observatory for a spectacular public show every Saturday.
And of course, your visit to Aiken won't be complete without a walk through Hitchcock Woods, one of the nation's largest urban forests with about 2,100 acres.
In addition to all I've listed here, there are also spas, horseback riding stables, car racing tracks, ponds where you can fish, shooting ranges, and multiple art galleries. There is something for everyone in Aiken, South Carolina!
Where to Stay in Aiken, South Carolina
Now, for the highlight of our trip to Aiken—The Willcox Hotel, a stunning, white-pillared Colonial Revival landmark on the National Historic Register that has been a permanent fixture in Aiken since 1898. I swoon over this hotel. It's so beautiful and historic and lets you drift right into days of rocking on the front porch, with no television and no cell phones, just talking and enjoying a gorgeous summer day.
Although we didn't have time to visit the spa, that's a must-do on our agenda for when we return. The spa rooms are serene, private rooms with fireplaces and expert spa therapists who create an experience of total relaxation—so much so that The Willcox Hotel Spa has been ranked as one of the top 15 hotel spas in the country by Conde Nast Traveler.
We did, however, have time to visit the bar where we enjoyed perfectly crafted cocktails and this dish of melted cheese that I fell absolutely in love with. Grilled mahon cheese with chorizo, summer peach jam, and grilled ciabatta. It was amazing. The award-winning restaurant in the hotel is a local favorite and worth a drive.
Our room was lovely—a suite with a small sitting room with a fireplace and a desk—perfect for when you need a little extra space!
The bed was heavenly, like slipping into a nice, soft cloud. And there was caramel on our blanket, as well as fresh spa water on our bedside table. I felt so pampered!
The Willcox offers several luxurious rooms and suites, most with fireplace and deep-soaking tubs in the bathrooms. It's a beautiful, historic hotel that has been on Travel + Leisure and Conde Nast Traveler magazines' exclusive lists of the world's best hotels.
If you're looking for a unique, stress-free, family-friendly, or romantic place for a vacation, I highly recommend Aiken, South Carolina. We can't wait to go back!
Here are a few links to help you plan your trip:
Special thanks to The Willcox Hotel for providing us with a room for the night. All opinions are my own.
More Travel Guides: