Baked ziti made with four cheese and Italian sausage is a great make ahead dish for a party. This recipe does not use ricotta cheese!
Do you ever invite yourself over to your friend's house and then say, "But I'll bring dinner!" Well, we do! Not quite like that, but sort of. When you have a food blog, you're always looking for volunteer guinea pigs.
Anyway, if you do that or if you just invite your friends to come to your house, which is probably the more polite way to go about it, then baked ziti is a great crowd-pleaser to serve.
You can get everything ready ahead of time and just put it in the oven while you're having appetizers. Twenty minutes later you are ready to eat.
How to Make Baked Ziti
I make baked ziti using my basic marinara sauce with a few tweaks, such as adding Italian sausage, and then I throw in lots of cheese. The key is mixing chunks of cheese and grated cheese in with the noodles so you don't just have one globby mess on top.
Because nobody likes a globby mess of cheese on top of their baked ziti. Ever had baked ziti or lasagna where you had to cut it with a knife just to get through the cheese? That's a globby mess.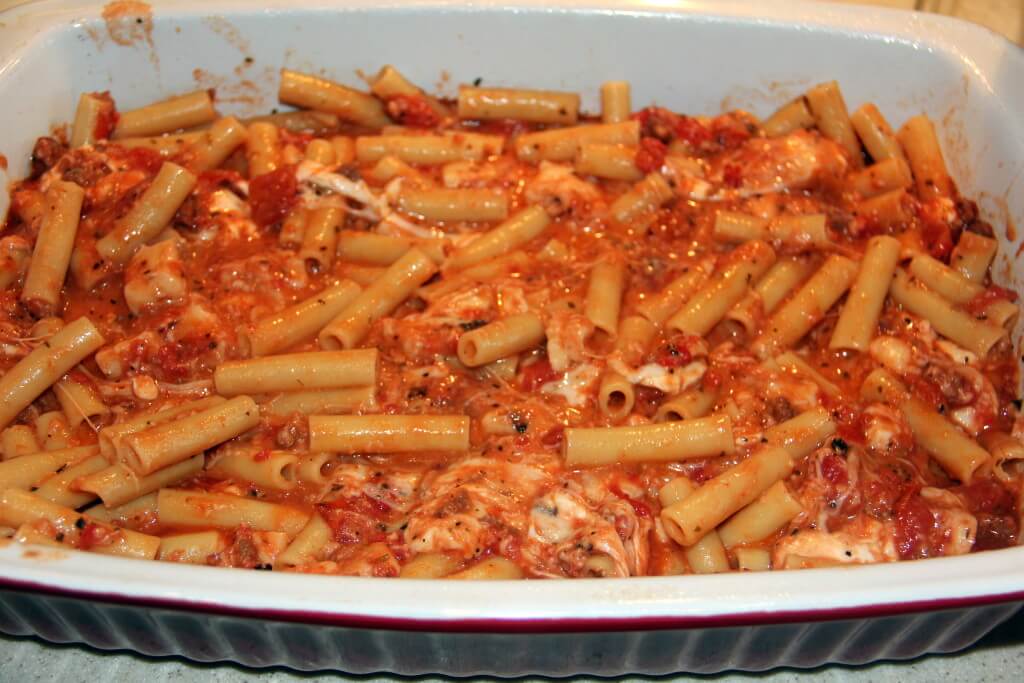 Then just add more sauce and alternate between noodles mixed with sauce and cheese, just sauce, more cheese, and then start over.
You'll have a couple of luscious layers and then top the whole thing with more cheese and bake about twenty minutes until cheese is melted and starting to brown.
The hardest part is letting your baked ziti sit for a few minutes before you dive in. But you must! It helps everything settle down so you don't have cheese and sauce running everywhere on the plate.
Add a simple salad and some crusty bread and you have a divine meal.
Baked Ziti
Baked ziti with four kinds of cheese and Italian sausage is an excellent party dish.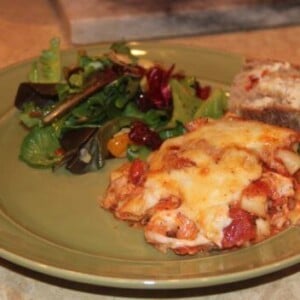 Ingredients
Sauce
2

tablespoons

olive oil

1

cup

finely chopped onion

4

cloves

garlic, finely minced

1

lb.

mild or sweet Italian sausage

1 14-

oz.

can crushed tomatoes

1 14-

oz.

can diced tomatoes, undrained

½

cup

red wine, (Cabernet Sauvignon, Pinot Noir, Merlot, or Chianti will do)

2

tablespoons

Italian seasoning

1

teaspoon

granulated sugar

Salt and pepper
Cheese
1

lb.

mozzarella, cubed and shredded

½

cup

grated Pecorino Romano

½

cup

grated Parmesan
Other ingredients
¼

cup

heavy cream

1

lb.

ziti noodles
Instructions
Heat olive oil in a large skillet or Dutch oven. Add onion and saute for one minute. Cut open sausage casings and crumble sausage into skillet. Add garlic. Cook until sausage is browned.

Add tomatoes, wine, sugar, and seasonings. Salt and pepper to taste.

Simmer for thirty minutes.

In a large pot, prepare water to boil for ziti. Boil ziti for slightly less than time indicated for al dente. You want the noodles to finish cooking in the sauce in the oven. Drain the noodles, reserving 1/2 cup of cooking water.

Add ziti noodles, 1/4 cup heavy cream, reserved pasta water, cubed mozzarella, and all of the pecorino to the sauce.

Lightly grease a deep 9 x 13 baking dish. Pour sauce with noodles into dish and top with the sliced mozzarella cheese and Parmesan cheese.

Bake at 375 for about twenty minutes, until cheese is melted and just barely turning brown around the edges. Do not overbake or cheese will get rubbery.
Nutrition
Serving:
8
servings
,
Calories:
701
kcal
,
Carbohydrates:
46
g
,
Protein:
32
g
,
Saturated Fat:
18
g
,
Cholesterol:
110
mg
,
Sodium:
948
mg
,
Fiber:
1
g
,
Sugar:
2
g