Chocolate Sheet Cake is a quick and easy homemade cake that's full of rich chocolate flavor, moist, and delicious every time! This cake is so easy to make—it's perfect for a crowd!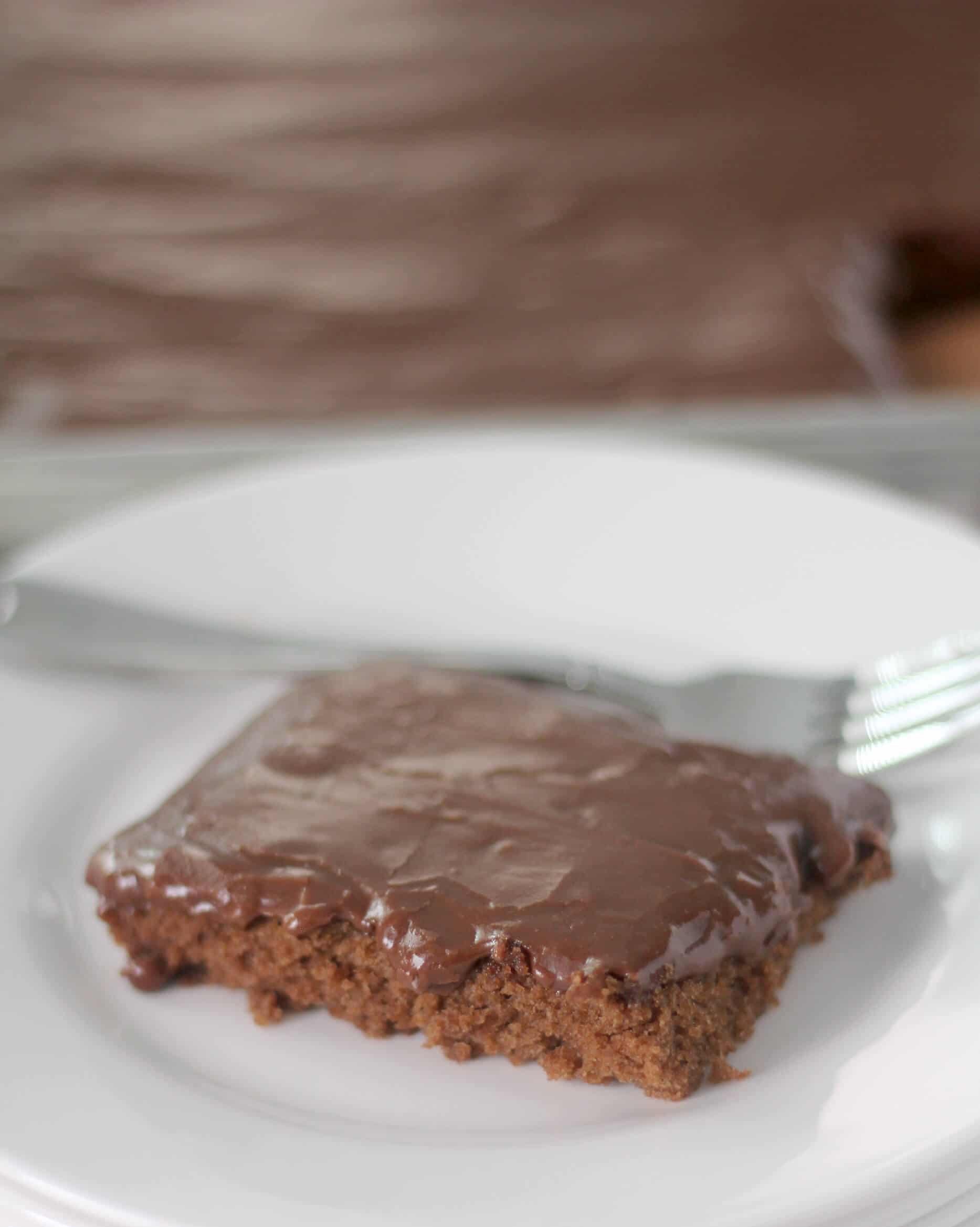 When I was a little girl, I loved going to my Granny's house and could usually be found there most of the time, along with the other grandkids. Was it the food that drew us there? I'm not sure—our moms were great cooks as well. But there was just something about Granny's cooking…
When I was older and moved away, I could count on having a chocolate sheet cake when I went home to visit. Maybe that's why this is my favorite, because it holds memories of the special love that a grandmother has for her grandchildren. Granny doesn't cook much these days, so I make this cake for myself and the ones I love. Sometimes I just make it for myself and hide it from the ones I love.
This is hands down the best chocolate sheet cake I've ever had, and the best part is that it's easily adaptable to other recipes. I've created my Salted Caramel Sheet Cake and my Funfetti Cake from this recipe. Not only is this cake full of chocolate flavor and moist, it's also easy and quick.
From start to finish—and I mean gathering the ingredients, mixing, baking and icing—the whole thing takes about 45 minutes and you never have to bring out the mixer.
The hardest part is letting it sit for a while after you frost it so the cake can absorb the frosting, creating the luscious goo. It's chocolate, moist, easy, quick and enough to serve a crowd. What could be better?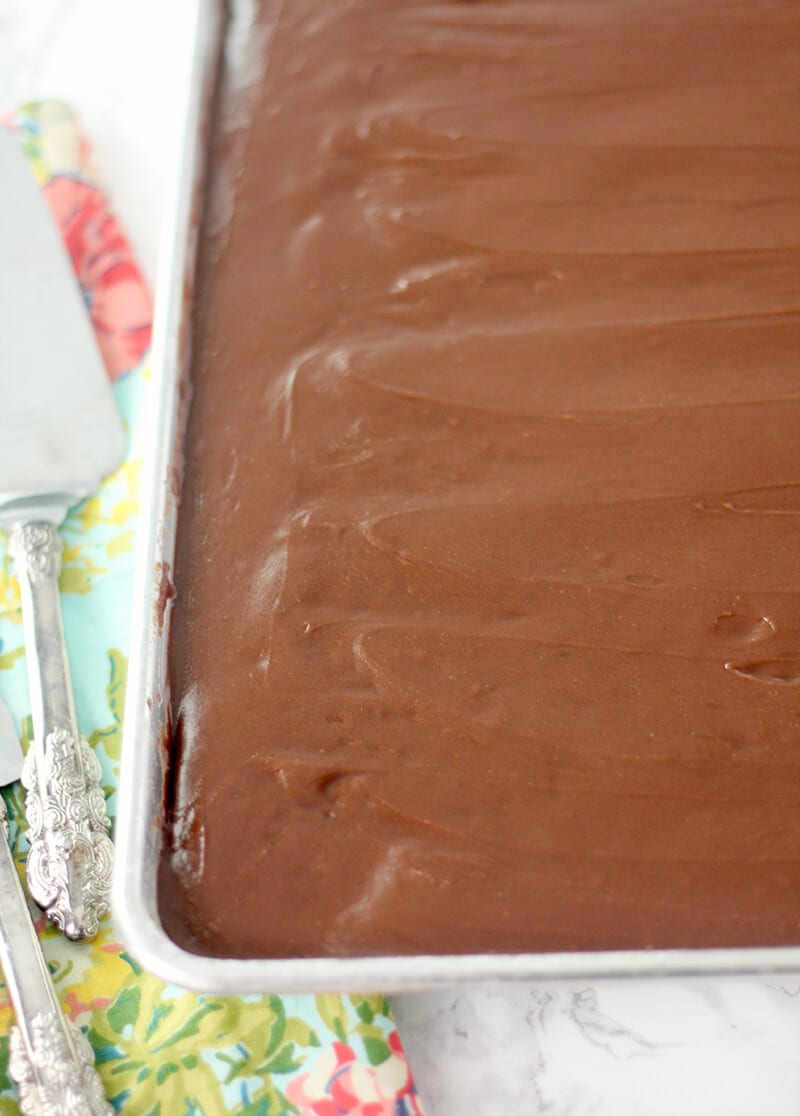 This cake is also known as a Texas chocolate sheet cake, and in some places as a sheath cake, and while there are multiple versions of the Texas chocolate sheet cake recipe in cookbooks and on the web, they all use the same basic ingredients: flour, sugar, butter, eggs, buttermilk, and cocoa.
One variation includes a teaspoon of cinnamon and I've seen a couple of versions that add sour cream.
I'm more of a purist on this cake. While I will experiment with different ingredients in banana bread or cookies, this cake has to be the way my grandmother made it. Not sure where the recipe originated from, as Granny's is written on a worn piece of paper, but there is a similar version in my Andersonville cookbook.
I've seen different sized pans used with this recipe, 9×13, 15×10, 16×11 or 18×12. I prefer the 18×12 for two reasons: One, because that's the size my Granny used; and two, because the batter spreads out a little thinner so the cake absorbs more of the frosting. You can make it in a smaller pan and it will be thicker and a little more cake-like.
Chocolate Sheet Cake Recipe:
2 sticks unsalted butter

1 cup water

2 cups sifted all-purpose flour

1 tsp soda

1/8 tsp salt

½ cup buttermilk

¼ cup cocoa

2 cups sugar

2 eggs

1 tsp vanilla
I like to try and minimize the number of bowls and pans when I cook so I try to use the same bowl for the batter and frosting for this cake, and the same saucepan. First, sift the flour and salt into a large bowl and add the sugar.
Then combine butter, cocoa, and water in a saucepan.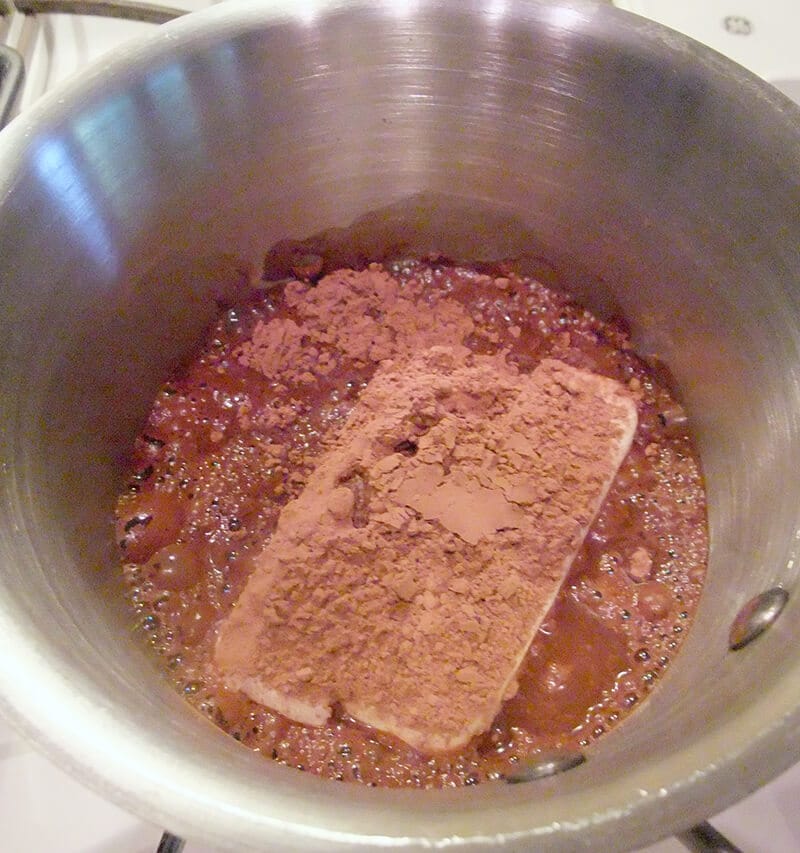 Bring this mixture to a boil and pour over the flour and sugar.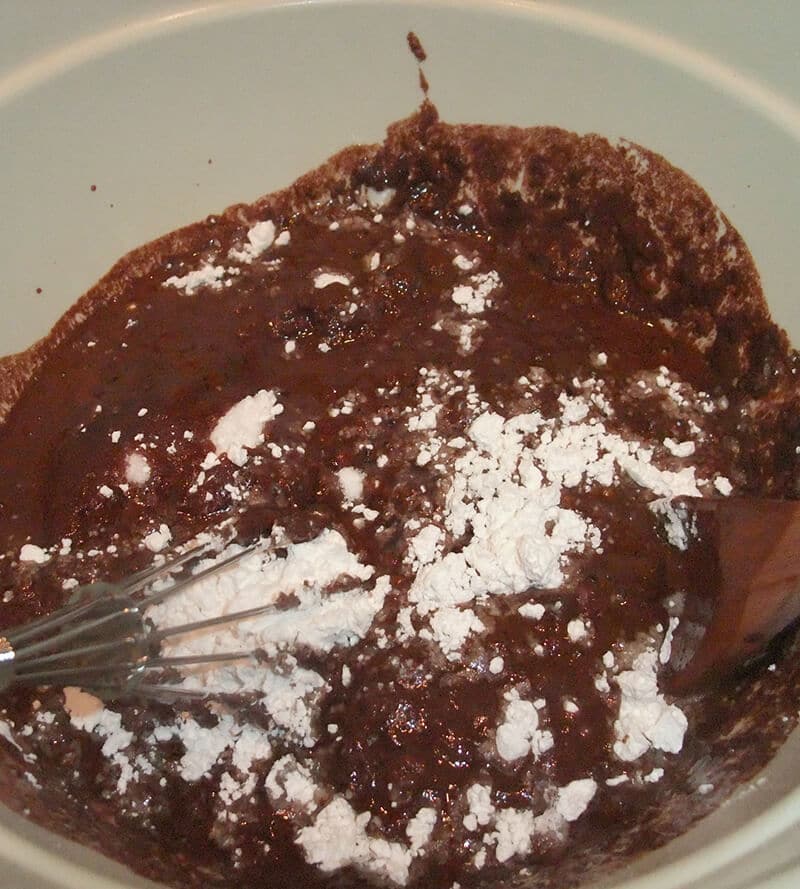 Mix well and add the soda, buttermilk, eggs and vanilla. I just add the soda, eggs, and vanilla right into the measuring cup where I measure the buttermilk.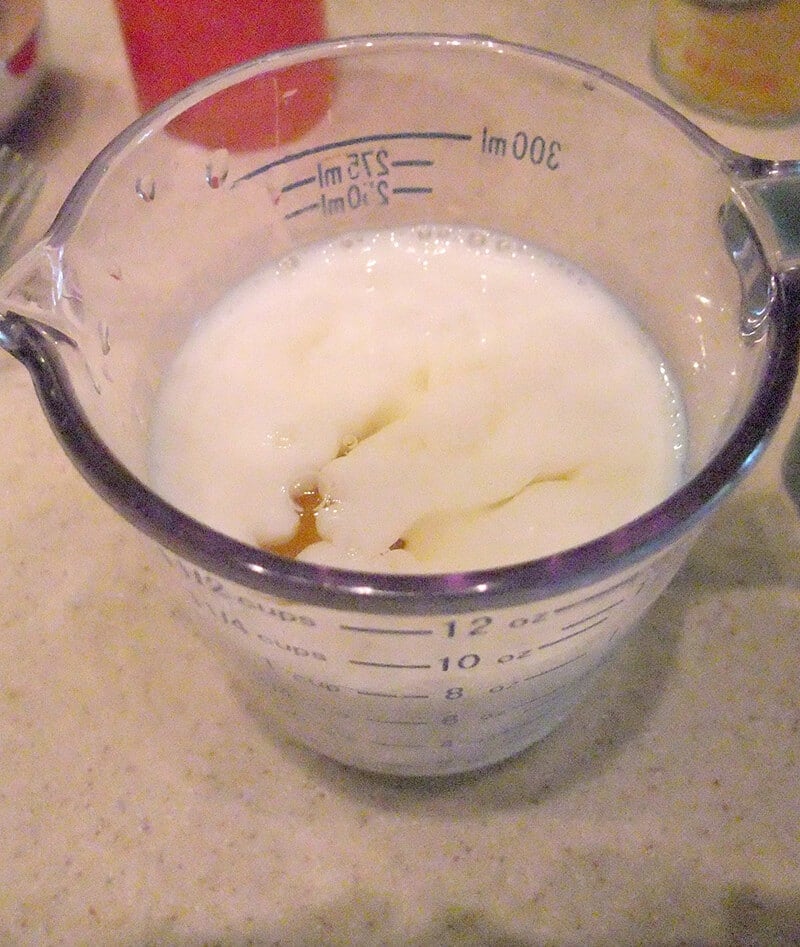 Now pour the batter into the prepared pan and bake at 375° for 12-20 minutes, checking after 12 minutes. Do not overcook or your cake might be dry! Here's what you have before the magic.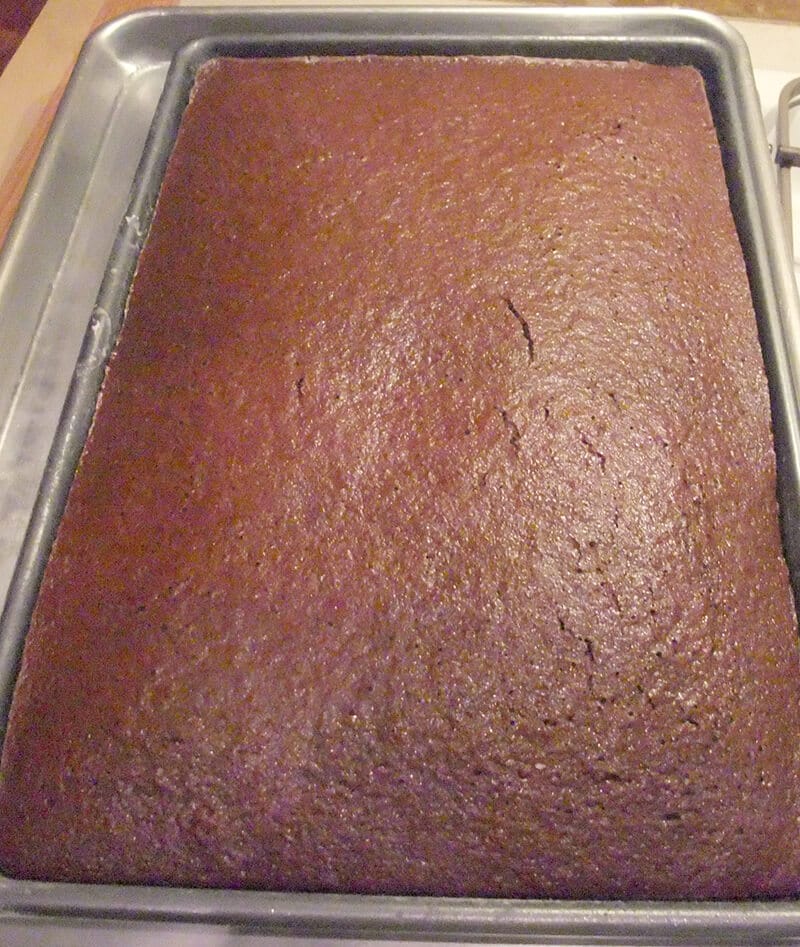 Start the frosting about 7 minutes before the cake is done. Place 1 and 1/2 sticks of butter and 6 tablespoons of whole milk or half-and-half in a saucepan and melt the butter slowly, then add 1/4 cup cocoa and bring to a boil.
Pour this mixture over 3 and 3/4 cups (you can also just use a whole box but I use big bags from Costco so I have to measure) sifted powdered sugar and stir in the vanilla. Then pour it on the chocolate sheet cake as soon as it comes out of the oven. Take a skewer and poke a few tiny holes in the cake just to help the goodness get down in there.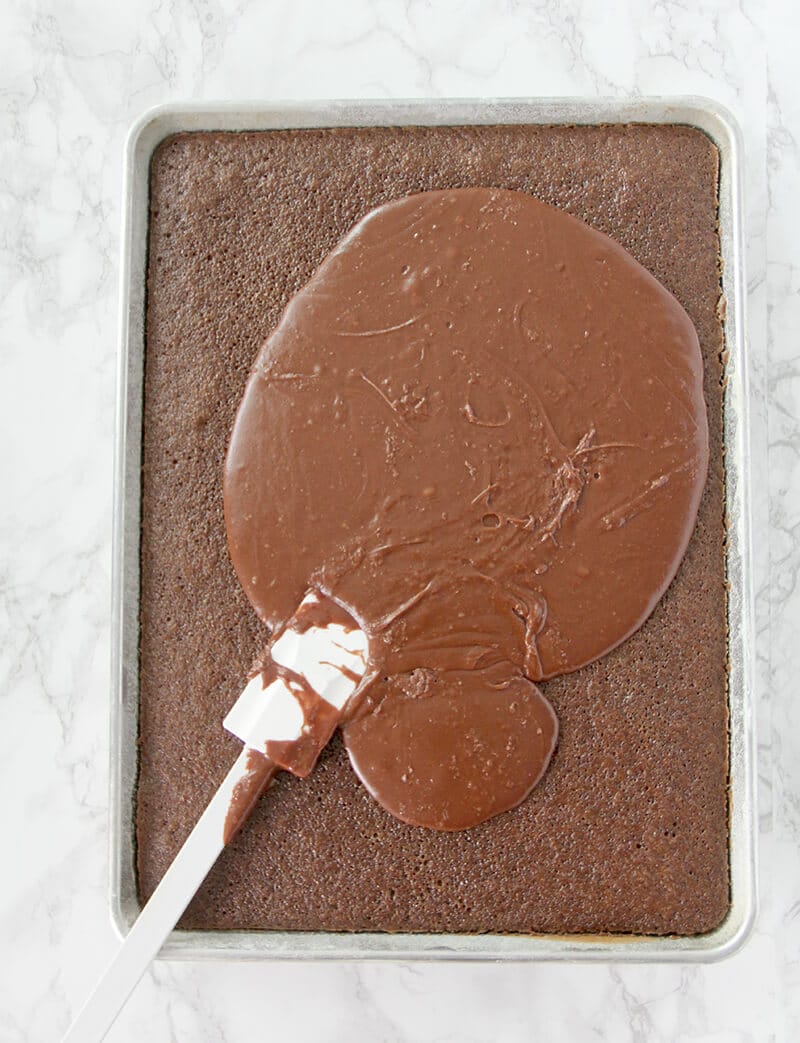 The frosting will spread quickly, so pour slowly. You'll need to spread it a little with a spatula to get it even.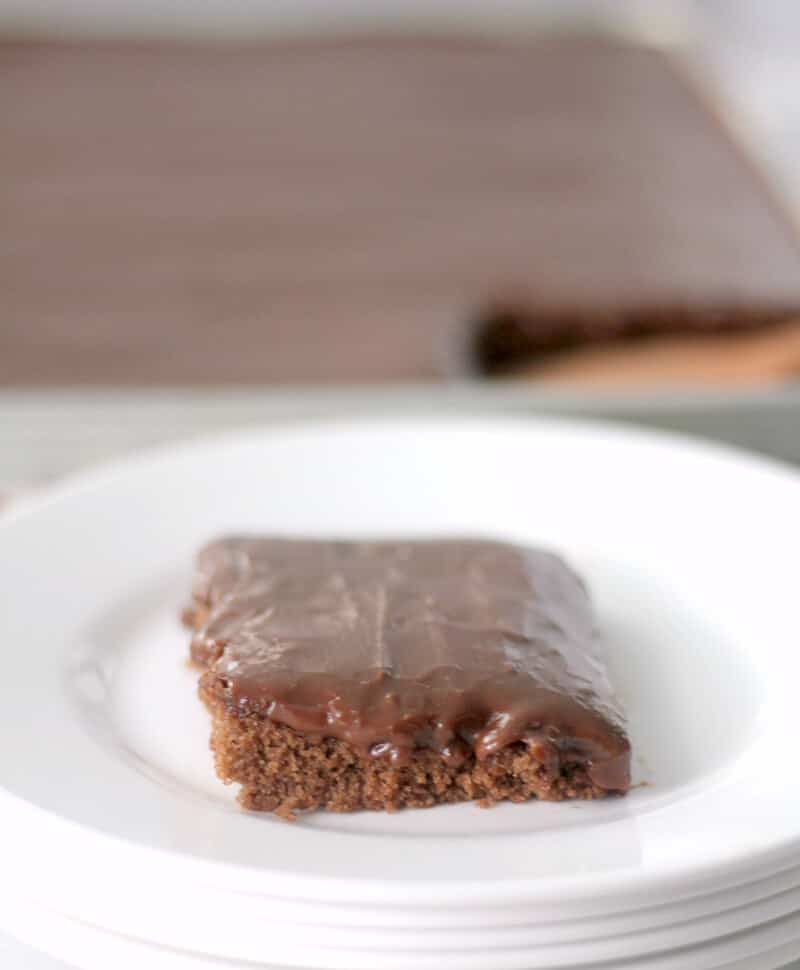 Now you need to let it sit for a little while, to cool and set the frosting. Or just go ahead and have a piece. Nobody will know and you worked hard for it. Then make the kids wait for it to cool.
Enjoy this amazing Chocolate Sheet Cake!
Granny's Scrumptious Chocolate Sheet Cake
Chocolate sheet cake made with cocoa–this cake is moist, full of chocolate flavor and gets better every day!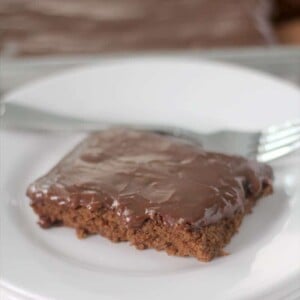 Ingredients
Cake
2

cups

all-purpose flour

⅛

tsp

salt

2

cups

sugar

2

sticks unsalted butter

¼

cup

cocoa

1

cup

water

1

tsp

baking soda

½

cup

buttermilk

2

eggs

1

tsp

vanilla
Frosting
12

tbsp

butter

6

tbsp

milk (use whole milk or half and half)

¼

cup

cocoa

3 ¾

cups

powdered sugar, sifted

1

tsp

vanilla

1

cup

chopped toasted pecans, (optional)
Instructions
Preheat oven to 375. Butter and flour a half-sheet pan (18×12) or jelly roll pan (15×10).

Sift flour and salt into large bowl. Add sugar and whisk until blended.

Combine butter, cocoa, and water in a saucepan. Bring to a boil and pour over the flour and sugar. Whisk until blended.

Add the soda, buttermilk, eggs, and vanilla. Whisk until blended and smooth. Pour into greased and floured baking pan.

Bake for 12-20 minutes, checking cake after 12. Cake is done when tester comes out clean but be careful not to overcook.
Frosting
While cake is baking, bring the butter, milk and cocoa to a boil in a saucepan and pour over the powdered sugar. Add vanilla and pecans (if using). Mix well and immediately spread on warm cake.
Nutrition
Serving:
12
servings
,
Calories:
618
kcal
,
Carbohydrates:
89
g
,
Protein:
4
g
,
Saturated Fat:
17
g
,
Cholesterol:
105
mg
,
Sodium:
251
mg
,
Fiber:
1
g
,
Sugar:
71
g