Grandma's Chicken Soup is made with chicken broth, chicken, and a touch of cream—just a simple chicken soup that's great when you're under the weather.
This is the perfect, easy chicken soup to make for a friend who's feeling under the weather, had dental work—or going through chemo. There's little in Grandma's Chicken Soup to upset the digestion and it doesn't require chewing, but it's a little more satisfying than just plain broth.
Grandma's Chicken Soup evolved as a soothing, easily digestible soup for my sister-in-law when she was going through chemotherapy. The original recipe came from her mother and was just broth, milk, and a little butter.
I've adapted the recipe to be slightly richer and a little more flavorful, but it's still quite simple and so, so EASY!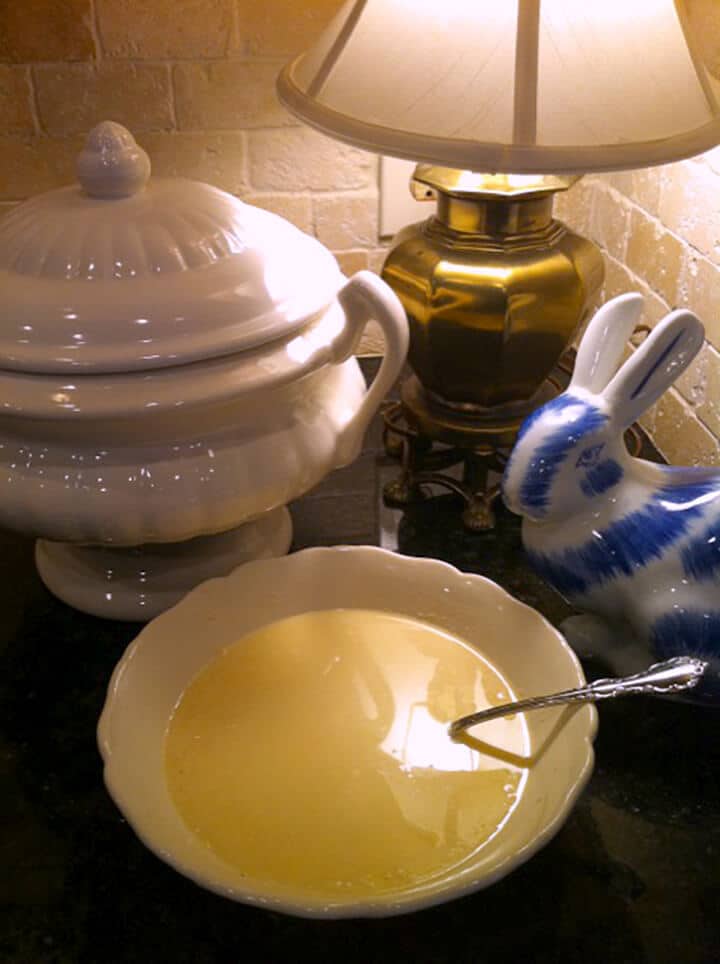 I always make large quantities of soup just in case an army drops by, but you can certainly cut this recipe in half it you don't want to make that much.
➡️ ➡️ Check out all of our Soup recipes!
How to make grandma's chicken soup
Note: For this easy chicken soup, you can use homemade chicken stock or a good quality broth or stock from the grocery store.
Start with three quarts of chicken stock. Drop in four chicken breasts and simmer until chicken is cooked completely, about twenty minutes.
2. When the chicken is done, remove it from the pot and coarsely chop, then add the chopped chicken back into the pot.
Note: You can purée the chicken right in the pot using an immersion blender, or use a food processor to purée the chicken before putting it back into the pot. Or just use a knife and chop the chicken very finely so there are no bite-sized pieces.
3. Stir in half-and-half, cream, butter, and salt and pepper. Using an immersion blender, carefully purée the soup until there are no chicken chunks.
4. Turn heat to low and simmer for a few minutes. Grandma's Chicken Soup can be served immediately or will keep in the fridge for 3-4 days.
Tip: I have not frozen this soup and I don't think it would freeze well due to the amount of cream.
If you love to cook and experiment with food, I caution you that this soup is difficult to make. You will be so tempted to add something. Celery, carrots, onion, thyme, whatever…you just want to put something else in that pot. But if you're making Grandma's Chicken Soup for someone who's not feeling well, then don't do it.
Less is more in some cases and, especially for a chemo patient, less is definitely best. Flavor doesn't matter half as much as what their stomach can tolerate and for many chemo patients, foods take on weird flavors anyway, so something that you think would enhance the soup—even just a little—might taste off to chemo patients.
That's it. Velvety, mellow easy chicken soup for the soul.
If you'd like something a little heartier than Grandma's Chicken Soup, try these chicken soup recipes:
Grandma's Chicken Soup
Grandma's Chicken Soup is made with chicken broth, chicken, and a touch of cream–just a simple chicken soup that's great when you're under the weather.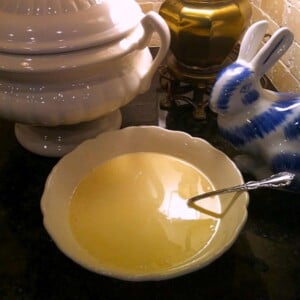 Ingredients
4

chicken breasts

3

quarts

chicken stock

2

cups

half-and-half

1

cup

heavy cream

8

tablespoons

unsalted butter

Salt and pepper to taste

3-4

tablespoons

cornstarch, dissolved in cold water
Instructions
Place chicken breasts in large stockpot with the stock and simmer for about 20 minutes, until breasts are cooked through.

Remove chicken from pot and coarsely chop chicken or puree in food processor and place back in pot.

Stir in half-and-half, cream, and butter.

Using immersion blender, puree until chicken is finely diced and there are no chunks.

Add salt and pepper to taste.

Simmer on low for another ten minutes.

Add cornstarch and bring to a boil.

Turn on low and simmer for about twenty minutes.
Nutrition
Serving:
10
servings
,
Calories:
358
kcal
,
Carbohydrates:
12
g
,
Protein:
16
g
,
Saturated Fat:
15
g
,
Cholesterol:
109
mg
,
Sodium:
699
mg
,
Sugar:
3
g
Update Notes: This post was originally published August 24, 2011, and on April 15, 2021, was updated with one or more of the following: step-by-step photos, video, updated recipe, new tips.