Homemade Chocolate Chip Muffins—better than a mix, moist, and filled with real chocolate chips! These easy chocolate chip muffins are great for breakfast, brunch, afternoon or midnight snack!
You know what's lovely? A summer rain on a July afternoon to cool things off…a screened porch on which to sit and listen to the patter of the rain drops…and a warm homemade chocolate chip muffin fresh from the oven to enjoy while reading on that screened porch in the cool afternoon summer rain.
And these chocolate chip muffins are perfect not only for a summer afternoon, but also a hectic morning or a leisurely Sunday brunch. Moist, tender, and filled with chocolate, these muffins will put smiles on the faces of the ones you love.
Homemade Chocolate Chip Muffins
The addition of sour cream gives these easy chocolate chip muffins a wonderful velvety, tender crumb with just the right amount of moistness. I cannot stand a dry muffin! I made umpteen dozen chocolate chip muffins trying to get just the right one—and you know umpteen dozen is A LOT of muffins!
I was never satisfied with just milk so I added sour cream just like in my banana bread recipe, and that was the trick. The sour cream lends the perfect amount of creaminess and slight tang and creates exactly the texture that I wanted.
How to Freeze Chocolate Chip Muffins
The great thing about these homemade chocolate chip muffins is that you can freeze the batter and have them anytime—boxed mixes just don't freeze well!
Just spoon the batter into the muffin tins, either using paper liners or not, and put the pans in the freezer for a few hours. Then pop the frozen muffin batter out of the pans and place in a freezer bag.
When you want muffins, just remove the frozen batter and place in muffin pans for about an hour to thaw. Then bake as directed below.
Homemade Chocolate Chip Muffins
Homemade chocolate chip muffins with a moist and tender crumb and lots of chocolate. These muffins are great for breakfast, afternoon snack, or anything in between.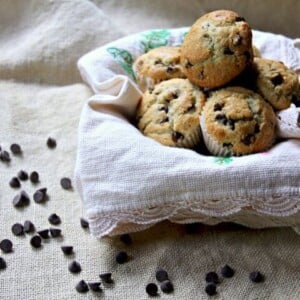 Ingredients
3 ½

cups

all-purpose flour

4

teaspoons

baking powder

½

teaspoon

salt

1

cup

granulated sugar

¼

cup

light brown sugar

3

cups

semi-sweet chocolate chips

2

large whole eggs, room temperature

1

large egg yolk, room temperature

¼

cup

unsalted butter, melted

½

cup

vegetable oil

1

cup

whole milk, room temperature

1

cup

sour cream, (I do not use low-fat), room temperature

2

teaspoons

good quality vanilla extract

2

tablespoons

turbinado sugar
Instructions
Preheat oven to 425 and place large baking sheet in oven on rack in lower third of oven. Grease muffin pan or place paper liners in muffin cups.

NOTE: You will turn the temperature down when you put the muffins in the oven.

In large bowl, whisk together flour, baking powder, salt, and sugars. Gently stir chocolate chips into the flour to coat the chips.

In another bowl, whisk together the eggs, egg yolk, melted butter, oil, milk, sour cream, and vanilla. Add the egg mixture to the flour and fold gently just until all flour is incorporated.

Place batter in muffin cups almost to the top. (I use an ice cream scoop to drop the batter into the muffin cups. One scoop is usually just the right amount.) Sprinkle turbinado sugar over the batter.

Place muffin pans in oven on top of the heated baking sheet. Turn oven temperature down to 400. Bake 18-20 minutes until muffins are golden brown.
Notes
Muffin batter can be frozen. Just place batter into paper liners in muffin pan and place pan in the freezer for several hours. When batter is frozen, remove from muffin pan and place frozen batter into large freezer bag.
To bake, remove the frozen batter at least an hour before baking and allow to thaw. Follow baking instructions.
Nutrition
Serving:
24
muffins
,
Calories:
332
kcal
,
Carbohydrates:
38
g
,
Protein:
4
g
,
Saturated Fat:
11
g
,
Cholesterol:
35
mg
,
Sodium:
71
mg
,
Fiber:
2
g
,
Sugar:
20
g