This Butter Beans recipe is an old family favorite made just the way Granny made them. Butter beans are easy to cook with bacon or ham hocks, butter, and the secret—a touch of sugar! Try this butter beans recipe today and you'll have an easy side dish that goes with almost anything.
You won't find a meat-and-three in the South that doesn't have butter beans on the menu because this vegetable is a favorite around here, especially in rural areas.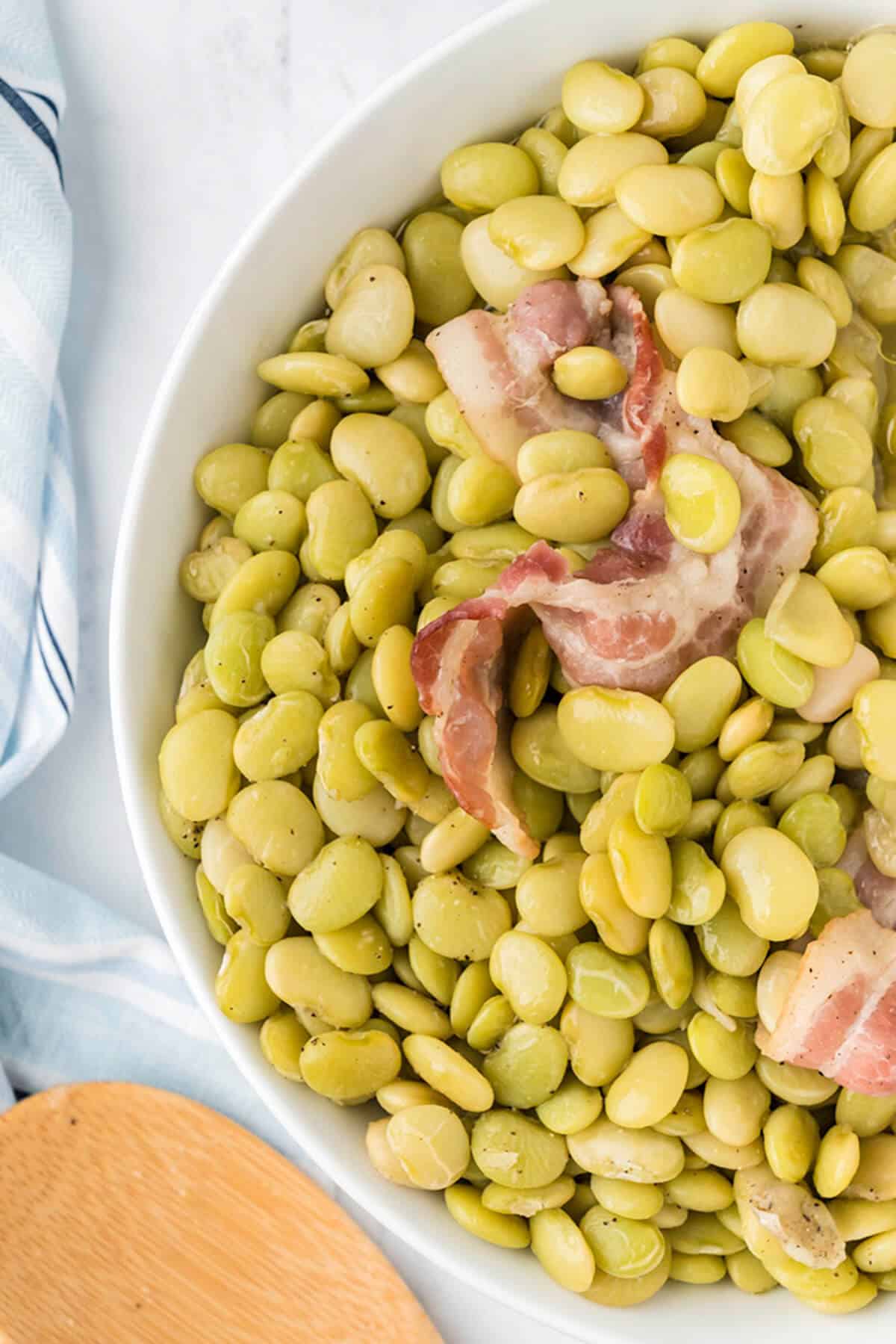 If someone's serving a big platter of fried chicken, then most likely mashed potatoes, creamed corn, butter beans, and biscuits will be on the table too!
Butter beans vs. lima beans
Are they butter beans or lima beans? Guess what? They are one and the same. What most Southerners refer to as butter beans (or butterbeans) are actually just younger, smaller versions of lima beans. So, you can buy baby lima beans or butter beans and they are the same. They can be cooked fresh or frozen and either will work in this butter bean recipe.
Then there are dried butter beans, which are larger and lighter in color, almost tan—still lima beans, just an older, more mature version. Those never appealed to me, but my family eats them year round. Most people slow cook dried butter beans for a few hours, either on the stove or in a slow cooker.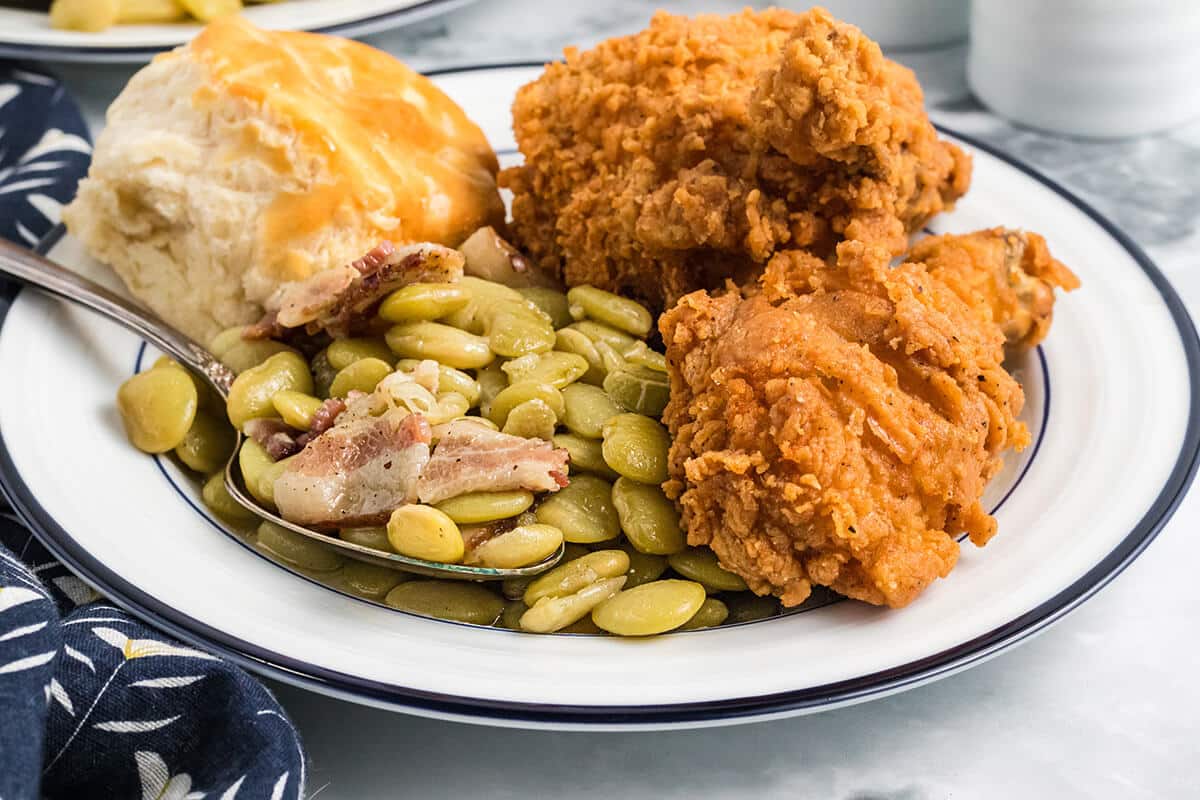 Southern butter beans recipe
Like most Southern recipes, there are as many ways to cook butter beans as there are streets named Peachtree in Atlanta. However, a common denominator for most beans and greens is the addition of pork for flavor, either as fatback or bacon.
I learned how to cook butter beans from my grandmother, and her butter beans recipe is pretty simple: put water in a pot, add bacon, season with salt and pepper, add a little garlic powder, bring to a boil and add the beans. Throw in some butter toward the end.
Sugar is the magic ingredient! Granny would add a little sugar to the water, not enough to make the beans too sweet, but just enough to taste and add a little more flavor.
Pin this now to save it for later
The ingredients for this Southern butter beans recipe are all common pantry or fridge staples, so you should be able to cook butter beans anytime!
Ingredients needed
Frozen or fresh butter beans or baby lima beans – I do like to get the baby version because they are smaller and more tender. Generally, if you buy fresh butter beans, you'll get smaller ones.
Butter – use a little unsalted butter.
Bacon – you can substitute fatback here or even a ham hock.
Salt and black pepper – don't skimp on the flavoring.
Chicken stock or water – I usually just use water, but if you want a more intense flavor you can use chicken or vegetable stock.
Garlic powder – no need to chop garlic or onion for this recipe. A little garlic powder is all you need.
Sugar – this is the magic ingredient that takes these butter beans from okay to delicious!
Substitutions and variations
If you don't want to use bacon, you could substitute a plant-based bacon or toss in some mushrooms for an earthy flavor.
You can make butter beans ahead of time. This recipe will keep in the refrigerator for several days.
How to cook butter beans
Start by adding water or chicken stock, salt, pepper, bacon, butter, sugar, and garlic powder to a large saucepan. I use Kirkland brand cookware from Costco, but this pot by Cuisinart would work well, as would this one from Calphalon.
Bring the water and seasonings to a boil and cook for a minute or two until the seasonings have dissolved.
Then add the butter beans and return to a boil, then turn down to simmer.
I like butter beans to be very tender, so I cook them for about an hour. Cooking time will vary if depending on whether you're using fresh or frozen beans. Fresh beans will cook a little faster.
**Cook's Tip: Taste the butter beans while they are cooking so you can add additional seasonings if necessary.
Serving suggestions
This butter beans recipe is delicious with chicken, pot roast, meatloaf or even as a portion of a vegetable plate with sliced tomatoes and fried okra.
More tips
Use fresh butter beans if they are in season. If not, frozen will work just fine.
Look for frozen baby lima beans or butter beans. They are the same bean and interchangeable in this recipe.
Season generously with salt, pepper, and garlic powder, and don't forget to add a little sugar. Taste frequently.
Cook the butter beans until they are tender.
Store in an airtight container in the refrigerator.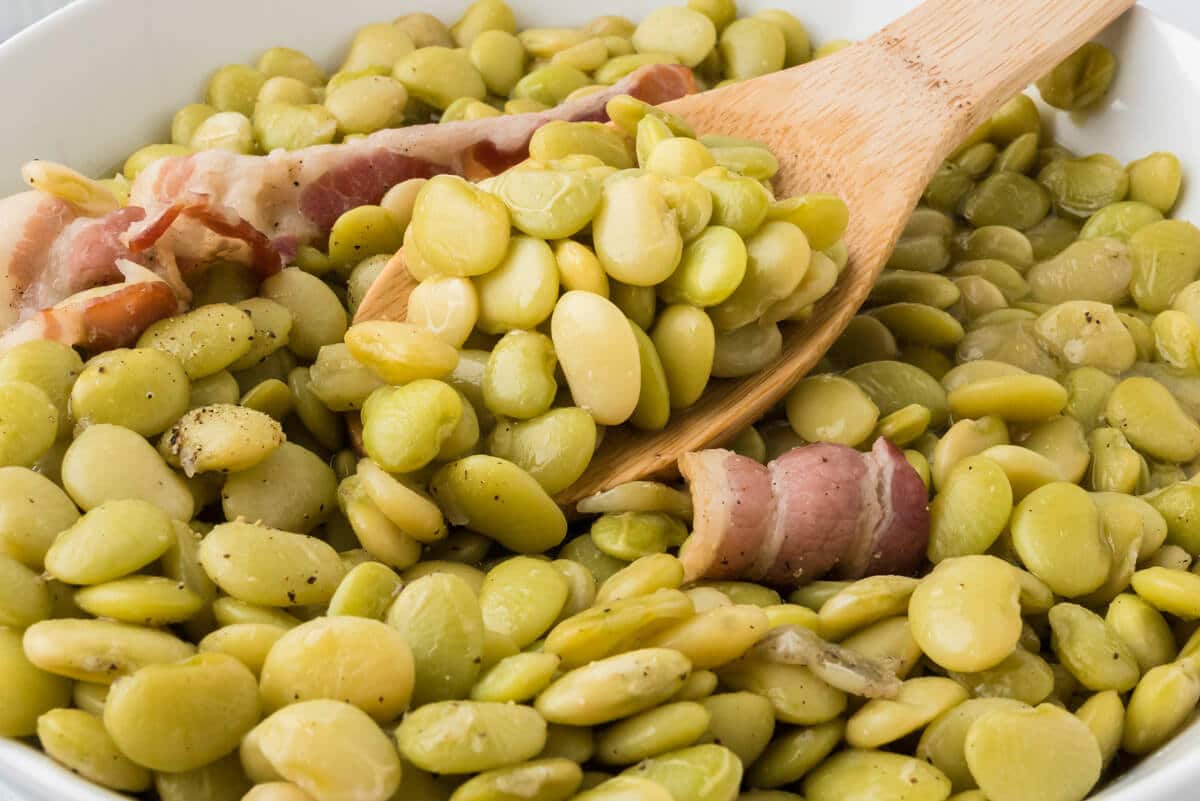 Butter Beans Recipe
Butter beans cooked the old-fashioned way with bacon and just a little sugar.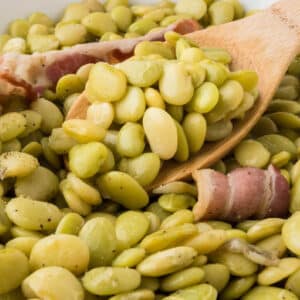 Ingredients
1

lb.

butter beans

fresh or frozen

2

slices

thick cut bacon

2-4

tablespoons

granulated sugar

½

tablespoon

garlic powder

3

tablespoons

unsalted butter

1

teaspoon

salt

1

teaspoon

ground black pepper
Instructions
Place butter beans in a large saucepan. Fill pan with enough water to cover the beans by about an inch.

Add bacon, sugar, garlic powder, butter, and salt and pepper. Bring to a boil, stirring frequently. Turn down to a simmer and cook 45 minutes or until tender.

Taste and add additional salt, pepper, and/or sugar if needed. Serve warm.
Notes
Tips for Making the Best Butter Beans
Use fresh butter beans if they are in season. If not, frozen will work just fine.
If your grocery store doesn't carry butter beans you can substitute baby lima beans. They are the same thing!
Season generously with salt, pepper, and garlic powder, and don't forget to add a little sugar. Taste frequently.
Cook the butter beans until they are tender.
Nutrition
Serving:
6
servings
,
Calories:
228
kcal
,
Carbohydrates:
27
g
,
Protein:
6
g
,
Saturated Fat:
5
g
,
Cholesterol:
22
mg
,
Sodium:
481
mg
,
Fiber:
4
g
,
Sugar:
9
g
Update Notes: This Butter Beans recipe was originally published May 4, 2011, and on March 19, 2023, was updated with one or more of the following: step-by-step photos, video, updated recipe, new tips.
This post is part of my favorite Southern Foods at Home collection.