If you're wondering just how to cook butter beans, look no further! This Butter Beans recipe is an old family favorite made just the way Granny made them. Butter beans are easy to cook with bacon, butter, and the secret—a touch of sugar! Try this butter beans recipe today and you'll have an easy side dish that goes with almost anything.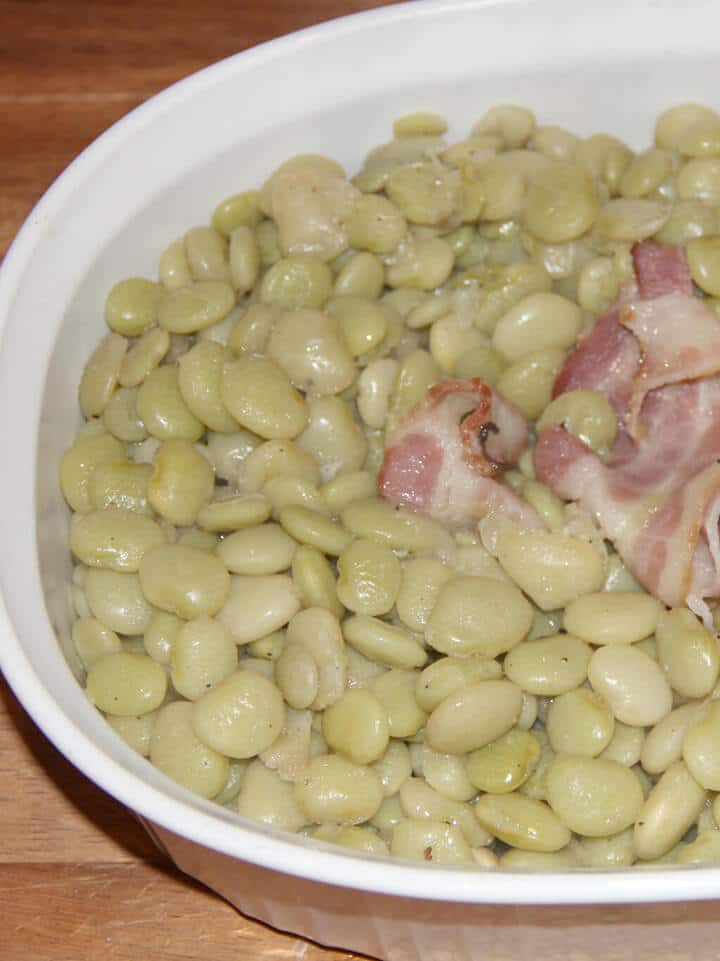 There are many vegetables that I love to eat, but which carry bad memories—memories of torture and mistreatment. Possibly even child abuse. Corn is one. We actually had to sit in the yard with buckets of corn and shuck it, pulling those green husks and long silks back until the sweet, yellow ear was revealed.
And all the while, the hot sun beat down on us, causing sweat to run down our backs in rivers.
Then there were peas and butter beans. Have you ever visited a pea patch in Georgia in the summertime? Hot, sticky, dusty, maybe snakes underneath the rows and rows of bushes…definitely potential child abuse there. And then we had to shell them!
Peas were easy enough, but butter beans—ugh. Those flat beans were hard to shell and then just a few beans fell out. It could take hours to get a good bowl full, much less enough to put up for the winter.
But on a cold January day, when Mama placed a platter of fried chicken on the table along with a big bowl of hot butter beans and some creamed corn, well, there was no complaining then.
What are Butter Beans?
We get asked that question a lot in the South: What are butter beans? Butter beans are one of those distinctly Southern vegetables that seems to have different names and different varieties everywhere you go. Are they butter beans or lima beans? The ones I grew up eating grow up poles and are small and green. And butter beans can be cooked fresh or frozen.
Then there are dried butter beans, which are larger and lighter in color, almost tan. Those never appealed to me, but my family eats them year round.
Southern Butter Beans Recipe
Like most Southern recipes, there are as many ways to cook butter beans as there are streets named Peachtree in Atlanta. However, a common denominator for most beans and greens is the addition of pork for flavor. When I was growing up, the Southern butter beans recipe usually included fatback but nowadays people tend to use bacon.
Because it's healthier, right?
I buy frozen butter beans during the fall and winter months, but use fresh when they are in season during the summer. Here's my butter beans recipe—and my husband regularly declares they are the best he's ever tasted.
And no, of course he is not biased.


Butter Beans Recipe
I learned how to cook butter beans from my grandmother, and her butter beans recipe is pretty simple:
Water or chicken broth
Salt and pepper
Bacon slices
Garlic powder
Sugar
Butter Beans
Secret Tip for Making the Best Butter Beans:
Sugar is the magic ingredient! Granny would add a little sugar to the water, not enough to make the butter beans too sweet, but enough to taste and add just a little more flavor to what could otherwise be a pretty bland bean.
How to Cook Butter Beans
Step 1.
Start by adding water, salt, pepper, bacon, butter, sugar, and garlic powder to a large saucepan. I use Kirkland brand cookware from Costco, but this pot by Cuisinart would work well, as would this one from Calphalon. I might order one of those non-stick pots from Calphalon myself! That looks really nice!
Step 2.
Bring the water and seasonings to a boil and cook for a minute or two until the seasonings have dissolved.
Step 3.
Then add the butter beans and return to a boil, then turn down to simmer.
Step 4.
I like butter beans to be very tender, so I cook them for about an hour. These are delicious with chicken, pot roast, meatloaf or even as a portion of a vegetable plate with sliced tomatoes and fried okra.
Enjoy this classic Butter Beans recipe—if you make butter beans, tag @southernfoodandfun on Instagram!
---
Time Travel
One Month Ago: Granny's Fried Apple Pies
Six Months Ago: The Thanksgiving Tablecloth
Eight Months Ago: Trout with Roasted Garlic
---
If you've enjoyed learning how to cook butter beans, you might also like these Southern favorites:
---
Butter Beans printable recipe below
If you like this recipe, please leave a star rating below by clicking on the 5 or 4 star! Thank you so much!
Print
How to Cook Butter Beans
Butter beans cooked the old-fashioned way with bacon and just a little sugar.
Total Time
1
hour
10
minutes
Ingredients
1

lb.

butterbeans

2

slices

thick cut bacon

2-4

tablespoons

granulated sugar

1/2

tablespoon

garlic powder

3

tablespoons

unsalted butter

1

teaspoon

salt

1

teaspoon

ground black pepper
Instructions
Place butterbeans in a large saucepan. Fill pan with enough water to cover the butterbeans by about an inch. Add bacon, sugar, garlic powder, butter, and salt and pepper. Bring to a boil, stirring frequently. Turn down to a simmer and cook 45 minutes or until very tender. Taste and add additional salt and/or sugar if needed. Serve warm.
Nutrition Facts
How to Cook Butter Beans
Amount Per Serving
Calories 228
Calories from Fat 90
% Daily Value*
Total Fat 10g 15%
Cholesterol 22mg 7%
Sodium 481mg 20%
Potassium 462mg 13%
Total Carbohydrates 27g 9%
Protein 6g 12%
* Percent Daily Values are based on a 2000 calorie diet.