Pineapple Coleslaw with jalapeno and red bell pepper is a nutritious and easy make ahead dish that goes well with just about anything! You can throw this slaw together a couple of days before you need it and just store in the refrigerator.
All you need for this Pineapple Coleslaw is a bag or a few cups of shredded cabbage, chopped pineapple, minced jalapeno, and chopped red bell pepper. The dressing is simple with apple cider vinegar and brown sugar. It's easy and versatile and a great side for any grilled meat.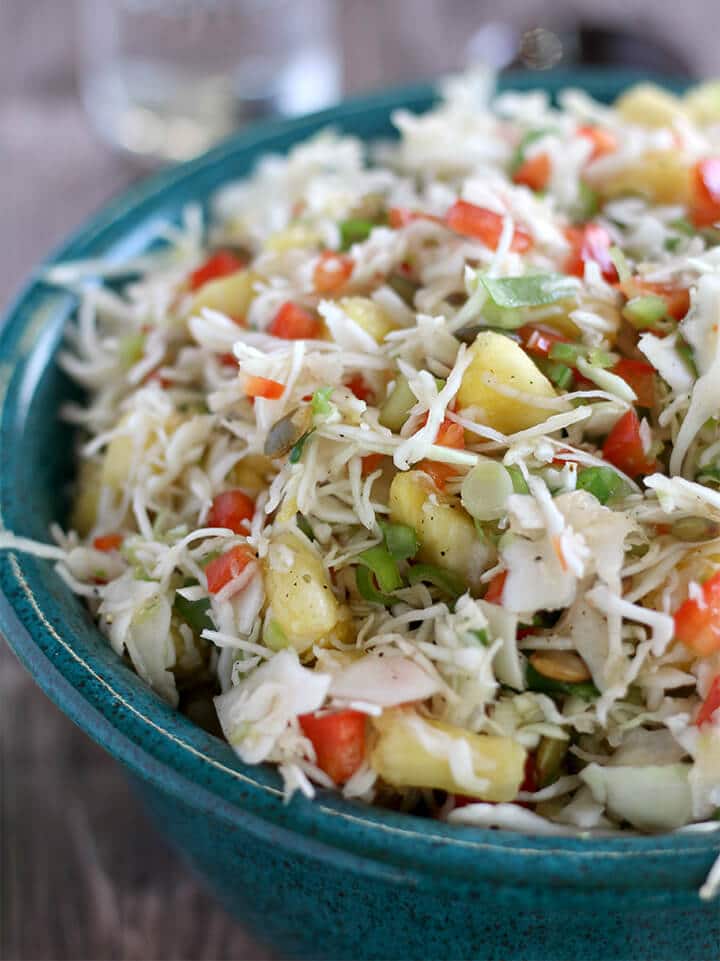 Coleslaw is one of those foods that most people feel pretty strongly about—they either love it or hate it. I'm in the love camp, but I have preferences that can quickly put me in the hate camp.
For starters, I don't like coleslaw that's soupy from mayonnaise. I prefer slaws that are vinegar-based, but with a little secret ingredient in there to offer a hint of sweetness, like chopped apples, or pineapple like I've used here.
Our family always serves my pineapple coleslaw with our barbecue or Jalapeno Turkey Burgers. It's a Southern staple, much like potato salad or pimento cheese.
What's your go-to summer side dish?
How to make pineapple coleslaw
You can shred some cabbage in the food processor or with a box grater if you like, but I usually take the easy route and just grab a bag of pre-shredded cabbage.
For this recipe, I prefer the plain cabbage and not the kind that's mixed with grated carrots.
Next chop some fresh pineapple, fresh jalapeno, scallions, and red bell pepper. I found some cumin-toasted pumpkin seeds so I threw those in too. This pineapple coleslaw recipe is versatile and great for add-ons–get creative!
If you want to make it even better, grill your pineapple before adding!
Pro Tip: You could also add some chopped baby bok choy for a good crunch.
The dressing is a simple blend of apple cider vinegar and brown sugar. I served this Pineapple Coleslaw with Jerk Chicken but it's also great with Southern Pulled Pork or Roast Chicken.
Pineapple Coleslaw
Pineapple Coleslaw with jalapeno and red bell pepper is just what you need to liven up your summer cookout! An easy, make ahead dish!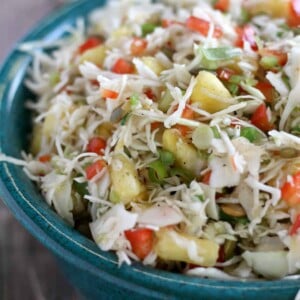 Ingredients
Coleslaw
6

cups

shredded cabbage

1

cup

chopped pineapple

2

scallions, chopped

1

jalapeño, seeded and diced

1

red bell pepper, chopped

2

tablespoons

toasted pumpkin seeds

Salt and pepper
Dressing
½

cup

apple cider vinegar

1

tablespoon

light brown sugar
Instructions
Mix cabbage with chopped vegetables and pumpkin seeds in a large bowl. Gently stir in dressing. Add salt and pepper to taste. Refrigerate until ready to serve.
Dressing
Whisk brown sugar into vinegar until well blended.
Notes
Can substitute 2 cups chopped baby bok choy for 2 cups cabbage.
Coleslaw can be made ahead up to 1 day.
Nutrition
Serving:
6
servings
,
Calories:
69
kcal
,
Carbohydrates:
11
g
,
Protein:
2
g
,
Sodium:
16
mg
,
Fiber:
2
g
,
Sugar:
8
g
Update Notes: This post was originally published June 5, 2017, and on October 4, 2021, was updated with one or more of the following: step-by-step photos, video, updated recipe, new tips.