Roasted Chicken and Vegetables is the perfect dinner and easy to make. Spread some chopped vegetables like carrots and celery in the dish, rub a little butter and olive oil on the chicken, and pop it in the oven.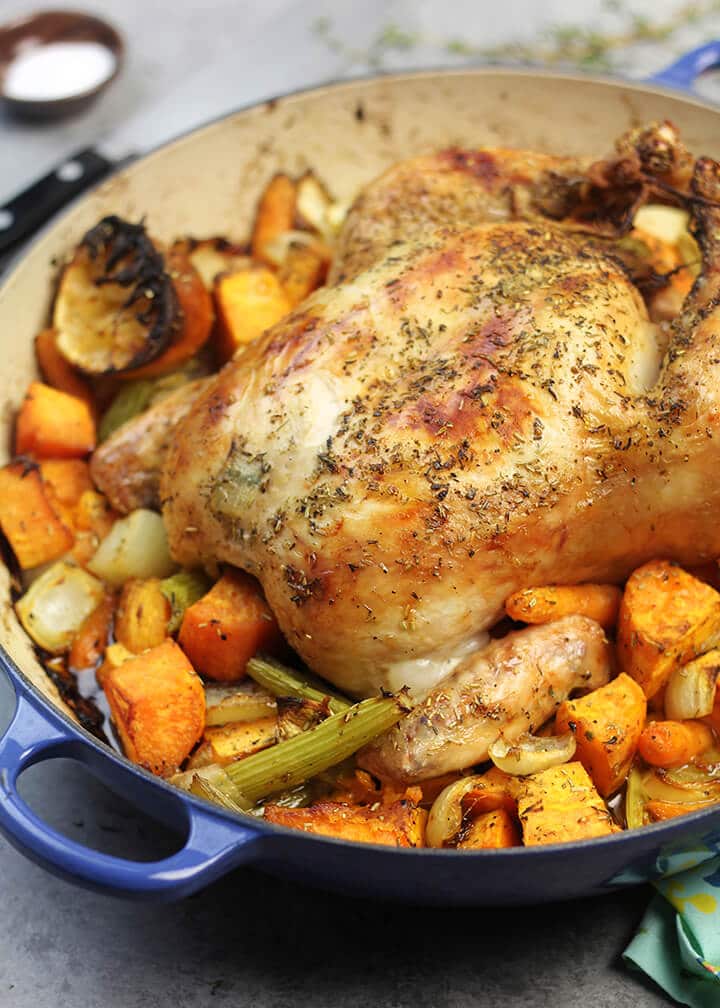 Making a terrific roasted chicken and vegetables at home couldn't be easier, and it's a universally friendly, delicious dish to have in your cooking repertoire. Add a simple green salad and it's almost a one-pot meal and a wonderful selection for a family dinner.
You may also like my Rosemary and Lemon Roast Chicken or Pesto Chicken with Roasted Vegetables.
TIP: I like to use smaller chickens and try to find organic ones around 3.5-4 lbs., but you can also use the larger roasters that are usually found in most grocery stores. (More tips here on How to Buy Whole Chickens.)

Any vegetables will work in this dish…for this one, I used what I had, which turned out to just be onions and carrots. But I would ordinarily add celery, maybe fennel, and sometimes potatoes. You'll also need a lemon and fresh thyme and rosemary.
How to roast a chicken
Let the chicken sit at room temperature for half an hour.
Scatter chopped vegetables in a roasting pan and season.
Add the chicken and season.
Roast 20 minutes, flip chicken, roast 20 more minutes, flip again.
Finish another 30-45 minutes, depending on size of chicken.
How long to roast chicken
Depending on how large your chicken is, this recipe can take 1 – 2 hours. The skin will get super crispy from the butter and olive oil, and flipping the chicken a couple of times ensures even cooking.
Roasted chicken and vegetables detailed instructions
Remove the chicken from the refrigerator at least thirty minutes before cooking. Meat should always come to room temperature before you start cooking.
2. Preheat the oven to 475°. The high temperature initially will help give your chicken a nice crispy skin. Choose your vegetables, wash and chop into large pieces, then scatter them around in the bottom of a large braiser, a roasting pan or baking dish. (See this post on How to Chop and Prep Root Vegetables.)
3. Sprinkle the vegetables with salt, pepper and a tablespoon of Herbes de Provence. Then drizzle with olive oil and toss with your hands. Slice a head of garlic in half and add that to the vegetables.
4. Remove giblets from chicken and discard unless you're making gravy. Pat the chicken all over with paper towels to try and get it as dry as possible. Squeeze lemon into the cavity of the chicken and then place the lemon halves, thyme and rosemary inside the chicken. Tuck the wing tips under and tie the legs with kitchen twine.
5. Brush melted butter over the chicken, covering all the sides. Sprinkle salt, pepper and a tablespoon Herbes de Provence over the chicken, then drizzle with a little olive oil. The butter and olive oil will ensure a nice, crackly, crispy skin. If you don't have Herbes de Provence then just use a mix of Italian herbs.
6. Place the chicken on top of the vegetables and put the dish in the oven. Turn heat down to 425° and roast for 20 minutes. Remove the dish and flip the chicken over so it's breast-side down and roast another 20 minutes. Then flip it back over and roast until done, 30-45 minutes.
7. Remove the roasted chicken and vegetables from the oven and let sit for about 15 minutes before carving.
Roast chicken temperature
How to you know when your chicken is done? The leg should move freely and juices should run clear when you cut into the thigh. I like to use this meat thermometer that will alert me when the internal temperature is 165°. With a thermometer, if I get distracted I still won't overcook my roast chicken!
Tips and frequently asked questions
Tip – Check the vegetables periodically and if they start to look dry you may need to add a little water. Usually, the chicken produces enough juice that the vegetables won't need any help.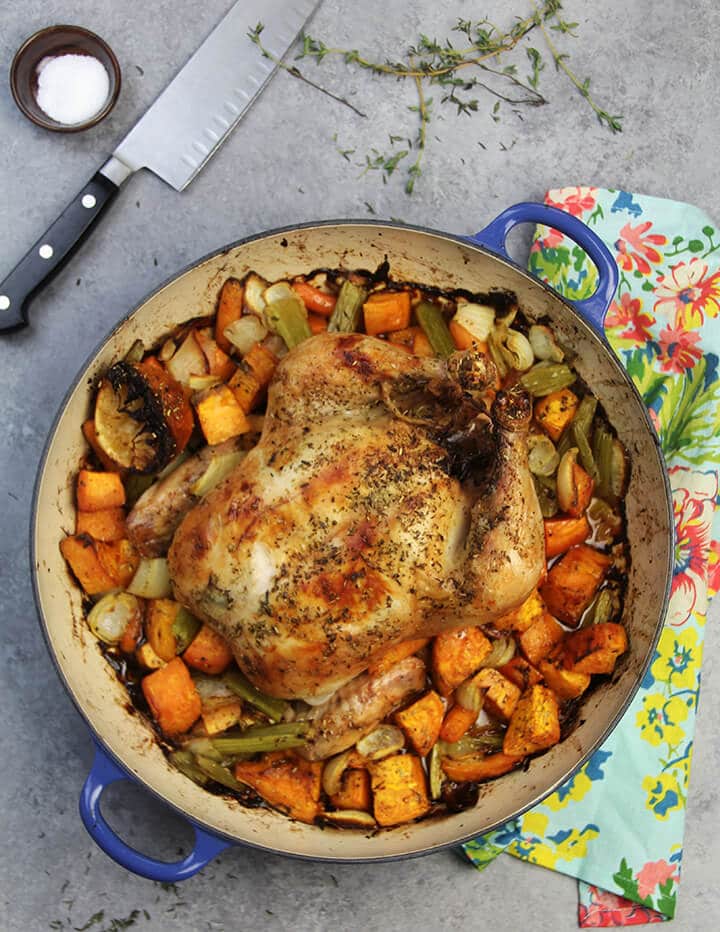 How do you reheat roast chicken?
You can use the microwave or the oven. If using the oven, heat at 350° until warm. Be careful not to leave the cooked chicken in the oven too long or it will get dry. I prefer heating in the microwave.
What should you serve with roast chicken?
Because you've got vegetables cooking right along with the chicken, you don't need a lot of other sides. If you decide to forgo the vegetables, however, there are plenty of options to go with your roasted chicken:
What to do with leftovers?
You can turn your leftover roast chicken into different meals for the week! Here are some of my favorite ways to use leftovers:
Equipment
Roasted Chicken and Vegetables
Easy roasted chicken and vegetables is a one-pot meal.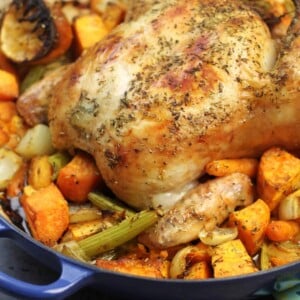 Ingredients
1 3-4

lb.

chicken

2

carrots, chopped into 1 inch pieces

1

onion, chopped into 1 inch pieces

2

stalks celery, chopped into 1 inch pieces

2

tablespoons

Herbes de Provence or Italian seasoning, divided

2-3

tbsp

olive oil

1

lemon, halved

6

stalks fresh thyme

2

stalks fresh rosemary

2

tbsp

butter, melted

1

head garlic, top sliced off

Salt

Pepper
Instructions
Remove chicken from refrigerator 30 minutes before cooking and set aside.

Preheat oven to 475. Place carrots, onion, and celery in a shallow roasting pan and sprinkle with salt, pepper, and 1 tablespoon of Herbes de Provence. Drizzle olive oil over vegetables then toss with hands.

Remove giblets from chicken and pat chicken dry with paper towels. Place chicken on top of vegetables.

Squeeze lemon into cavity of chicken and then place lemon, thyme, and rosemary inside chicken. Tuck wing tips under chicken and tie legs together with kitchen twine.

Brush chicken with melted butter. Sprinkle chicken with salt, pepper and Herbes de Provence. Drizzle chicken with olive oil. Place garlic on top of vegetables next to chicken and drizzle garlic with olive oil.

Place dish in oven and turn oven down to 425. Roast for twenty minutes, then flip chicken to breast-side down and roast another twenty minutes.

Turn chicken back to breast-side up and roast for another 50 minutes.

Check for doneness and if done, remove chicken from oven and let rest for 15 minutes before carving. Leg should move freely and thigh juices should run clear. Thigh should be 165°.
Nutrition
Serving:
6
g
,
Calories:
621
kcal
,
Carbohydrates:
12
g
,
Protein:
43
g
,
Saturated Fat:
13
g
,
Cholesterol:
185
mg
,
Sodium:
250
mg
,
Fiber:
3
g
,
Sugar:
3
g
Update Notes: This post for Roasted Chicken and Vegetables was originally published August 21, 2013, and on August 10, 2021, was updated with one or more of the following: step-by-step photos, video, updated recipe, new tips.