Roasted baby potatoes with garlic and Italian herbs are crispy on the outside and soft and fluffy on the inside. Easy to make!
What does your family meal time look like? Do you sit down with your kids and have dinner together on a regular basis? If you're juggling sports, after school activities, homework, traffic, and all the other things that can get in the way then just having a family dinner can be really difficult.
For us, it was easier when the boys were little because I controlled their schedule. As they got older, those other things began to encroach upon that precious family experience but we tried to make it happen as often as we could.
I read once about a family who practiced "honoring" wherein each would say something nice about another family member or describe something that the other family member did during the week that was selfless or in some way deserving of mention.
We tried to implement this practice a few times, but I think I waited until sibling rivalry was too far gone to get started and it never went over well. I still think it would be a nice tradition to incorporate with smaller children though.
One thing we used to do that the kids would all roll their eyes at but secretly they enjoyed, was to go around the table and ask the question, "What was the best thing that happened to you today?"
I had read an article about a family asking this question and they followed up with, "What was the worst thing that happened to you today?"
I didn't like the negative focus of the last question, so I changed it to, "What was the nicest thing anyone did for you today?" and "What was the nicest thing you did for someone today?"
I don't know if this ever inspired anyone to actually do nice things, but it was fun coming up with answers to these questions.
Even if you had an awful day and felt like the whole world was against you, you could at least pick the best thing out of all the bad and start to see something positive.
What was the best thing that happened to you today?
Our favorite times were when Malorie was spending the weekend or longer and the boys were home instead of off with their friends. Some of our best conversations took place around the dinner table or when we were running around somewhere and stopped to grab a pizza or burger.
Meal times can be great opportunities to get your kids talking, and sometimes you learn the most about what's going on with their lives just by listening to the conversations they have with each other.
As they grew, we had very open and candid conversations about drugs, alcohol, sex, fashion, college, and life in general.
I wouldn't trade those moments for anything in the world. And I would add an important caveat: If you have middle schoolers and high schoolers with whom you engage in open conversations, you must try not to freak out and make a big deal out of shocking things that you hear.
There's no quicker way to shut down the conversation and ensure there won't be future ones.
Of course, we were not always successful at this, but when we were there were more confidences revealed and more honest dialogue.
My children are all grown now but I hope when they have children they will take the time to sit around the dinner table as often as they can and just talk and—more importantly—listen. I believe it's the best thing you can do for your family.
Roasted Baby Potatoes
This recipe was adapted from Everyday Italian, by Giada de Laurentis, which is one of my favorite cookbooks and one that I use frequently. Giada's recipes are always excellent and never overly complicated.
I use this roasted baby potatoes recipe for any type of meal—as a side for any meat or fish dish. You can adapt it for just a couple of people or for a crowd.
For a family dinner for four, you'll need 2-3 lbs. of baby potatoes. I use a mix of fingerling and small red potatoes, but you can use all fingerling, all red, or all white baby potatoes. Wash the potatoes and allow them to dry completely.
How to Roast Baby Potatoes
Step 1. In a large mixing bowl, add olive oil, garlic, Italian herbs, salt, and pepper.
Step 2. Stir to mix and then add potatoes. Gently stir the potatoes until they are well coated with the oil. Using a slotted spoon, transfer the potatoes to one or two large, heavy baking sheets.
Cook's tip: You can lightly spray the baking sheets. I use two baking sheets so the potatoes have lots of room to cook.
Step 3. Put the potatoes in the oven for about an hour, turning occasionally. If using two baking sheets, alternate from top to bottom halfway through the cooking time.
Step 4. Now here's the most important part: do NOT wash that bowl! When the potatoes come out of the oven you're going to dump them back in the bowl with the olive oil, garlic, and herbs, and you're going to swish them around until they are coated again.
This is what sends these roasted baby potatoes into the Roasted Baby Potato Extraordinaire Stratosphere. Then toss on a tad more salt and pepper and place in a serving bowl and you are good to go.
What's the best thing that happened to you today?
What's the nicest thing anyone did for you today?
What's the nicest thing you did for someone today?
Roasted Baby Potatoes with Garlic and Italian Herbs
Roasted baby potatoes with garlic and Italian herbs are crispy on the outside and soft and fluffy on the inside. Easy to make!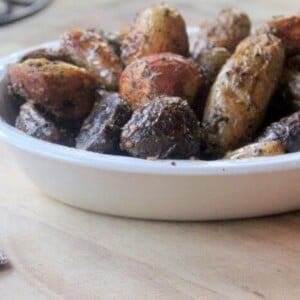 Ingredients
¼

cup

olive oil

1 ½

tablespoons

dried Italian herbs

4

tablespoons

minced garlic

2

lbs.

mixture of fingerling potatoes, baby red potatoes, and small white potatoes

1

teaspoon

salt

1

teaspoon

freshly ground black pepper
Instructions
Preheat oven to 400.

In a large bowl, whisk the olive oil, herbs, minced garlic, 1 teaspoon salt, and 1 teaspoon pepper. Add the potatoes and stir gently. Be sure all the potatoes are coated with oil.

Lightly spray a large, heavy baking sheet.

Remove the potatoes with a slotted spoon and place on the baking sheet, making sure there is space between each potato. If necessary, use two baking sheets.

Set the bowl aside to save the olive oil mixture.

Roast the potatoes until they are tender and golden, turning them occasionally, about 1 hour. Remove potatoes from oven and place back in the bowl with reserved olive oil.

Stir gently to coat the potatoes again then remove to a serving dish.
Nutrition
Serving:
6
servings
,
Calories:
208
kcal
,
Carbohydrates:
29
g
,
Protein:
3
g
,
Saturated Fat:
1
g
,
Sodium:
398
mg
,
Fiber:
4
g
,
Sugar:
1
g