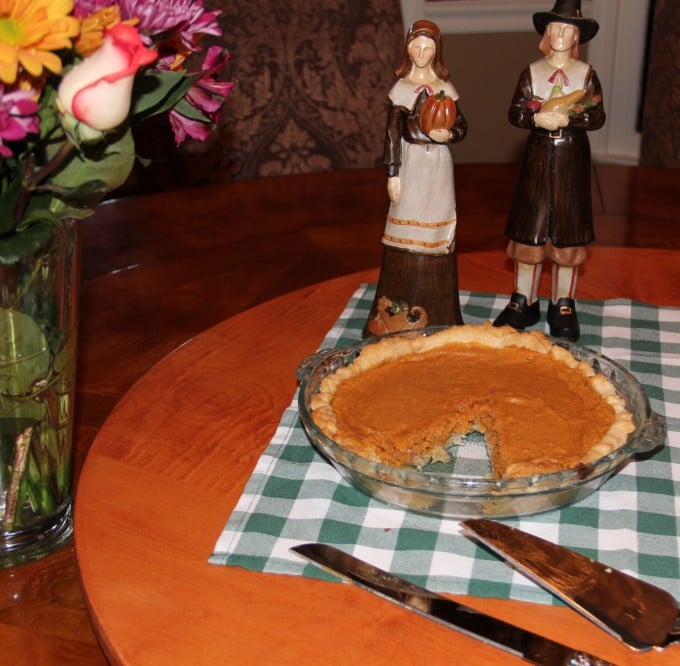 Lots of people will claim to be either sweet potato pie lovers or pumpkin pie lovers. I love both! Along with pecan pie. And chocolate pie. Ok, just PIE.
Last week I brought you my version of sweet potato casserole, and today I bring you sweet potato pie, which is also my favorite. I have a lot of favorites and they all seem to center on dessert. I'm not biased when I tell you that my mother makes the best sweet potato pie. It's not too sweet and not too custardy, but just the right mix of sweet potatoes, sugar, butter and egg to meld into a creamy, delectable blend for pie.
We were in a bit of a hurry with this one so didn't allow it to cool and set properly, but when you do it correctly the pie will have nice clean edges on each slice. Of course, when I called Mama to ask for her recipe she said, "Well, I don't really measure anything I just mix it up." So I had to run through her estimates a couple of times to come up with an actual version of the recipe to share.
Sweet Potato Pie
Start by peeling a large sweet potato, or two smaller ones, cut into pieces and boil about twenty minutes or until very tender. While the potatoes are boiling, pre-bake the pie crust just a bit so it's slightly brown. This keeps the crust from becoming soggy from the filling. My easy pie crust recipe is perfect for this pie!
When the potatoes are tender, drain and toss right back into the same pot you used for boiling. Then mash with a potato masher and add 1/2 stick of unsalted butter (1/4 cup). I use a hand mixer instead of my big mixer for this recipe since it's so quick and easy. Mix the butter into the potato until the butter is completely melted and incorporated. Then drop in the rest of the ingredients and mix until the potatoes are smooth and creamy. Pour into the pie shell and bake on a covered cookie sheet for 35-40 minutes at 350, or until center is set.
Enjoy!
Mama's Sweet Potato Pie
Sweet potato pie is an old-fashioned Southern dessert that's economical and easy to make and quite delicious.
Ingredients
2

cups

mashed sweet potato

(about 1 large or 2 small)

1/4

cup

unsalted butter

1/2

cup

granulated sugar

1/4

cup

brown sugar

1

egg

slightly beaten

1/4

cup

half and half or milk

1/4

teaspoon

cinnamon

1/4

teaspoon

freshly grated nutmeg

4

tablespoons

all-purpose flour

1/2

teaspoon

salt

1

teaspoon

vanilla
Instructions
Preheat oven to 350. Prebake pie crust until slightly brown. Allow crust to cool.

Peel and cube potatoes and place in a large pot. Cover potatoes with water and bring to a boil. Boil for about 20 minutes, until potatoes are very tender.

Drain potatoes and add back to pot. Mash potatoes with a potato masher or fork. Add butter and blend with hand mixer until melted and incorporated into potatoes.

Add egg, sugars, half and half, spices, flour, salt, and vanilla. Mix until creamy and well blended. Pour into pie crust.

Bake 30-40 minutes or until center is set and not jiggly. Allow to cool completely before slicing.