"How do I love thee? Let me count the ways…" Just a little taste of this homemade caramel sauce, and you will close your eyes and slowly savor the sinful, creamy feel of the luscious sauce. You will want more and you will start looking for pound cake or cookies to drizzle it on. And then you will think, "Drizzle? Drizzle?!" and you will slyly glance around to see if anyone is watching as you dip your spoon back into the jar and then place it right on your tongue, the buttery caramel sauce filling your senses as it slowly glides down your throat. You will close your eyes again and lean against the counter as ecstasy takes over your palate.
Did I tell you that I'm writing a historical romance novel? Just fitting in a little practice on this beautiful morning!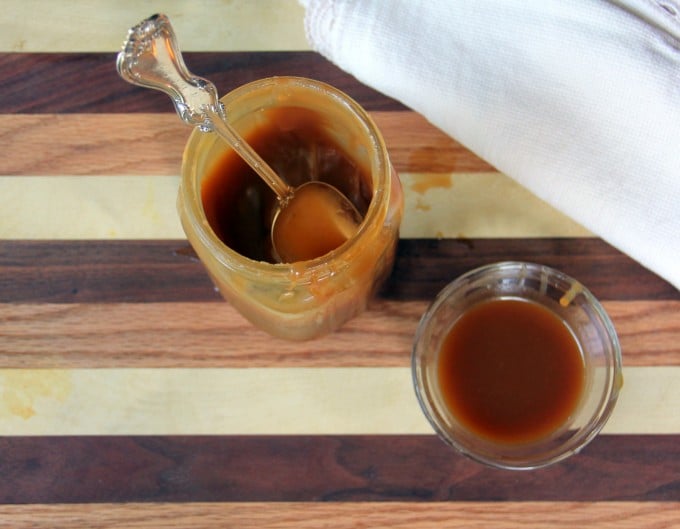 If you're here because you're looking for a shortcut to homemade caramel sauce, then you're in the wrong place. But don't go…I promise you that making real caramel sauce with caramelized granulated sugar is not that difficult. You can do it!
How to Make Homemade Caramel Sauce
You need sugar, butter, cream, vanilla, and a dash of salt. That's it. One small skillet, preferably cast-iron, and one large sauce pan. A candy thermometer is great but not absolutely necessary—although I recommend using one and I always do because I have a tendency to get distracted.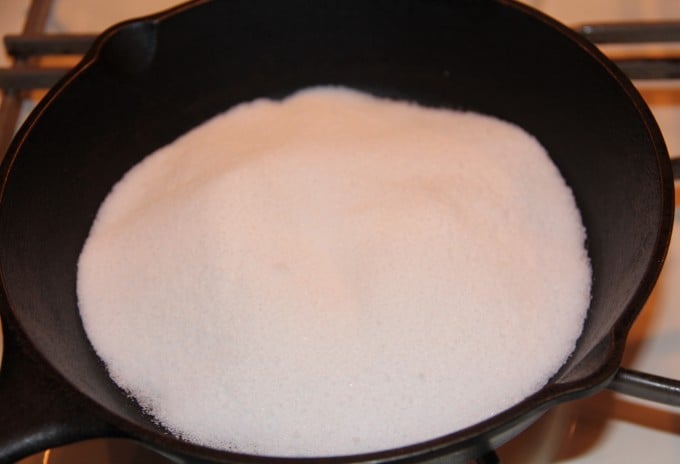 You'll cook 1/2 cup of granulated sugar in a small skillet on medium heat, until the sugar is melted and a nice amber color. You can stir a little once the sugar starts melting, but for the most part just let it cook and shake the pan every few minutes.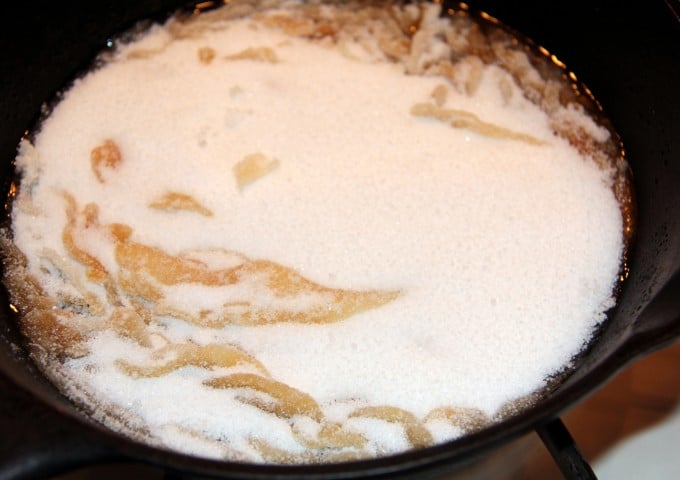 At the same time the sugar is cooking in the small skillet, place butter, the remaining sugar, and one cup of cream in a large saucepan and heat on medium. This is the pan where you will place your candy thermometer if using one. Once the sugar in the small skillet is completely dissolved and has reached a nice amber color, it is ready. Remove from heat and pour in the saucepan full of melted butter, sugar, and cream.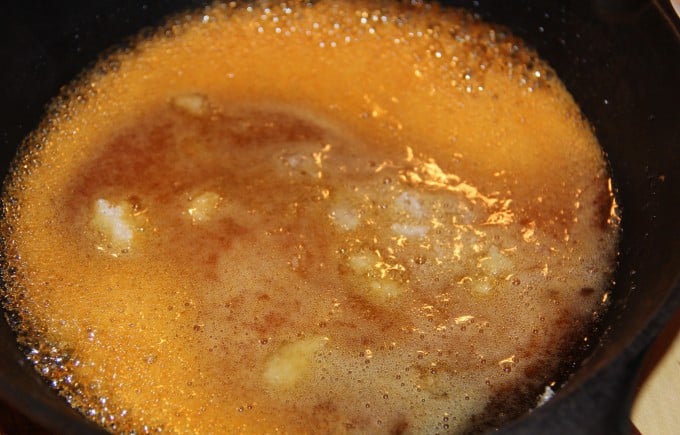 Cook on medium to medium-high until soft ball stage. If you don't have a thermometer, cook for about 7 minutes then start testing every minute. Drop a small spoonful of caramel into a glass of cold water. If it forms a ball then it's ready. Once the temperature gets over 220°, it will rise and reach the correct temperature quickly so you have to pay close attention.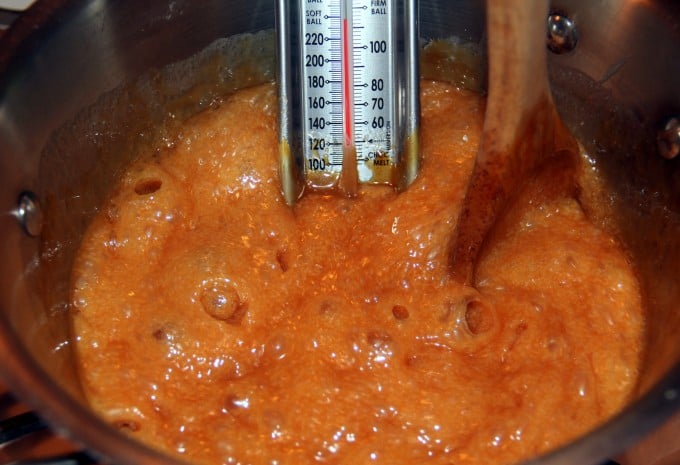 When it's ready, remove from heat and stir in the vanilla. Allow the caramel to cool for 5-10 minutes, then stir in the remaining cup of cream. And then you can drizzle it on just about anything.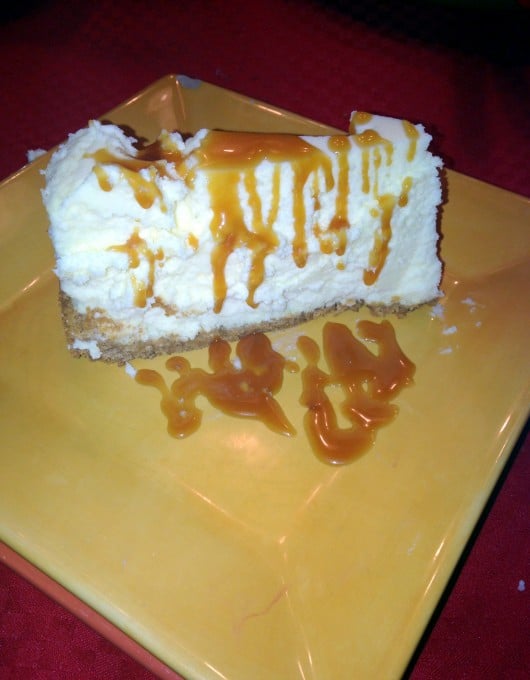 Or just eat it with a spoon. It's that good.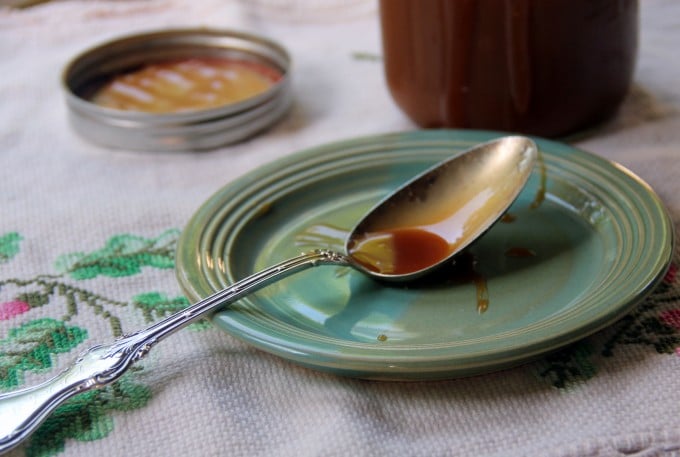 Homemade Caramel Sauce
Creamy, buttery, homemade caramel sauce that you can drizzle over ice cream, cheesecake, cream puffs, or just eat with a spoon. It's amazing.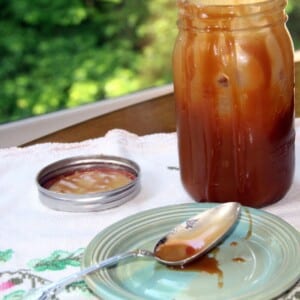 Ingredients
3

cups

granulated sugar, separated

1

stick unsalted butter

2

cups

heavy cream, separated

Dash of salt

2

teaspoons

vanilla
Instructions
***This recipe has two pots going simultaneously, so please read through the entire recipe and have all ingredients ready prior to starting. Be sure you have good pot-holders as the sugar mixture can bubble slightly when you pour in the dissolved sugar.
In large saucepan, place 2 1/2 cups sugar, butter, 1 cup of cream, and a dash of salt. If using a candy thermometer, you will place it in this saucepan. Turn heat to medium and stir constantly.

At the same time, in a small skillet, put 1/2 cup sugar and melt on medium until it becomes an amber color. Shake the skillet every few seconds to move the sugar around. You may sprinkle on a teaspoon or two of water to help the dissolving process. Once the sugar is dissolved and amber, pour it into the other saucepan. It will bubble up so be sure you have good pot-holders.

Cook on medium to medium-high, stirring constantly until almost soft ball stage or 232 on thermometer, usually about 10 minutes.

Remove pot from heat, stir in vanilla, and let cool for about five minutes.

Stir in remaining cup of cream. Allow to cool completely before placing in refrigerator. Will keep in refrigerator for a couple of weeks.
Nutrition
Serving:
12
servings
,
Calories:
399
kcal
,
Carbohydrates:
51
g
,
Saturated Fat:
13
g
,
Cholesterol:
74
mg
,
Sodium:
16
mg
,
Sugar:
50
g
Perfect Recipes for this Caramel Sauce: