This cream cheese pound cake is perfect every time, with a buttery, moist, and tender crumb. Stop searching because this recipe is the best! Our homemade recipe adds a creamy twist to the traditional pound cake, making it a delightful treat for gatherings or a quiet moment of indulgence.
Made with simple ingredients, this cake is dense but not too heavy and never dry – just pure, moist, buttery goodness in every slice.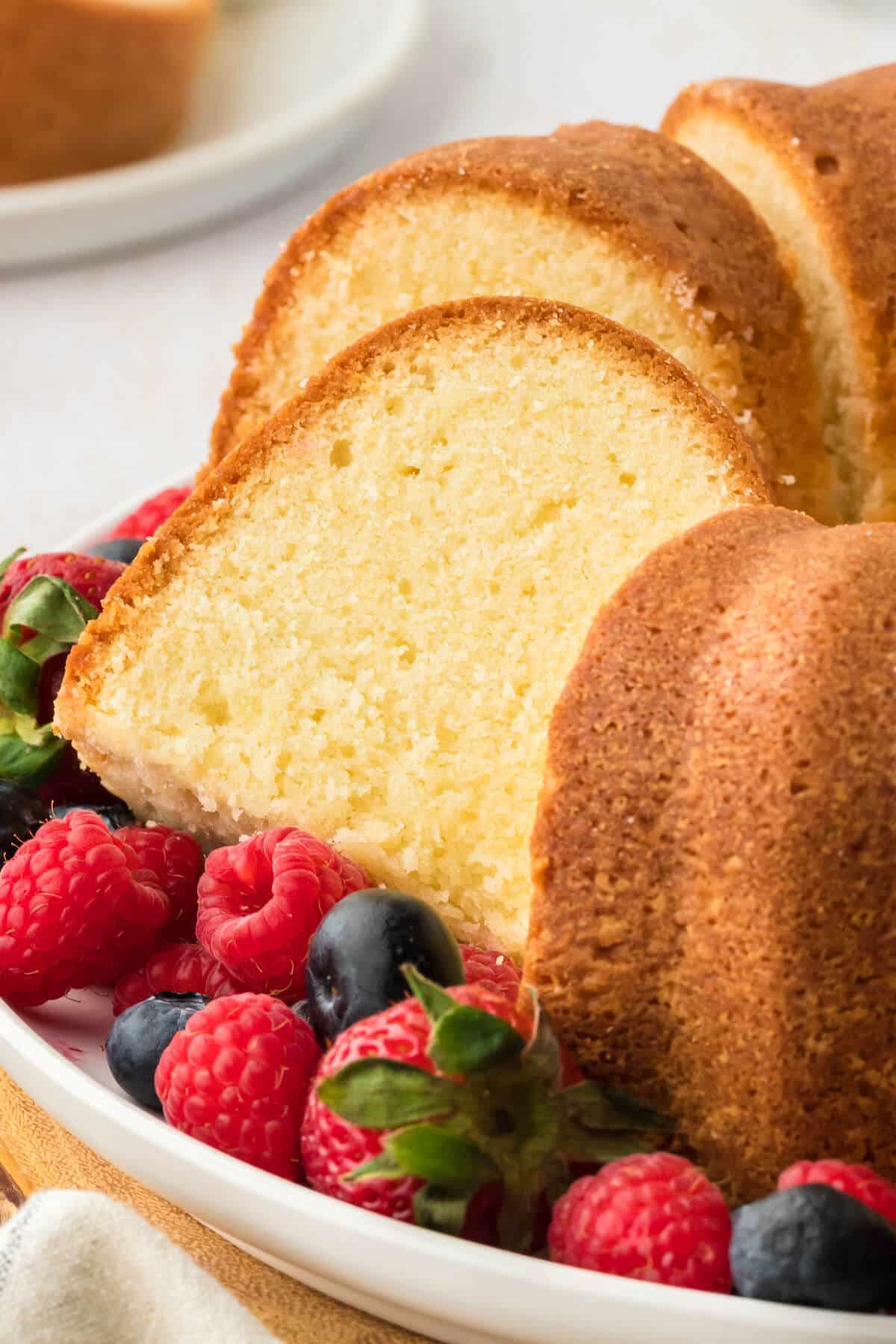 There's a reason this has been one of our most popular recipes since it was initially posted in 2010—it's the best cream cheese pound cake we've ever tasted!
I've been baking this cake for more than thirty years and it never disappoints. This cream cheese pound cake recipe, a cherished gem from an old cookbook, has stood the test of time, delivering a wonderful twist to the classic pound cake recipe that's perfect for any occasion or just because.
The incorporation of cream cheese in the recipe creates a uniquely rich and moist texture while boosting the flavor profile. Baked to golden perfection, this cake offers a sweet and slightly tangy delight in every bite, making it a definite crowd-pleaser.
If you love cream cheese desserts, be sure and also try our Cream Cheese Banana Pudding.
So whether you're pairing it with a morning cup of coffee, serving it as a sumptuous dessert after dinner, or simply treating yourself to a sweet treat with afternoon tea, this perfect pound cake recipe turns out a cake that is gorgeous and guaranteed to impress.
Southern cream cheese pound cake
Now, if you're from the South, you know that pound cakes are as much a part of our heritage as sweet tea and front porch swings. They're a staple at family gatherings, church picnics, holiday dinners, and other special occasions.
But there's something special about how a good pound cake brings people together, stirring up conversations, laughter, and shared memories.
I promise you one bite of this delightfully sweet and creamy pound cake, and you'll be taken to days gone by sitting in Grandma's kitchen.
​And here's our favorite tip for eating this cake: pop your slice of cake in the microwave for about 12 seconds, and it will seem like the cake just came out of the oven. Trust us on this!
So, are you ready to roll up your sleeves and get baking? Let's dive into the ingredients, steps, and tips for this irresistible Cream Cheese Pound Cake at home.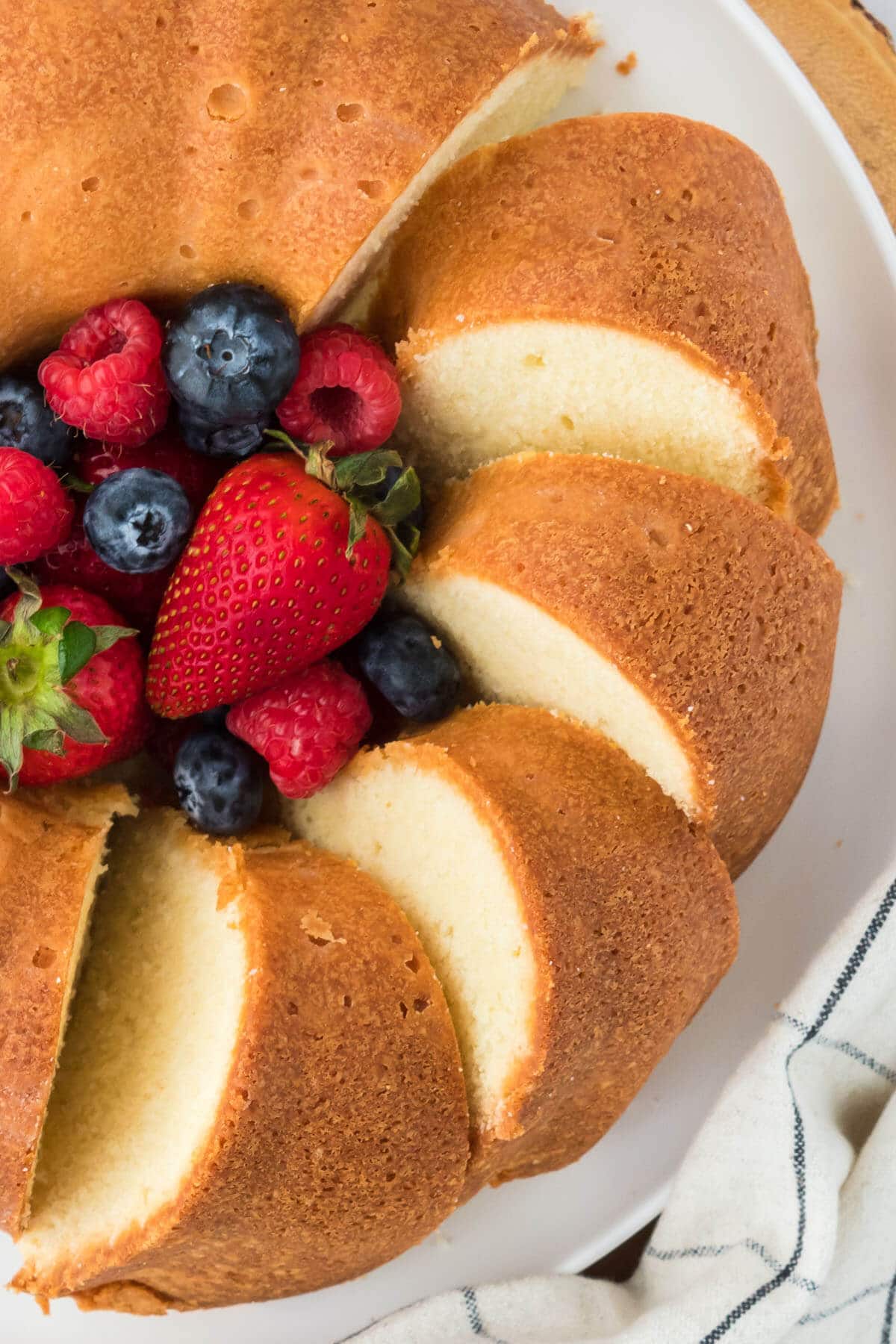 Pin this now to save it for later
Notes on ingredients
Scroll down for printable recipe card with full ingredient amounts and detailed instructions.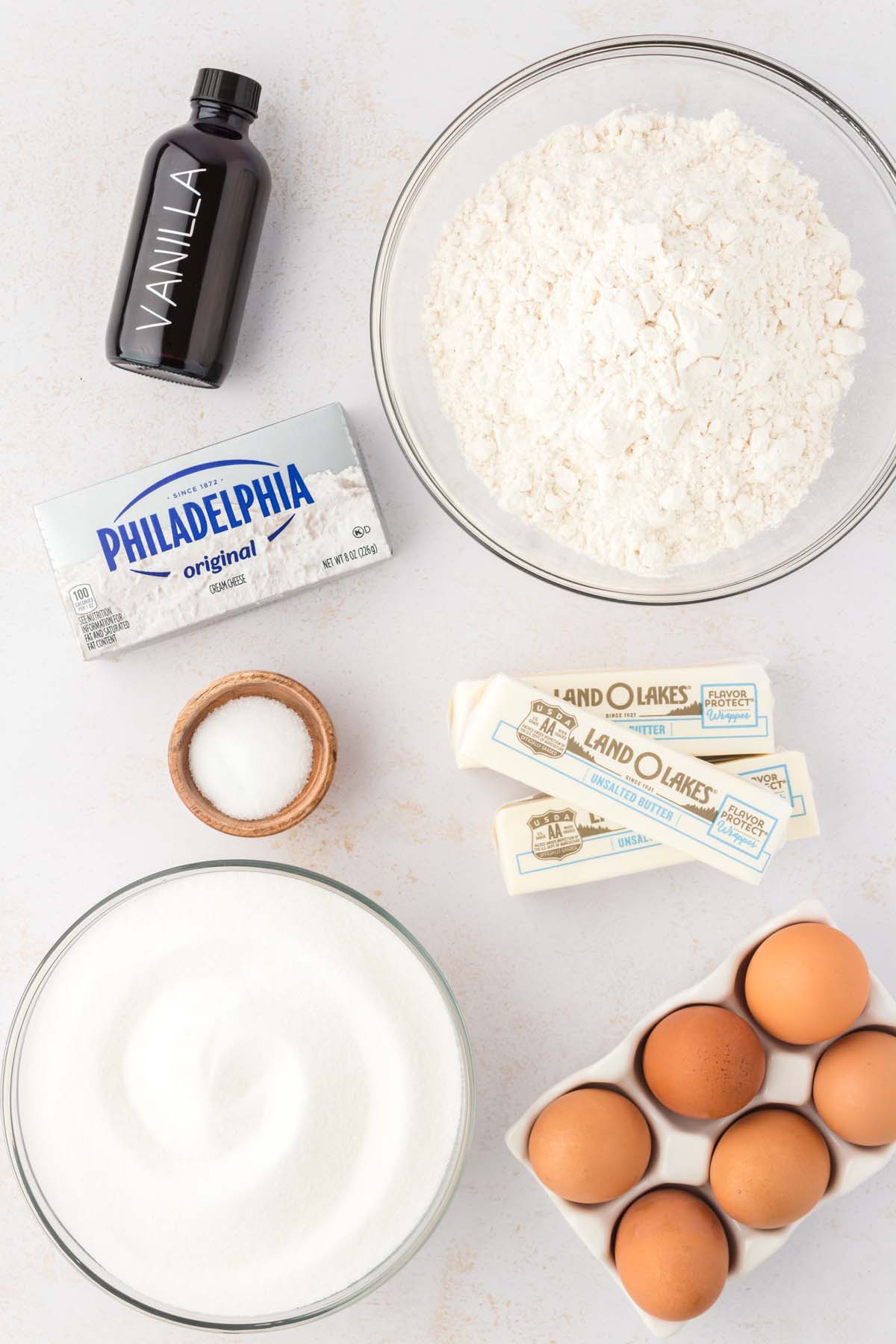 Unsalted butter – as with most pound cakes, the butter is the star of the show. We prefer Land o' Lakes brand. You can use fancier, more expensive butter, but it's unnecessary.
Just don't use store-brand butter because there is usually a higher water content, and your cake may not turn out well.
Cream cheese – this is where the magic happens. The cream cheese combines with the butter to make the creamiest, moistest pound cake you've ever eaten. We've tried store brands of cream cheese but always come back to Philadelphia cream cheese.
The texture and flavor are always perfect, which is not the case with store brands. And please, do not ever use low-fat cream cheese when baking!
Flour – if you've followed this site for any time, you know we primarily use White Lily. For this cream cheese pound cake, if you don't have White Lily, you can use cake flour, which has a similar protein content.
Vanilla – use a high quality vanilla extract or make your own with this homemade vanilla extract recipe.
Tube pan or bundt pan – it's essential to use a pan that's made to hold at least 10-12 cups of batter. The original cookbook recipe called for a tube pan, so that's what we use most of the time. But if you want to make the cake prettier, then by all means, use a large Bundt pan like this one.
To check out all my kitchen and travel favorites, visit my Amazon Shop.
You may also like
Lemon Cream Cheese Pound Cake – I used this same recipe and added lemon and a super easy lemon glaze.
How to make cream cheese pound cake
Note – this is a cold oven pound cake. Do not preheat the oven! And our special tip – place an oven-proof bowl or measuring cup of water in the oven. This helps to ensure a moist cake every single time!
Sift together the flour and salt on a piece of parchment paper.

Add butter to the bowl of a stand mixer and beat until creamy, using the paddle attachment. Then add the cream cheese and beat for about 5 minutes on high speed. Gradually add sugar and mix for another 5-7 minutes until creamy. At this point, your batter should be very pale and fluffy. Because there is no chemical leavening in this cake, physical leavening occurs when air mixes in with the sugar and butter. The air in the batter is going to help the cake rise properly.

On medium speed, beat in eggs one at a time, mixing just until the yolk disappears and scraping the sides of the bowl as needed.

Gradually add the flour mixture on low speed, ensuring the batter is well-blended. Next, add the vanilla extract and mix just until blended. Be careful here—with the butter, cream cheese, and sugar, you want to mix a long time until the cake batter is light and aerated. But with the flour, too much mixing will cause the gluten to over-develop and change the texture of the pound cake.

Pour batter into the pan and place it in a cold oven with a water-filled oven-proof cup or bowl.

Bake at 300° for around 1.5 hours, then allow the cake to cool on a wire rack. Start checking with a cake tester at about one hour and fifteen minutes. You'll know the cake is done when the tester shows just a moist crumb. Note: you can use a toothpick, but I prefer the cake tester because it's skinny and longer.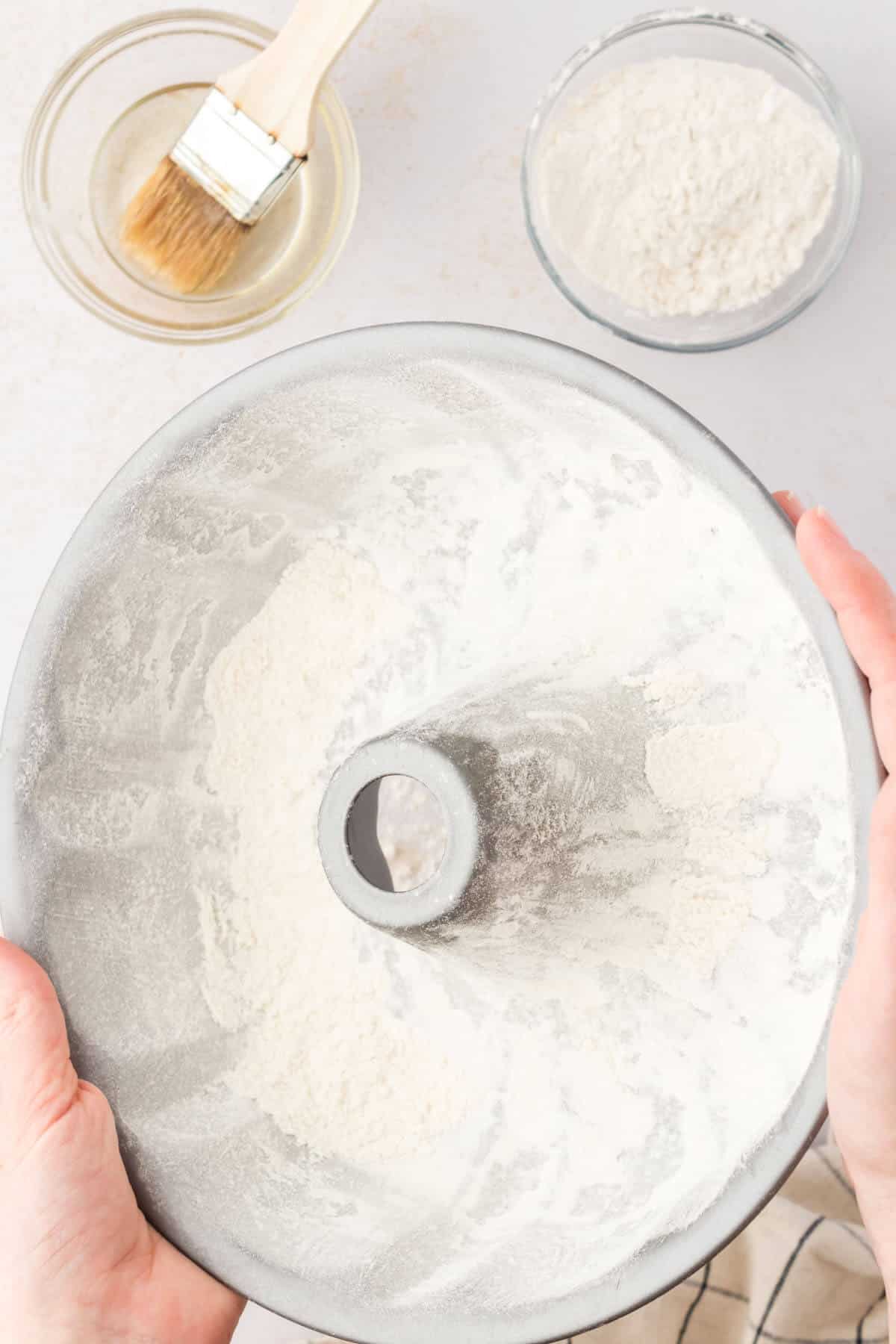 Expert baking tips
** Cold oven: Do not preheat the oven. This cake starts in a cold oven and bakes at a low temperature. Most other cream cheese pound cake recipes require you to preheat and bake at 325°.

And most other cream cheese pound cake recipes are not this good. So there's that.
** Water in the oven: I'm not sure how this started or even if it was in the original cookbook where I found this recipe. But I've been adding a 2-cup measuring cup full of water to the oven for decades, and my cake is perfect every time.
I place the measuring cup behind the cake right on the oven rack, making sure it's balanced.
** Preparing the pan: Nothing is more aggravating than baking a cake only to have it stick to the pan. Our preparation method has never failed us. Spray the pan with nonstick baking spray, or rub generously with butter. Then sprinkle generously with flour, hold the pan upside down and tap lightly so the loose flour falls out.
In 30+ years of baking this cake, I have only had it stick once, and that was in someone else's kitchen, where we didn't use this method. That cake became a trifle!
** Room temperature ingredients: Your butter, cream cheese, and eggs should be at room temperature before mixing. This is true for most cakes.
** Measuring flour: Professional bakers will tell you to weigh the flour and other ingredients, and there are certainly recipes for which you need to do this. For example, we always weigh everything if we're making sourdough bread.
For this recipe, however, you can either scoop and measure your flour or use Ina Garten's method. She takes the measuring cup, stirs and loosens the flour, and then scoops out what is needed. This is how we do it, and it works just fine.
** Eggs: Use large eggs only and crack them into a separate bowl. This way, you don't take a chance of getting eggshells in the batter, and the eggs are ready to go once it's time to add them.
** Mixing the batter: We can't emphasize enough that you must mix the butter, cream cheese, and sugar for several minutes. There is no leavening in this cake other than a pinch of salt, so the mixing will incorporate air which will help the cake rise. But don't overmix once you add the eggs and flour!
** Baking: The baking time for this cake is never going to be exact, as ovens vary, but typically it takes about 1.5 hours. I have made it in as little as an hour and ten minutes or as long as an hour and forty minutes. Once you've made it and know your oven, you'll know exactly how long to bake.
We suggest you begin checking with the cake tester at around one hour and fifteen minutes. We pull our cake when the tester shows a moist crumb–not wet batter and not fully clean. If the tester is fully clean on a pound cake, the cake will be dry.
** Resting: After baking, allow the cake to cool in the pan for 10-15 minutes, then flip it onto a parchment paper-covered rack to cool completely.
Serving suggestions
The best cream cheese pound cake doesn't need much in the way of a garnish. Some people sprinkle on powdered sugar, but we don't because the cake is already quite sweet. You might also be interested in a gluten-free pound cake like this one.
We like to serve the cake drizzled with this homemade strawberry syrup or with some fresh berries and our raspberry sauce, but more often than not, we serve it plain with no complaints.
FAQs
Can you freeze this cake?
Absolutely! Just make sure it's cooled completely before wrapping it securely with plastic wrap and then aluminum foil. We don't like to freeze cake for a long time as it tends to dry out, so we recommend freezing for no more than 3-4 months.
How do you store the cake?
You can keep the cake at room temperature for up to 5 days. We don't suggest refrigerating the cake because it will get dry, but if you need to keep it longer than a few days, refrigeration is the way to go. Because this is a moist cake, it will start to mold after a few days. This is never an issue in our house because it doesn't last that long!
Can you make a cream cheese pound cake loaf?
You sure can. Use loaf pans prepared the same way as above. Fill about 2/3 full. Depending on the size of your pans, you'll have to watch the baking times, but we suggest checking at around the 30-minute mark.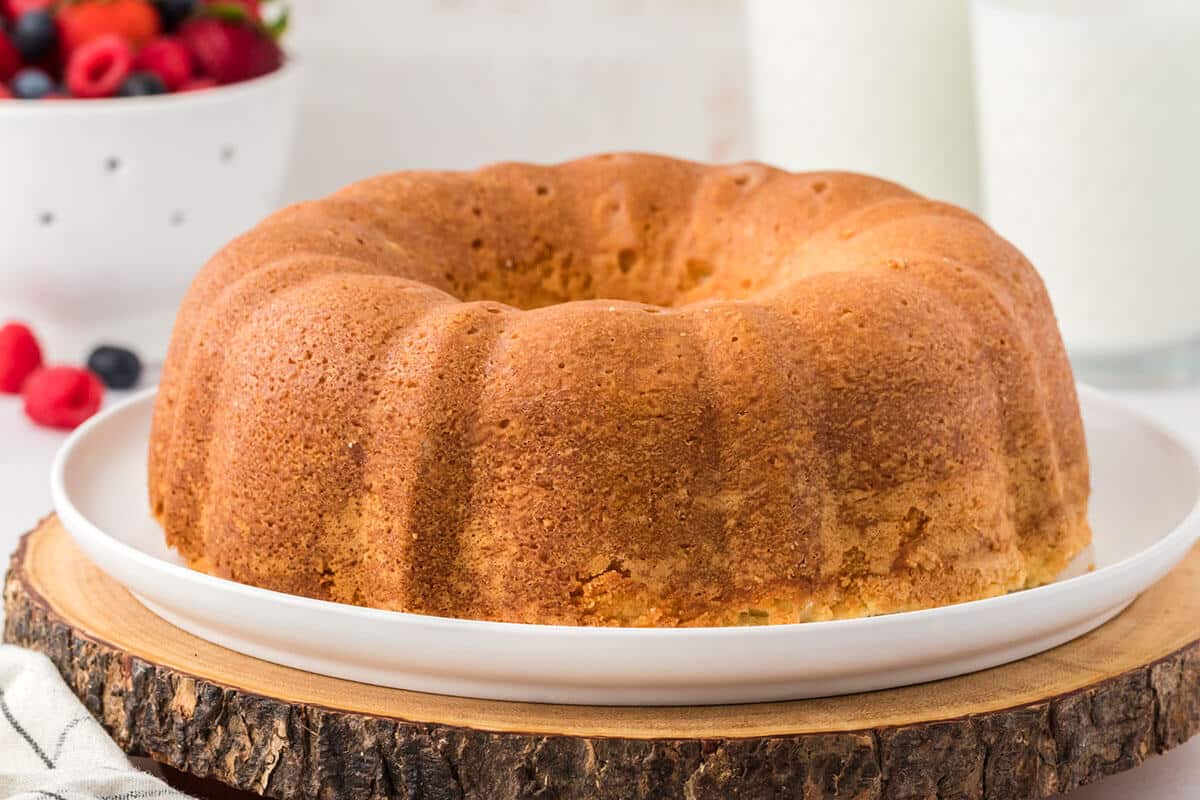 Cream Cheese Pound Cake
This cream cheese pound cake is perfect every time, with a buttery, moist, and tender crumb.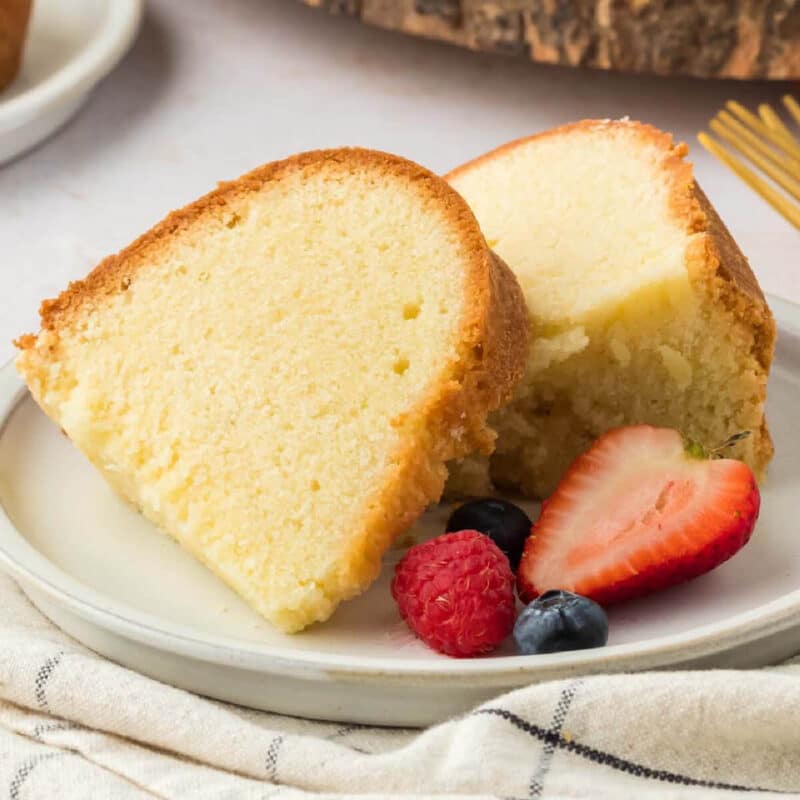 Ingredients
8

oz.

cream cheese (use Philadelphia), softened

1 block

1 ½

cups

unsalted butter, softened

3 sticks

3

cups

granulated sugar

6

large eggs, room temperature

1 ½

teaspoons

vanilla extract

3

cups

all-purpose flour (White Lily)

⅛

teaspoon

salt
Instructions
Do not preheat the oven. Butter and flour a large (10-12-cup) Bundt or tube pan. You can set the pan on a foil-covered baking sheet in case of any over-flow. (If your pan is the correct size, overflow should not be an issue.)

Sift together the flour and salt on a piece of parchment paper and set aside.

Beat butter and cream cheese at medium speed of electric mixer until blended and creamy, about 8 minutes. Gradually add sugar, beating another 5-7 minutes on medium. The batter should get very fluffy and pale with no discernible pieces of cream cheese.

Add eggs, one at a time, mixing on low to medium just until yellow disappears, about twenty seconds. Scrape the sides of the bowl after 3 eggs.

With mixer on low, slowly pour in the flour from the parchment paper. Beat on low speed just until blended. Be sure to scrape the sides and bottom of bowl to blend every bit. Add vanilla and stir or mix just until blended.

Pour batter into the prepared pan and place in cold oven along with a 2 cup oven-proof measuring cup or bowl filled with water (about 1 ½ cups).

Bake at 300° for about 1 hour and 15-30 minutes or until a cake tester inserted in center comes out with just a few moist crumbs. Start checking at about 1 hour and 15 minutes.

Let cake cool in pan on wire rack for 15 minutes then flip onto wire rack.
Notes
Ingredients
Use room temperature ingredients. I set out the butter and eggs about an hour before making the cake.
Use high quality ingredients – I only use Domino's Granulated Sugar.
Use White Lily all-purpose flour or a comparable low-protein all-purpose flour or cake flour.
Use good quality, stick butter. Do not use margarine. I only use Land O' Lakes unsalted butter.
Aerate the flour before measuring—take the measuring cup and stir it around in the canister, just to mix and loosen the flour prior to measuring.
Crack the eggs and place in a bowl before adding to the sugar mixture. This ensures you don't accidentally get a piece of shell in the batter, and also makes it easier to pour in the eggs.
Mixing the Pound Cake Batter
Pound cakes are unique in that they do not use leavening agents, other than a small amount of salt. So to make the cake rise properly, the mixing technique is important.
Be sure that you beat the butter and cream cheese until it's creamy and then add the sugar GRADUALLY and beat until the mixture is light and fluffy. This will take several minutes, but these steps are vital to the success of the cake because this is what whips air into the cake batter and makes it rise during baking.
Don't over-beat after adding the eggs. Just beat until the yellow is blended in after each egg.
Prepping the Pan and After Baking
Grease the pan well and dust with flour. The flour helps the cake batter adhere to the sides of the pan.
The cake should cool about 10 minutes in the pan and then be flipped onto a rack to cool completely.
Nutrition
Serving:
20
servings
,
Calories:
364
kcal
,
Carbohydrates:
44
g
,
Protein:
4
g
,
Saturated Fat:
11
g
,
Cholesterol:
98
mg
,
Sodium:
191
mg
,
Sugar:
30
g
Update Notes: This post was originally published October 13, 2010, and on May 28, 2023, was updated with one or more of the following: step-by-step photos, video, updated recipe, new tips.