Sweet Tea just the way Granny made, with lots of real sugar and brewed tea.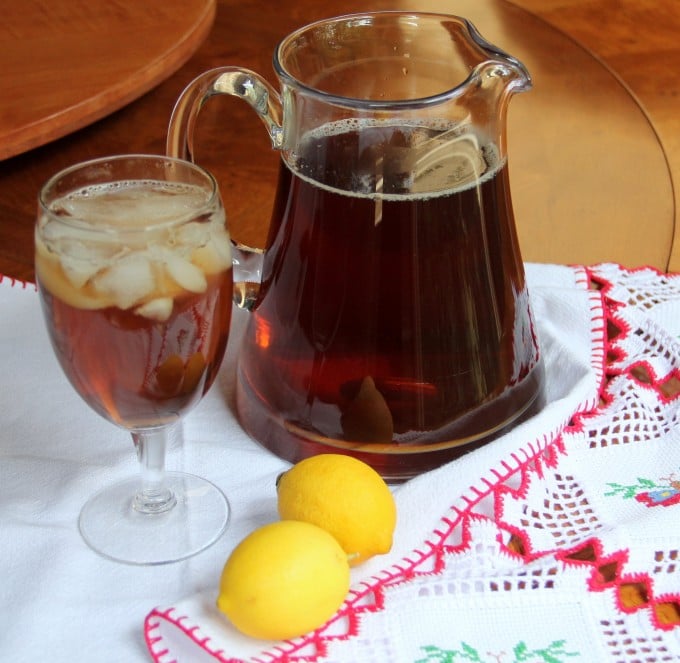 Sweltering…there's just no other way to describe this summer so far. This morning it was 80° before the sun came up. And muggy. That's what we have here in Georgia—muggy, heavy, humid air that feels like Harry Potter's invisibility cloak.
So, what do Southerners reach for when the temperatures soar into triple digits? More often than not, a glass of iced tea. Used to, there was no distinction between sweet or unsweetened. You went to someone's home, or to a church picnic, or to a restaurant and you were served a glass of tea just as routinely as restaurants now plop down a glass of water. And the tea was sweet. That's just the way it was.
Nowadays, it might be sweet or unsweetened, possibly decaffeinated, and Lord help us, sometimes it's fancied up with various flavors like peach or raspberry. In our family, we now routinely serve sweet and unsweet at gatherings. But never raspberry…
With all that said, I have a confession to make…I do not like sweet tea. Nor do I like unsweetened tea. I do not like green eggs and ham, not on a plate… Supposedly I drank tea as a very young child, but for whatever reason my tastes changed and I don't remember ever drinking it growing up. I drank eight glasses of water a day long before anyone suggested it.
A pitcher of tea is always ready and in the fridge at Granny's and Mama's house. I used to follow this practice, but as the boys got older, they would literally go through a gallon a day or more if I made it. That was too much sugar, so I quit. I don't make tea very often now, and when I do it's more of a treat or for a special supper. Of course, I could use less sugar and then they could drink it more often, but that wouldn't go over well. There is one way to drink tea and that's sweet, very sweet, the way it's meant to be.
To start, fill a pot with about four cups of water and bring to a boil.
This is the pot that I use for making tea. It was my Mama's and she gave it to me over twenty years ago. You can see the stain line on the inside from the tea—that's all that ever goes into this pot.
Once the water's boiling, add a pinch of baking soda and then drop in four family-size tea bags. I only use Luzianne tea bags because that's what Mama told me to use, but I imagine you can use any kind and it will be fine. As soon as you put the tea bags in, turn off the heat and cover the pot. Let it steep for at least five or ten minutes if you have time.
Get your gallon pitcher ready by dumping in 1 1/2 – 2 cups of sugar. Yes, that's what I said. Two cups. I made tea today and used probably between 1 1/2 and 1 3/4 cups of sugar, and the Young Son took a sip and said, "This tea could be sweeter." So, there you have it. Two cups.
Pour the hot tea from the pot over the sugar and stir until the sugar is completely dissolved. This is probably the most important step of all—if you forget to stir before you add cold water then your sugar won't dissolve and your tea won't be sweet.
Then add cold water to the pot with the tea bags and dunk them up and down for a few seconds.
I usually fill the pot a couple of times, pour that water in the pitcher and then fill the pitcher the rest of the way with cold water. Stir again, and that's it. Store your tea in the refrigerator.
Enjoy!
Lucy
Sweet Tea Southern Style
A Southern staple, sweet tea is a simple, refreshing every day drink to have on hand.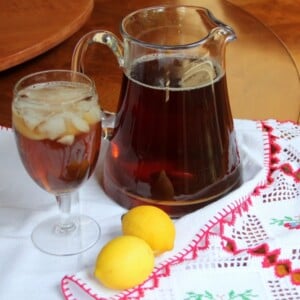 Ingredients
4

family size tea bags, Luzianne brand

1 1/2-2

cups

granulated sugar

4

cups

water

pinch

of baking soda

Additional water to fill pitcher
Instructions
Add four cups or so of water to a saucepot and bring to a boil. Once boiling, add pinch of baking soda and the tea bags.

Turn heat off and cover pot. Steep tea in the pot for 5-10 minutes.

Add 1 1/2-2 cups sugar to gallon size pitcher. Pour hot tea over the sugar and stir until sugar is completely dissolved.

Fill pitcher with cold water.
Nutrition
Serving:
10
servings
,
Calories:
116
kcal
,
Carbohydrates:
29
g
,
Sodium:
5
mg
,
Sugar:
29
g
This post is part of my favorite Southern Foods at Home collection.