This Strawberry Trifle Recipe blends ripe strawberries, tart raspberries, rich chocolate, and fluffy whipped cream into a fabulous and easy dessert. With a hint of liqueur and the crunch of shortbread cookies, it's the epitome of Southern elegance and delightful indulgence.
This gorgeous delight is sure to become a favorite dessert recipe that you turn to again and again.
Is it a trifle, a parfait, or a fool?
Before we dive deeper into our trifle, let's clear the air around trifles, parfaits, and fools, shall we? We're often asked if a trifle can be a parfait or a fool.
Here's the tea: All three are delightful desserts, often featuring fresh fruit and cream, but each has its unique twist.
Let's take strawberries as an example: A strawberry trifle, like our recipe here, is a layered dessert in a glass trifle bowl, typically with fruit, custard or whipped cream, and some cake-like ingredient, either angel food or pound cake.
A strawberry parfait is also layered but often includes yogurt and granola, making it a lighter choice. And parfaits are typically served in a glass or dessert dish as a single serving.
Now a strawberry fool – no, not a jester – a dessert fool is usually a simple concoction of fruit folded into sweetened whipped cream. But it can also just be layered…just like the trifle!
Trifles may have originated from our English cousins across the pond, but they've found a cozy home in Southern kitchens. The blend of fresh fruit, cream, and a hint of something stronger is a combination that speaks to our love of rich, comforting flavors.
In the heart of summer, when strawberries are at their peak, there's no better time to whip up this strawberry trifle recipe.
While Southerners like to make trifles with homemade angel food cake or pound cake, we opted for some crumbled shortbread cookies in this one, and the result was fabulous!
Another delicious dessert is our Strawberry Cobbler, which is perfect for the strawberry lovers in your group. And, of course, you can never go wrong with this Strawberry Pizza. Either of these would make a lovely addition to your dessert table.
Eton mess from Ina Garten
I adapted this recipe from Ina Garten's recipe for Eton Mess, found in Barefoot Contessa: How Easy is That? I love this cookbook and use it all the time.
The recipes are timeless and as the title says, very easy to pull together. It's a perfect cookbook to help with entertaining a crowd or making a simple weeknight dinner.
Ingredients
See the recipe card below for full ingredient amounts and instructions.
Fresh strawberries – this dessert shines when sweet strawberries are at their peak.
Fresh raspberries – these take it over the top.
Granulated sugar – for the whipped topping.
Lemon juice – only fresh, please!
Framboise or pomegranate liqueur – does not give a heavy alcoholic taste, just a delightful flavor.
Heavy whipping cream – you could just drop in a tub of cool whip, and we won't tell.
Vanilla extract – use good quality vanilla.
Bittersweet chocolate – this cuts the sweetness just a bit and adds depth of flavor.
Shortbread cookies – you can make shortbread cookies homemade or use a good quality brand.
Variations
Substitute the strawberries with other berries like blueberries or blackberries or your favorite fruit for a different flavor profile.
Opt for a different type of cookie, like ladyfingers, or use sponge cake for a more traditional trifle.
Choose white chocolate instead of bittersweet for a creamier, sweeter dessert.
Instead of whipped cream, you can make a layer of creamy pudding, like the custard in our famous banana pudding.
Pin this now to save it for later
How to make strawberry trifle recipe
Ina uses bakery meringue shells to layer this dessert, but I'm not a fan of meringue so I decided to go with chopped bittersweet chocolate and shortbread cookies.
Cook raspberries, strawberries, lemon juice, and sugar in a saucepan.
Add remaining strawberries and liqueur, then chill.
Using the whisk attachment of a stand mixer, whip the heavy cream, sugar, and vanilla extract until stiff peaks form.
Layer whipped cream, strawberry mixture, chocolate, and cookies in a large trifle bowl or individual glasses.
Chill until ready to serve.
How to layer the strawberry trifle
You can place everything in a trifle bowl or use individual dessert glasses.
Start with whipped cream and then layer with the strawberry mixture, a little chocolate, cookie crumbs, and then layer all again.
You can make this strawberry trifle recipe ahead of time, even cooking the raspberries and strawberries the day before. Simple yet beautiful!
Tips
For the best flavor, use fresh, in-season strawberries.
Don't overbeat the cream, or it will separate.
The first layer should be whipped cream. We like the top of the trifle to be whipped cream with gorgeous fresh strawberries.
Any large glass bowl will work fine if you don't have a trifle bowl.
Garnish with a sprig or two of fresh mint if desired.
Can you freeze this recipe?
While you can technically freeze this strawberry trifle, it's not recommended. The texture of the cream and fresh berries won't hold up well in the freezer.
Can you make the strawberry trifle ahead?
Absolutely! You can make the trifle a few hours ahead of time and keep it chilled until ready to serve. I would not make it more than a day in advance though.
How to store?
The trifle is best eaten the day it's layered together, however, you can store leftovers in an airtight container in the refrigerator.
Can you use frozen berries?
We don't suggest using frozen berries in this recipe.
Now that we've covered the ins and outs of this delightful strawberry trifle recipe, it's time for you to give it a whirl. Remember, the beauty of this strawberry trifle is in the layers—each one a surprise waiting to tickle your taste buds.
Don't wait for a special occasion; grab your favorite apron and make some Southern food magic. Your summer party will be the best with this beautiful strawberry dessert!
Strawberry Trifle Recipe
This Strawberry Trifle Recipe blends ripe strawberries, tart raspberries, rich chocolate, and fluffy whipped cream into a fabulous and easy dessert.
Ingredients
3

6-oz.

packages fresh raspberries, washed and drained

2

lbs.

fresh strawberries, divided, washed, hulled and sliced

1 ½

plus 3 tablespoons granulated sugar

Juice from one-half lemon

3

tablespoons

framboise or pomegranate liqueur

3

cups

heavy cream

1

tablespoon

vanilla extract

8

ounces

bittersweet chocolate, chopped

20

shortbread cookies, crumbled
Instructions
Place raspberries, 1 lb. strawberries, lemon juice, and 1 1/2 cups sugar in a large saucepan.

Bring to a boil then turn heat to low to medium-low to keep a good simmer for about 10 minutes.

Remove from heat and add remaining strawberries and liqueur.

Chill until cold.
Whipped Cream:
Place 3 cups heavy cream, 3 tablespoons sugar, and 1 tablespoon vanilla extract in bowl of stand mixer.

Beat at medium-high until well mixed, then turn to high speed until firm peaks form. Be careful that you don't turn to high too soon or the cream may splash out of the bowl.

Layer whipped cream, strawberry mixture, chocolate, and cookies in a large trifle bowl or individual glasses.

Chill until ready to serve.
Nutrition
Serving:
10
servings
,
Calories:
573
kcal
,
Carbohydrates:
47
g
,
Protein:
5
g
,
Saturated Fat:
22
g
,
Cholesterol:
103
mg
,
Sodium:
136
mg
,
Fiber:
7
g
,
Sugar:
25
g
UPDATE NOTES: This post was originally published January 30, 2013, and on July 15, 2023, was updated with one or more of the following: step-by-step photos, video, updated recipe, new tips.
Cookbook on sale for $4.97!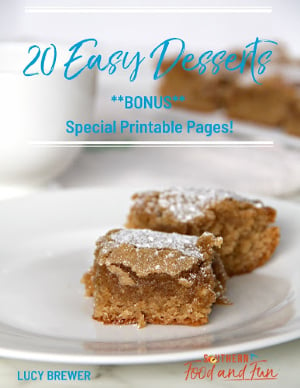 Grab our easy desserts ebook featuring 20 of our most popular desserts right in one place. You can print the recipes or cook right from your tablet or phone.

With favorites like our Peanut Butter Cake and Easy Brownies, you'll turn to this cookbook over and over when you want to make something special for someone.
And it makes a great gift too!