Cream Cheese Banana Pudding is a delicious and easy version of banana pudding with a graham cracker crust, a cream cheese layer, vanilla custard, and of course, bananas!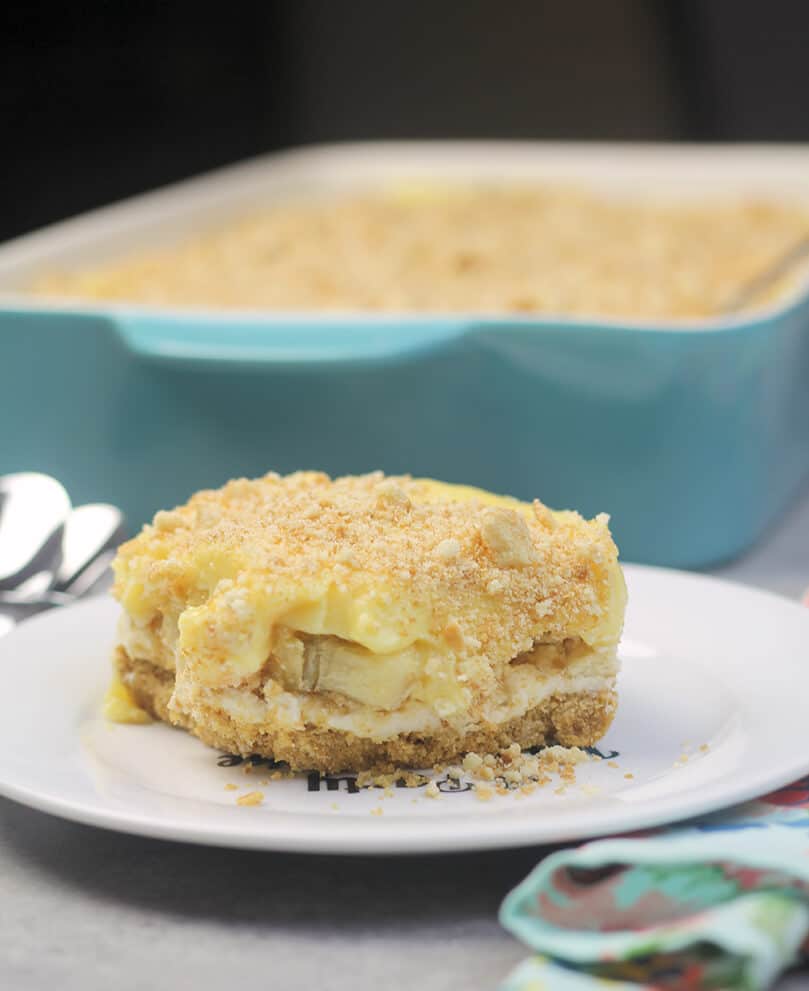 At most Southern gatherings, there are a few dishes that are sure to grace the table: fried chicken, barbecue, pound cake, chess pie, and banana pudding. And it's almost sacrilege to mess with any of those recipes.
While there may be slight variations, most everybody's version of each of those favorites is going to be pretty close.
I wanted to test the waters though and see if I could come up with a different version of banana pudding. Not better, as my Homemade Banana Pudding is pretty darn awesome—just different.
Don't forget to PIN THIS RECIPE to save for later!
Why This Recipe Works
A layer of cream cheese filling is a delicious surprise to a banana pudding. Everyone loves the marriage of cream cheese + vanilla custard. ??
The graham cracker crust gives a perfect crunch to the creamy pudding.
This custard recipe is the best we've ever had and absolutely worth the effort. With that said, you can sure substitute boxed vanilla pudding. No judgement here!
Tools for Cream Cheese Banana Pudding
Ingredients for Cream Cheese Banana Pudding
Graham Cracker Crumbs
Sugar
Butter
Cream Cheese
Milk
Cream
Eggs
Flour
Vanilla
Bananas
Vanilla Wafers
Salt
Pro Tip: In lieu of the homemade custard, you can omit the cream, eggs, and flour and instead use:
2 boxes cook and serve vanilla pudding
sweetened condensed milk
You may also like
Cherry Cream Cheese Pie – quick and easy no-bake dessert!
How to Make Cream Cheese Banana Pudding
Step 1.
Start by making a simple graham cracker crust and bake it for about 8 minutes.
Step 2.
Then spread a layer of cream cheese filling on top. I wanted to keep it simple and not bake the cream cheese, so I just mixed up a couple of blocks of cream cheese, a little sugar, and vanilla.
Step 3.
Add a layer of bananas and then a layer of custard. You can add as many layers of bananas as you like: one over the graham cracker crust and one in between the filling is what I usually do.
And over the bananas I place a layer of crumbled vanilla wafers.
For the custard, I use the same custard recipe that's in my Homemade Banana Pudding.
It's an old-fashioned vanilla custard recipe that I got from The Gift of Southern Cooking: Recipes and Revelations from Two Great American Cooks, Scott Peacock and Edna Lewis' cookbook collaboration.
I've never, ever tasted a more divine custard.
Pro Tip: If you're in a hurry, you can use a box of vanilla pudding mix and add sweetened condensed milk for some of the milk. It's not as good as homemade but it will do in a pinch.
Step 4.
For the top layer, I crumble some vanilla wafers and sprinkle them over the custard. And that's it!
Pro tip: You can add a layer of whipped cream over the custard if you like, but I thought that might be a bit much so I kept it simple with just the cream cheese and custard.
More Tips
Store the Cream Cheese Banana Pudding in the refrigerator.
This recipe is best served the day it's made. However, you can make the individual components a day or even two ahead: bake the graham cracker crust, the cream cheese filling, and the custard. Store them separately in the refrigerator.
I would not suggest freezing this recipe.
---
If you've tried this recipe, please rate the recipe and leave a comment below!

You can also follow me on Facebook, Twitter, Instagram, and Pinterest.

And please join the Southern Food and Fun Facebook group to get all the Southern Food and Fun recipes.
Update Notes: This post was originally published February 15, 2018, and on January 12, 2019, was updated with one or more of the following: step-by-step photos, video, updated recipe, new tips.