This Dutch Baby German Pancake is light, fluffy, and delicious with a sprinkle of powdered sugar or a bit of jam—and best of all, it's quick and easy!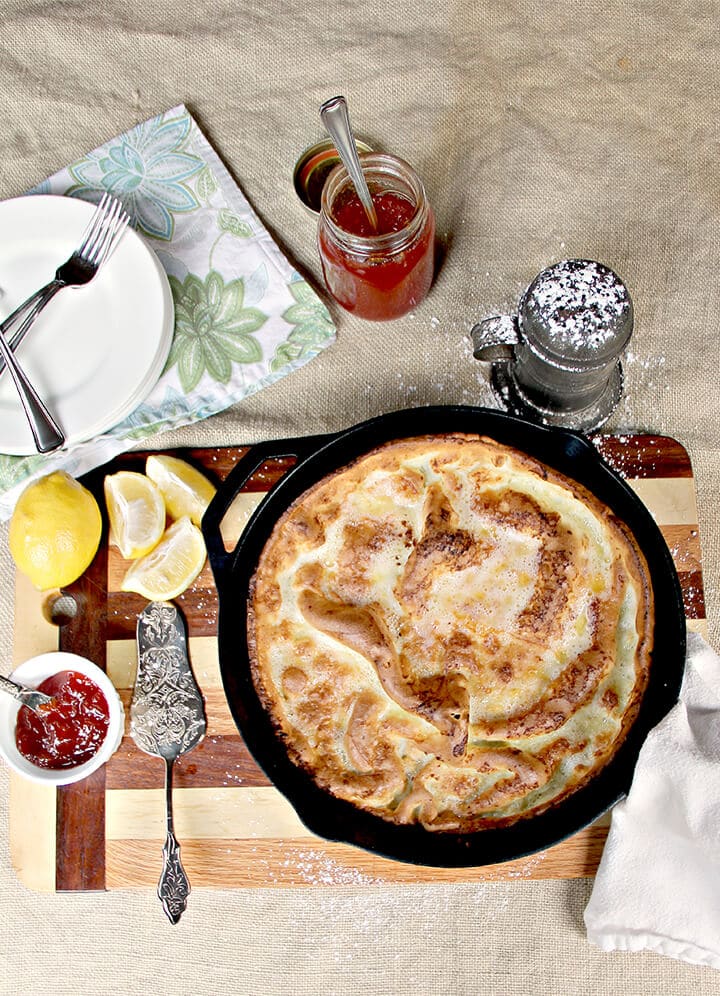 Have y'all ever made a Dutch Baby German Pancake? I had not, until this morning. We will have a house full with our kids this coming weekend, and I was trying to come up with something different to fix for breakfast.
I've seen recipes for a Dutch Baby German Pancake in magazines and online but never tried it. I always figured it was complicated and since I'm not a morning person I tend to stick with uncomplicated or Do-It-The-Night-Before recipes, like my Baked French Toast Casserole with Streusel.
But when I started paying attention to what's involved, I realized that the recipe for Dutch Baby Pancake is just about the easiest thing ever. Ever.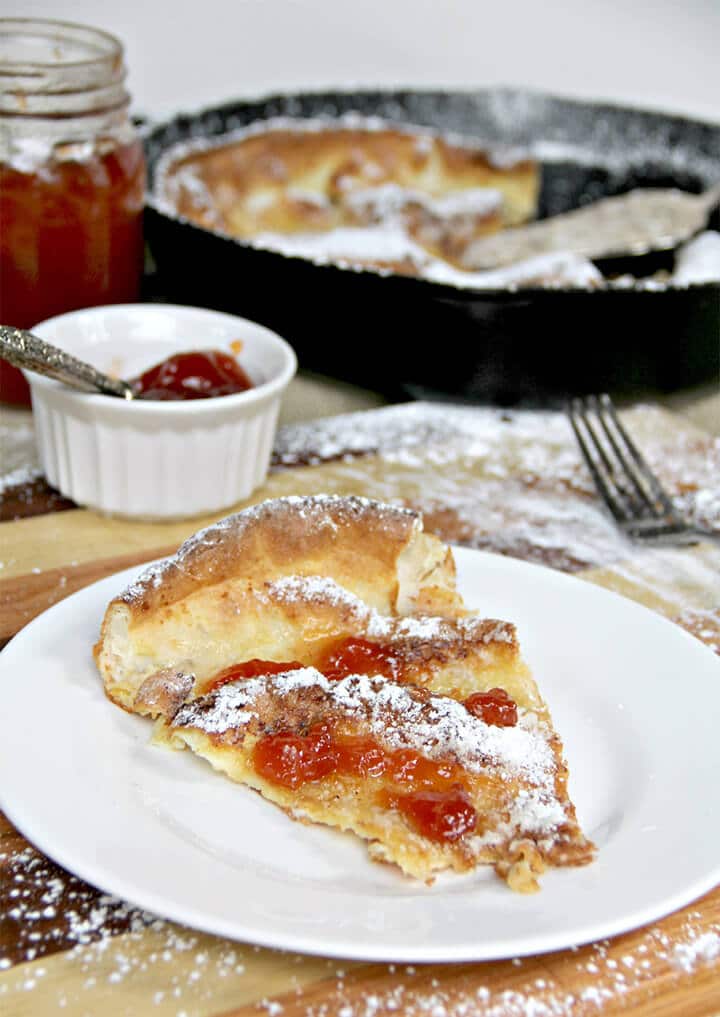 What is a Dutch Baby Pancake?
A Dutch Baby Pancake is basically a large popover, similar to Yorkshire Pudding. It's always baked in the oven and is a little thicker than regular pancakes. Plus, there is no leavening used in the batter as you would with pancakes.
You may also like…
Easy Buttermilk Pancakes – this pancake batter makes up light and fluffy pancakes that kids love!
There are multitudes of recipes and versions out there for a Dutch Baby Pancake, but I tried this one from David Eyre, which originally appeared in the New York Times in 1966, and which, according to Wikipedia, was based on a German recipe from the 1919 edition of Victor Hirtzler's Hotel St. Francis Cookbook.
If a recipe from 1919 is still hanging on and has made it to the blogosphere then it must be good, right? According to Martha Stewart, Eyre's recipe makes a pancake that is "a more delicate version of the classic puffy German pancake," but that's fine with me. I like this delicate version.
This Dutch Baby German Pancake is so light it's almost ethereal. There's just enough crispiness around the edges with a slight softness in the center. And I didn't change a thing other than adding a dash of salt. It's really perfect just as it is.
Lodge 12-inch cast iron skillet – this is my kitchen workhorse. I use this skillet for almost EVERYTHING.
Microplane Zester – another kitchen workhorse. I use this zester to grate nutmeg or when I need just a bit of lemon peel or garlic. Or sometimes if I'm wanting just a dusting of cheese.
Citrus Juicer – fresh juice makes such a difference in the flavor of your recipes. I never buy bottled lemon juice, only real lemons. And this juicer makes it quick and easy to get fresh juice when you need it, then just pop the juicer in the dishwasher. Small effort with major results.
All-purpose flour – I use White Lily for almost everything
Whole milk
Freshly grated nutmeg – same as with fresh citrus juice, if you grate your nutmeg you will get so much more flavor than if you buy it already ground. The Microplane Zester makes it so easy!
Unsalted butter
Powdered sugar for dusting
Kosher salt
How to Make a Dutch Baby Pancake
I did try to double the recipe but didn't like the way that version turned out. If you're serving more than 5 I would suggest simply making two pancakes. It's so easy that making two is really no trouble.
Step 1. Preheat your oven to 425°. Place butter in a 12-inch ovenproof skillet and set the skillet in the oven to melt the butter.
Cook's Tip: The skillet should be hot when you pour in the batter.
Step 2. Combine the flour, milk, eggs, nutmeg, and salt and whisk until blended. Be careful not to over-mix!
Step 3. Pour your Dutch Baby German Pancake batter into the hot skillet. Bake 15-20 minutes, until the pancake is puffy and deep golden brown.
You'll pull this puffy, golden, beauty of a pancake from the oven, squeeze a little fresh lemon over it and sprinkle it with powdered sugar. You can add toppings if you'd like: I added a little of my Mama's homemade plum jelly and that was perfect.
Dutch Baby German Pancake – Quick and Easy!
A delicate Dutch Baby German Pancake that's light, quick, and easy and works for breakfast or dessert.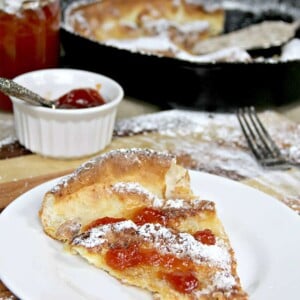 Ingredients
⅓

cup

all-purpose flour

½

cup

whole milk

2

eggs, lightly beaten

Pinch

of freshly grated nutmeg

Pinch

of kosher salt

4

tablespoons

unsalted butter

2

tablespoons

powdered sugar

Juice of half a lemon
Instructions
Heat oven to 425. Place butter in 12-inch ovenproof skillet and set in oven to melt the butter. Skillet should be hot when you pour in the batter.

In medium mixing bowl, combine flour, milk, eggs, nutmeg, and salt. Whisk until blended but don't over mix.

Pour batter into hot skillet. Bake 15-20 minutes, until pancake is puffy and deep golden brown. Remove skillet from oven.

Squeeze lemon over pancake and then sprinkle with powdered sugar. Serve immediately with your favorite jam or preserves.
Notes
You can mix up the batter the night before and leave it in the refrigerator until ready. Allow the batter to come to room temperature before using.
Nutrition
Serving:
4
servings
,
Calories:
203
kcal
,
Carbohydrates:
13
g
,
Protein:
4
g
,
Saturated Fat:
8
g
,
Cholesterol:
114
mg
,
Sodium:
46
mg
,
Sugar:
5
g
Update Notes: This post was originally published April 2, 2015, and on October 28, 2019, was updated with one or more of the following: step-by-step photos, video, updated recipe, new tips.
Recipe very slightly adapted from David Eyre's Pancake recipe featured on Food52.com.
More Sweet Breakfast Recipes You'll Love: