Easy baked fish sticks are simple and quick enough for a busy weeknight supper and delicious enough for company! Kids love these fish sticks!
When I was 25 years old, I suddenly found myself raising two little boys alone. I was terrified at this daunting prospect of being responsible for two young lives, and I constantly struggled with whether I was doing things right.
One of the things that I found most challenging as a young, single mother, was just getting dinner on the table every night. I worked full-time, picked the boys up at 6 p.m., and rushed home to start dinner, baths, homework once they were of that age, and story time.
One of my go-to dinners back then was Kraft Macaroni and Cheese, canned green beans, and frozen fish sticks. Was it the healthiest, most nutritious meal for two growing boys?
No, of course not. But it got the job done. And they ate other things throughout the day and throughout the week that were healthy and nutritious, which I hoped balanced everything out.
I read a lot of food blogs these days, along with nearly every food magazine on the planet and many news articles about food, nutrition, and health. And a recurring theme seems to be, "Cook at home! Make everything from scratch!" Those are great sentiments and for the most part I agree.
But I also know that for working parents, single or not, the whole cook at home and make everything from scratch mantra simply serves to inspire guilt on top of already guilt-ridden parents who are doing their best.
I'm here to tell you that sometimes you have to take the quick and easy route: stop at the drive thru or buy frozen fish sticks or whatever it is that you know will be quick and easy and your kids will eat it.
And IT IS OKAY.
Because it's better to get home from work and spend 20 minutes heating something and then 45 minutes at the dinner table together than to spend an hour or more in the kitchen preparing dinner and be so frazzled and rushed to get everything else done that you can't take time to enjoy dinner with your family.
Of course, you can make crock pot meals and you can cook things on Sunday that will work for the whole week. You can spend an entire Saturday putting together freezer meals that are wholesome and delicious.
I'm not suggesting that you NOT do those things—I'm only saying that whether you do or whether you don't, whether you pop out frozen fish sticks and Kraft mac and cheese or you make homemade everything—you are doing it right. And it is okay.
Your kids are going to thrive, they're going to grow up, and one day they're going to realize how hard you tried and they're going to say, "Thanks, Mom."
If you have a few minutes on a busy weeknight, these fish sticks are super easy and quick—though not as easy and quick as the frozen kind! I paired them here with corn on the cob cooked in the microwave, along with fresh sliced tomatoes and the whole meal came together in about 30 minutes.
For a nice kick, serve fish sticks with Comeback Sauce.
Easy Baked Fish Sticks
Crunchy baked fish sticks are easy enough for a busy weeknight and delicious enough for company!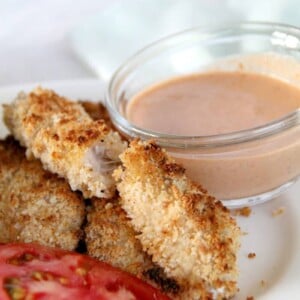 Ingredients
1 ½

lbs.

firm fish, catfish, cod, halibut, tilapia, mahi mahi, cut into 1-inch strips

2

cups

panko bread crumbs

1

teaspoon

garlic powder

1

teaspoon

salt

1

teaspoon

pepper

1

tablespoon

olive oil, if toasting bread crumbs

2

cups

buttermilk

Salt and pepper
Instructions
Preheat oven to 425. Place wire rack on baking sheet and spray with cooking spray.

Mix panko bread crumbs, garlic powder, 1 teaspoon salt, and 1 teaspoon pepper in a shallow dish.

Optional: If you want the fish to brown a little more then toast the bread crumbs: Heat olive oil in a skillet on medium high heat and add bread crumb mixture. Saute until toasted brown and scoop back into the shallow dish.

Place buttermilk in another shallow dish (I use pie plates or cake pans). Season the fish on both sides with additional salt and pepper. Dip fish in buttermilk then dredge in bread crumbs.

Place fish on wire rack. Bake for 10-12 minutes until fish flakes easily with a fork. Serve immediately.
Nutrition
Serving:
4
servings
,
Calories:
367
kcal
,
Carbohydrates:
28
g
,
Protein:
38
g
,
Saturated Fat:
3
g
,
Cholesterol:
86
mg
,
Sodium:
1019
mg
,
Fiber:
1
g
,
Sugar:
7
g