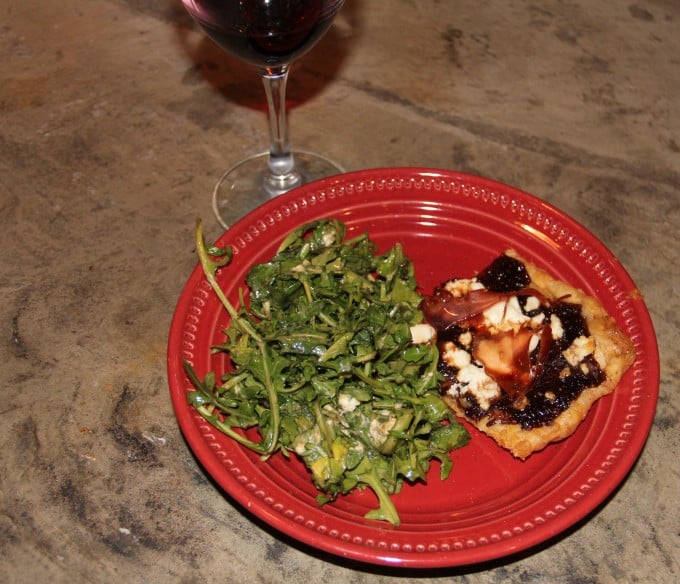 Yep. My kids are all three reading that title, making a face, and going, "Yuck!"
They are a traditional pepperoni and cheese pizza bunch of carnivores and I don't thing that's going to change. And David is pretty much the same way. So for me, changing up pizza and putting weird stuff on it is limited to Girlfriends' Night Out or In as the case may be.
This pizza has been in the experimentation phase for a couple of weeks. I have seen something similar on a couple of restaurant menus and figured it would be easy to make at home and I knew my girlfriends would love the complexity of flavors. And we did, except it required a little tweaking. At first, I just plopped on some fig jam and slathered it around.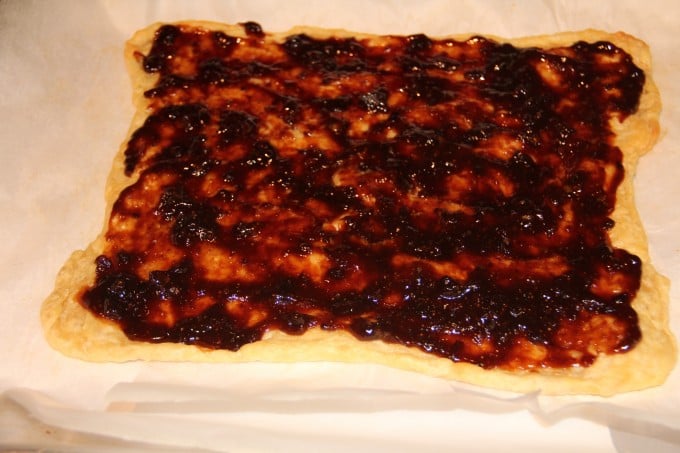 This much jam, when combined with the caramelized onions, turned out to be way too sweet. So I tweaked it a couple more times. My friend Jennifer suggested adding a little balsamic vinegar and that was the trick. Then I threw on some fresh thyme to cut the sweetness a little more. If I were French, I would say something witty in French to indicate that putting fresh thyme on the pizza was what sent it over the edge into awesomeness. But since I'm Southern, and not from the South of France, I'll just say, "Hey y'all, this pizza is pretty damn good."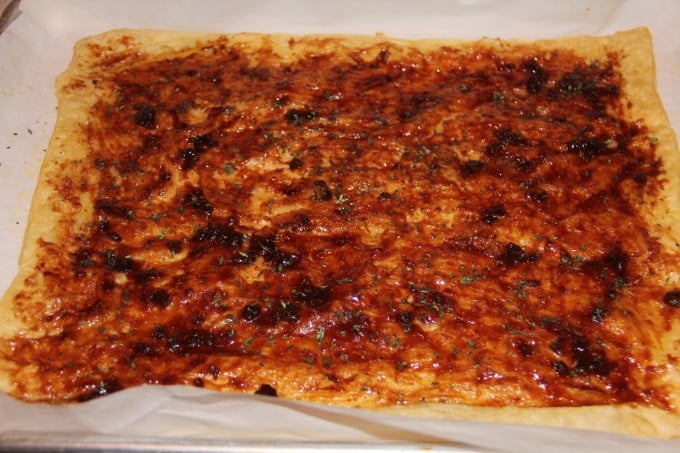 See the little dots of thyme? And much less jam, which has been diluted with balsamic vinegar. Toss on the caramelized onions, whatever combination of cheese you like, and pop it in the oven for about 5 minutes. Then take it out and drape thin slices of prosciutto on top of the hot cheese. The heat from the pizza will warm the prosciutto just enough.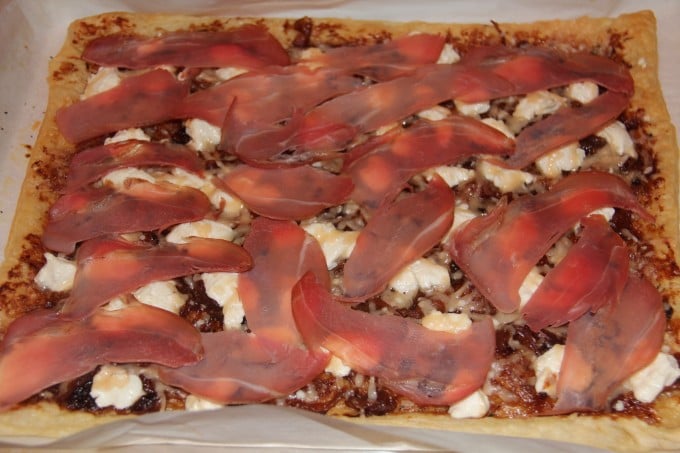 Now scatter fresh arugula over the prosciutto and drizzle a little balsamic reduction over the arugula.
I promise you want to try this right now.
I tried a couple of different cheese combinations since David doesn't like goat cheese. I used goat cheese and Gruyère on one and mozzarella and Parmesan on another. I liked both of them, as did my other tasters, but I definitely prefer the goat cheese combination. But you could use a lot of different cheese combinations—Brie would be really good as well. Let me know what you come up with! I also thought it would be better on actual pizza dough rather than the puff pastry, but my tasters were all happy with the puff pastry. Enjoy!
Fig Jam, Caramelized Onion, and Prosciutto Pizza
A savory and sweet pizza with complex flavors of fig, onion, prosciutto, goat cheese, and arugula drizzled with balsamic reduction.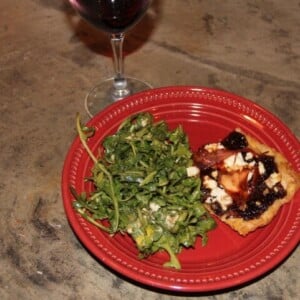 Ingredients
1

sheet of puff pastry, thawed

2

teaspoons

olive oil

3

tablespoons

good quality fig jam

1

tablespoon

balsamic vinegar

1

teaspoon

slightly chopped fresh thyme

½

teaspoon

kosher salt

a few grinds of black pepper

¾

cup

caramelized onions

1 ½

cup

cheese: crumbled goat cheese, grated Gruyère cheese, grated Parmesan cheese, and/or grated mozzarella cheese

¼

lb.

Prosciutto, thinly sliced--enough to cover the pizza (I ordered 1/2 lb. at the deli and had plenty leftover)

1

cup

arugula

1

teaspoon

balsamic reduction
Instructions
Preheat oven to 400. Place parchment paper on large baking sheet.

On a lightly floured surface, roll the puff pastry to about a 12x16 rectangle. Place the puff pastry on the parchment paper and brush with olive oil. Prick holes in the puff pastry with fork.

Bake the puff pastry 15-20 minutes until lightly browned top and bottom. If you don't cook it long enough the pizza may get a little soggy. Remove puff pastry from oven.

Mix the fig jam and the balsamic vinegar with a fork until blended. Brush the jam mixture over the pizza. Sprinkle the thyme, salt and pepper over the jam.

Spread the caramelized onions over the jam. Sprinkle the cheese over the pizza.

Place pizza back in oven for about 5 minutes or until cheese is melted. Remove from oven and immediately lay prosciutto slices over the cheese. Scatter the arugula over the prosciutto and drizzle with balsamic reduction. Cut into small squares and serve immediately.
Nutrition
Serving:
6
servings
,
Calories:
435
kcal
,
Carbohydrates:
27
g
,
Protein:
12
g
,
Saturated Fat:
10
g
,
Cholesterol:
34
mg
,
Sodium:
601
mg
,
Fiber:
1
g
,
Sugar:
5
g