You might think that as a food blogger, I'm cooking elaborate meals every day. And you'd be so, so wrong. Most days we eat simple meals, especially for lunch. Half the time David goes to the barbecue place down the street and gets pulled chicken for lunch and I have a black bean salad. And for dinner, we've been known to have hummus and pita chips with a few sugar snap peas and call it good—although admittedly, I'm a little more happy with that dinner than my husband. But the point is, coming up with easy to prepare and easy to clean up meals is like the holy grail of cooking to me. After working all day, which can sometimes include cooking and cleaning, we just don't want to spend two hours in the kitchen preparing food and cleaning up.
I'm crazy about meals that can be made in parchment paper because they are so easy and the clean up is so minimal. For this halibut recipe, you can subsitute just about any fish, although I would stay with a thicker fish and not go with something like tilapia. Add some vegetables that will cook quickly, like spinach and bok choy, which is what I have here, a little seasoning, and you have a one-pot meal. To prepare the parchment, take a large piece and fold it in half, then cut out a large heart shape. Place your vegetables and fish on one side of the heart.
Drizzle a little olive oil and fold the parchment over, then start at the top of the heart and make small folds overlapping each other. When you get to the point of the heart, fold it up and in so that the whole thing is tightly sealed. I like to use a paper clip to hold it together at the end.
Place your parchment packets on a baking sheet and into the oven for about 20 minutes and you'll have a healthy, delicious dinner.
You can serve the packets right on the plate or you can slide the fish and vegetables out of the parchment onto the plate, which is how I prefer to serve it. Makes a pretty presentation for a simple, easy meal.
Halibut in Parchment
A simple, one-pot meal of halibut in parchment packets with spinach and bok choy. It's easy to prepare and easy to clean up.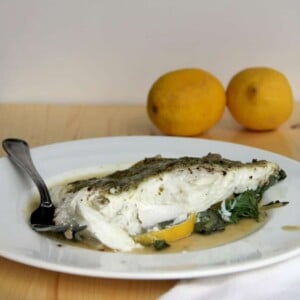 Ingredients
1

clove

garlic, finely minced

1

large shallot, finely minced

2

cups

spinach

2

stalks bok choy, coarsely chopped

1

lemon, thinly sliced

2 6-

ounce

fish fillets, such as halibut, cod, or salmon

1

tablespoon

basil pesto

Salt and pepper
Instructions
Preheat oven to 400. Take two large squares of parchment paper and cut into a heart shape.

On one side of heart, place 1 cup spinach, 1 chopped stalk bok choy, half of garlic and shallot. Sprinkle on salt and pepper and mix a little with your fingers. Place half of lemon slices over vegetables.

Place one piece of fish on top of lemon and spread a half tablespoon basil pesto over fish.

Fold parchment over and beginning at the top curve of the heart, tightly fold small creases, overlapping each one with the next one. At the point of the heart, fold in and up, overlapping the previous fold so that a tight seal is formed. Use a paper clip to hold it together.

Repeat with the other piece of parchment, vegetables, and fish. Place packets on baking sheet.

Bake until packets have puffed and fish is cooked through, 18-20 minutes. Transfer packets to plates and either serve in the packet or slide the fish and vegetables onto plates.
Nutrition
Serving:
2
servings
,
Calories:
219
kcal
,
Carbohydrates:
7
g
,
Protein:
36
g
,
Saturated Fat:
1
g
,
Cholesterol:
85
mg
,
Sodium:
192
mg
,
Fiber:
2
g
,
Sugar:
1
g