Have you ever tasted something that was so amazing that you thought about it for years afterward? And finally, you tasted it again and it was…not the same.
That happened to me with meatballs. A few years ago, the Young Son had a lacrosse tournament in Long Island. A couple of other moms and I decided to take the boys a day early so we could spend some time in New York City.
It was an adventure, to say the least. I booked a hotel in Queens using my Starwood points because it was a good deal. But of course, you get what you pay for. I'm sure there are some very nice hotels and areas in Queens but this was not one of them. Our hotel was literally in the center of the Chinatown in Queens and the only people who spoke English were the hotel employees.
The first night, we got in too late to go anywhere so we went to our rooms and ordered pizza. Moms were in one room and four boys were in another room directly across the hall. When someone knocked on their door, they opened it thinking it was the pizza. But it wasn't. It was a drugged-out-sketchily dressed woman who was talking complete nonsense and managed to walk past their dropped-jaws right into their room! We heard the commotion and looked through our peephole across the hall where the door was still wide open—imagine our surprise when it appeared that our four 16-year-old young men were entertaining a prostitute!
They were so shocked—and falling over themselves laughing—they didn't know what to do, but we quickly intervened and removed her from the room and called security. And told them not to open the door again! At least that took care of any inclinations they might have had to sneak out because they realized there were some crazy people in that place.
Friday morning we checked out and stashed our luggage with the bellhop. Our schedule required us to be at the tournament very early Saturday morning, so we had a few hours to go to NYC and then would have to pick up our luggage and meet our coach at the airport car rental so we could catch a ride to Long Island that evening.
We rode the subway to the city and had a blast. We walked for miles, went everywhere, and ate everything, including the most tender, huge, flavorful meatballs I've ever had. They were at a restaurant in Little Italy. One of the moms ordered them and we all ended up eating off her plate.
By the time we headed back to pick up our luggage, all of our cell phones were running low and Casey and Cody's phones were completely dead. The seven of us took the subway back to Queens and started walking back to the hotel where our luggage was stashed. We got turned around—Southern euphemism for LOST—and with mostly dead batteries, we had a hard time operating Google maps. We made it to the hotel and suddenly realized that Casey and Cody were not with us—we had evidently made a turn around a block and they missed it!
What followed was about 45 minutes of very panicked moms frantically searching and calling from our one remaining working (barely) cell phone to what we knew to be already dead cell phones trying to find those boys. We alternated between being terrified and wanting to kill them. Once they showed up safely at the hotel with less than 5 minutes to spare before we had to leave, wanting to kill them definitely took precedence! I was so relieved but so furious at them for not paying attention and staying with us that I couldn't even talk to Casey for about an hour!
Once we settled in and got over the initial scare, we heard their story. When they realized they were separated from us and had no way to map the hotel, they started trying to ask people if they knew where the Sheraton was. The problem was that everyone they saw ONLY SPOKE CHINESE! Finally, they saw a policeman who did speak English but he was a jerk and wouldn't even help them. Told them to go to headquarters or something. Eventually they saw the hotel above the other buildings and just made their way over to it. So it ended fine but was nerve-racking for everyone at the time. Moral of the story: always pack some of those wireless battery chargers for your cell phones!
**********************************
A couple of years later, David and I traveled to NYC and after I had raved about those meatballs we had to go try them. We found the same restaurant in Little Italy our first night and I ordered the meatballs. They were disappointing. They were good, but not what I had built them up in my head to be. Such is life, right? When you try to go back things rarely live up to the memories we created.
Sometimes you just have to make your own.
How to Make Italian Meatballs
Tender and flavorful from ground beef, pork, and veal, these meatballs are perfect with spaghetti or even plain with a little marinara sauce.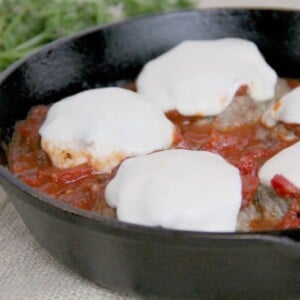 Ingredients
4

slices

white bread, crusts removed

1

cup

milk

3

tablespoons

olive oil

1

onion, peeled and quartered

3

garlic cloves, peeled

Handful of fresh parsley

1

pound

ground round

1

pound

ground veal

1

pound

ground pork

2

large eggs

1

cup

freshly grated Parmigiano-Reggiano cheese

Kosher salt and freshly ground black pepper

½

pound

mozzarella cheese, sliced

6

cups

marinara sauce, warm
Instructions
Preheat oven to 375. Lightly grease 9 x 13 inch baking dish. Tear bread into pieces and place in a small bowl. Pour milk over bread.

Place onion, garlic, and parsley in bowl of food processor and pulse until finely chopped. Heat olive oil in skillet over medium heat and saute onion, garlic, and parsley until soft, about 10 minutes. Allow vegetables to cool.

In a large bowl, combine meats and add eggs, cheese, and the cooled vegetables. Squeeze excess milk from bread pieces and add bread to the meat mixture. Season generously with salt and pepper. Gently combine the ingredients with your hands just until mixed. Don't over-mix or your meatballs will be tough.

Form meat into evenly-sized large balls, slightly larger than golf balls. I usually get 10-15 out of this mixture. Place meatballs in baking dish and bake for 30 minutes. Remove from oven and cover with warm marinara sauce. Drape slices of mozzarella cheese over meatballs. Bake another 5 minutes until cheese is melted.

Serve with noodles and extra sauce on the side.
Nutrition
Serving:
8
servings
,
Calories:
631
kcal
,
Carbohydrates:
20
g
,
Protein:
48
g
,
Saturated Fat:
15
g
,
Cholesterol:
204
mg
,
Sodium:
1549
mg
,
Fiber:
3
g
,
Sugar:
11
g