Pork chops with caramelized onions, capers, and white wine are delicious with noodles, mashed potatoes, cheese grits, or spaghetti squash.
We have eaten these pork chops four times in the last couple of months because this recipe is THAT good. My husband loves caramelized onions and honestly, almost anything that you add caramelized onions to is going to be amazing.
This time of year, I'm partial to braising meats or slow-cooking soups and stews. I could eat soup every single day!
One of the reasons this pork chops recipe is so great is that it has that low and slow flavor but it actually only takes about an hour—less if you opt not to caramelize the onions as long as I do, which would be perfectly fine.
How to Make Pork Chops with Caramelized Onions
This recipe is great for a weeknight dinner because it's all done in one skillet, which is my favorite kind of recipe!
First you'll sear the pork chops, then remove and add the onions to the skillet.
Pro tip: The original recipe calls for cooking the onions about 4 minutes, but I cook them at least 30 to get a good caramelization.
Then you'll just add a little white wine, some chicken bouillon, and capers before you add the pork chops back to the skillet.
Cook everything for about 15 more minutes, flipping the chops once.
When the pork chops are done, remove them to a plate and bring the liquid in the skillet to a boil, then add the cream and reduce for about 2 minutes. That's it!
This is a great make ahead recipe so feel free to cook the pork chops early in the day or even the day before, refrigerate, and just heat and serve when ready.
Serve with egg noodles, my easy polenta recipe, or easy roasted spaghetti squash!
Pork Chops with Caramelized Onions, Capers, and White Wine
Pork chops with caramelized onions, capers, and white wine are delicious with noodles, mashed potatoes, cheese grits, or spaghetti squash.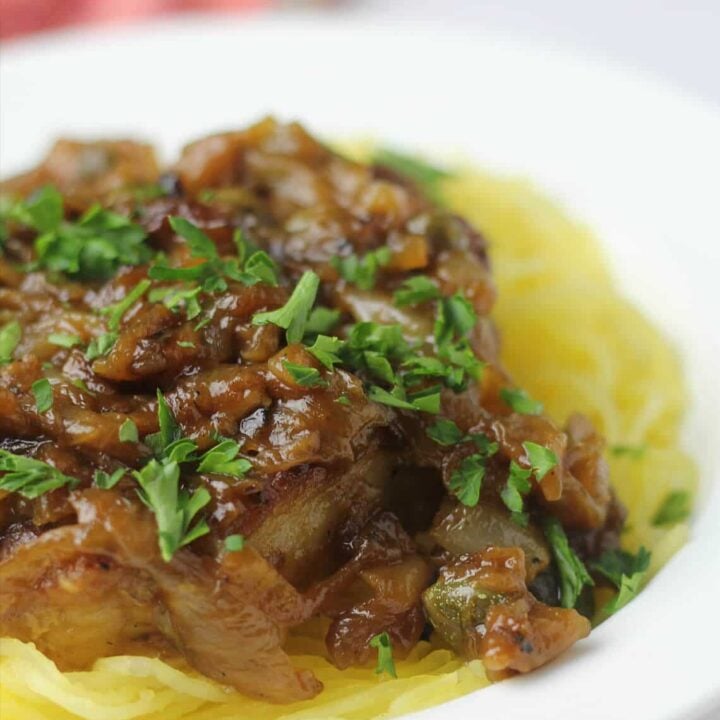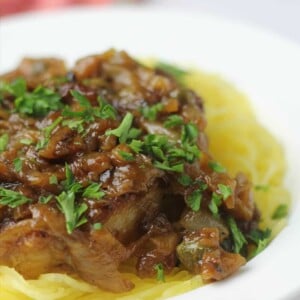 Ingredients
4

boneless pork chops, 1-1 1/2 inches thick

Salt and pepper

⅔

cup

all-purpose flour

2

tablespoon

olive oil

4

tablespoons

unsalted butter

2

large onions, thinly sliced

¾

cup

dry white wine

1

chicken bouillon cube, crushed

2

tablespoons

capers, rinsed and drained

2

tablespoons

heavy cream

2

tablespoons

chopped fresh parsley
Instructions
Season the chops with salt and pepper, then dredge lightly in the flour, shaking off excess.

Heat 1 tablespoon of oil and 1 tablespoon butter in large skillet over medium-high heat. Sear the pork chops, turning once, until lightly browned, 2-3 minutes per side. Remove chops to a plate.

Add remaining oil and butter to skillet and add onion, stirring to coat with oil/butter. Cook, stirring often, until onion is soft and caramel brown, about 30 minutes. Watch carefully that the onion doesn't burn and add a spoonful of water if needed.

Once the onion is done, carefully pour the wine into the skillet and simmer until liquid is reduced to about 1/4 cup, about 3 minutes. Stir in the chicken bouillon and capers. Return the chops to the skillet, reduce heat to a gentle simmer, and cover the skillet tightly. Cook for about 7 minutes, turn chops, and cook another 5 minutes.

Remove chops to a plate and cover loosely. Turn the heat to high to bring the liquid to a boil then stir in the cream. Boil, stirring frequenty, until reduced by about half and a saucy consistency develops. Add salt and pepper to taste. Stir any accumulated juices from the plate into the sauce. Serve chops with onions and sauce and sprinkled with parsley.
Nutrition
Serving:
4
servings
,
Calories:
542
kcal
,
Carbohydrates:
24
g
,
Protein:
32
g
,
Saturated Fat:
13
g
,
Cholesterol:
130
mg
,
Sodium:
425
mg
,
Fiber:
2
g
,
Sugar:
3
g
Recipe adapted from Fine Cooking 2016 Cookfresh Fall.