There are so many fun things to do in Amelia Island, a family favorite vacation destination that's small enough to feel intimate but large enough to provide tons of entertainment!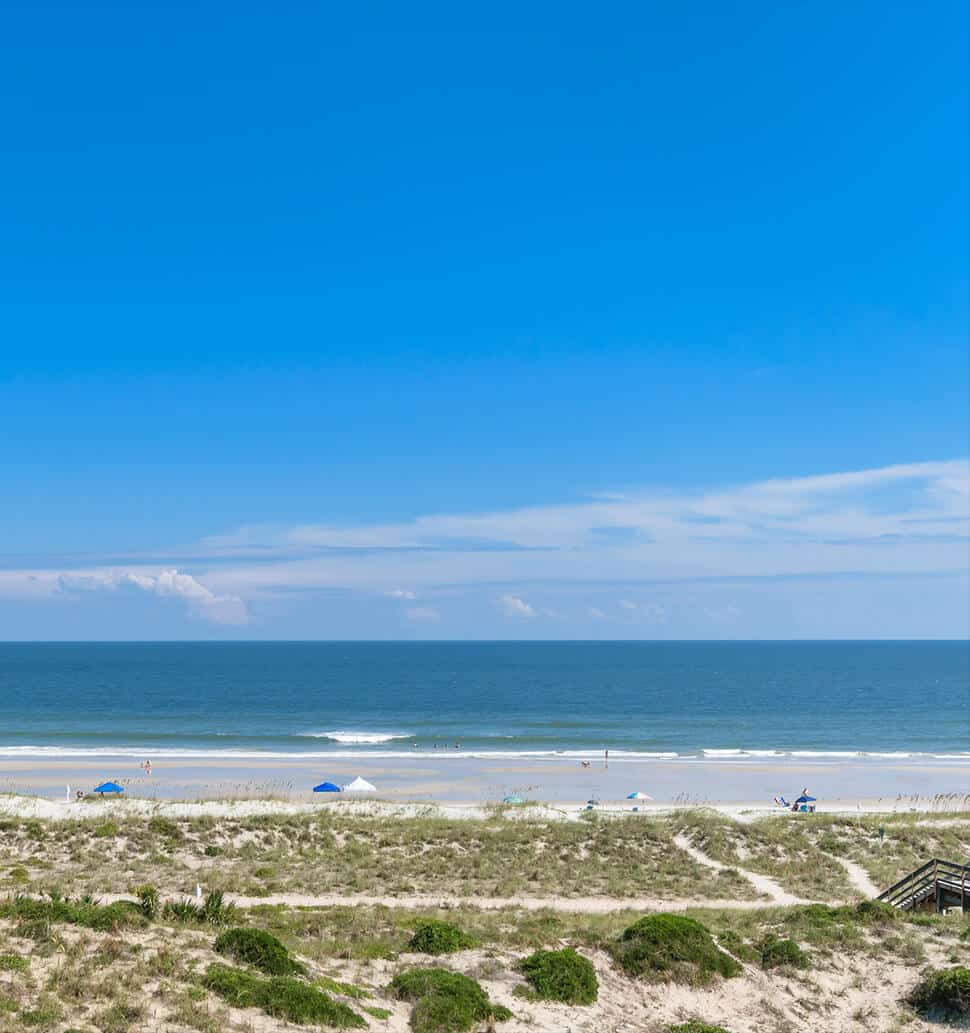 We've always loved Amelia Island, Florida, as it's such a quick drive from Atlanta and a beautiful, peaceful place to stay without all the spring break shenanigans that you find in other parts of Florida.
Recently David and I took a quick weekend getaway to Amelia Island and came back with a whole new perspective—life is so different as an empty-nester!
This guide is geared toward anyone, not just empty-nesters and not just families! I'm highlighting some Amelia Island Points of Interest as well as some of the best Amelia Island restaurants.
If you haven't been to Amelia Island in a while, put it on your vacation list—I promise there's something there for everyone!
VRBO Amelia Island
The first thing you'll need is a place to stay. If you're lucky, when you get on VRBO, you'll find that this gorgeous condo is available!
You can also book on the owners' website, 18OceanPlace.com, and save some of the booking fees.
Part of the luxurious Ocean Place, this condo is strategically located next door to the Amelia Island Ritz Carlton, where you can head over and enjoy evening cocktails or a fabulous dinner. (Condo photos provided by Nick Johnson of RevirescoRedux.com).
Brad and Aimee, the owners of this condo, are some super nice folks who go out of their way to make sure you have a warm welcome. There's a comprehensive guidebook in the condo with information on their favorite restaurants and activities.
You can use the book to plan each day or just wing it and relax on the beach. Whatevs. (You can say "whatevs" because you're hip and cool and at the beach. Just don't say it in front of your teenage kids or you'll get the eye-rolling.)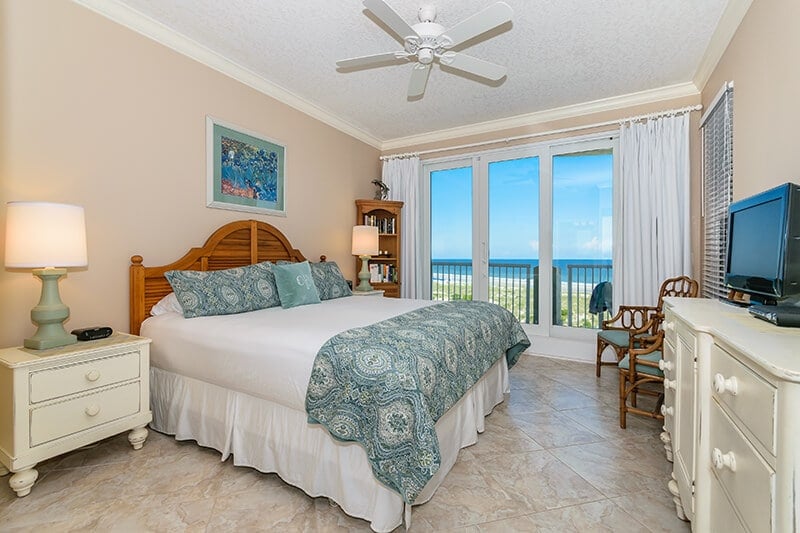 With two bedrooms and two full baths, you'll have plenty of room for a family of 5 or 2 couples. The beds are heavenly and almost make you want to spend all your time inside napping instead of outside enjoying all the fun things to do in Amelia Island!
You know how sometimes you'll rent a house or condo for vacation, and find the kitchen is barely stocked, the appliances are terrible, and you have to run to the store for EVERYTHING? Well, that's not the case at 18 Ocean Place!
Brad and Aimee have taken extra steps to make sure you have what you need and that if you do want to cook (but why would anyone want to cook on vacation when there are all those amazing Amelia Island restaurants??!!) the appliances are top-notch and whatever dishes you need are easily accessible.
As soon as you step onto the huge private, oceanfront balcony of this condo, you'll feel your cares slipping away. Grab a book and a cup of coffee or glass of wine and relax for hours while ocean breezes and the sounds of the sea soothe your soul. This is what you came for.
You may also like…
Chicago Travel Guide | Things to Do in Chicago – one of our favorite cities, both for food and for lots of fun things to do!
Things to Do in Amelia Island
So maybe you want to be a little more active than just sitting on your balcony and watching dolphins swim…then here are a few choices of things to do in Amelia Island outside of the usual beach activities.
We visited in late January so we found some Amelia Island points of interest perfect for the off-season or just a rainy day. Here's a list of things to check out:
Fort Clinch State Park
Kingsley Plantation
MOSH – Museum of Science and History
Amelia Island Beach
Whale Watching in Amelia Island
Amelia Island Jazz Festival
Golf at Amelia Island
Blue Door Artists
Amelia Island Lighthouse
Catty Shack Ranch Wildlife Sanctuary
Step back in time to 1864 and see how the soldiers lived at this Civil War Garrison. It's right on the water, so if you climb a few steps up to the cannon, you'll have an amazing view.
Finish your visit with a walk on some of the trails around the park. You'll see wildlife and a plethora of Florida vegetation that will make you think you're in a tropical paradise.
You'll find the Kinglsey Plantation a remarkable representation of life along the waterways near Amelia Island. Don't skip the guided tour because the tour guides make the place come alive with their knowledge of the family and history of the times.
The Kingsley Plantation grounds include slave quarters, a barn, the waterfront, the plantation house, and an interpretive garden.
That's right! Humans aren't the only mammals heading south in the winter. If you're in the Amelia Island/Jacksonville area during December and January, you've picked the perfect time for whale watching!
With five different golf courses on Amelia Island and many more close by, it's no wonder that LINKS Magazine named Amelia Island one of "The Top 25 Golf Islands in the World."
A week long ode to jazz, the Amelia Island Jazz Festival features jazz greats as well as up and coming musicians. It's the perfect time of year to visit, with fall temperatures making the beaches and parks a treat to enjoy in between music sets.
It's worth a drive to Jacksonville (about an hour) to visit MOSH and is the perfect way to spend a rainy day. There are several interactive exhibits and collections that make learning fun for all ages at this Museum of Science and History.
Take the magical stairs up to the Blue Door Artists Gallery in downtown Amelia, a collection of studios by various talented artists with lots of different mediums to choose from.
Amelia Island Restaurants
Timoti's Seafood Shak – A perfect lunch or dinner spot with an outdoor patio and plenty of tables and benches. Go inside and order, then grab your basket and a beer and head outside to enjoy the fresh salty air. A local favorite and one of the best restaurants in Amelia Island.
La Surena – An authentic Mexican eatery, La Surena boasts some of the best authentic tacos you'll ever eat this side of the border. Try the Asado (steak)…
and the Pastor (pork)…
This is one of the best restaurants on Amelia Island and a local secret.
The Palace Saloon – Did you know Amelia Island is home to Florida's oldest bar? The Palace Saloon has been in operation since 1903. It's a lovely place to grab a cool drink after walking around Historic Downtown Fernandina Beach, which is one of our favorite things to do in Amelia Island!
David's Restaurant and Lounge – When you're looking for fine dining in Amelia Island, look no further than David's Restaurant and Lounge. You'll find plenty of fresh seafood, steaks, and amazing desserts.
Joe's Second Street Bistro – Another fine dining restaurant, Joe's Second Street Bistro is in Historic Downtown Fernandina on, well, 2nd Street! Try the Tuna Martini with fresh mango, pineapple, and avocado…it's to die for!
Down Under Restaurant – Another local favorite, this one is off-the-beaten-path and you have to go underneath a bridge to get there, hence the name.
Skip the wait for a table and grab a seat at the bar. The bartenders are attentive and knowledgeable and quite talented. And you can enjoy a full meal right there!
Barbara Jean's – The Chocolate Stuff. Put this on your bucket list. I am not kidding.
Beach Diner – Get an amazing breakfast here that will fill up even the hungriest eaters in your group. Teenage boys.
The Decantery – So much to enjoy in this funky little place. Right next door to The Palace Saloon—is it a wine shop? A liquor store? A bar? A cafe? A local gathering spot? YES!
Come in and taste some wine and then grab some to go. Oh, and enjoy a lovely charcuterie and cheese board while you're there.
Nana Teresa's Bake Shop – Next door to Timoti's, so after you enjoy your basket of fresh seafood, head over to Nana Teresa's and have a cookie. Or a cupcake. Or a milkshake. Or all of the above because you're on vacation and calories don't count.
Other Amelia Island Points of Interest
It's all about the beach, right? Walking along the gorgeous Amelia Island beaches will quickly become one of your favorite things to do in Amelia Island!
The beautiful beaches are perfect for strolling and finding shells or just grabbing a chair and relaxing by the water while you relish in life by the glow of a spectatular sunset.
There are shops and shops and shops, filled with delightful trinkets, antiques, and island paraphernalia.
Spend an afternoon strolling the downtown of Amelia Island before heading off to dinner at one of the Amelia Island restaurants.
Built in 1838, the island boasts the state's oldest lighthouse. Tours are available for this magnificent structure, which is a favorite on most lists of Things to Do in Amelia Island.
Here's another short day trip, about half an hour, but worth the ride. See the big cats up close and learn about the safe home the sanctuary provides for these endangered beauties.
Amelia Island
So what are you waiting for? Get online and book one of the amazing Amelia Island rentals (you'll love 18 Ocean Place) and get ready for beach adventures with great food and lots of fun!
More Travel Guides: