Chicago Travel Guide with fun things to do, places to eat, and where to stay. Plan a trip soon to this fabulous and beautiful city—you'll love it!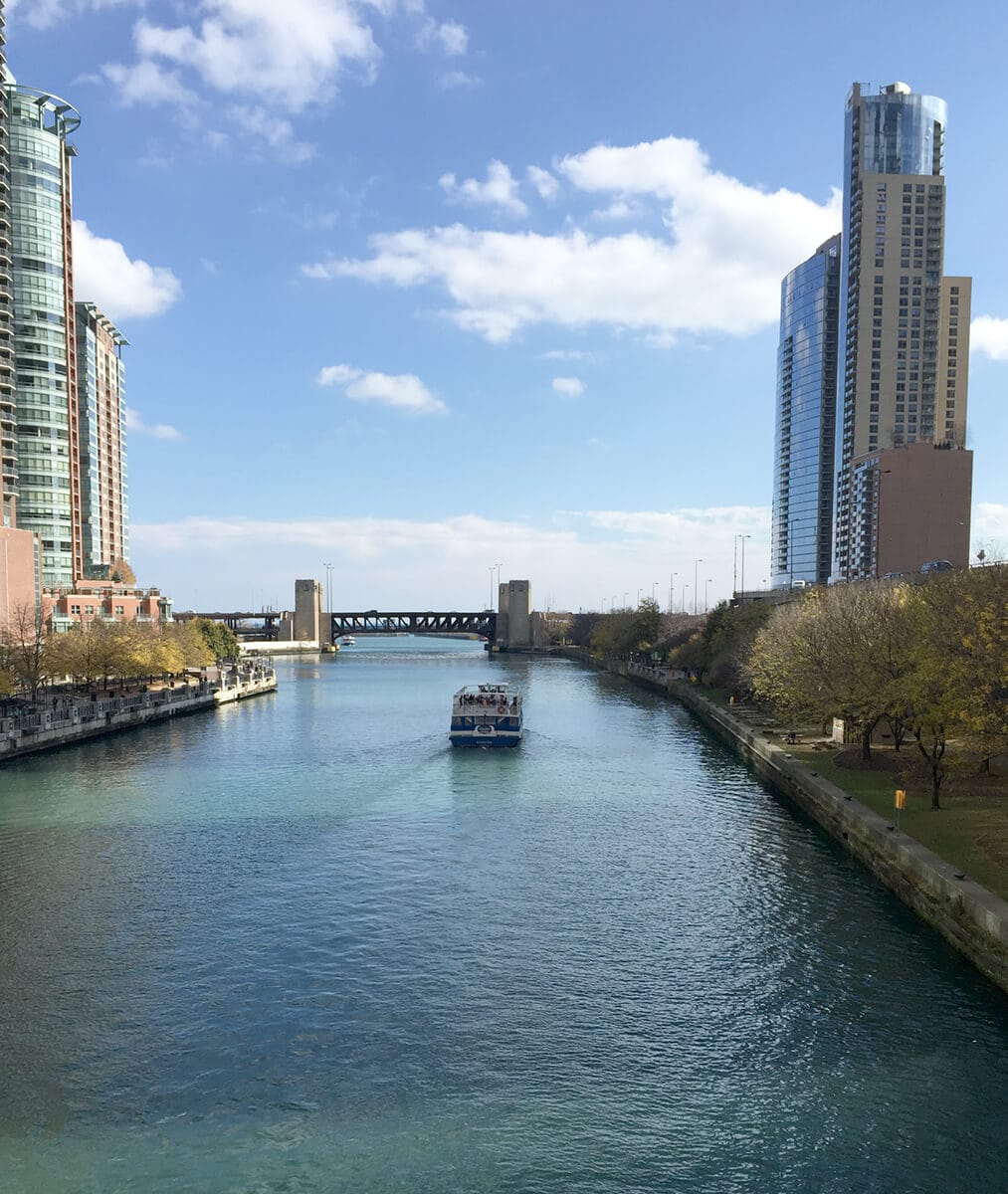 Note: There are lists with links to all the places we visited at the bottom of this post.
We've visited Chicago a twice in the last couple of years, and David and I agree that it's one of our favorite cities. Chicago is one of the most beautifully maintained large cities I've ever seen.
The streets are clean, the sidewalks wide and welcoming, and there are flowers everywhere, as well as art and sculptures everywhere.
Chicago Travel Guide – The Food
Of course, one of my primary interests in any new city is the food, especially whatever that city is known for. So in Chicago, the first thing I wanted to do was try the Chicago pizza.
We stopped at Pizzeria Uno, and were presented with a cast-iron skillet full of thick, perfectly toasted crust topped with pizza sauce, mounds of vegetables, and just enough cheese. It was absolutely delicious!
We also ate pizza at Lou Malnati's and it was just as good if not better than Pizzeria Uno. And our favorite restaurants that are not pizza-related are Siena Tavern and Bavette's Bar & Boeuf.
Click here for my Chicago Food Guide.
Chicago Travel Guide – Things to Do
We have multiple friends from the Midwest, so our list of recommendations of things to do and places to eat was more than two pages—in two trips we still haven't managed everything!
But we did hit the highlights. As art lovers, one of our favorites was The Art Institute of Chicago. With an impressive mix of classic, think Renoir and Picasso, and modern art, this is really a "don't miss" place if you visit Chicago.
I loved the Thorne Miniature Rooms, which are multiple tiny rooms on display with intricate detailed furniture and accessories. The rooms were constructed on a scale of one inch to one foot. It's an amazing display of craftsmanship.
Of course, you also have to go to Millennium Park and check out the sculptures and artwork there. Everyone takes selfies by Cloud Gate, otherwise known as The Bean for its shape, and you can walk underneath and take a picture of your reflection.
We also enjoyed the Museum of Science and Industry, with interactive exhibits that are fun for children and adults. I was a little freaked out by the Mirror Maze.
We didn't realize the museum closed so early, so by the time we got there we were rushing to get through everything. I was afraid I was going to be lost in the maze after closing time!
Chicago is known for its extraordinary architecture and architectural history, and we thoroughly enjoyed one of the architectural river cruises. Ordinarily, we don't do organized tours because we just like to strike out and walk where we want on our own schedule. But the river tours are so pleasant as you travel through the city on a large boat, learning about each of the famous buildings.
I highly recommend this experience. We chose Shoreline Sightseeing but there are several to choose from and I'm sure they are all equally well done.
Chicago Travel Guide: The Nightlife
A trip to the Windy City wouldn't be complete without checking out some of the nightlife, and we found plenty to do in the evenings.
Everyone suggested Second City, a famous comedy club from which several Saturday Night Live and other notable comedians got their start. We bought tickets both times we were in Chicago and saw two completely different improvisational shows, and both were hilarious and well done.
We also went to the Lookingglass Theatre and saw a play called Life Sucks, which ended up being one of our best times of the whole trip. And in case you're wondering, the play was great, life doesn't suck, and that's all I can say without giving spoilers.
Our seats were in the balcony, and as we walked to our seats, David spied a piano in the corner. So at intermission, he sat and played for a few minutes, to the delight of our lovely usher and a few theatre guests.
Chicago Travel Guide – Where to Stay
Our first trip to Chicago, we stayed at the Courtyard Chicago Downtown/River North, which is just a couple of blocks from Michigan Avenue. We love to walk whenever we're in a city and we average 6-8 miles a day just going from place to place.
Here's a snapshot of my steps from our first trip, when we arrived the morning of 11/3 and left mid-day on 11/7:
Almost everything we wanted to do was within walking distance, which to us is anywhere from a half-mile to a two or three-mile radius.
The second time we visited Chicago, we stayed at the Sheraton Grand Chicago, which overlooks the river and is also close to just about everything you want to do.
As far as transportation, when we travel to New York City, for anything that's not within 2-3 miles we always use the subway unless we are out late at night. I have the worst sense of direction of anyone I know, but for some reason I can navigate NYC with no problem—probably because it's laid out in a way that makes logical sense. In Chicago, however, I never figured out the L system so we either walked or used Uber.
Chicago Travel Guide – Things to Do:
Museum of Science and Industry
Chicago Travel Guide – Where to Stay:
Courtyard Chicago Downtown/River North