Caramelized bacon is crispy, candied bacon made with a pecan, brown sugar, and maple syrup paste—it's the first thing to go at gatherings!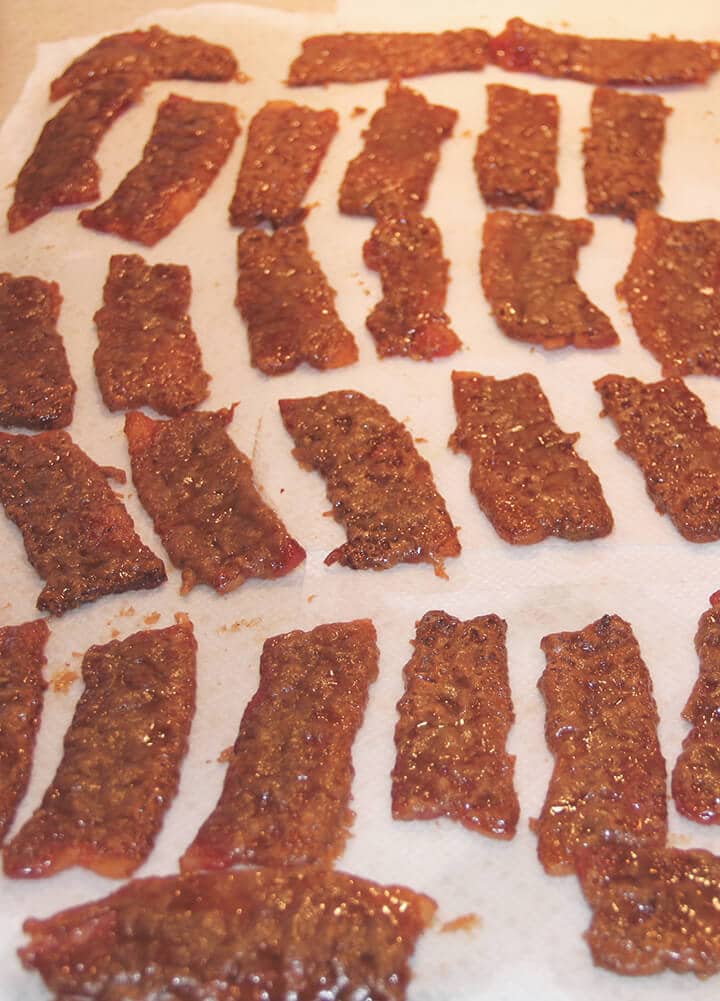 The title says it all, doesn't it? This was the first recipe I saw when I bought Ina Garten's cookbook, Foolproof, and let me tell you, people love this bacon. It is crispy and chewy at the same time…sweet, salty…a little heat from cayenne pepper…and it's BACON.
While the recipe itself is pretty easy to make, putting the paste on the bacon is kind of a pain but so worth it.
Ingredients
Brown sugar
Pecans
Salt and pepper
Cayenne pepper
Maple syrup (not imitation)
Bacon
How to make caramelized bacon
Cook's Tip: You need a food processor for this recipe so if you don't have one then now's a good time to treat yourself! I use this one and love it, but you could certainly use a smaller one.
Step 1. You place everything in the food processor and pulse until a paste forms. Have the bacon laid out on the racks and use a spoon or your fingers to spread the paste on the bacon.
Pro Tip: Don't spread the paste too thickly or the bacon won't get crisp. I usually spread it with my fingers because it's a little easier, but if you use a spoon be sure you have a cup of hot water to dip the spoon in.
Step 2. Bake! The trick is to cook the caramelized bacon until it's very dark but NOT burnt! Since ovens cook differently, start with the time on the recipe but if the bacon isn't dark then leave it in there a bit longer.
And remember that it will take a while after you take it out of the oven to get crispy–but soon you'll have a plate of caramelized bacon and you can watch your guests fight for each piece!
Caramelized Bacon
Caramelized bacon is crispy, candied bacon made with a pecan, brown sugar, and maple syrup paste—it's the first thing to go at parties!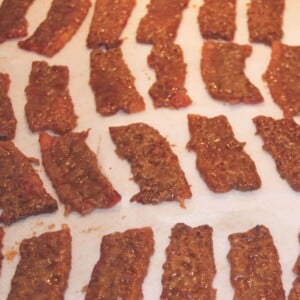 Ingredients
½

cup

light brown sugar, packed

½

cup

chopped pecans

2

teaspoons

kosher salt

1

teaspoon

freshly ground black pepper

¼

teaspoon

ground cayenne pepper

2

tablespoons

pure maple syrup

½

pound

thick-sliced applewood-smoked bacon
Instructions
Preheat oven to 375. Line baking sheet with aluminum foil and place wire rack on top.

Combine brown sugar and pecans in food processor and pulse until pecans are ground. Add salt, black pepper, and cayenne. Pulse a few times.

Add maple syrup and pulse until mixed and paste forms.

Cut bacon slices in half crosswise and place pieces on the rack without touching.

Get a cup of hot water for dipping the spoon.

With the back of a spoon or your fingers, spread pecan mixture on each piece of bacon. Cover each piece but don't spread too thickly. Dip spoon in water if difficult to spread.

Bake 30-40 minutes, until topping is very brown but not burnt. Bacon must be very brown to get crisp as it cools.

While hot, remove bacon to plate lined with paper towels and allow to cool.

Serve at room temperature.
Notes
I usually quadruple this recipe since we have a large gathering. The bacon can be prepared and baked early in the day.
Nutrition
Serving:
12
servings
,
Calories:
154
kcal
,
Carbohydrates:
12
g
,
Protein:
2
g
,
Saturated Fat:
2
g
,
Cholesterol:
12
mg
,
Sodium:
515
mg
,
Sugar:
11
g
Here are some of my favorite Ina Garten appetizers:
Creamy Green Herb Dip – this is a slightly adapted version of Ina Garten's Green Herb Dip and is wonderful with crudites
Pan Fried Onion Dip – Ina's version of French Onion Dip, this is much better than the packets mixed with sour cream!
Baked Fontina – grab some bread and get ready to swoon…this melted cheese dip is amazing!
Update Notes: This post was originally published February 19, 2014, and on May 13, 2019, was updated with one or more of the following: step-by-step photos, video, updated recipe, new tips.