This Cherry Tomato Salad is a fresh blend of halved tomatoes, mozzarella, and basil, drizzled with a light vinaigrette dressing.
Caprese salad is so popular during summer when tomatoes are at their peak. That lovely combination of fresh tomato and creamy mozzarella is perfect, and if you add a simple green salad, you have a great meatless meal.
I sometimes change it up and make this gorgeous cherry tomato salad with a light vinaigrette dressing. It's easier to transport and easier to eat than a classic caprese salad.
If I'm making an appetizer, I'll go with these easy Caprese Skewers, but this simple cherry tomato salad recipe is my favorite for an easy side dish. With little effort, you'll have a lovely fresh tomato, mozzarella, and basil salad, perfect for a hot summer day.
We love tomato recipes around here, so be sure and check out our Bruschetta and our famous Fried Green Tomatoes.
Ingredients and tools
Scroll down for the printable recipe card.
Ripe cherry tomatoes – summer sweet cherry tomatoes are best in this salad
Fresh basil leaves – basil is easy to grow and useful in so many recipes
Fresh mozzarella cheese balls – or a block of fresh mozzarella cut into bite-sized pieces
White balsamic vinegar – this is my favorite because it's more of a reduction
Extra virgin olive oil – always use the best quality in vinaigrettes
Salt and pepper – flaky sea salt and fresh black pepper
Tomato knife – so much easier to slice tomatoes for the cherry tomato salad with this serrated tomato knife!
Silver tomato server – do you have one of these? I love my tomato server and use it for any tomato dish, not just sliced tomatoes.
Glass mixing bowls – I use these mixing bowls for so many things! They are perfect for mixing salads that you then want to serve on a platter.
Salad dressing shaker – I typically use a regular jar to mix any dressing, but if you prefer something more formal, this shaker with a citrus squeezer would be ideal.
Large serving platter – these are perfect for so many recipes
Substitutions and variations
You can use cherry tomatoes or grape tomatoes for this cherry tomato salad recipe. I like using colorful cherry tomatoes because they look nicer when halved, and there are so many lovely shades of red, yellow, and purple that you can use. If you're trying to grow tomatoes, here's a great article to help: Top Secrets on How to Grow the Best Tomatoes. The top two takeaways are that tomato plants need lots of sun and good soil.
Try my Lemon Vinaigrette instead of the white balsamic. Fresh lemon juice means it's tangy and delicious!
Use feta cheese instead of mozzarella.
Add some finely diced red onion, green onion, or sweet onion for flavor.
This recipe is a great addition to a pasta salad. Just add some cooked pasta and stir gently. Then, add fresh parsley or any of your favorite herbs for even more flavor!
If you don't have fresh herbs, you can use Italian seasoning, but it will not be as vibrant and tasty.
How to make cherry tomato salad
Step 1. Halve the cherry tomatoes, leaving smaller ones whole. In a large bowl, combine the tomatoes, mozzarella, and salt and pepper. Gently stir.
Step 2. Add the white balsamic vinegar and olive oil with salt and pepper to a jar or shaker and mix well until blended.
Step 3. Pour dressing over tomatoes. Stir gently.
Step 4. Using a slotted spoon, scoop tomatoes onto a platter. Drizzle some of the dressing from the bowl over the tomatoes and mozzarella.
Step 5. Sprinkle basil leaves over the cherry tomato salad.
Step 6. Serve at room temperature.
Storage tips
This cherry tomato salad is best served the day it's made. If you want to make it ahead, go ahead and halve the tomatoes and make the dressing but keep the tomatoes and dressing separate until ready to serve.
Store leftovers in an airtight container in the refrigerator for one day.
Cherry Tomato Salad
This Cherry Tomato Salad is a fresh blend of halved tomatoes, mozzarella, and basil, drizzled with a light vinaigrette dressing.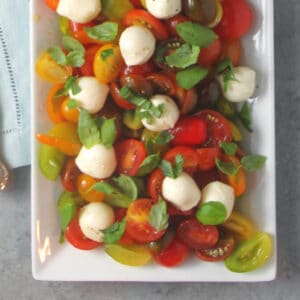 Ingredients
Salad Ingredients
2

lbs.

cherry tomatoes, halved

1 ½

cups

small fresh mozzarella balls

¼

cup

julienned fresh basil

Salt and Pepper to taste
Dressing Ingredients
½

cup

Extra virgin olive oil

½

cup

White balsamic vinegar

¼

teaspoon

kosher salt

¼

teaspoon

freshly ground black pepper
Instructions
Salad
Place tomatoes and mozzarella balls in a large bowl. Add salt and pepper and stir gently. Pour in dressing (you may not need all the dressing) and stir gently.

Spread the tomatoes on a platter, drizzle with dressing, and sprinkle with the basil. Serve immediately.
Dressing
Place olive oil, vinegar, salt, and pepper in a container with a lid and shake until well blended.
Notes
You can halve the tomatoes and make the dressing the day before you need to use it. Put the salad together just before serving.
Nutrition
Serving:
10
servings
,
Calories:
161
kcal
,
Carbohydrates:
6
g
,
Protein:
4
g
,
Saturated Fat:
3
g
,
Cholesterol:
5
mg
,
Sodium:
82
mg
,
Fiber:
1
g
,
Sugar:
4
g
UPDATE NOTES: This post was originally published September 2, 2019, and on May 18, 2023, was updated with one or more of the following: step-by-step photos, video, updated recipe, new tips.