Cucumber and Onion Salad is a simple, classic recipe of sliced cucumbers and onions in vinegar. The cucumbers are crisp and tangy with a touch of sweetness—perfect for a snack or simple side dish.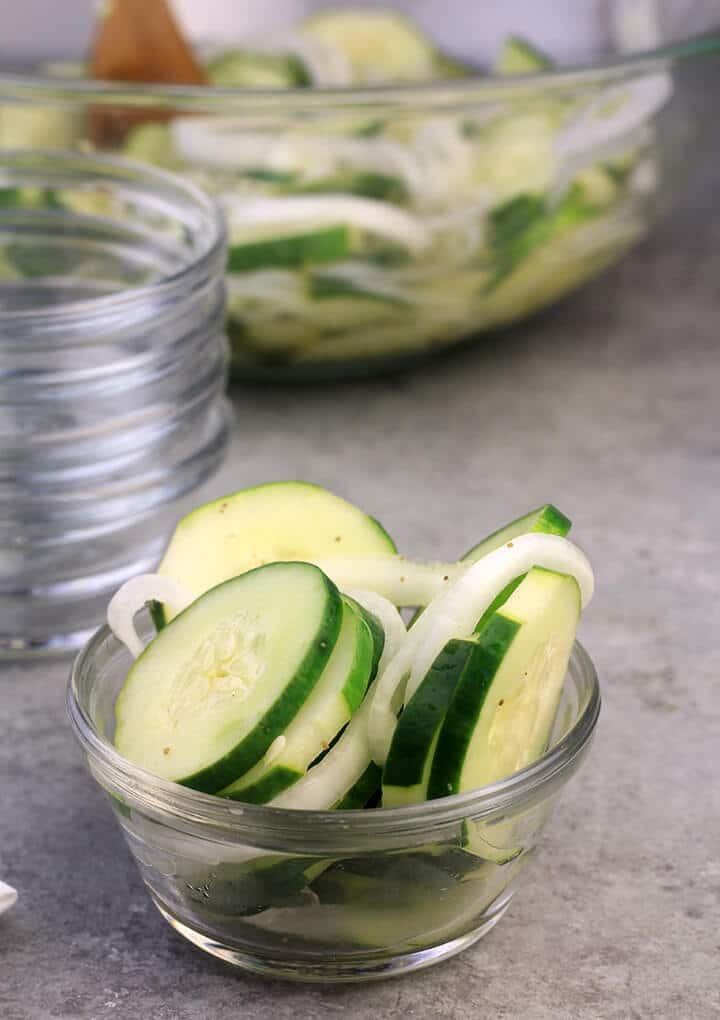 If you want a cool, refreshing summer salad for your next picnic, you will love this recipe for old-fashioned cucumbers and onions in vinegar. It's so simple and so easy and keeps for several days in the refrigerator.
I love a great make-ahead dish!
Did you know cucumbers are a nutritious and low-calorie vegetable choice? That's what I love about summer–so many healthy and fresh options!
We usually have a bowl of this cucumber onion salad in the refrigerator all summer. You can easily add to it as the week goes on by dropping a few more cucumber slices in the vinegar.
Tools for the Cucumber Salad Recipe
You could use a mandoline for this recipe if you want to get super-thin cucumber slices or just slice the cucumbers with a knife. I like the cucumber slices to be about a 1/4-inch thick, so a knife works just fine.
Cucumber Salad Recipe Ingredients
Since this salad consists of cucumbers and onions in vinegar, that's almost all you need to make it. Sprinkle in some celery seeds, a little sugar, and a little salt and pepper and that's it!
Cucumbers
Onion
Vinegar
Water
Sugar
Celery Seeds
Salt
Pepper
You may also like…
Cucumber Tea Sandwiches – dainty tea sandwiches with a slice of cucumber and a dill-cream cheese spread
How to Make Cucumber Salad – Step by Step
Step 1.
Slice some cucumbers and onions into a bowl and sprinkle with salt and pepper.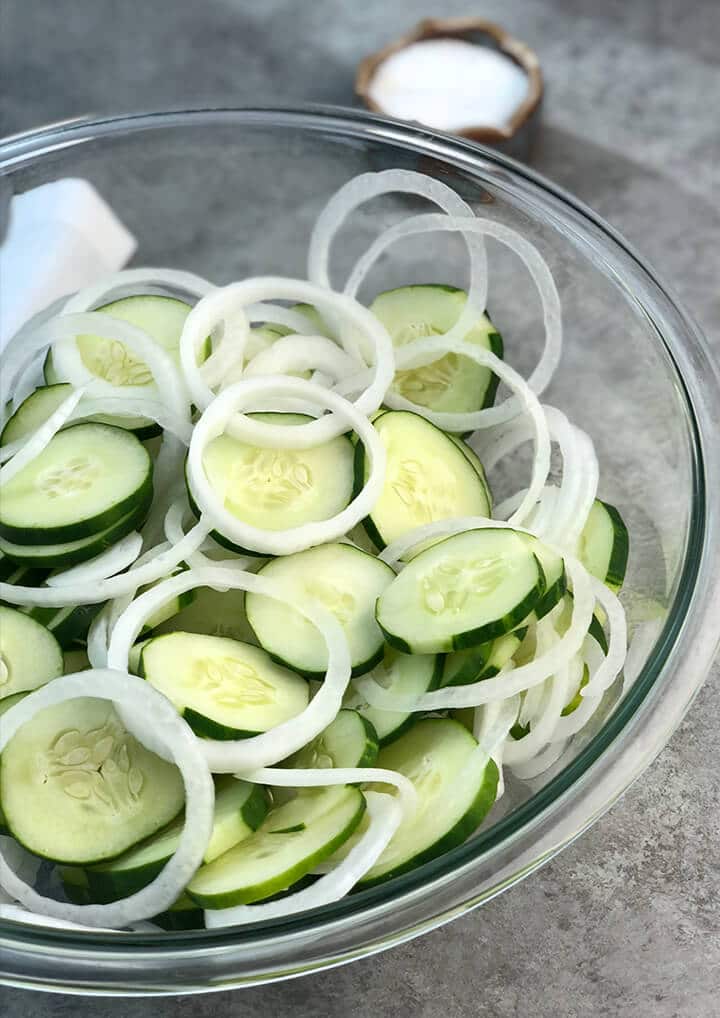 Step 2.
Then combine vinegar, water, sugar, celery seeds, salt, and pepper in a saucepan and cook just until sugar dissolves but not to the point of boiling.
Step 3.
Pour the hot vinegar mixture over the cucumbers and onions.
Step 4.
Cool the cucumbers and onions until they are cool as a cucumber (I couldn't resist that, sorry) and then refrigerate for several hours before serving.
Cucumber and Onion Salad is best when the cucumbers and onions get cold and a little crispy.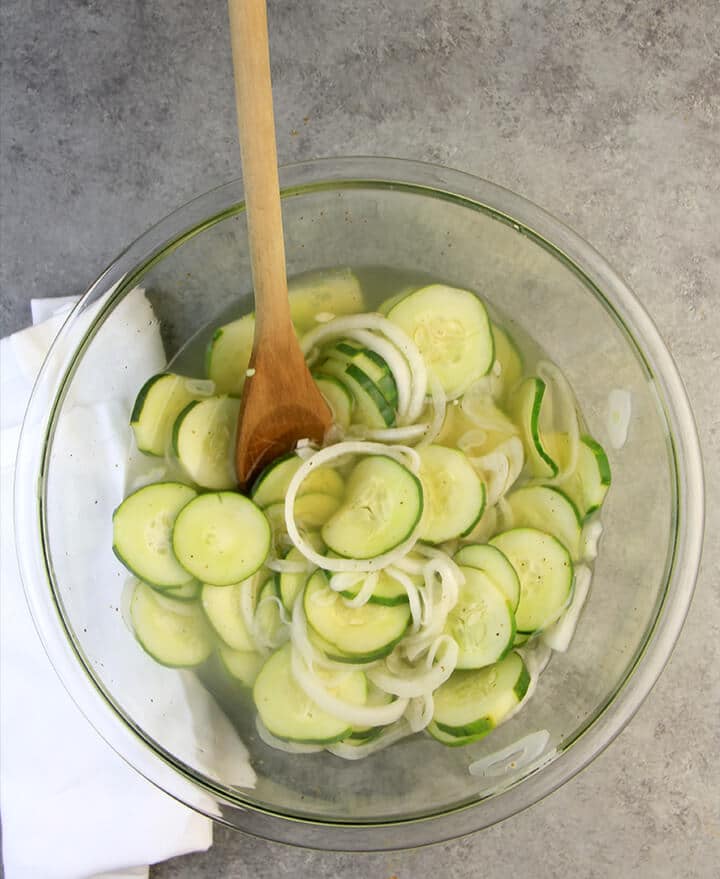 How to Store Old-fashioned Cucumbers and Onions in Vinegar
The Cucumber Salad will keep in the refrigerator for several days. I use an airtight container so my whole fridge doesn't smell like vinegar.
Are you looking for a cucumber salad recipe with sour cream? Try this one for Creamy Cucumber Salad from my friend Stacey at SouthernBite.com.
If you've tried this recipe, please rate the recipe and leave a comment below!

You can also follow me on Facebook, Twitter, Instagram, and Pinterest.

And please join the Southern Food and Fun Facebook group to get all the Southern Food and Fun recipes.
Cucumber and Onion Salad
Cucumber and Onion Salad is a simple, classic Southern recipe of just sliced cucumbers and onions in vinegar with a hint of sugar.
Ingredients
3 cucumbers, sliced
1 onion, thinly sliced
1 cup vinegar (white or apple cider)
1 cup water
1/4 cup granulated sugar
1/2 teaspoon celery seeds
1/2 teaspoon salt
freshly ground pepper to taste
Instructions
Place cucumbers and onions in a bowl and sprinkle a little salt over them.
Combine the remaining ingredients in a saucepan and cook until just hot, not boiling.
Pour over the cucumbers and onions. Cool, then cover and refrigerate.
Notes
Keeps in refrigerator for several days and is better the second or third day.
Nutrition Information:
Yield:

6
Serving Size:

6 servings
Amount Per Serving:
Calories:

65
Sodium:

200mg
Carbohydrates:

13g
Fiber:

1g
Sugar:

11g
Protein:

1g
More Southern favorites:
Time Travel:
Update Notes: This post was originally published June 14, 2013, and on May 14, 2019, was updated with one or more of the following: step-by-step photos, video, updated recipe, new tips.
This post is part of my favorite Southern Foods at Home collection.