Classic Cheesecake Recipe for a New York style cheesecake that is perfect every time! It's rich, creamy and luscious and can be served plain or with a caramel, chocolate, or raspberry topping.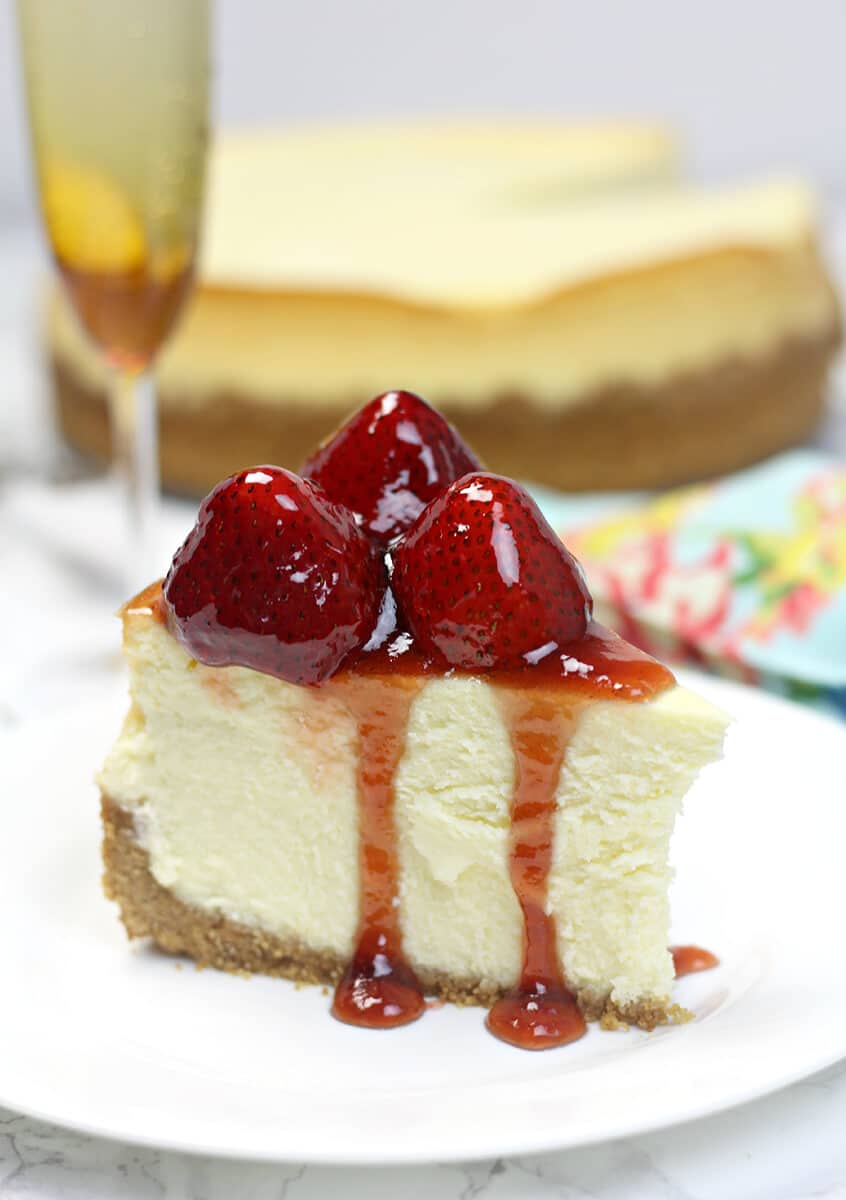 My family tends to disagree about a lot of things. We are almost all on a different place on the political spectrum. Some of us are Baptist and some Lutheran.
David loves his old Southern gospel music while I love classic rock. Mal and I would rather have vegetables or a salad over meat but the boys would take a steak every time.
But desserts we usually can agree on. Everyone loves chocolate. And everyone loves cheesecake. If we all go out to dinner it's not uncommon for us to end up at the Cheesecake Factory for dessert, and everyone orders something different, which is great because we get to sample each other's. Except for Brian who doesn't share.
A classic cheesecake is a great dessert if your family has different tastes because you can dress it up with toppings geared to please everyone, and you can make cheesecake several days before you need to serve it.
I usually include a fruit-based topping like raspberry sauce, or my husband's favorite caramel sauce, and something chocolate, all of which work perfectly with this classic cheesecake recipe. Of course, we also love this simple and easy Chocolate Chip Cheesecake.
Making homemade New York-style cheesecake sounds a little daunting but it's actually one of the easier desserts to make, especially with this simple recipe. Everything mixes together quickly and then you just bake.
How to Make Classic Cheesecake:
For this cheesecake, you'll really need a stand mixer, although if you don't have one then you can use a hand mixer, it will just take a bit longer. The key is mixing the cream cheese until all of the lumps are out.
So, put the cream cheese in the mixer and beat for a couple of minutes, then add the sugar and beat until completely blended and you can't see any lumps in the cream cheese.
Add the eggs and yolks, 2 at a time, then the rest of the ingredients and mix until everything is well blended.
Pro tip: Here's my secret to baking a cheesecake that doesn't crack across the top: I've always thought a water bath was way too much trouble, but I do place a large roasting pan filled with water on the bottom oven shelf—and my cheesecake never cracks! I think the steam from the water helps.
And the cooking technique—the credit for which all goes to Ina Garten—is probably another reason why this cheesecake doesn't crack. After the cheesecake has baked for the recommended time, Ina says to leave it in the oven with the door slightly open and the heat off.
At this point, your cheesecake is going to still be a little jiggly and you'll think it isn't done, but it will firm up as it sits in the refrigerator.
But in any case, if your cheesecake cracks then hey, it's still cheesecake! Nobody is going to say, "I can't eat that cheesecake because there's a crack in it."
So don't be intimidated…grab your springform pan and your mixer and whip up a delectable surprise for your family.
Classic Cheesecake Recipe
Ingredients
Crust
1 ¾

cups

graham cracker crumbs

3

tablespoons

granulated sugar

7

tablespoons

unsalted butter, melted
Filling
2 ½

pounds

full-fat cream cheese, room temperature (5 8-ounce bricks)

1 ½

cups

granulated sugar

6

whole large eggs, room temperature

2

large egg yolks, room temperature

¼

cup

full-fat sour cream

2

teaspoons

fresh lemon juice

2

teaspoons

pure vanilla extract

Pinch

of salt
Instructions
Crust
Spray a 9-inch springform pan lightly with cooking spray.

In a medium-sized bowl, combine graham cracker crumbs, sugar, and melted butter until well mixed and moistened. Using your fingers, press the crumbs into the pan and about 1 inch up the sides.

Bake for 8 minutes. Remove from oven and set aside to cool to room temperature.

Raise oven temperature to 450.
Filling
Place a large roasting pan filled with water on the bottom shelf of the oven. (This is what I do in lieu of a water bath, and my cheesecake never cracks!)

With mixer on medium-high, beat the cream cheese for a couple of minutes, then add the sugar and beat for 5-8 minutes, until light and no lumps. Scrape the bowl and beater frequently.*

Turn mixer to medium and add eggs and yolks, 2 at a time. Scrape bowl and beater. With mixer on low, add the sour cream, lemon juice, vanilla, and salt. Continue mixing until well blended, scraping the sides and beaters often.

Pour into cooled crust. Bake at 450 for fifteen minutes.

Reduce oven to 225. Bake for 1 hour and 20 minutes.

Turn oven off, open the door, and allow the cheesecake to sit in oven for another thirty minutes to an hour. It may still appear slightly jiggly but will set as it rests in the refrigerator.

Remove cheesecake and cool at room temperature for 2-3 hours, until completely cooled. Cover and refrigerate overnight before serving. The longer your refrigerate the better the texture will be.
Notes
Tips:
Scrape the bowl and beater frequently to ensure all the cream cheese is thoroughly blended and there are no lumps, because cream cheese lumps will not melt in the oven.
Place the springform pan on a baking sheet just in case of any drips.
This is a great make ahead recipe. You can make the cheesecake several days in advance of when you need to serve it.
Nutrition
Serving:
15
servings
,
Calories:
447
kcal
,
Carbohydrates:
33
g
,
Protein:
5
g
,
Saturated Fat:
18
g
,
Cholesterol:
126
mg
,
Sodium:
313
mg
,
Sugar:
27
g