Chicago Food Guide is a great resource of some of the best places to eat in Chicago, from famous deep-dish Chicago pizza, to the best steakhouse, to homemade doughnuts and everything in between!
The first thing I do when we're planning to visit a new city is research and compile a list of all the places we want to eat. And it usually becomes such a long list that we'd have to visit the city multiple times to put a dent in it. That was certainly the case with my Chicago list!
What a food-centric town! There are so many great restaurants in Chicago that I think you could eat out 3 times a day for 6 months and still not get to all of them. And if you're anything like us, the problem is that once you find a great one, you want to go back to that one every time you visit so that takes other possibilities off the list.
Our favorites so far:
Everyone suggested the classic Chicago steakhouses, but I wanted to venture out of the tried and true to something newer and different. Enter: Bavette's. This place. OMG.
Everything about it is wonderful, from the decor and atmosphere, which is sort of old-fashioned swanky, to the perfectly proportioned crab cake, to the BEST BRUSSELS SPROUTS IN THE WORLD (here's my version of the same), to the best steak we've ever had, to the sinfully delightful chocolate pie. Just amazing.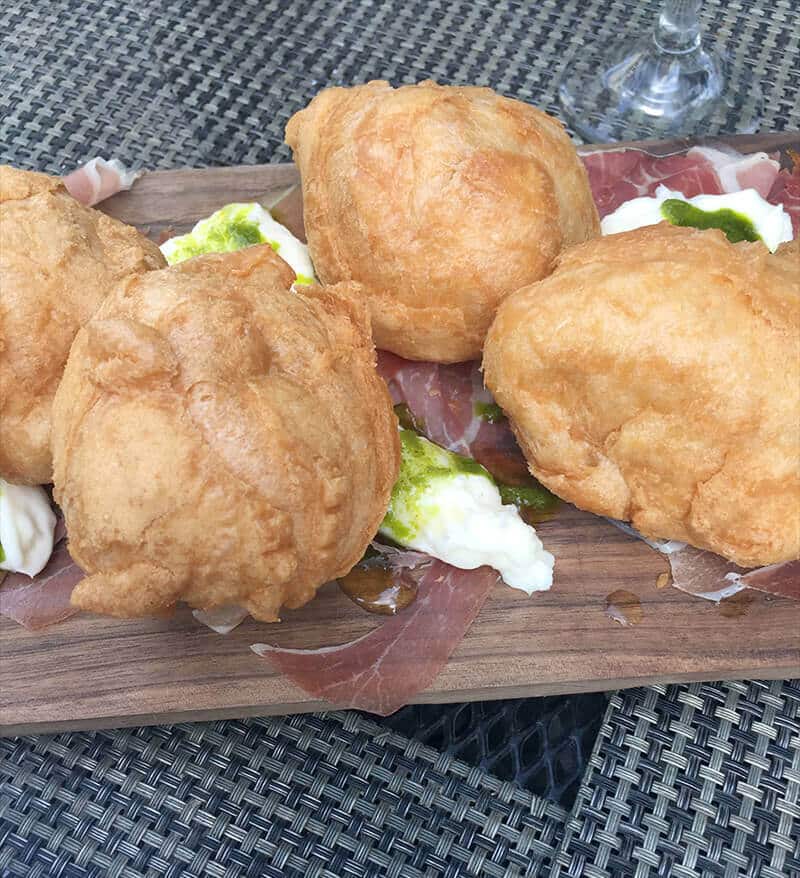 If I had to pick one overall favorite restaurant in Chicago, I would choose Siena Tavern. We've been there several times and it's consistently good.
We love to eat outside and there's a small outdoor patio right on the sidewalk. Both times we've been to Chicago, we've been lucky enough to have 60-degree sunny days, even in early November. Siena Tavern is the first place we go once we arrive so we can sit outside and have a cocktail and people watch.
Okay, I know you can get fresh, homemade doughnuts in almost every city these days. But these doughtnuts. Oh my goodness. The flavor varieties at press time: Key Lime Crunch Old-fashioned, Cookies N Cream Cake, Vanilla Cocoa Crunch Cake, Birthday Cake, Red Velvet Cake, Coffee Caramel Old-fashioned—don't you want to go there right now?
Let me warn you though, this is a popular place! The first time we went happened to be our last day in Chicago and it was the only morning that it was really cold outside.
The Doughnut Vault was a pretty good hike from our hotel, so we took a taxi, and as we're driving up we see people standing alongside a building. Turns out that was the line to get up to the window to order doughnuts. So we stood outside in the cold for about half an hour, but it was totally worth it.
I'm one of those people who has to have breakfast fairly soon after I get up, so I'm always looking for the best breakfast places when we travel. Lou Mitchell's was recommended to us by some friends and it did not disappoint.
So, Eataly.
Is it a restaurant? Yes. Multiple.
Wine shop? Yes. Lots of Italian wines.
Gourmet food market? Yes.
Fresh fruits and vegetables, butcher shop, cheese shop, pastries, pastas? YES.
Eataly is the Heaven that God created just for food bloggers.
---
Here's a complete list of our favorite restaurants so far—and be sure to check out my post on Things to Do in Chicago:
Chicago Food Guide Restaurants and Bars
Breakfast
Lou Mitchell's Restaurant & Bakery
Pizza
Steak
Bar
Other
Other City Food Guides: