Chocolate chip cookie in a mug is fast, easy, decadent, chocolatey, and just right for a quick, small dessert to share...Or not!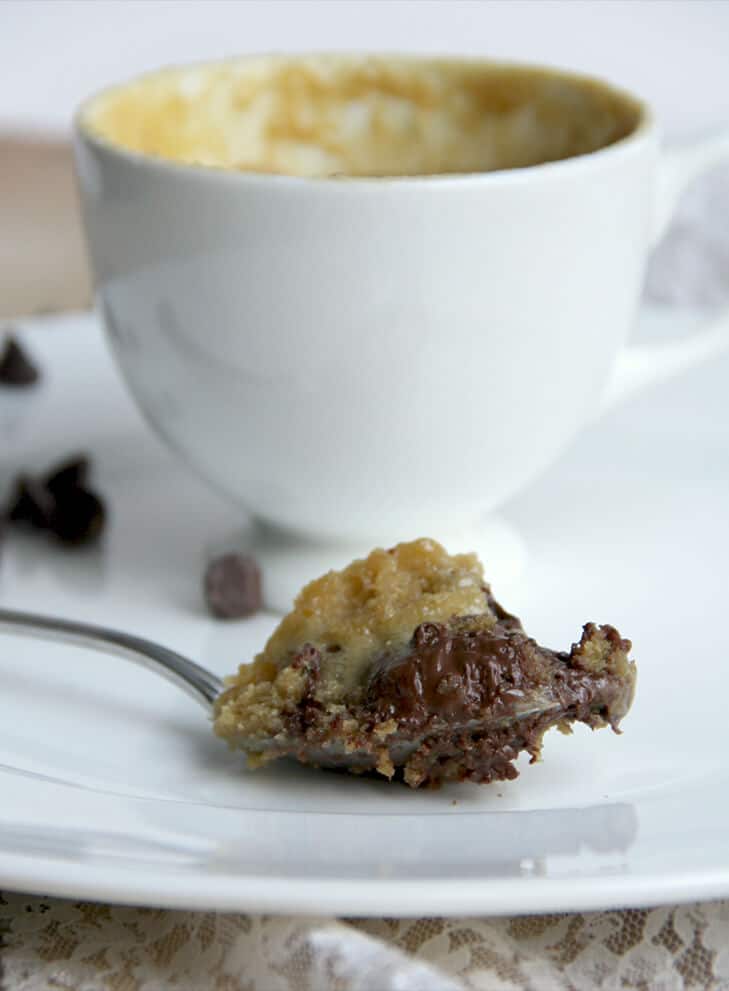 If you've spent any time at all on Pinterest searching for things you ought not be searching for—like a one minute chocolate chip cookie in a mug, seriously, who does that!—then you've probably seen these one-minute recipes for cookie in a mug.
I had always turned my nose up at such things, thinking they couldn't possibly be good or even worth the one minute of my time.
Until one evening when David and I were snowed in on our anniversary and instead of the fun night out we had planned, we were having leftover tomato soup for dinner and no dessert.
So voila, time to try the chocolate chip cookie in a cup...and we liked it. Really, really liked it. It actually takes slightly longer than one minute, since you do have to grab the sugar and flour and an egg, but still.
You're done in five minutes or less.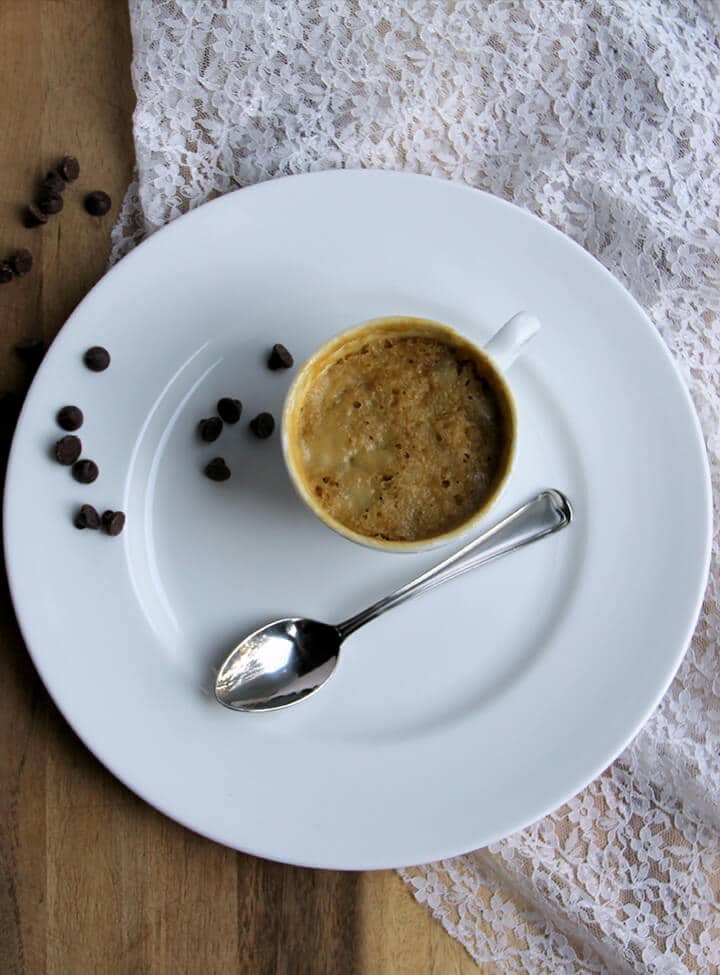 My version of the chocolate chip cookie in a mug uses more brown sugar and more chocolate chips, much like my chocolate chip cookies.
Ingredients for the Chocolate Chip Cookie in a Mug
You probably have everything you need for the mug cookie recipe right in your pantry and refrigerator. That's why it's so dangerously easy!
Butter
Brown sugar
Granulated sugar
Egg yolk
Flour
Vanilla
Chocolate chips
Pinch of salt and soda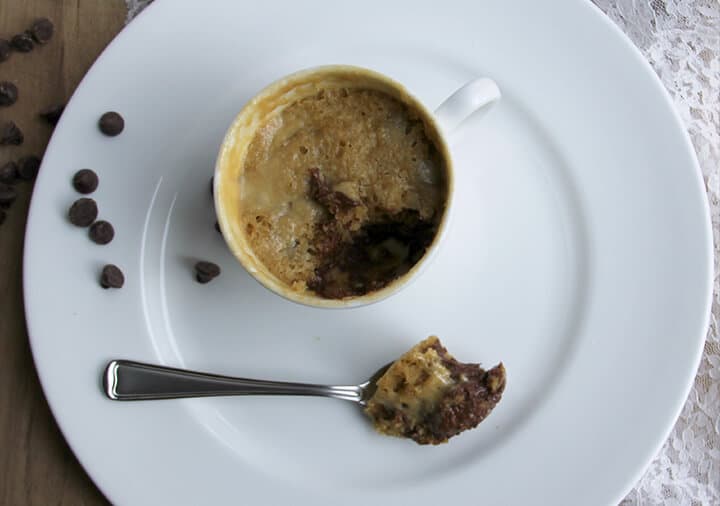 How to Make a Cookie in a Mug
The beauty of this chocolate chip cookie in a mug recipe is how quick and easy it is. There are just a few steps and the whole thing is ready in about two minutes.
Step 1. Melt some butter in a microwave-safe mug.
Step 2. Stir in sugars, vanilla, and egg yolk and blend well. Then stir in flour and a pinch of salt and a pinch of soda.
Step 3. Stir in LOTS of chocolate chips.
Step 4. Microwave for about 40 seconds then remove and allow to cool for a few seconds.
Pro Tip: Cooking time is somewhat dependent on the strength of your microwave. If you have an older model then you may want to cook a whole 60 seconds.
Most newer microwaves cook faster so you may want to test at 30 seconds. The cookie in a mug will continue to cook even after you remove it from the microwave.
If you love this Chocolate Chip Cookie in a Mug, you should try my Chocolate Chip Cookie Pie in a Skillet or my Quick and Easy Cake Mix Chocolate Chip Cookies!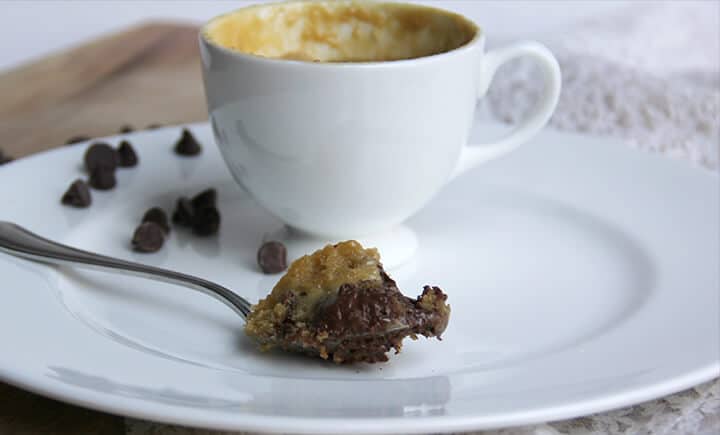 Ingredients
1

tablespoon

unsalted butter

1 ½

tablespoon

light brown sugar

½

tablespoon

granulated sugar

¼

teaspoon

vanilla extract

1

large egg yolk

3

tablespoon

all-purpose flour

1

pinch

salt

1

pinch

baking soda

3

tablespoon

semi-sweet chocolate chips
Instructions
Spray a large or medium-sized mug with baking spray. Place butter in mug and melt in microwave for 10-15 seconds. Stir in sugars, vanilla, and egg yolk. Whisk with fork to blend. Stir in flour, salt, and baking soda until blended. Stir in chocolate chips. Microwave for about 40 seconds—you may like it a bit more done but don't exceed 60 seconds!
Click here to save this recipe to your Pinterest board!
Nutrition
Serving:
2
servings
Calories:
296
kcal
Carbohydrates:
32
g
Protein:
3
g
Saturated Fat:
9
g
Cholesterol:
108
mg
Sodium:
9
mg
Fiber:
2
g
Sugar:
20
g
Update Notes: This post was originally published January 9, 2015, and on February 14, 2019, was updated with one or more of the following: step-by-step photos, video, updated recipe, new tips.