I wasn't going to write anything about 9/11. I've watched so much coverage on television and read so many stories over the last two weeks, that I was feeling a little overwhelmed by it all. But when you're a writer, the way you deal with feeling overwhelmed is to write. Thus, I started writing at 10 p.m. just as I was getting ready to go to bed, and now I'm finishing up at 1 a.m. Sleep is overrated.
On Saturday, two dear friends and I joined a couple thousand other people and walked a mile down Kennesaw Avenue to place American flags in a field in front of Kennesaw Mountain. For those who don't know, Kennesaw Mountain, Georgia, is a national park site, Kennesaw Mountain National Battlefield Park—it was the location of a Civil War battle, and while it offers walking trails and a museum/gift shop, it also serves as a reminder and memorial for those who gave their lives for a cause bigger than themselves. Many Americans (5,350) died there during a sweltering summer battle in 1864.
The year after 9/11, the Marietta Kiwanis purchased and set out nearly 3,000 flags in the large field adjacent to the mountain. I remember driving to my office that year, and the first unexpected sight of that field of flags waving against the backdrop of the mountain nearly took my breath away. It's stunning and symbolic and staggering to realize that every single one of those flags represents a life lost on 9/11.
The flags were placed again on the 5th year. For this year, the Kiwanis invited volunteers to carry a flag. We arrived around 7 a.m. and waited with our flags for the procession to start at 8 a.m. There were various groups of kids representing high schools, either athletes or clubs; there were elderly people and babies. There were firefighters and police surrounding the event. There was a general sense of goodwill, of gathering to do what we Americans do: honor and remember.
As we trudged along the street, my arms started getting tired, and I thought of the firefighters walking up the steps carrying their heavy gear. As we placed our flags on the stakes, I tried to imagine the person represented by my flag.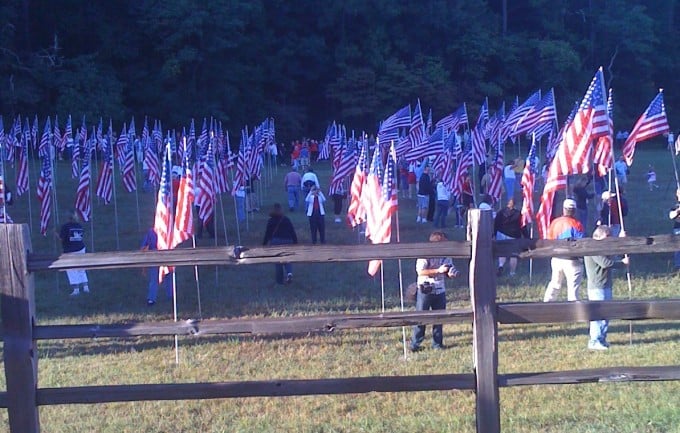 Much has changed for me personally in the last ten years. My husband's mother passed away. We moved into a new house. We got a beagle. My parents moved to the country. And my children grew up. The oldest graduated from college last year and has now started graduate school for nurse anesthesia. The middle is in the last stages of college and planning on law school. And my baby, my sweet, baby boy, has joined the Marines. He is finishing his last year of high school and will serve in the Reserves through college and then active duty. I am so very proud of him. But mixed with that pride is the knowledge that the repercussions of 9/11 could stretch all the way through the next 4 or 5 years and directly impact his life.
I don't think anyone could have imagined on that day that ten years later we would still be fighting a war over those events, or that the number of soldiers lost in that war would eclipse the number of victims killed on 9/11. We could not have imagined the ways in which our nation would change, although I think on that day we all realized that change would happen. We could not have imagined that the war itself would contribute to the most vitriolic political climate of our lifetime.
And we could not have imagined that we would come to learn over the next few months and years how so many ordinary Americans became heroes on a horrible, unordinary day. These are the stories that I cling to about 9/11: the stories of regular men and women who selflessly stepped out of a stairwell to rescue someone trapped under a desk; or who ran back inside the burning Pentagon because they heard a cry; or Salty the guide dog who wouldn't leave his owner's side; or the Americans who gathered their collective courage and made certain that the final attack of the hijackers would never happen. While the sadness and horror of 9/11 is still overwhelming ten years later, the heroics and unwavering resolve of everyone involved remind us that the American spirit cannot be daunted.
There are so many things beyond our control. World events. Death. Weather. Life. And so, the most we can do is live joyfully every single day. Hug those we love. Bake chocolate chip cookies. Say many, many prayers. And every now and then, place a flag somewhere, to remind us of what we should never forget.