Pimento Cheese recipe that's a classic Southern favorite, made with extra-sharp Cheddar cheese, mayonnaise, pimentos, and cayenne pepper. This homemade pimento cheese is easy to make and great as either a delicious dip or for sandwiches!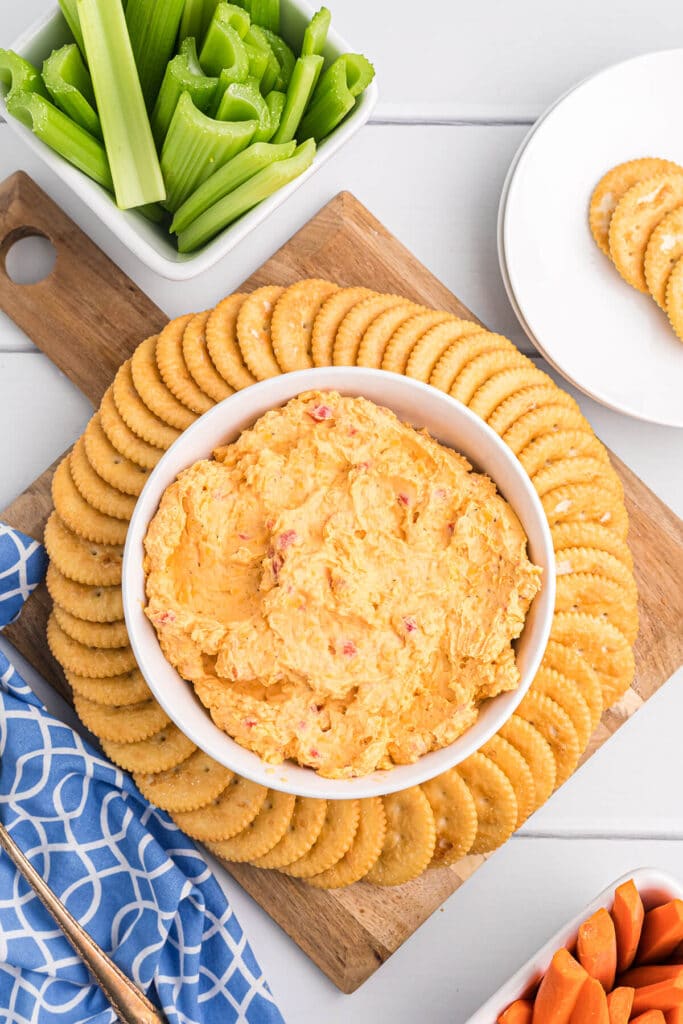 Homemade pimento cheese spread is one of those classic Southern dishes that many of us remember from childhood as something we never gave much thought too, kind of like banana pudding or pound cake.
If you were hungry, you were likely to get a pimento cheese sandwich.
If you were going to a church dinner, your mama probably took pimento cheese sandwiches (cut in half!), which consisted of slices of white bread slathered with your grandmother's recipe for homemade pimento cheese spread.
If you were attending a bridal shower, there was probably a tray of "fancier" sandwiches, cut into dainty squares with the crusts cut off.
The Masters pimento cheese sandwich is, of course, the most famous iteration of pimento cheese, and it still costs just $1.50. If you're lucky enough to go to the Masters tournament, be sure and try it. (I think the sandwich is actually pretty bland but it's still an iconic tradition.)
This easy spread is a ubiquitous part of Southern cuisine.
What is pimento cheese?
In its most basic form, pimento cheese is a combination of cheese, mayonnaise, and chopped pimentos.
From there, folks like to add other things, like Velveeta cheese, regular cream cheese, jalapeno, onion, Worcestershire sauce, or other seasonings. Others will throw in some chopped dill pickles or green onions.
Some people call this dip the caviar of the South or pâté of the south. Around here, we just call it lunch! Although it's trendy now, and restaurants all over the country serve it, Southern pimento cheese is still the best!
Note: you'll see a lot of recipes that include cream cheese, but I prefer a more traditional pimento cheese recipe without cream cheese. I like the sharp Cheddar cheese to be the star of the show!
For that reason, my recipe consists of just Duke's mayonnaise, extra-sharp Cheddar cheese, and a jar of pimentos (or roast your own peppers), with a little cayenne pepper (and optional black pepper) mixed in.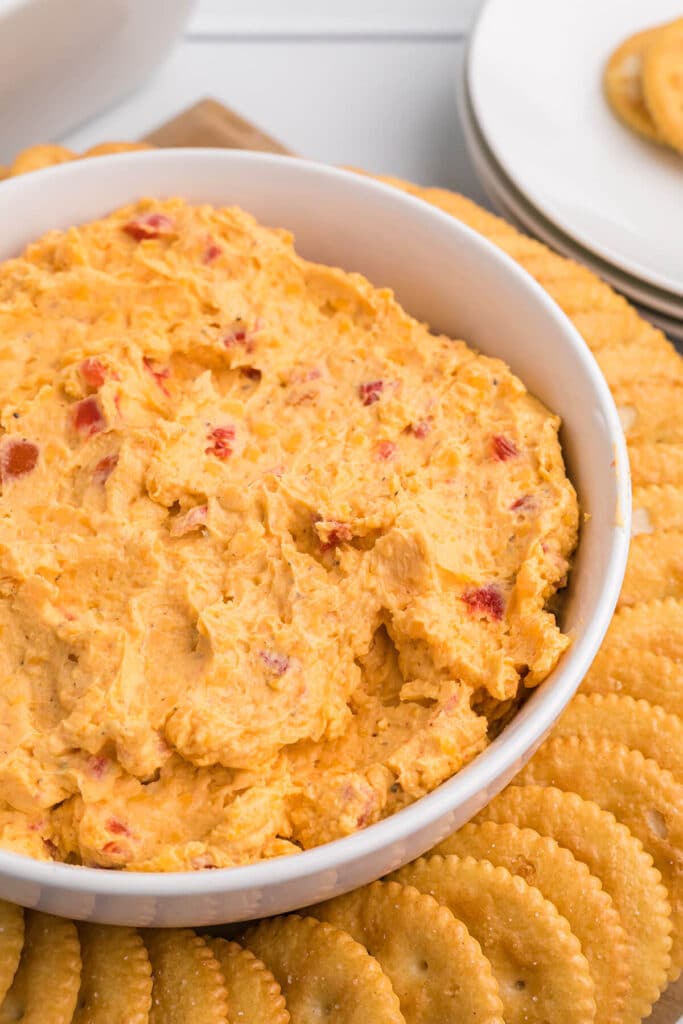 Secret tip
When grating your cheese for this recipe be sure and use the small side of your hand-held grater. Or better yet, use your food processor to grate the cheese! It's so quick and easy.
But here's my new secret trick for this pimento cheese recipe: you can mix it up using a stand mixer! If you don't have a Kitchen Aid or any kind of stand mixer (this one is my favorite), get yourself one! You can use it for so much more than just recipes for baking!
By using the food processor to grate the cheese and the stand mixer to stir it all together, you can have perfect Southern Pimento Cheese ready in about 6 minutes. It takes longer to clean the blades of the machines than to actually make this simple recipe!
Ingredients
👋 For ingredient amounts and instructions, use the Jump to Recipe button above or scroll down!
Two 8 oz. blocks extra-sharp Cheddar cheese — I like Cabot, Tillamook, or Cracker Barrel brand
One 4 oz. jar diced pimentos, drained
½ – ¾ cup mayonnaise — Duke's brand mayonnaise is my preference and the amount depends on how creamy you like it
½ – 1 teaspoon ground cayenne pepper — my default is 1 teaspoon, but that's a little spicy for some people
½ teaspoon freshly ground black pepper (optional)
How to make pimento cheese
Step 1. Grate cheese.
To start, take cold Cheddar and grate in the food processor. Alternatively, you can grate some on the small side of the handheld grater and some on the large side until you have a bowl full.
Step 2. Mix ingredients.
Place grated cheese, mayonnaise, pimentos, cayenne pepper, and a little freshly ground black pepper in large bowl of a stand mixer. (No added salt as the cheese is usually salty enough by itself.)
Cook's Tip: When I use the stand mixer, I add ¾ cup of mayonnaise and 1 teaspoon of cayenne pepper and it makes the perfect recipe for us. But it's important for you to taste the first time you make it so you can determine for yourself how creamy and how spicy you want your pimento cheese.

Start with a smaller amount of mayo than the recipe calls for, as well as a smaller amount of cayenne pepper, then taste as you go.
Starting on low, mix for a minute just to blend and then turn mixer to medium-high to mix well and incorporate all the ingredients. Should take 2-3 minutes.
Mix everything together until it's smooth and creamy and the mayonnaise is completely mixed in. And taste. This is the most important part.
Alternatively, just put everything in a large mixing bowl and stir with a wooden spoon. This method takes a lot of elbow grease!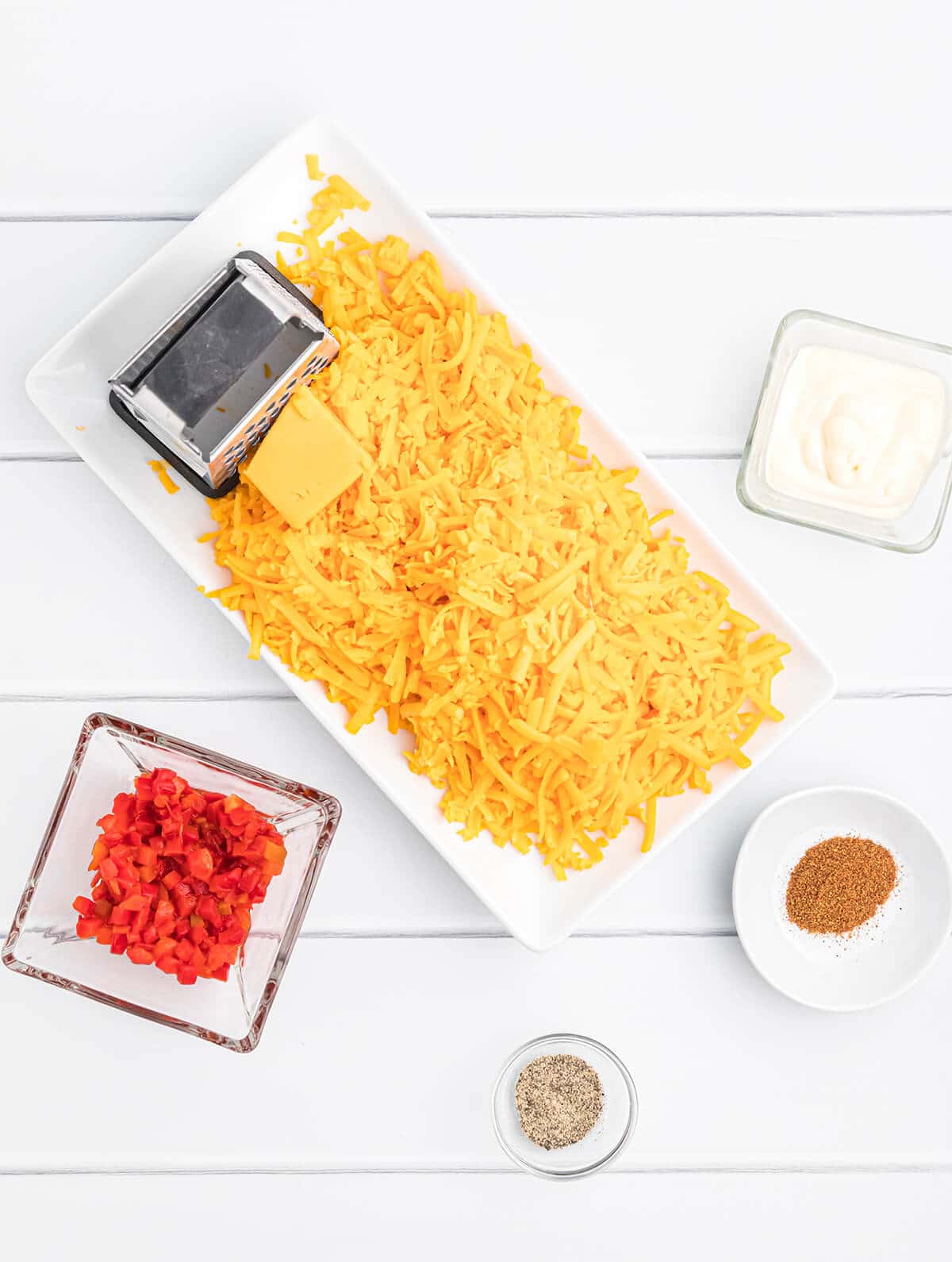 Tip: Mixing should take at least a couple of minutes in the stand mixer, and around 6-7 if doing by hand. You want to be sure the mayonnaise is fully mixed in because the texture and flavor will be better.
This recipe makes enough pimento cheese dip for a party and to have leftovers for sandwiches. You can keep it in the fridge for several days, although it probably won't stick around that long.
What's good with pimento cheese?
Um, no, the question should be…What's not good with pimento cheese?
We love this classic Southern recipe with almost everything:
Celery sticks and/or carrot sticks
Red bell pepper strips
Slapped between two slices of bread (please, for the love of God, use regular old white bread or Sourdough bread!)
With your favorite crackers or bagel chips – ours is Ritz
Make a grilled pimento cheese sandwich – best sandwich EVER!
As a spread with fried green tomatoes
Tips and questions:
Can you freeze pimento cheese?
No, because of the separation of the oil that is in the mayonnaise and the cheese.
How long does pimento cheese last?
This is a good recipe to make ahead because it keeps well in the refrigerator for several days. Just store it in an airtight container and serve at room temperature.
What's a good pre-made brand?
There are plenty of times when I just grab something from the store in a hurry and if that's the case, I always choose the Palmetto brand from South Carolina, which you can find at most any grocery store.
You may also like my spicy Jalapeño Pimento Cheese.
Pimento Cheese
Pimento Cheese recipe that's a classic Southern favorite, made with extra-sharp Cheddar cheese, mayonnaise, pimentos, and cayenne pepper.
Ingredients
2 8

oz.

blocks extra sharp Cheddar cheese, (I prefer Cabot or Cracker Barrel and usually use one white and one yellow)

1 4

oz.

jar diced pimentos, drained

½ – ¾

cup

mayonnaise, (Duke's – amount depends on how creamy you like it)

½ – 1

teaspoon

ground cayenne pepper

½

teaspoon

freshly ground black pepper (optional)
Instructions
Grate cheese into large bowl using small side of grater or food processor.

Drain pimentos and add to cheese.

Sprinkle the cayenne (start with 1/4 or 1/2 teaspoon and taste after mixing) and black pepper over the cheese.

Stir in 1/2 cup of mayonnaise. You may decide to add an additional 1/4-1/2 cup depending on how creamy you like it. Mix well and taste.

Add more mayo, cayenne, and a little salt if needed–usually don't need salt as cheese is salty.
Notes
Tips for Making the Best Pimento Cheese:
Choose high quality cheese like Cracker Barrel brand.
I only use Duke's Mayonnaise.
Use a food processor to grate the cheese and a stand mixer to stir together.
Start with a smaller amount of mayo and cayenne pepper and taste as you go.
You can make this pimento cheese recipe several days in advance and store in the refrigerator.
Do not freeze.
Serve at room temperature.
Nutrition
Serving:
24
servings
,
Calories:
123
kcal
,
Protein:
4
g
,
Saturated Fat:
4
g
,
Cholesterol:
22
mg
,
Sodium:
161
mg
Update Notes: This post was originally published April 4, 2011, and on June 16, 2022, was updated with one or more of the following: step-by-step photos, video, updated recipe, new tips.
This post is part of my favorite Southern Foods at Home collection.