Roasting garlic in the oven is easy and a perfect way to add flavor to many of your favorite foods. While raw garlic is pungent and savory, once you roast garlic in the oven, it becomes mellow and creamy.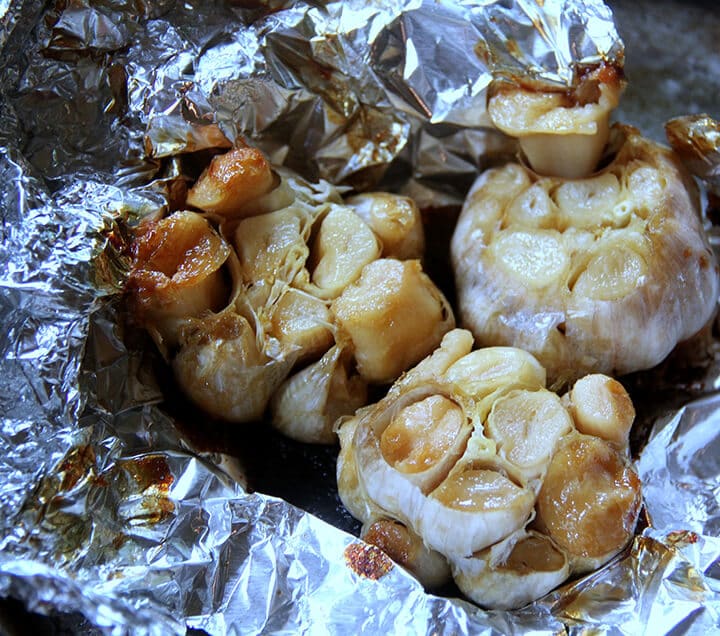 Have you ever made roasted garlic in the oven? It's one of those things that you think must be complicated because it's so good, but guess what? You can make roasted garlic right in your own kitchen and it's super easy.
Roasted Garlic Benefits
Garlic has long been touted as a nutritional powerhouse originating from Asia and is one of the world's oldest flavor enhancers. Although we don't need to use it much these days to ward off evil spirits, we can still derive the same health benefits that garlic has offered for centuries.
Lots of vitamins and very few calories: Vitamin C, Vitamin B6, Manganese, Selenium, and fiber.
Some studies indicate garlic can boost immunity and reduce the number of colds and length of cold symptoms.
Some studies indicate active compounds in garlic may reduce high blood pressure.
Helpful Tools and Ingredients
You can use a garlic roaster or just a regular baking dish to roast garlic in the oven. These are inexpensive and pretty if you want to use roasted garlic at a dinner party.
How to Roast Garlic
Step 1. Take two or three whole heads of garlic and slice off the tops. Peel off some of the outer layers of skin.
Step 2. Place the heads on a piece of tin foil and drizzle olive oil over each one, making sure you cover all the little cloves. Sprinkle salt and pepper over each garlic head.
Step 3. Wrap the tin foil tightly around the cloves and seal, then place it in a pan or baking dish just in case any olive oil drips through.
How Long to Roast Garlic
Step 4. Place the baking dish in a pre-heated 400° oven for about 45 minutes. If your garlic heads are jumbo or very large, you may need to roast for an hour. Just check and see if the cloves are brown and tender.
Pro Tip: Roast garlic in the oven when you're cooking other things, like braised meats or casseroles. Just place the garlic in its foil right next to whatever you're cooking. ??
How to Store Roasted Garlic
You'll want to store your roasted garlic in the refrigerator. This is a great flavor additive if you meal-prep early in the week. The roasted garlic keeps for several days and can be added to vegetables, soups, or meat.
Storing the roasted garlic in the freezer is also an option. Just place it in a freezer-safe container and use as needed. Roasted garlic will keep in the freezer for several months.
How to Serve Roasted Garlic
You can serve the roasted garlic in a small dish with the whole cloves and let people squeeze out a clove as needed if you want a restaurant-style presentation. Or you can mash the roasted garlic yourself and make a spread.
Here are a few ideas for your roasted garlic:
Spread on meats before roasting
Add to pasta dishes
Add to roasted vegetables
Add to soups and stews
Mix with sour cream for baked potato topping
Garlic bread
Use as a topping for hamburgers
Anywhere that you would use raw garlic
Roasted Garlic Spread
Squeeze the bottom of the head of garlic until the tender cloves pop out. Use a fork to mash the cloves and add either softened butter or a little olive oil. Salt and pepper to taste. This garlic spread is great for toasting bread or roasting meat.
How to Roast Garlic in the Oven
Roasting garlic in the oven is easy and a perfect way to add flavor to many of your favorite foods.
Ingredients
3

heads garlic

2

tbsp

Olive oil

1

tsp

Kosher salt

1

tsp

Freshly ground black pepper
Instructions
Preheat oven to 400. Peel papery outer layer of skin from garlic. Cut off about 1/4 inch from the top of the garlic head.

Place garlic heads on piece of tin foil. Drizzle olive oil all over each garlic head. Sprinkle salt and pepper over each garlic head.

Wrap with the foil and seal. Place foil in pan. Roast for 40-45 minutes, until golden brown.

Squeeze bottom of garlic head until cloves pop out. Mash with fork and serve.
Notes
Roasted garlic will keep in the refrigerator for several days or in the freezer for several months.
Nutrition
Serving:
4
servings
,
Calories:
38
kcal
,
Carbohydrates:
7
g
,
Protein:
1
g
,
Sodium:
647
mg
Update Notes: This post was originally published June 11, 2014, and on September 24, 2019, was updated with one or more of the following: step-by-step photos, video, updated recipe, new tips.
More Recipes You'll Love: