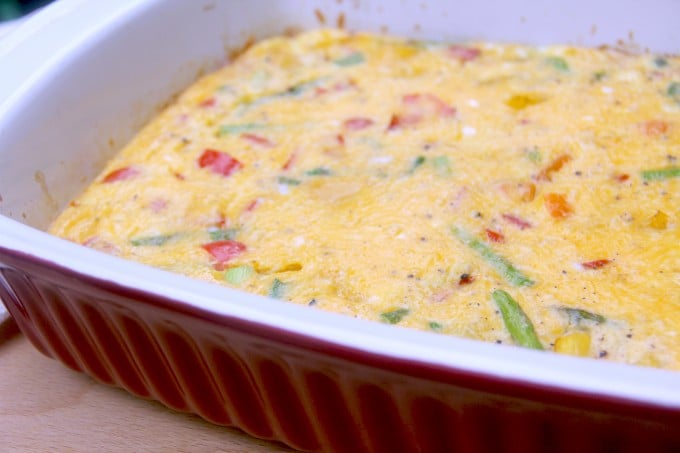 Do you love breakfast for supper? We sure do. One of the easiest things to make if you want an egg dish is a frittata—it's just eggs with whatever vegetables you have hanging out in the fridge, maybe some sausage or bacon, cheese, and anything else you want to throw in there. You can add leftover rice or diced potatoes or even some black beans. The possibilities are endless.
I usually make a simple frittata with bell peppers, green onions, asparagus, diced tomatoes, and whatever kind of cheese I have on hand, Parmesan or Cheddar or feta. I also like to add a little half-and-half, although not enough to turn the frittata into a quiche. Sauté the vegetables (except tomatoes) to soften them up a bit, then add cheese and eggs. It's best to leave the vegetables in the skillet and pour the eggs into the hot skillet, cooking on medium-high for about a minute so the edges set. After the edges set, pop it in the oven for 15-20 minutes to finish cooking. However, if I'm cooking for a crowd and need more room then I'll just put everything in a large 9 x 13 inch dish and it works just fine.
The best thing about a frittata is that it will keep in the refrigerator for a couple of days and is just as good reheated as when you first made it. Perfect for breakfast for a crowd or a simple family supper on a busy school night.
How to Make a Frittata
A frittata made with lots of vegetables and eggs is a quick and easy way to feed the family for breakfast or supper.
Ingredients
4

cups

of mixed chopped vegetables:

(onion, bell peppers, diced tomatoes, spinach, kale, mushrooms, roasted red pepper, asparagus, zucchini, yellow squash, broccoli, diced baked potatoes, cooked sausage, bacon, or ham)

12

large eggs

2

cups

grated cheese

(Cheddar, Monterey Jack, Parmesan, feta, goat)

1/2

cup

half-and-half

1

tsp

salt

1/2

tsp

freshly ground black pepper

1

tsp

Italian herbs
Instructions
Preheat oven to 350.

Saute vegetables in a large oven-proof skillet on medium-high for about 5 minutes until just starting to get tender. Do not sauté tomatoes.


Sprinkle one cup grated cheese over vegetables.

While vegetables are cooking, whisk eggs with half-and-half, salt, pepper, and seasonings.

Pour eggs over vegetables and cheese. Sprinkle remaining cheese over the top.

If using skillet, cook over medium-high heat for just a minute until edges are starting to set. Then place skillet in oven. If using baking dish, place in oven. Bake about 15-20 minutes or until eggs are set.

Allow to rest for at least five minutes before cutting and serving.