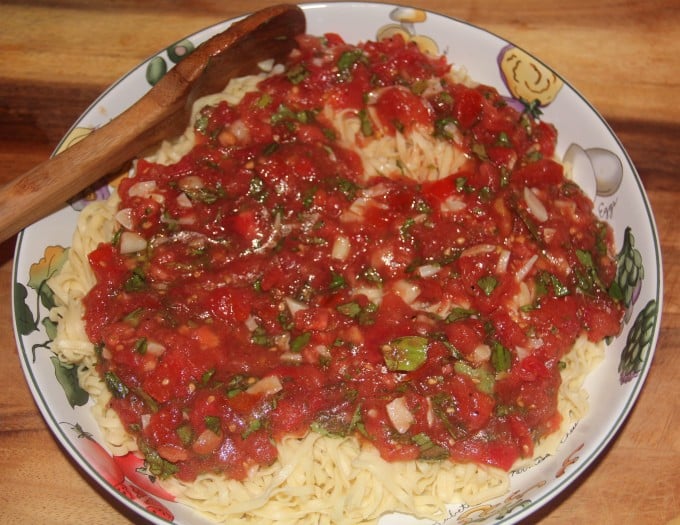 I'm not a fan of chain restaurants. We are blessed with many good, local places to eat where we know the chef and can interact with them and enjoy the food and the atmosphere. However, with that said, if I have to eat at a chain restaurant one of my preferences is Carrabba's Italian Grill. The food is consistently good and there's a nice selection to please everyone's different palates. Malorie and I both love a pasta dish at Carrabba's called Tag Pic Pac, short for Tagliarini Picchi Pacchiu, which is basically a tomato, garlic and basil sauce.
I tried my hand at it a couple of weeks ago and it came out rather tasty. I used fresh tomatoes, although you could probably get away with a couple of cans of diced tomatoes and use the same technique here to crush them. I don't think canned crushed tomatoes would work because they're not chunky enough. When you crush the tomatoes yourself, you get the juice out to make the sauce but also have some small tomato pieces left to give it the correct consistency.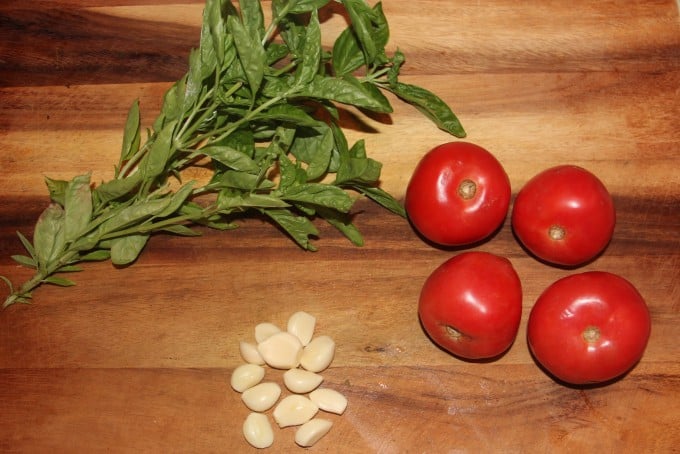 For this recipe, you need fresh basil, fresh tomatoes, fresh garlic and good quality olive oil. Grab 5-6 medium-sized, ripe tomatoes and chop into small pieces, then place the pieces in a bowl. I use my potato masher to crush the tomatoes.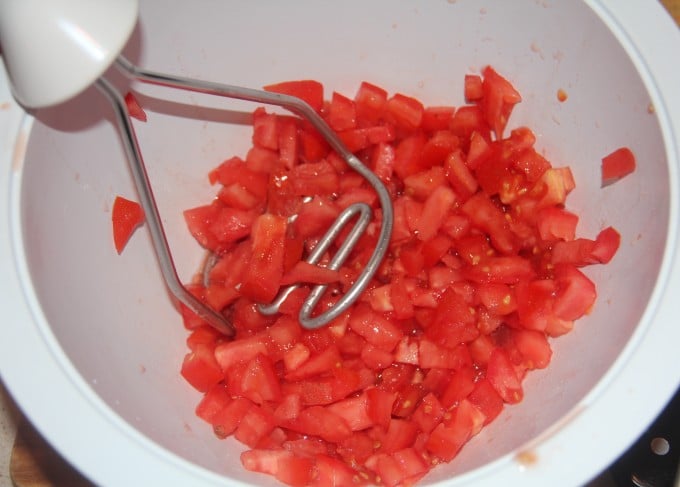 You want a nice saucy consistency with a few chunky pieces. Next, slice the garlic into thin slivers, then chop the slivers in half. Heat a couple of tablespoons of olive oil in a skillet on low-medium heat, and sauté the garlic for just a minute or so, not long enough to brown.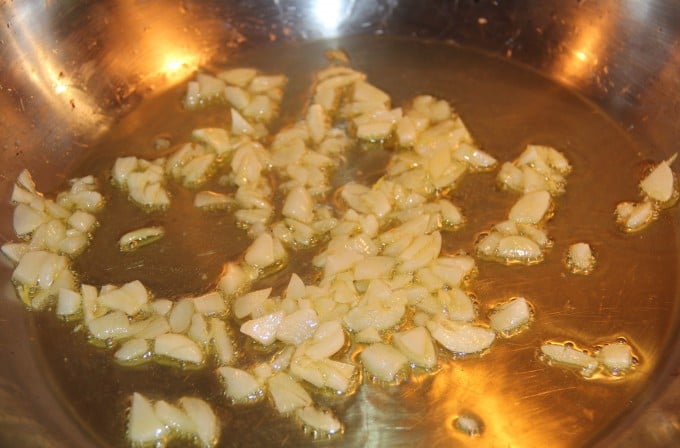 Remove the garlic from the heat and set aside to cool while you chop the basil. Then toss the basil onto the tomatoes and scrape the garlic and olive oil out of the pan onto the tomatoes. Add salt and pepper to taste and about 3 more tablespoons of olive oil and stir together.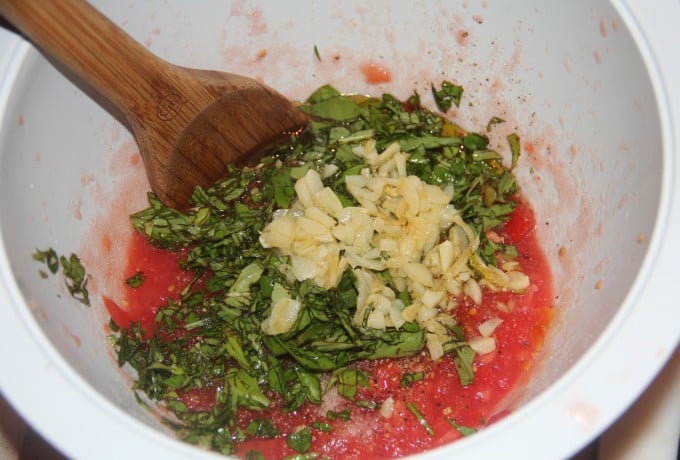 Now just grate a little Parmigiano-Reggiano to sprinkle on top and you have a perfect summer pasta dish. Enjoy!
Fresh Tomato Sauce
A perfect, summer pasta dish with fresh tomatoes, fresh basil and garlic.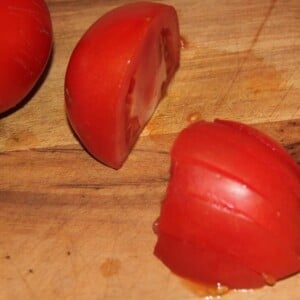 Ingredients
6

medium ripe tomatoes, diced

1

cup

lightly packed basil leaves, chopped

8

cloves

garlic, sliced thin and slices halved

5

tablespoons

olive oil

salt and pepper to taste

Parmigiano-Reggiano cheese, (for sprinkling on top)
Instructions
Heat 2 tablespoons olive oil over low-medium heat and add garlic. Saute just until garlic releases flavor but not until brown. Set aside to cool.

Place diced tomatoes with their juice and pulp in a large bowl. Using potato masher, crush tomatoes until a liquid consistency that still has tomato chunks.

Toss chopped basil onto the tomatoes. Scrape out the garlic and olive oil from the skillet onto the tomatoes.

Add the remaining olive oil. Add salt and pepper to taste. Stir until well combined.

Serve over a thin pasta, either angel hair, tagliarini or linguini.
Nutrition
Serving:
4
servings
,
Calories:
164
kcal
,
Carbohydrates:
7
g
,
Protein:
1
g
,
Saturated Fat:
2
g
,
Sodium:
790
mg
,
Fiber:
1
g
,
Sugar:
2
g
More Italian Favorites: