This spicy roasted cauliflower is flavored with smoky cumin and chili powder, taking it from bland to bold and flavorful!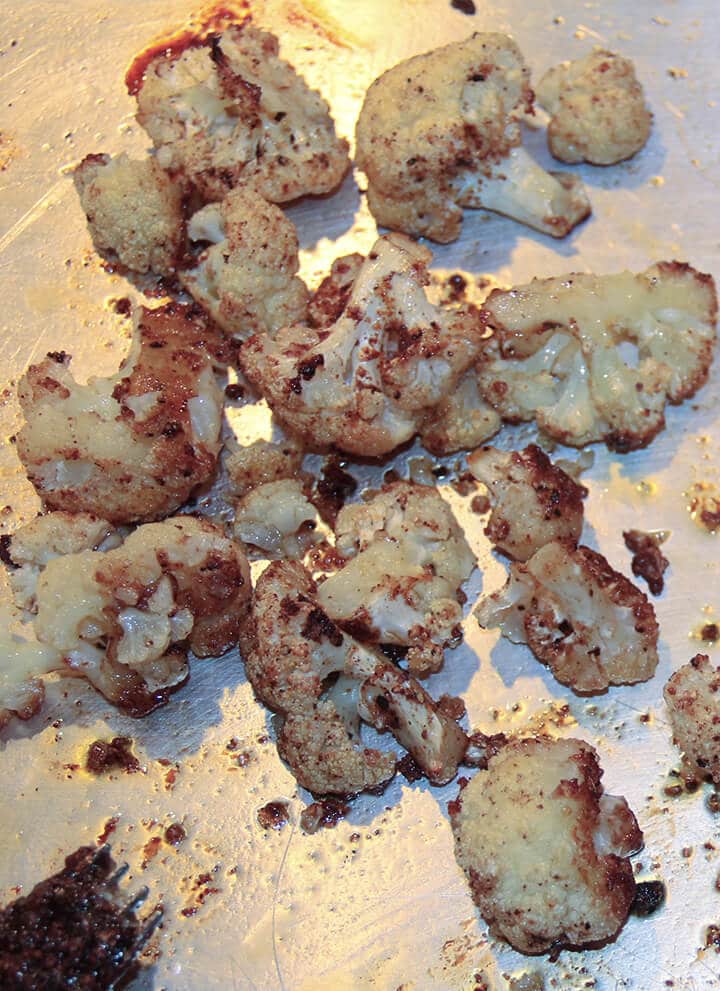 I think I've mentioned a few times on this site how we love roasted vegetables—it's almost the only way we eat them. And anything can be roasted: onions, squash, peppers, green beans…the roasting process adds a touch of caramelization and brings out the natural sweetness in the vegetables so there is very little that needs to be added.
Our latest love is Spicy Roasted Cauliflower. I fix it the same way as my Caramelized Roasted Brussels Sprouts, just without the brown sugar.
Another favorite is this Roasted Cauliflower and Gruyere Gratin, perfect for a cozy dinner with a salad.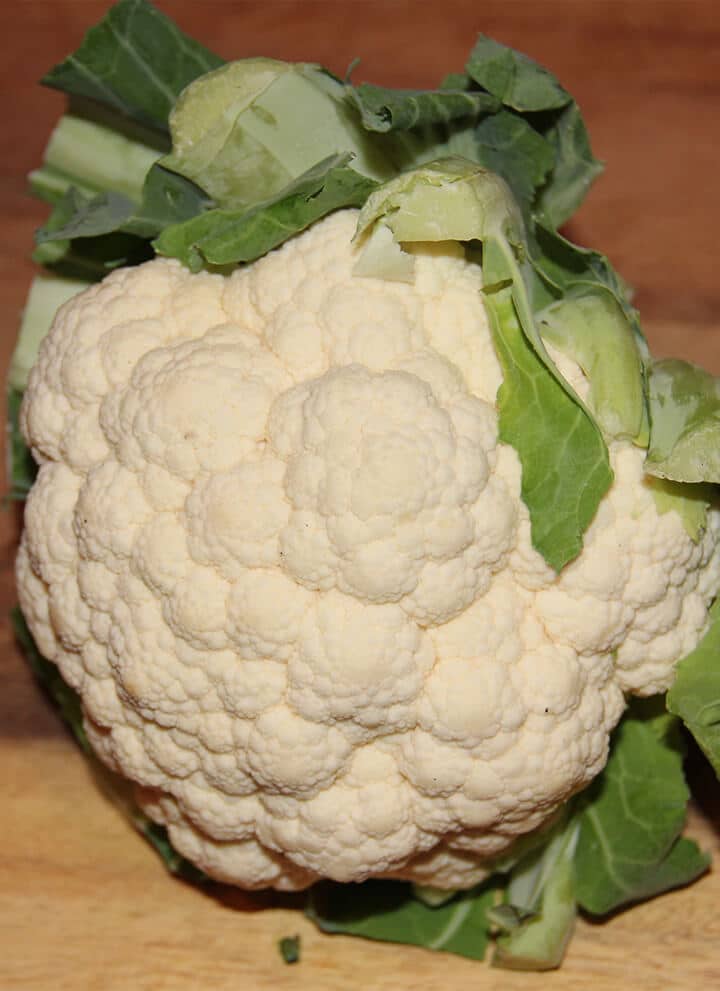 Helpful tools and ingredients
Baking pans – I use these Nordic Ware baking pans for so many things!
Chef's knife – you'll need a good knife to cut your cauliflower. I never recommend buying one of those sets of knives. Just a chef's knife, paring knife, and serrated knife and you can do pretty much everything you need.
Large cutting board – I love this size of this cutting board! I hate when I'm chopping onions or something else and pieces go flying off because the cutting board isn't large enough. That will not happen with this baby!
Cauliflower
Olive oil
Chili powder
Cumin
How to make spicy roasted cauliflower
Step 1. Preheat the oven to 450°, then wash and pat dry the head of cauliflower. Cut off the stem and leaves and chop the cauliflower into smaller pieces.
Cook's Tip: Be sure your cauliflower is completely dry! You can do this part a day or two in advance before making the Spicy Roasted Cauliflower.
Step 2. Pile all the cauliflower pieces right in the middle of a large sheet pan and then drizzle olive oil, chili powder, cumin, and salt, and pepper over the top. I like the cumin because it gives a little bit of a smoky, spicy flavor without any heat.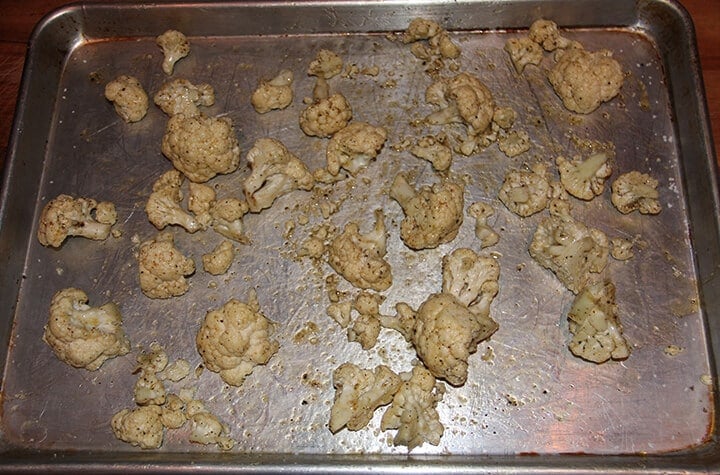 Step 3. Spread out the cauliflower so that each piece has plenty of room on the baking sheet. If you have too much on the pan when roasting any vegetables, they will steam instead of roast and the taste and texture just won't be as good.
Step 4. Pop the pan into the oven and roast for 25-30 minutes. The spicy roasted cauliflower should be brown around the edges and slightly crispy.
Serving suggestions
We love a simple combination of Roasted Brussels Sprouts and brown rice with this Spicy Roasted Cauliflower and frequently have that for dinner.
Other suggestions include Cider-Brined Pork Roast and Southern Green Beans–that would be a great meal!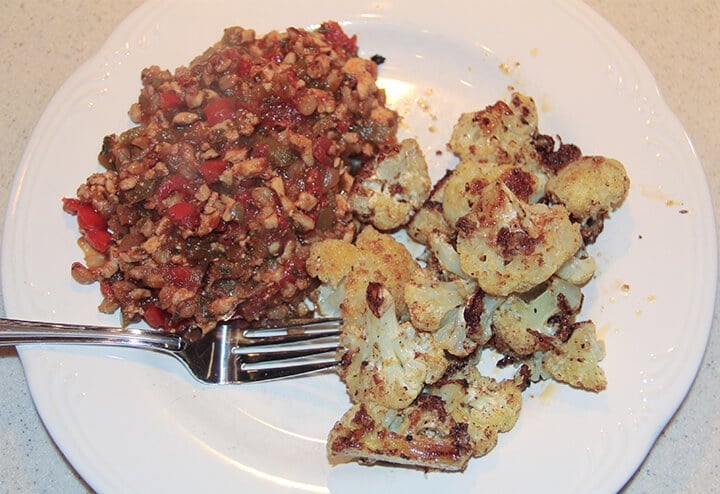 Spicy Roasted Cauliflower
This spicy roasted cauliflower is flavored with smoky cumin and chili powder, taking it from bland to bold and flavorful!
Ingredients
1

head cauliflower

3

tablespoons

extra virgin olive oil

1

teaspoon

kosher salt

1

teaspoon

freshly ground black pepper

½

tablespoon

cumin

½

tablespoon

chili powder
Instructions
Preheat oven to 425.

Cut stem and leaves from cauliflower and cut head into smaller pieces.

Pile all the pieces in the middle of a sheet pan and sprinkle with chili powder, cumin, salt, and pepper.

Drizzle with olive oil then mix and turn the cauliflower until each piece is coated with seasoning and oil.

Spread the cauliflower pieces out over the pan.

Roast for 25-30 minutes until turning brown and slightly crisp around the edges.

Serve immediately.
Nutrition
Serving:
4
servings
,
Calories:
121
kcal
,
Carbohydrates:
5
g
,
Protein:
2
g
,
Saturated Fat:
1
g
,
Sodium:
614
mg
,
Fiber:
2
g
,
Sugar:
2
g
Update Notes: This Spicy Roasted Cauliflower recipe was originally published January 9, 2012, and on November 3, 2019, was updated with one or more of the following: step-by-step photos, video, updated recipe, new tips.
Looking for other ways to use cauliflower? Try this Creamy Cauliflower Sauce or Roasted Cauliflower Soup.
More vegetables you'll love:
Find more of our great Sides and Vegetables here!