This summer strawberry salad is bursting with freshness from strawberries, tomatoes, basil and easy balsamic glaze.The sweetness in the juicy strawberries pairs perfectly with the greens and balsamic glaze! Top with edible flowers for a gorgeous summer plate.
Salads and summer go together like peanut butter and jelly, wine and cheese…the list goes on! I love whipping up recipes like this classic cherry tomato salad with fresh mozzarella or an easy kale salad with a unique mango chutney dressing on a warm summer day.
And I can't forget this super simple crowd pleaser green salad with arugula and fresh herbs that is perfect for warmer months!
There's nothing better than enjoying a fresh meal filled with vegetables, greens, and — one of my personal favorite add-ons — sweet fruit. The fresh, ripe strawberries in this strawberry balsamic salad are what take it to the next level.
Easy to make and even easier to eat, it just may become your new go-to salad.
How to make strawberry salad
This recipe is perfect for those lazy days when you don't feel like doing much cooking. After preparing the special balsamic glaze, you'll need to cut up the other ingredients and throw them together in a bowl. Sit back, relax, and enjoy the perfect dish for warm weather!
Start with your balsamic vinaigrette glaze. Pour the balsamic vinegar and sugar into a small saucepan and heat on low. Stir the mixture until the sugar has dissolved, then allow to simmer for about 4 minutes. Remove from the stove to cool.
Place the green leaves in a large salad bowl and add the sliced avocado, tomatoes, and radishes. Cut the sweet strawberries in half and add them too.
Sprinkle on the basil and add a bit of salt and black pepper to taste. Lightly drizzle the extra virgin olive oil on top and toss.
Put the mozzarella in the center of the salad and drizzle the balsamic glaze on top. Add your mixed seeds and edible flowers and serve immediately as a healthy lunch or light dinner!
Storage tips
This easy spinach salad is best served immediately because the fresh produce won't age well as it sits. The fresh strawberries will start to macerate due to the balsamic glaze, and the salad greens will begin to wilt.
Strawberry salad faqs
How do you cut strawberries for a salad?
Simply cut the strawberries in half for this strawberry balsamic salad. I don't bother hulling them, but I do cut off the green ends before slicing the fruit in half.
What should I put in my salad?
Feel free to get creative with your summer strawberry salad. For the greens, I like to use a combination of fresh spinach, leafy greens, arugula greens, and peppery rocket lettuce, but you can use whatever you have at home.
You can also add beetroot, cucumber, red onion, creamy goat cheese, feta cheese crumbles, or any other salad items you prefer instead of avocados, tomatoes, or radishes.
Another option is to replace the basil with mint or parsley. The choice is yours!
Is summer strawberry salad healthy?
With plenty of fresh ingredients like greens, fresh fruit, and veggies — plus some mozzarella for protein — I'd say this is a well-balanced meal! Plus, you can get most of the ingredients at your local farmer's market, which makes a huge difference in flavor and freshness.
Who knew healthy eating could taste so good?
Strawberry Salad
This summer strawberry salad is bursting with freshness from strawberries, tomatoes, basil and easy balsamic glaze.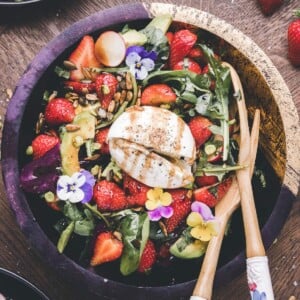 Ingredients
For the balsamic glaze
¾

cup

balsamic vinegar

2.5

teaspoons

brown sugar
For the salad
4-6

cups

mixed leaves

spinach, green salad leaves, rocket lettuce

1

avocado

1

cup

grape tomatoes

2-3

radishes

1

pound

strawberries

handful

basil

finely chopped

salt

to taste

pepper

to taste

1

tablespoon

extra virgin olive oil

1

ball

mozzarella

2

tablespoons

mixed seeds

optional

edible flowers

garnish, optional
Instructions
Begin by making the Balsamic Glaze: Add the balsamic vinegar and sugar to a small saucepan set over a low heat. Stir until the sugar has dissolved then bring to a simmer for 4 minutes. Remove from the heat and set aside to cool.

To assemble the salad, add the green leaves to a salad bowl then slice the avocado, tomatoes and radishes and add to the bowl.

Cut the strawberries in half and add them to the bowl.

Scatter over the basil and add salt and pepper to taste.

Drizzle over the olive oil and toss to coat the salad ingredients.

Add the mozzarella ball to the center of the salad, drizzle over the balsamic glaze and scatter over the mixed seeds and edible flowers.
Notes
We used a combination of spinach, salad leaves and peppery rocket but you can use whatever greens you have on hand.

Likewise, if you don't have avocados, tomatoes or radishes you could add beetroot, cucumber or any other salad items you fancy. The possibilities and combinations are endless. • You can substitute basil with mint or parsley.

We don't bother hulling the strawberries but we do cut the green ends off before cutting them in half.

The mixed seeds and edible flowers are optional. The edible flowers are violas, they are very easy to grow in pots and will flower all summer long. Look out for them at your local famers' market, garden center or larger supermarkets. You can also buy the seeds from Amazon. Please ensure any flowers you use are definitely edible.

A Balsamic Glaze is essentially a reduced balsamic vinegar that thickens when it's heated. You can make it with or without the addition of brown sugar.

The higher quality your balsamic vinegar the quicker it will reduce. You might find it needs fewer than 4 minutes. When heated, it should reduce by about half and will thicken so it coats the back of a spoon. It will continue to thicken as it cools.

If you find the Balsamic Glaze has thickened too much and you can't pour it this is because it has been overheated. Don't worry as it is easily fixed! Simply add boiling water a teaspoon at a time, this will thin it out. If it goes the other way and thins out too much just add it to the heat again for a minute until it thickens to a pourable consistency.

Balsamic Glaze will keep for 2 weeks in an airtight container.

This Strawberry Salad is best served immediately and will not keep well as the strawberries will start to macerate in the dressing and this will wilt the salad.
Nutrition
Calories:
213
kcal
,
Carbohydrates:
26
g
,
Protein:
3
g
,
Fat:
11
g
,
Saturated Fat:
2
g
,
Polyunsaturated Fat:
2
g
,
Monounsaturated Fat:
8
g
,
Cholesterol:
0.1
mg
,
Sodium:
31
mg
,
Potassium:
636
mg
,
Fiber:
6
g
,
Sugar:
16
g
,
Vitamin A:
852
IU
,
Vitamin C:
86
mg
,
Calcium:
49
mg
,
Iron:
1
mg
You could grow your own strawberries and make this wonderful salad even fresher and tastier! Here's a tutuorial to help!